In the south of Spain, in Andalusia, Seville is a perfect destination for a change of scenery, good weather and breathtaking architecture!
What are the must-sees in Seville? What are the best deals to discover Seville at a low price? And what are the best places to discover the local gastronomy? All the answers are in this travel guide…
Seville in short
When to go? Seville is located in the south of Spain and is a destination where it is generally quite hot. In the summer, high temperatures can make it hard to get there, so it's best to opt for spring or autumn, both of which will give you decent weather without dying of heat!
How do I get there? Flying is the fastest way, with several airlines offering direct flights from major French cities. The journey from Paris takes about 2.5 hours and costs 200€ return if you book your tickets about a month in advance. This is an indicative price which can vary greatly depending on the season, the airline you choose and the airport of departure. Once you arrive at Seville airport, a bus will take you to the city centre for €4, or you can book an Uber to take you there for between €15 and €40 depending on demand at the time of your arrival. You can also get there by train via Barcelona, in which case you should allow one to two days' travel time from Paris (minimum 6.5 hours from Paris to Barcelona and 5.5 hours to Seville).
Who is it for? It is a perfect city for couples or groups of friends. With the sunshine and the many activities you can do there, there is plenty to keep you busy. However, I would not recommend this destination for families with small children as the narrow, cobbled streets and very narrow pavements do not make it an easy city to stroll around in!
How long to stay? 3 days is the minimum to visit the main points of interest. 5 days will allow you to visit the city without putting pressure on yourself and 6 or 7 days is a good option for trips to nearby cities such as Córdoba, Cádiz or Granada.
What is your budget? Allow at least 50 euros per night for a double room in the city centre; 100 euros for a 4-star hotel. For meals, between €9 and €12 for lunch; between €15 and €20 for dinner. And for visits, the price varies greatly from one place to another, you will find in the rest of this article the prices per place as well as a list of good tips to avoid spending too much.
How to communicate? Few shopkeepers speak French, but you can easily make yourself understood in English or by "gibbering" a few words in Spanish!
A little glossary: the essential words for communicating in Spanish
Hello = Hola / Buenos dias
Thank you = Gracias
Goodbye = Adios
The bill = La cuenta
How do I get around? The best way to get around Seville is on foot, as Seville is not a very large city and you will be able to discover the city and its charming streets. Alternatively, you can take the bus, the metro or the tram. 1.4 € per journey; 5 € / day; 10 € / 3 days.
---
What to do in Seville? Top 10 must-sees
Wander around the city
This is of course the first thing to do: get lost in the city, going from street to street to discover all the architecture. You are sure to come across some charming buildings.
And don't forget to visit the many churches, most of which are free to visit.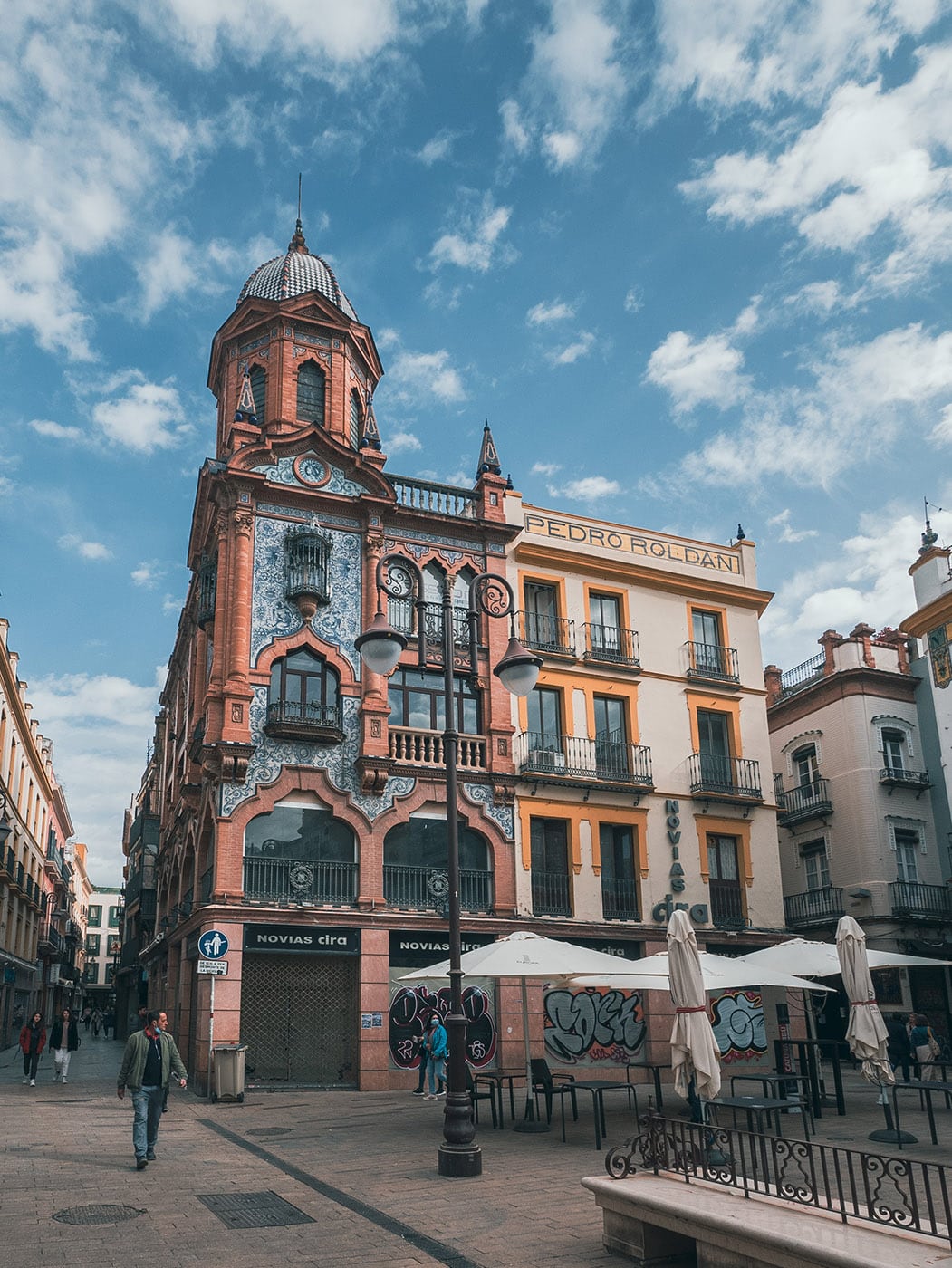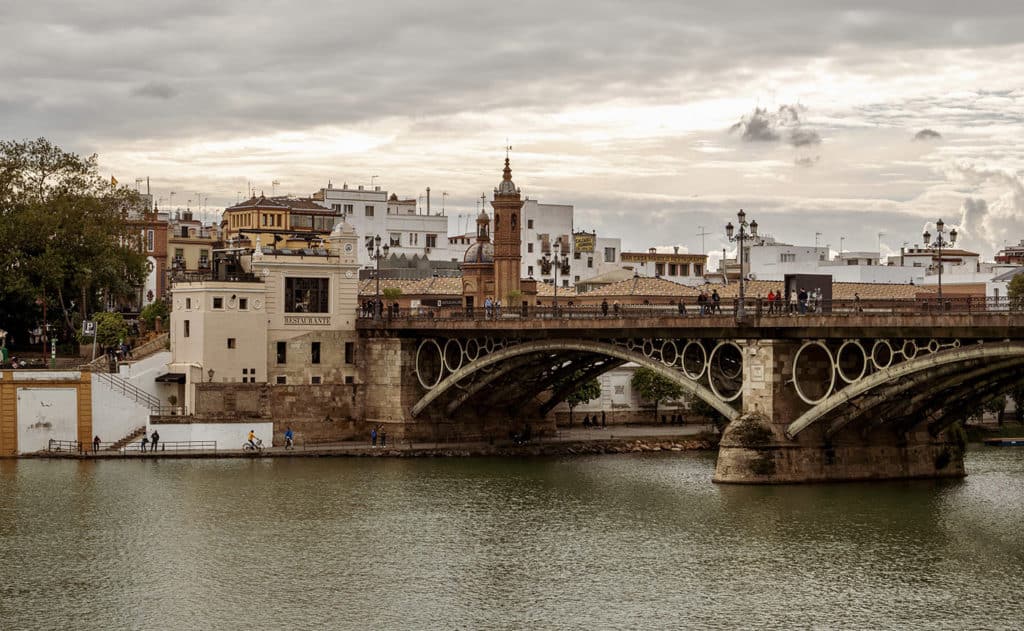 The Plaza de España
Created for the Ibero-American exhibition of 1929 by the architect Aníbal González, this vast square impresses by its size: with a diameter of 200 metres, it covers 50,000 m2, of which 19,000 are for the palace! There are also 52 benches decorated with frescos representing the 52 Spanish provinces.
A canal in the middle of the square gives it a Venetian feel. It is possible to hire a boat if you feel like a little bucolic stroll!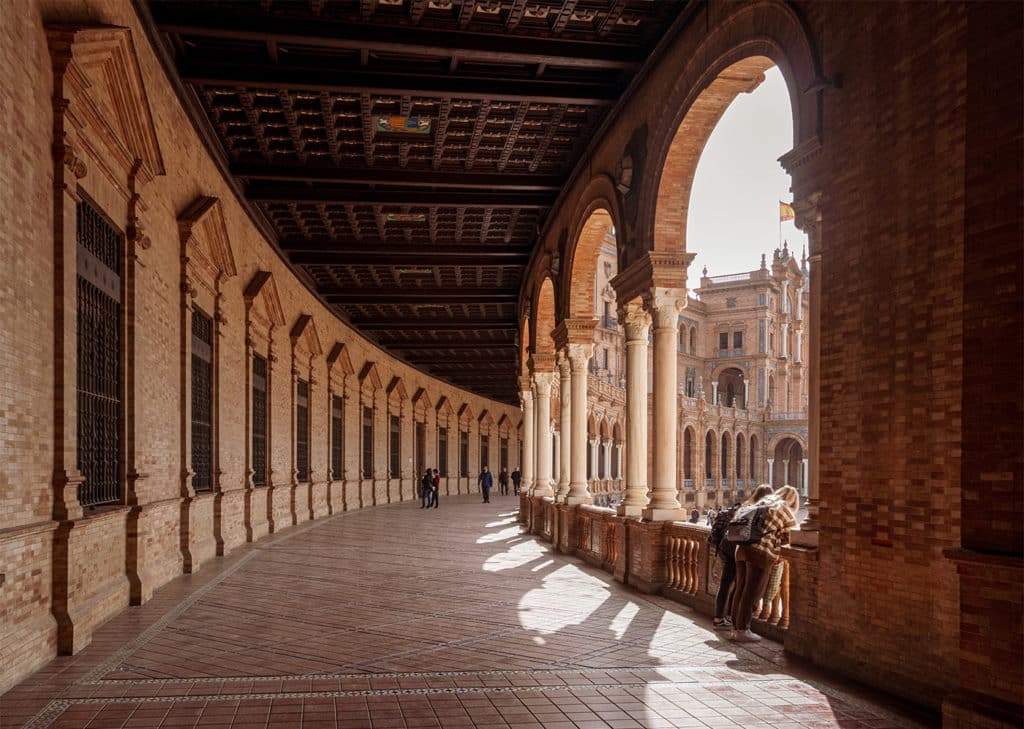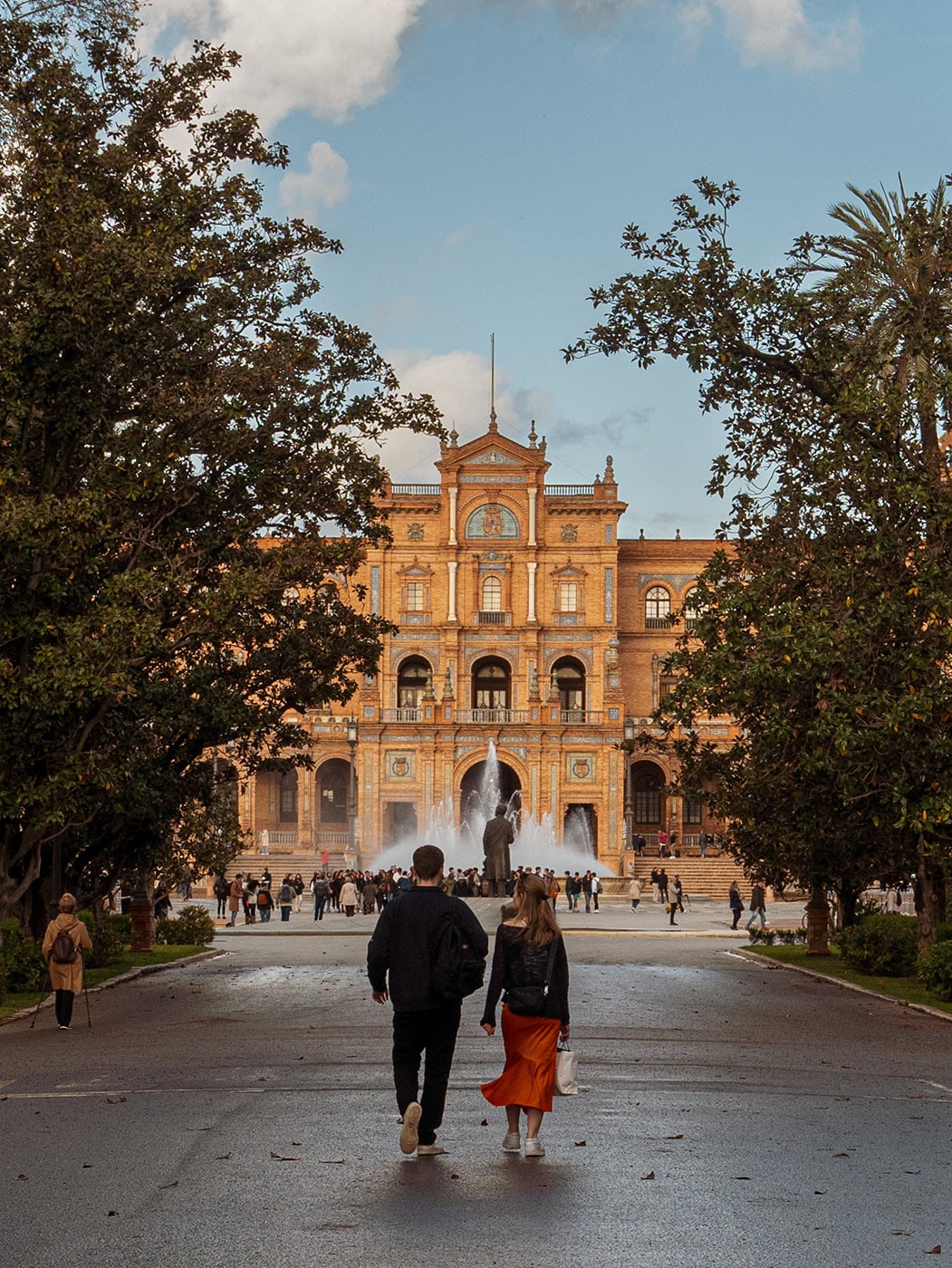 The Real Alcázar
This labyrinthine palace looks like something out of a thousand and one nights. Built by the Caliph Abd al-Rahman III, it was the scene of Charles V's wedding and also of assassinations under Peter I the Cruel. Nowadays, it is the official residence of the royal family in Seville.
The gardens are unspeakably beautiful, but the highlight is the Mudejar palace of Peter I the Cruel, built in the 14th century by the best Muslim artists in Granada.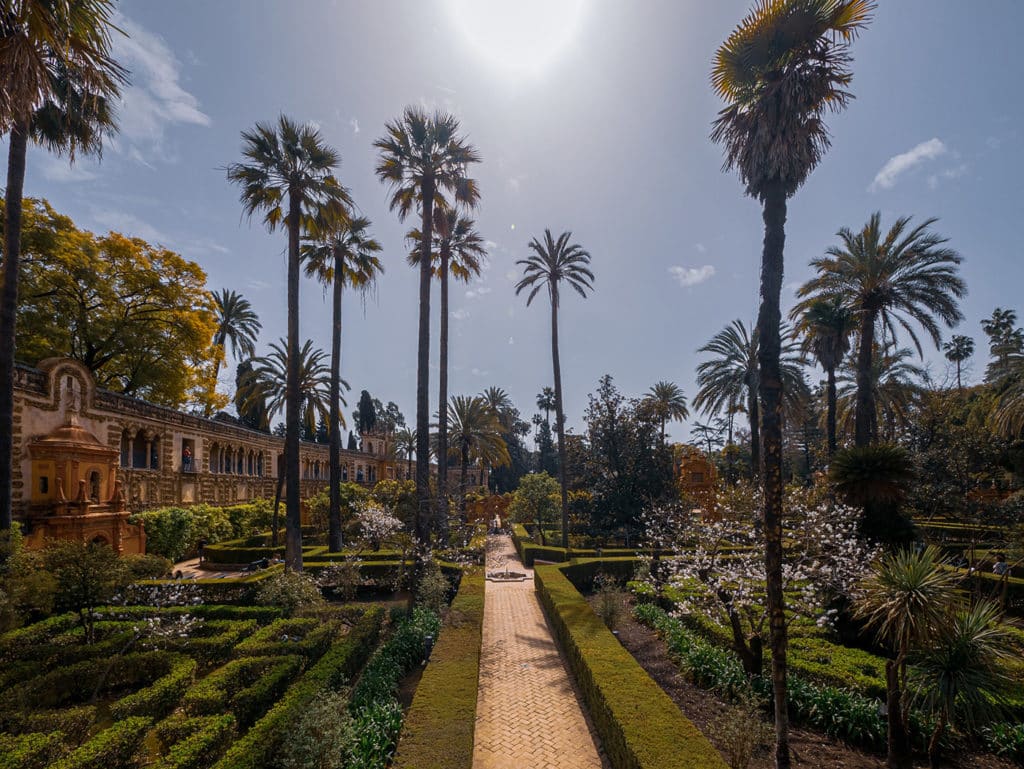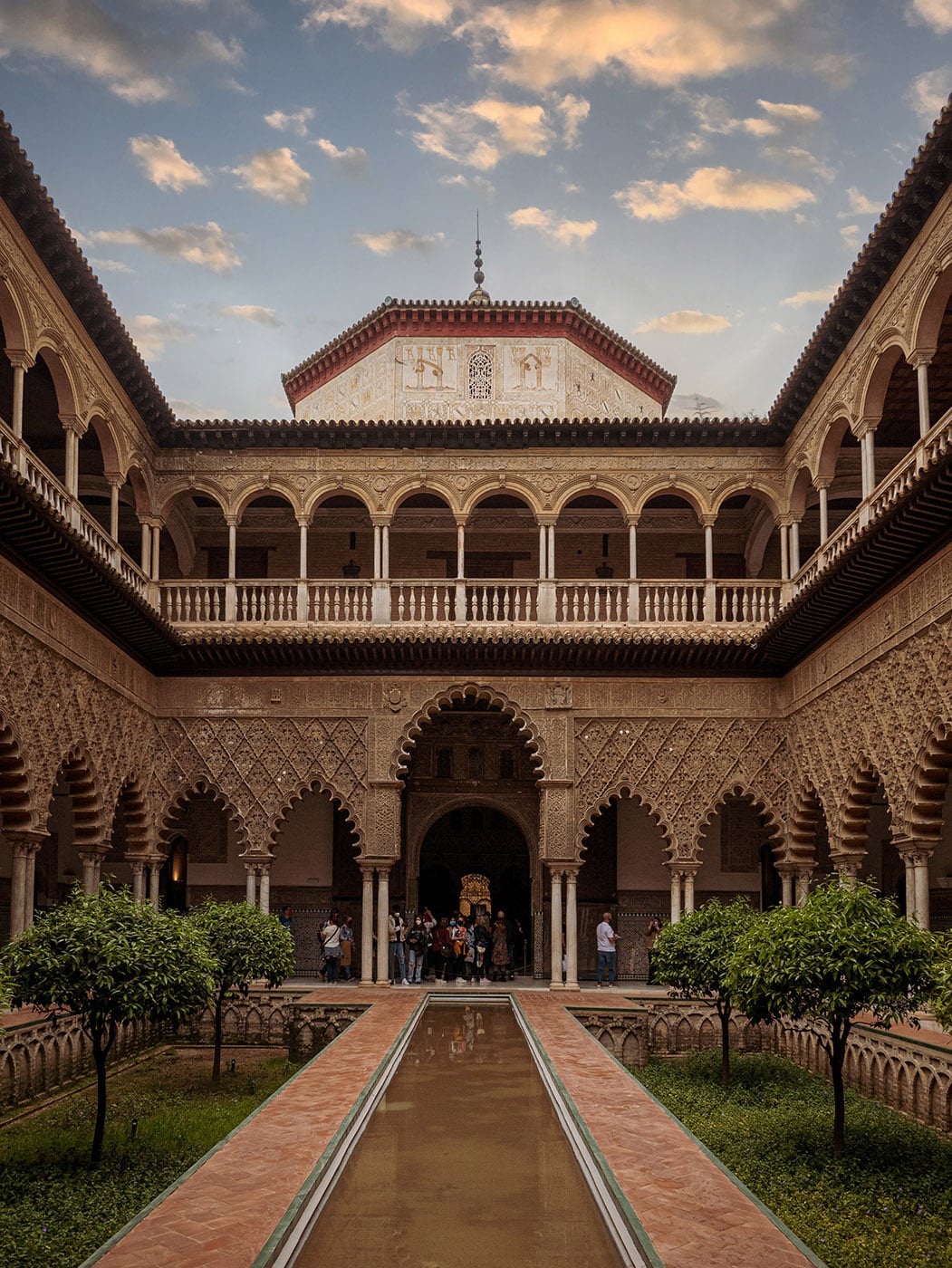 14,5 € for a ticket bought online
13,5 € if you buy it on site
Every day from 9.30am to 5pm from November to March
9.30am to 7pm from April to October
The Catedral and the Giralda
Its builders used to say "those who see this cathedral will think we are crazy", and we have to admit that it must have taken a lot of madness to build this impressive building! With its 126 metres long, 83 metres wide and 37 metres high, it is immense and the visit seems never-ending as there are so many chapels to discover.
This cathedral was built on the site of the former Great Mosque and was, until the construction of St. Peter's in Rome, the largest church in Christianity.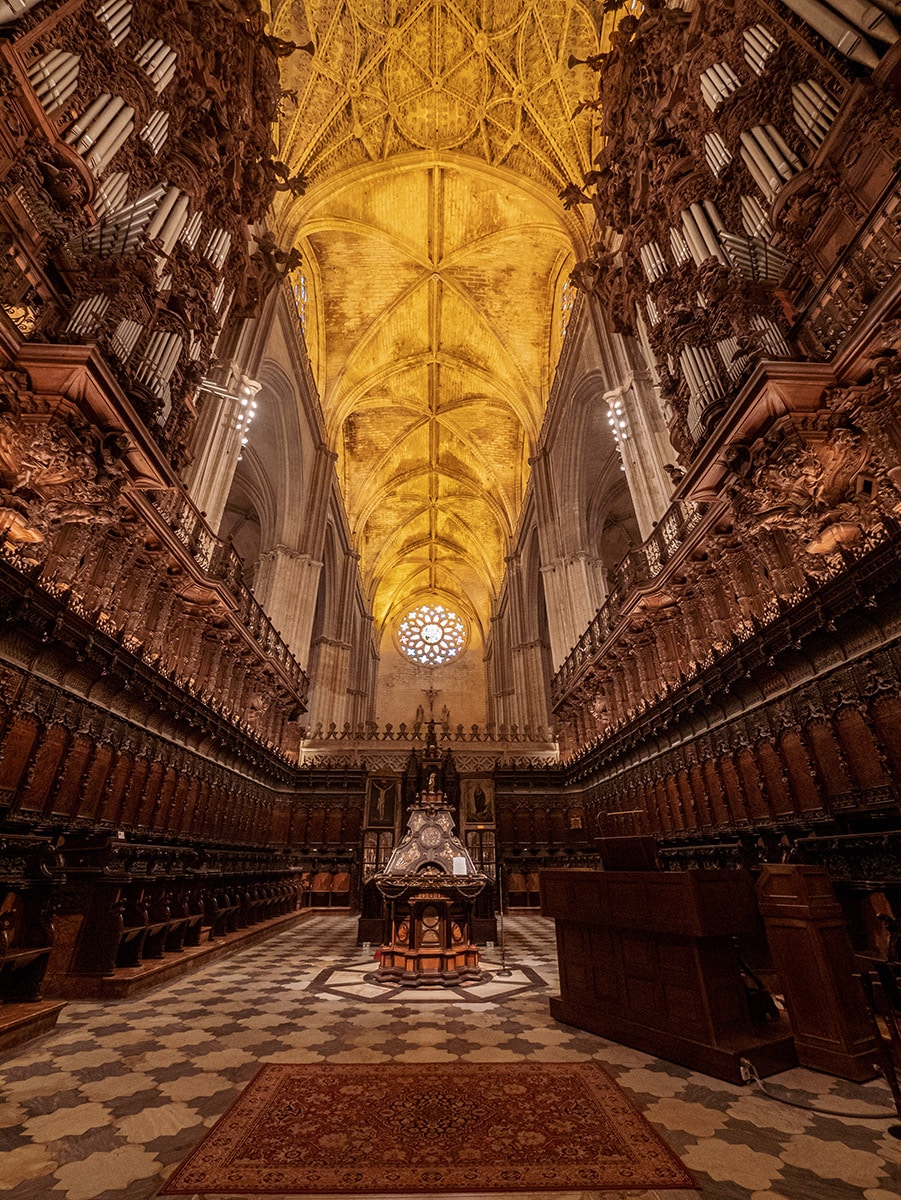 Don't miss the tomb of Christopher Columbus supported by four statues representing the kingdoms of Castile, Leon, Aragon and Navarre; and climb the Giralda, the former minaret converted into a bell tower that stands 96 metres high and offers a breathtaking view of the city. This view is well worth the effort, as you have to climb a 35-step ramp that the muezzin used to ride on a donkey 5 times a day!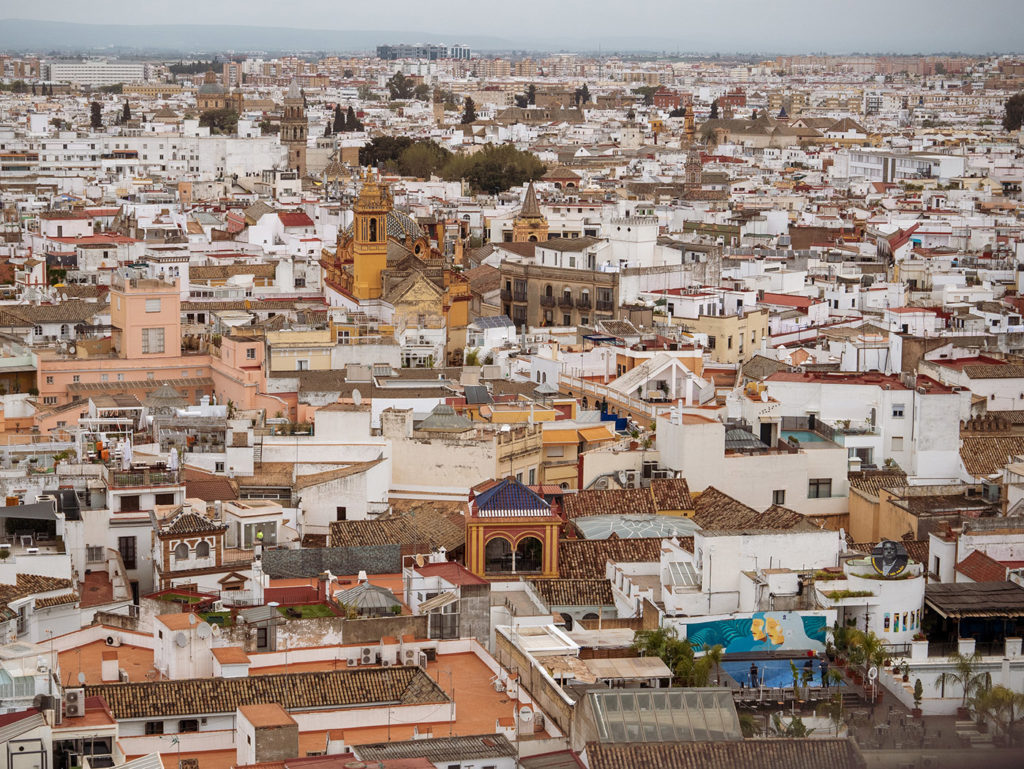 11 € when booking online
12 € on site
Free for children under 13 years old
Monday to Saturday: 10.45am to 5pm
Sunday: 2.30 pm to 6 pm
Casa de Pilatos
The Casa de Pilatos is one of the most beautiful palaces in Seville, built in the 16th century by the Marquis of Tarifa. Its courtyard is representative of Sevillian architecture of the time, mixing Gothic, Mudejar (chiselled stucco and azulejos) and Renaissance styles.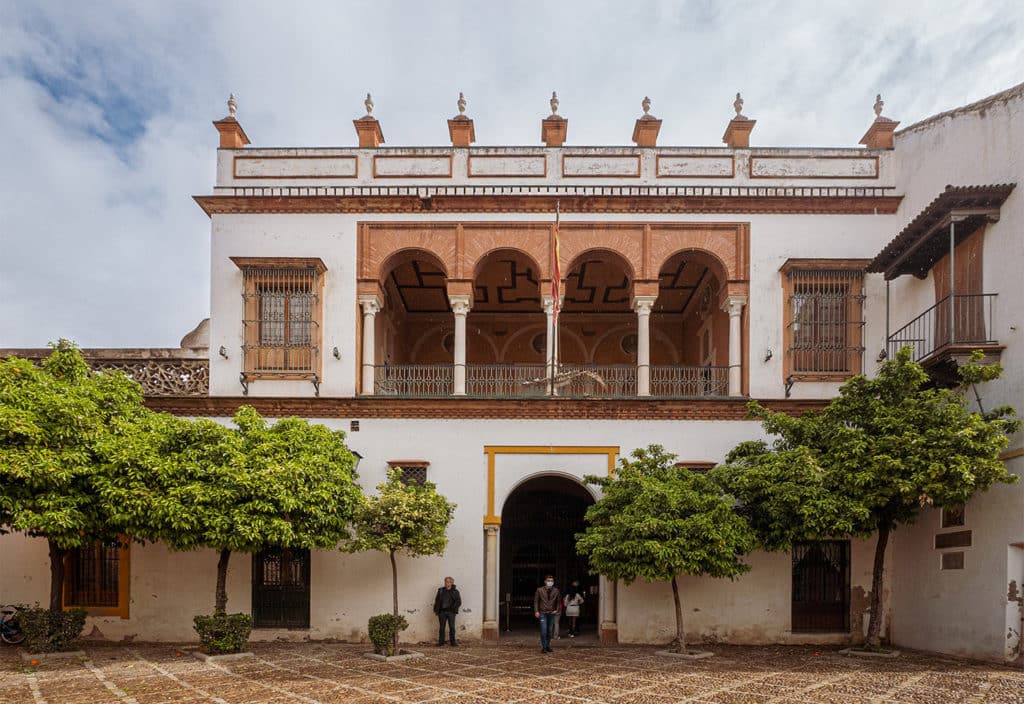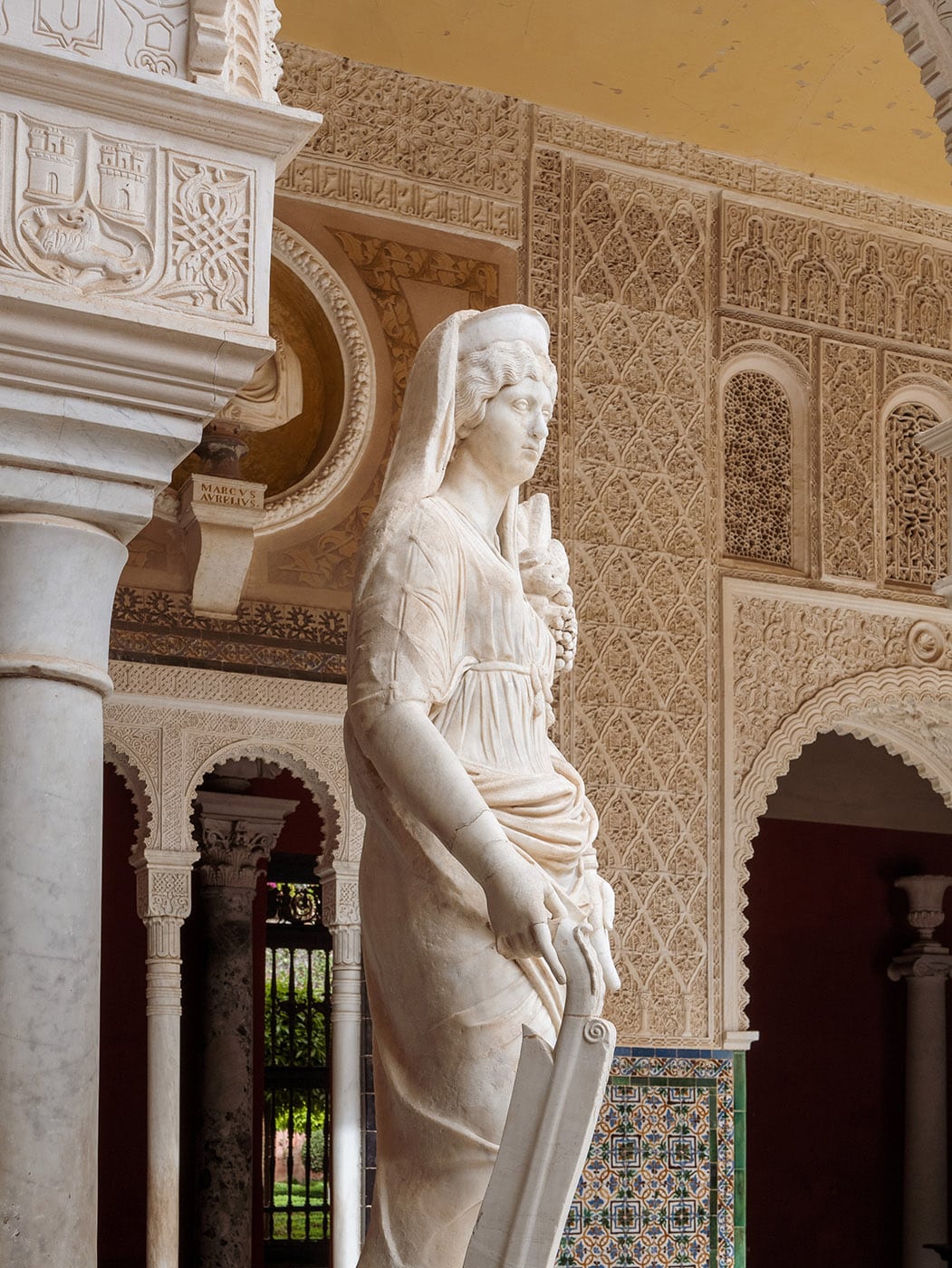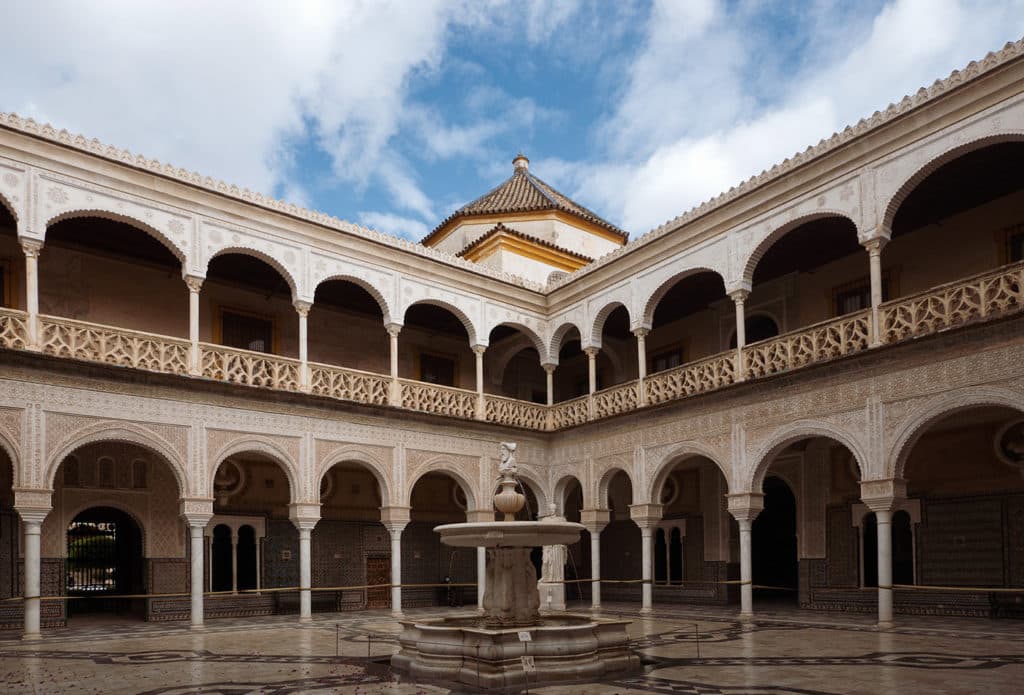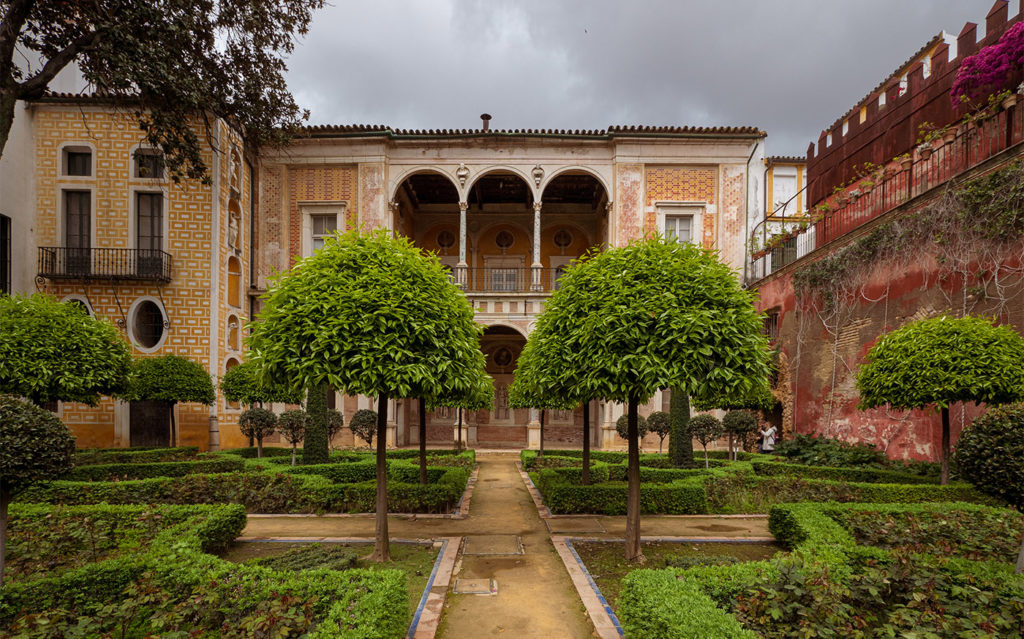 10 €
Free for children under 11 years old
Plaza de Toros de la Real Maestranza
Seville's impressive bullring vibrates several times a year to the rhythm of the bullfights. Even if you don't agree with this tradition, which is very much a part of Andalusian life, you can still visit the museum located in the heart of the bullring throughout the year, where you can learn more about how bullfighting works and how it originated.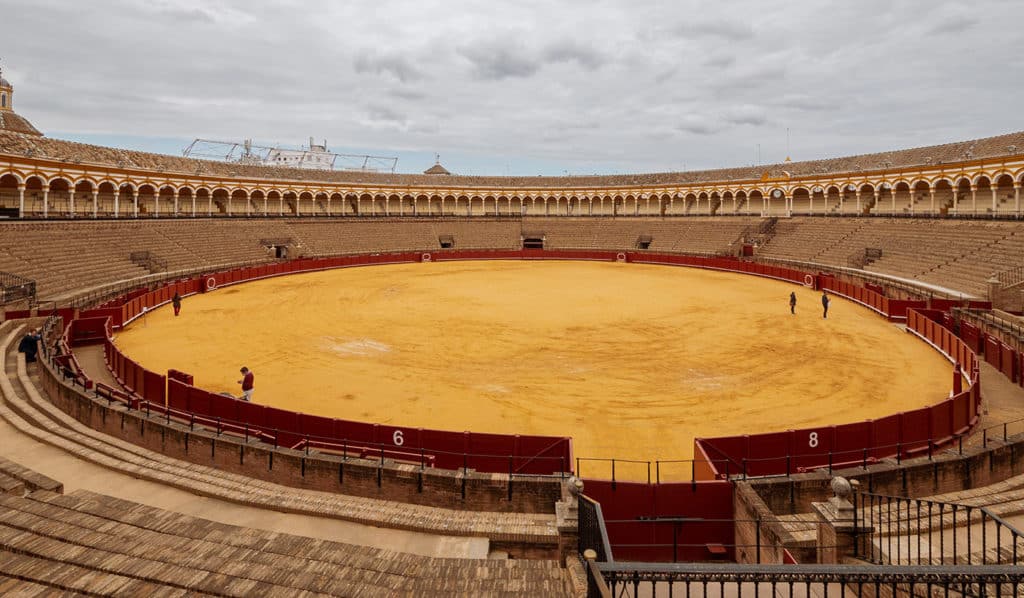 10 €, 6 € for over 65s, under 16s and students, 3.5 € for under 11s, free for under 7s
Monday to Sunday, 9.30am to 7.30pm, excluding show days
Metropol Parasol
Nicknamed the "giant mushroom", the Metropol Parasol (Setas de Sevilla) does not go unnoticed! In the heart of the old town, this modern structure, completed in 2011, contrasts with the traditional architecture of Seville.
You can climb up to its belvedere and enjoy a beautiful view of the city. It is also a great playground for photographers!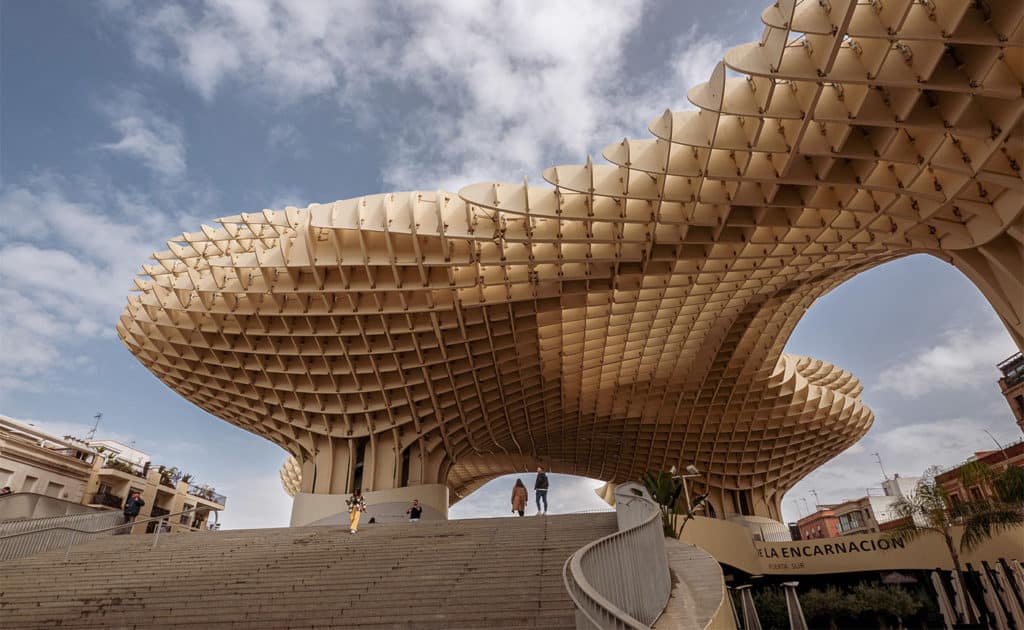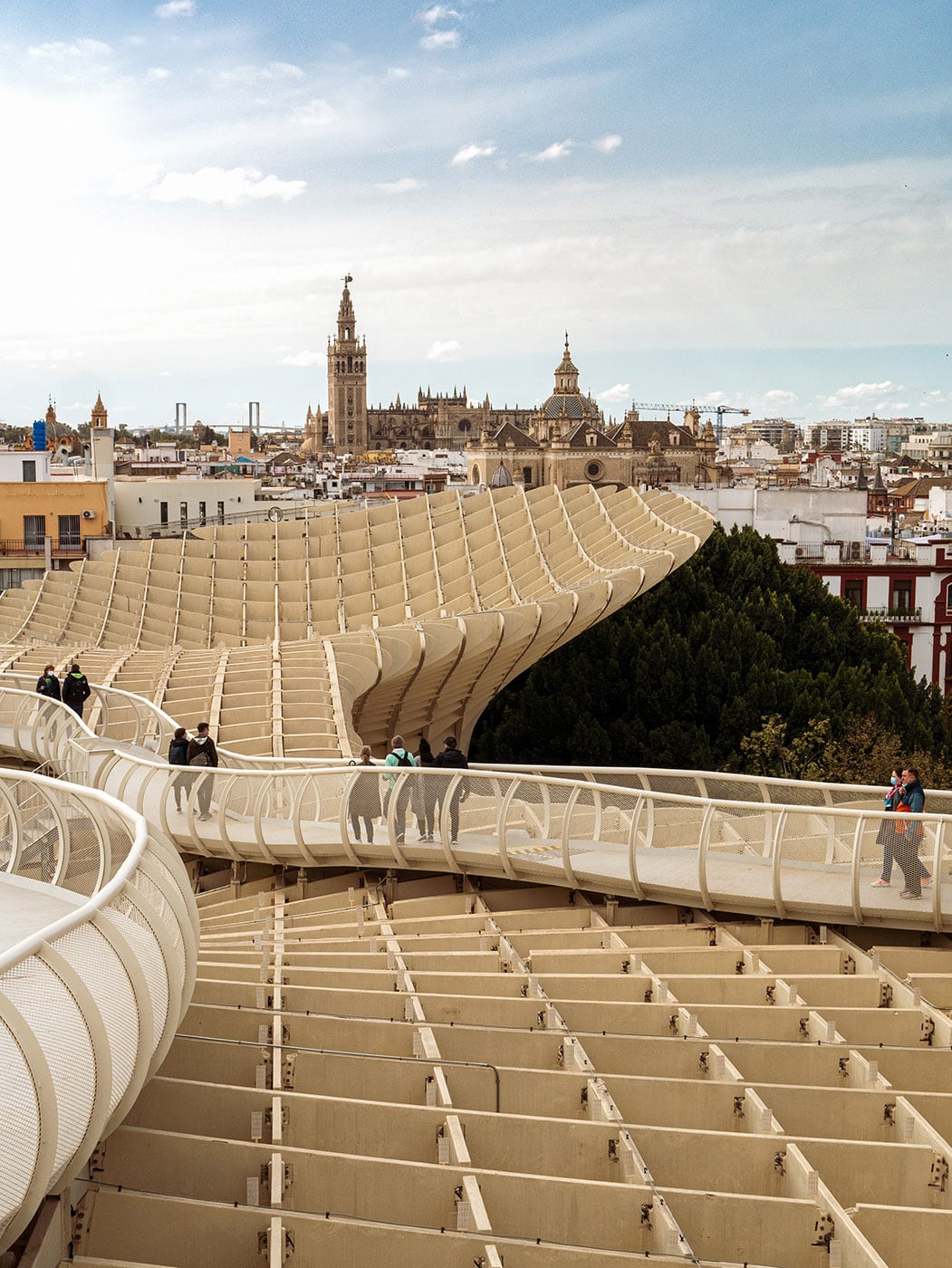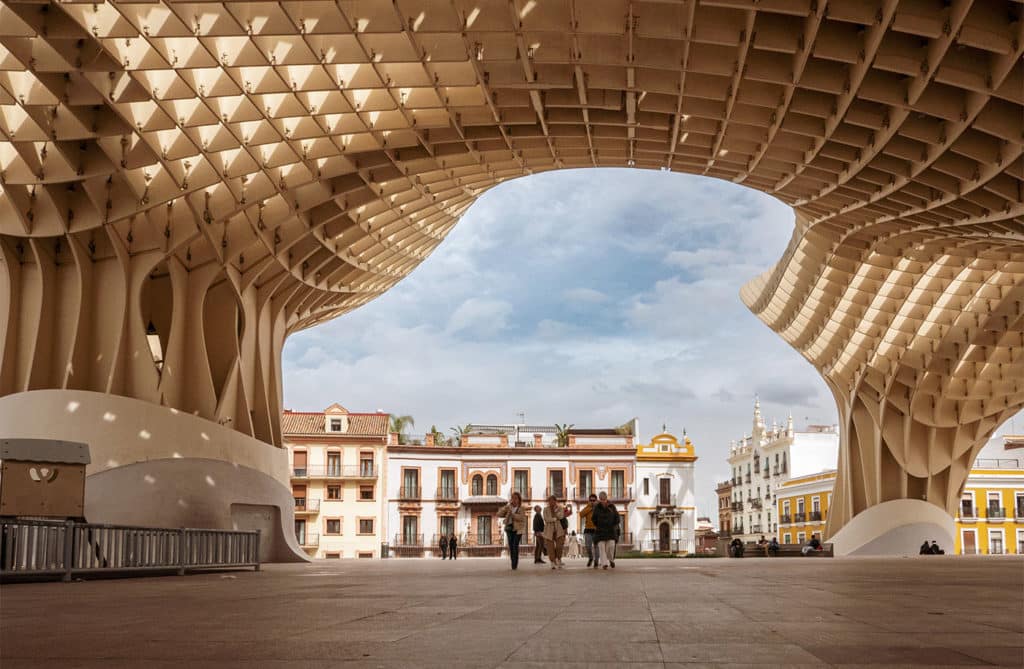 5 € with the "Mirador" ticket
Every day from 9.30 am to midnight from November to March and until 12.30 am from April to October
Museo de Bellas Artes
The Museo de Bellas Artes in Seville is a must-see, especially since it is free for European citizens upon presentation of an ID card!
The museum is housed in a charming former convent, with a tour that takes us through several green patios. In terms of collections, you will find a thousand works, including paintings by El Greco, Fernandez, Velazquez, Murillo, Goya, etc.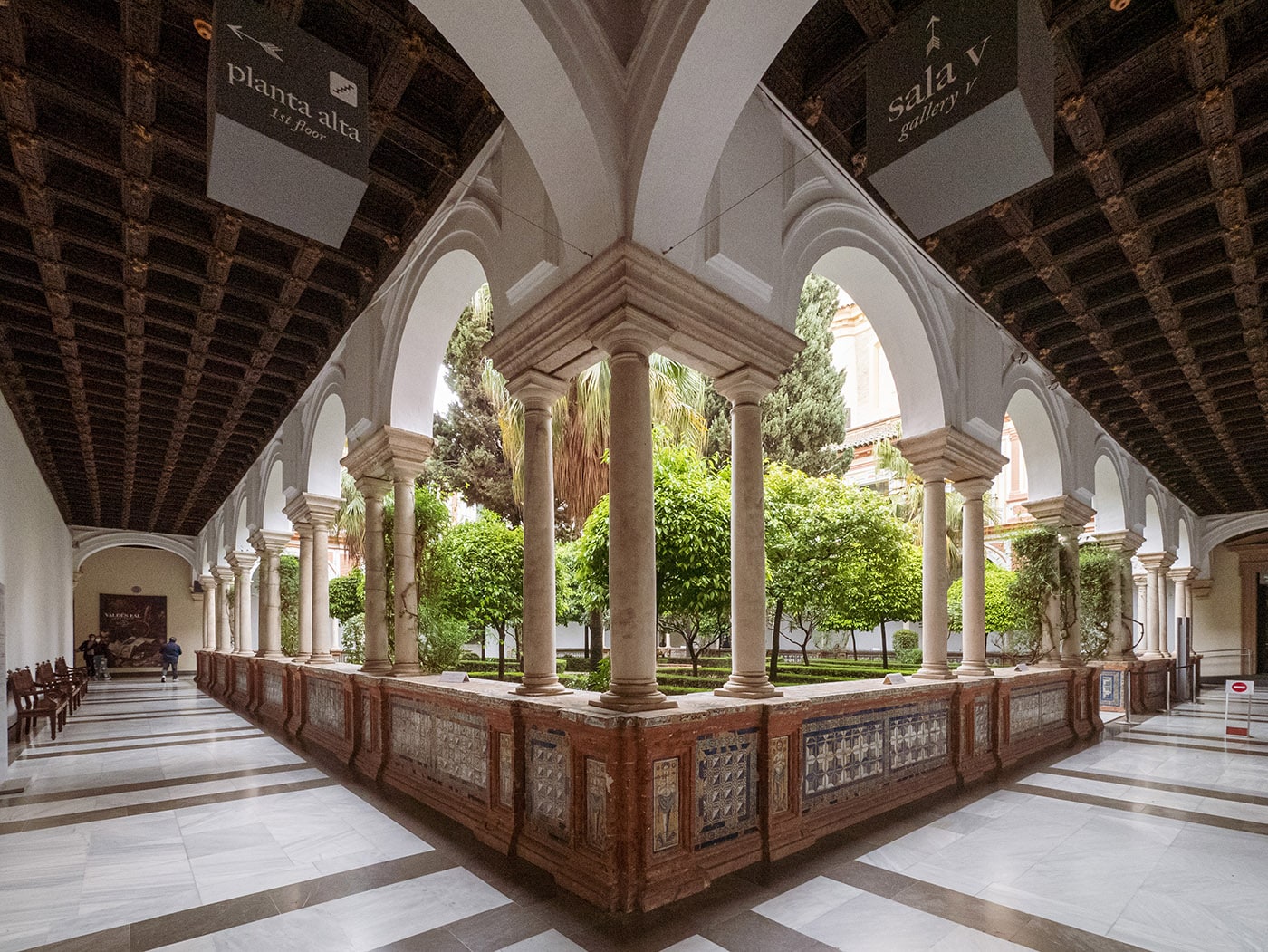 Tuesday to Saturday, 9am to 9pm.
Sundays from 9am to 3pm.
Palacio de la Dueñas
This rich palace built on the site of the María de la Dueñas convent in the 15th and 16th centuries is now the residence of the Albe family. The visit, from patio to patio, allows you to see the charming gardens, passing through the traditionally decorated living rooms.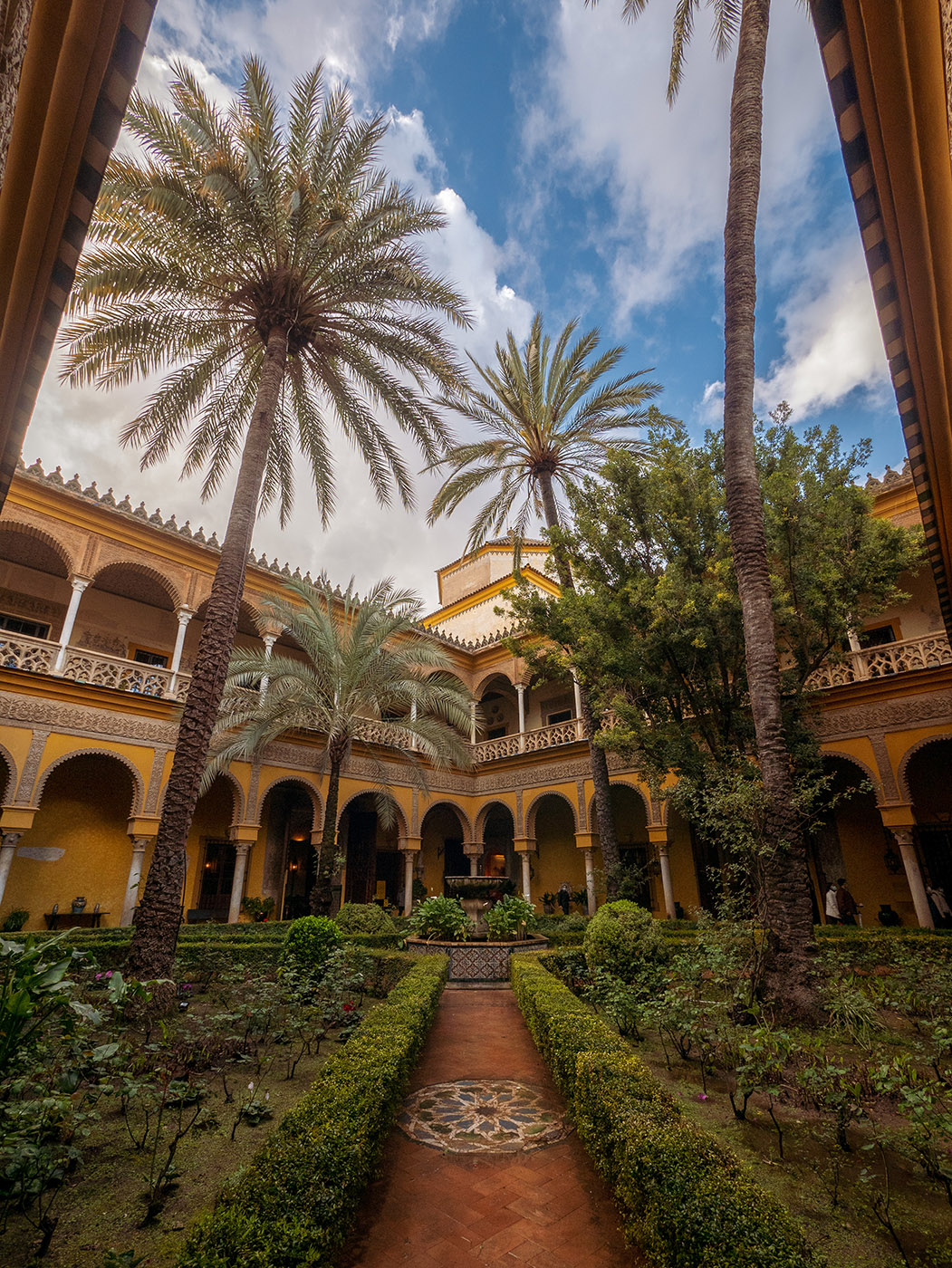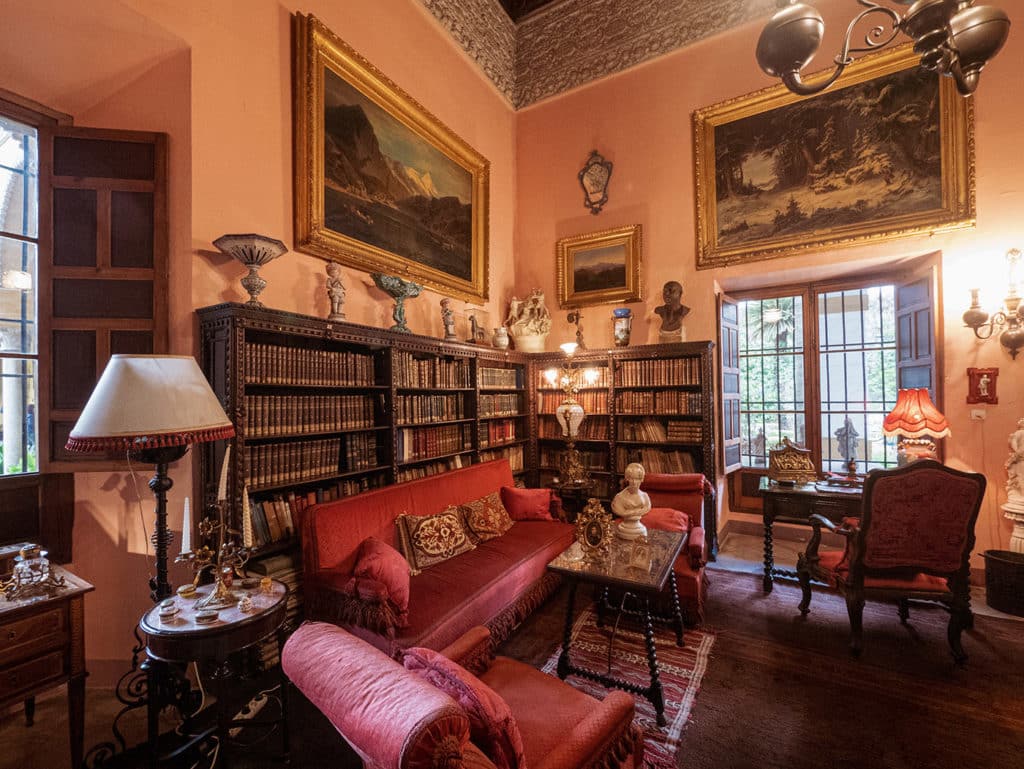 15 € on site, 16 € online
April to September, daily, 10am to 8pm
October to March, daily from 10am to 6pm
General Archives of India
Just a stone's throw from the Alcázar and the Catedral, the General Archive of the Indies was created in 1875 to collect documents related to the Spanish colonies. It has long shelves of documents and, from time to time, temporary exhibitions that are unfortunately only available in Spanish.
Admission is free, so don't hesitate to go and have a look!
Tuesday to Saturday: 9.30am to 4.45pm.
Sundays and public holidays: from 10:00 to 13:45
---
Good addresses in Seville: the best restaurants
There is no shortage of good places to eat here! And the prices are often very reasonable, you can easily eat (very) well for two people for less than 20 €.
You can find my tips for restaurants in Seville in this article: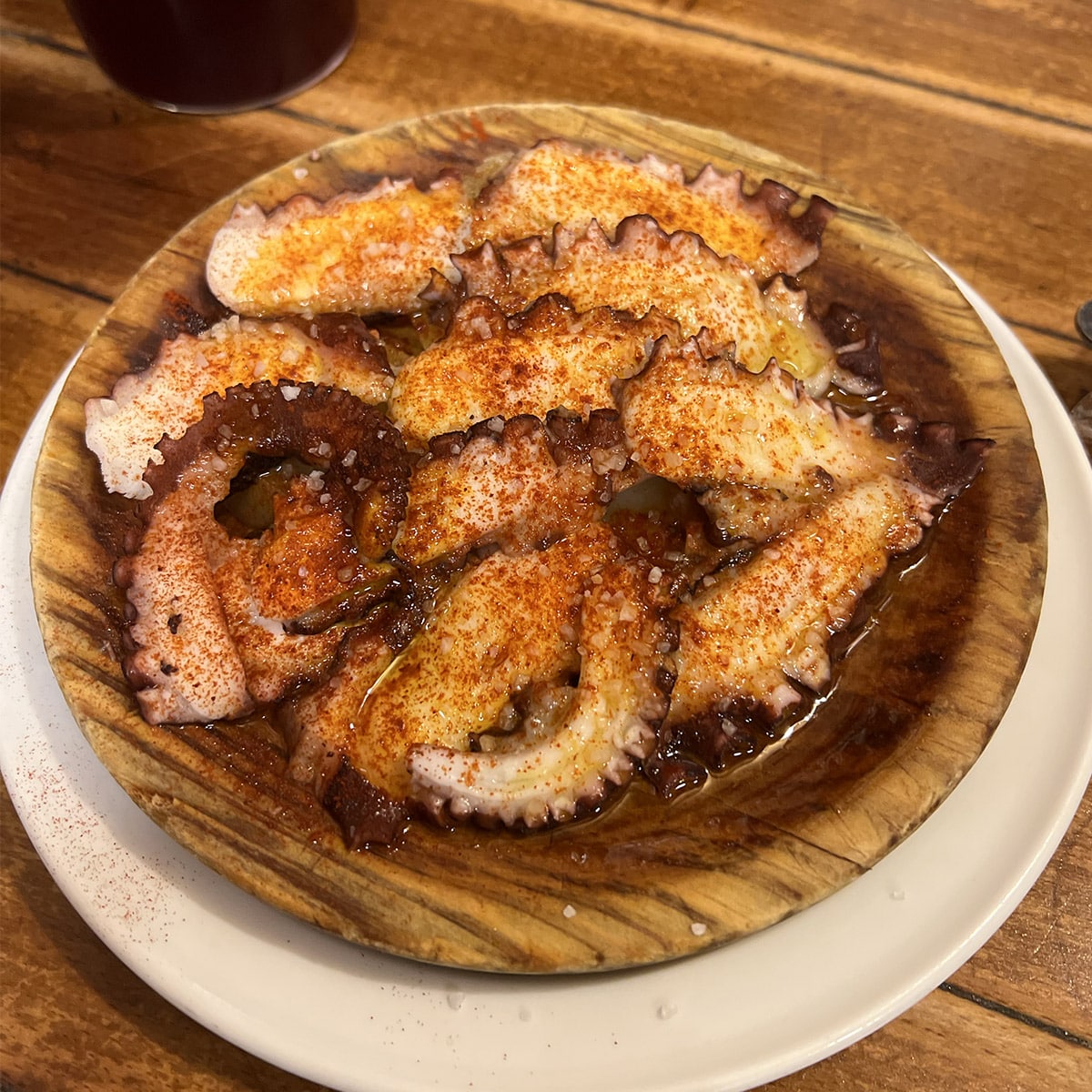 ---
Where to sleep in Seville?
The hotel offer is vast in Seville, ranging from youth hostels to luxury hotels. As I said in the first part of this article, you should expect to pay at least 50 euros per night for a double room in the city centre; 100 euros for a 4-star hotel and much more for luxury hotels. Of course, the earlier you book, the cheaper the rates will be.
I stayed at the Hotel Abba Sevilla, which is ideally located just opposite the Metropol Parasol, and within walking distance of the main monuments. It is a brand new hotel, inaugurated in 2021 with spacious rooms. On the other hand, the breakfast is rather expensive (about 15 euros) compared to the quality offered (few fresh products). I therefore advise you not to take it unless it is included in the offer, especially as many cafés throughout the city offer breakfast for only a few euros.
---
Finding your way around Seville: the city map
To help you find your way around, here is a map of all the good addresses listed in this article:
---
Seville cheap: all the good deals day by day to visit Seville without breaking the bank
It is possible to visit Seville for less if you are well organised: most of the tourist sites offer free visiting slots. Here is a list of them, classified by day of the week.
Every day
General Archives of the Indies: free admission for everyone, all year round!
Seville Museum of Fine Arts: free all year round for citizens of European Union countries, with proof of identity.
Delimbo (urban art gallery): free all year round (closed from Sunday to Tuesday and in August)
Archaeology Museum: free all year round for EU citizens, with proof of identity.
Catedral: every day during mass times, but please be very discreet!
Monday
Real Alcázar: free admission on Mondays, between 4 and 5 pm from October to March and between 6 and 7 pm from April to September. Tickets can be booked at https://realalcazarsevilla.sacatuentrada.es/ (please note that the number of places is limited).
Palacio de Las Dueñas: free on Mondays from 4pm. 50 tickets are distributed on the spot, it is best to arrive a little in advance to get your free entrance.
Catedral: free on Mondays between 3.30 and 5pm
Hospital de la Caridad: free on Mondays between 15:30 and 19:30
Wednesdays
Real Maestranza (Seville's bullring): free on Wednesdays from 3.30 pm to 7.30 pm
Casa de Pilatos: Free on Wednesdays from 3pm to 7pm for European Union citizens
Sundays
Hospital de los Venerables Sacerdotes: free on Sundays between 2pm and 6pm
Church of San Luis de Los Franceses: free on Sunday afternoon
---
What to visit around Seville?
If the length of your stay allows you to go elsewhere than Seville, several cities like Granada or Cadiz are easily accessible by train.
Cordoba
I would recommend a visit to Cordoba, which you can reach in 45 minutes by train. There, you can discover the fascinating mosque-cathedral, one of the most incredible monuments I have ever seen!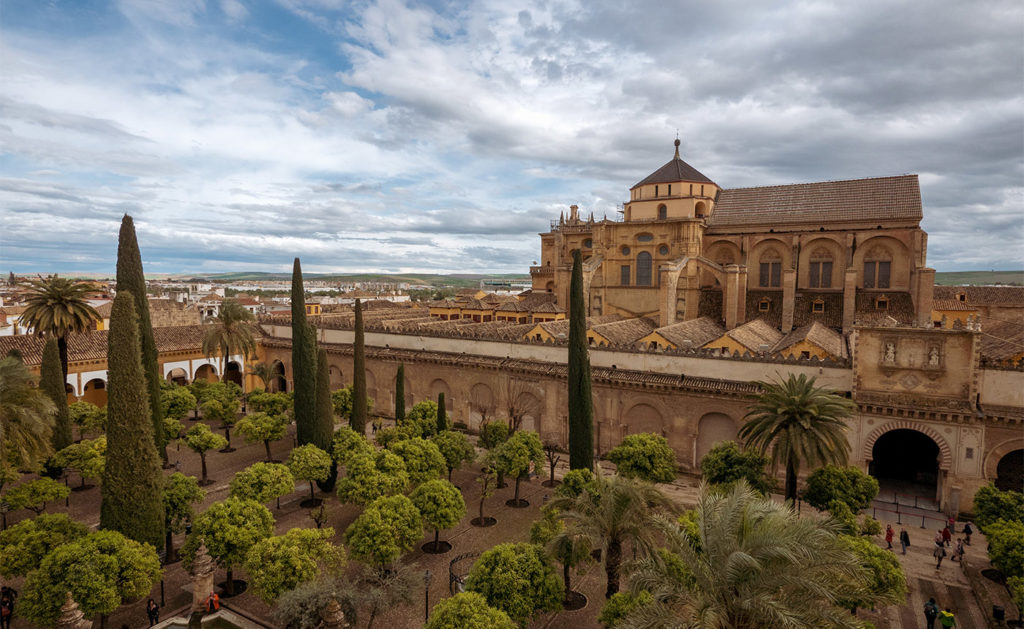 Madrid
Still in Spain, the capital, Madrid, is of course a must-see especially if you like cultural visits. With its palaces and numerous museums, there is plenty to see…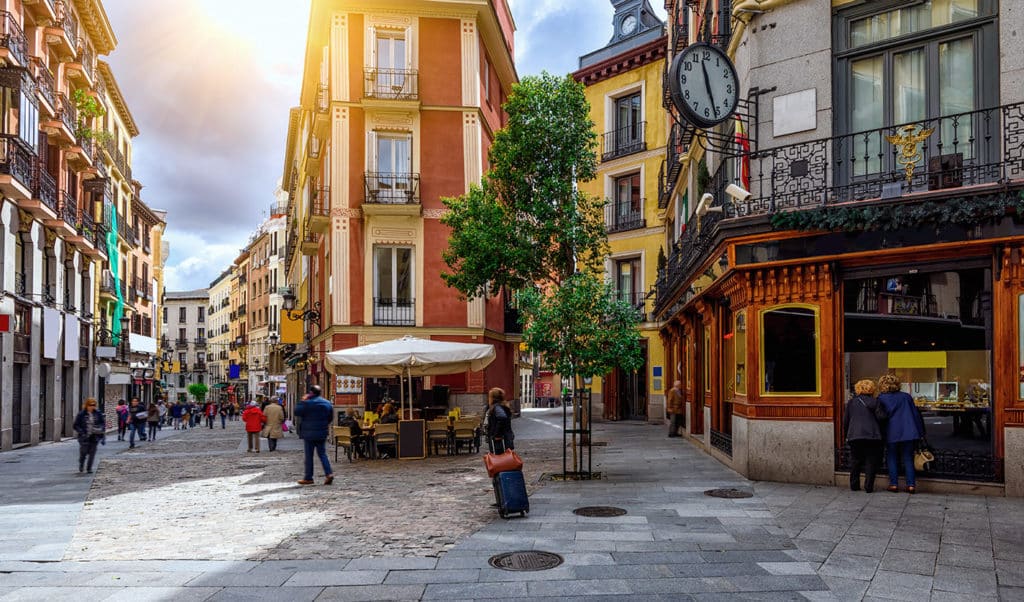 You now have all the information you need to plan your trip to Seville! Don't hesitate to share your own tips in the comments or to ask me questions if you need additional advice.
Enjoy your trip!
Did you like this article? Pin it on Pinterest!