More and more of us are going to visit Spain and rightly so, because it has many advantages: the sun, the singing accent and of course the taste for partying!
For a weekend I went to visit Madrid a relatively small capital which can be discovered perfectly over two days. Where to stay? Where to eat? And what is there to visit in Madrid? All the answers can be found in this city guide.
Practical Madrid: lodging, traveling, dining out
Where to pack your suitcases in Madrid?
The most interesting places to see in Madrid are quite concentrated, everything can easily be done on foot if your hotel is well located. The Centro, Chueca, La Latina and Malasaña districts are the best places to stay.
Be careful, I was surprised by the prices of hotels in Madrid which are often high so it is better to plan ahead. For my part I went to the Ibis Centro hotel, perfectly located and at a reasonable price. The rooms are spacious and very clean.
Getting around Madrid
Again if you stay in the centre you can do almost everything on foot. Otherwise, the metro is very pleasant very clean and cheap.
You will have to buy a transport card which is sold for €2,5. The ten-journey pass costs €12.5. To get to the airport there is an extra charge of €3.
Where to eat in Madrid?
Of course Madrid lives on spanish time: people eat relatively late. Around 2pm for lunch, 9pm for dinner and the locals party late into the night.
Prices are cheap compared to Paris or London: count less than twenty euros for dish, dessert and a glass of wine!If you are travelling in a group, you will sometimes be asked if you would like to share your meals, it is quite common and very convivial. Be careful with the starters: they are very copious so be reasonable when ordering! Of course in Madrid we eat paella but mostly tapas.
Some addresses that I recommend:
La Chulapa de Alcala, located in the city centre (Calle Alcala 35). From the outside it doesn't look like much but the dishes are very good.
El 5 De Tirso (Plaza de Tirso de Molina, 5) a very nice restaurant, nicely decorated with a refined menu.
Mercado De San Ildefonso (Calle de Fuencarral, 57): this covered market works like the Time Out Market in Lisbon: a multitude of caterers are waiting for you around tables and you order from the one you want most. It's handy when you're with friends who don't have the same tastes. But beware, places are scarce, so it's better to go early or to be patient and wait for a place to become available.
---
5 things you must do in Madrid
Strolling the streets
Madrid is a very colourful city, it is pleasant to stroll around and get lost in its streets. Try to walk through the Plaza Mayor the most famous square in the city created in the 17th century and rebuilt in the 18th after a fire; then go to the Plaza de Ramales where there is a cross in honour of Velázquez who was buried there in an old church.
Around the monument dedicated to Philip V you will have a magnificent view of the Royal Palace. Get a little closer to go to the Sabatini Gardens a perfect place to find a little freshness!
Impossible to miss the Gran Via, the equivalent of the Paris Champs Elysees. Created at the beginning of the 20th century it is a place where you can find a multitude of architectural styles and it is above all the most lively part of Madrid, day and night!
Getting higher
To continue your exploration of the city, go to the Circulo de Bella Artes. This building houses a cultural centre and also has a rooftop. The entrance costs €4 but offers a great view of Madrid. There is also a bar.
Visit the churches
Madrid's churches are among the most beautiful monuments in the city and since they are free there is no excuse not to enjoy them! The most surprising one is slightly out of the centre but is well worth the trip. The San Antonio de la Florida Chapel doesn't look very nice from the outside but inside a nice surprise awaits you: a grandiose pictorial ensemble painted by Goya. A must see!
Find out more: The Goya's grandiose pictorial ensemble in the San Antonio de la Florida Chapel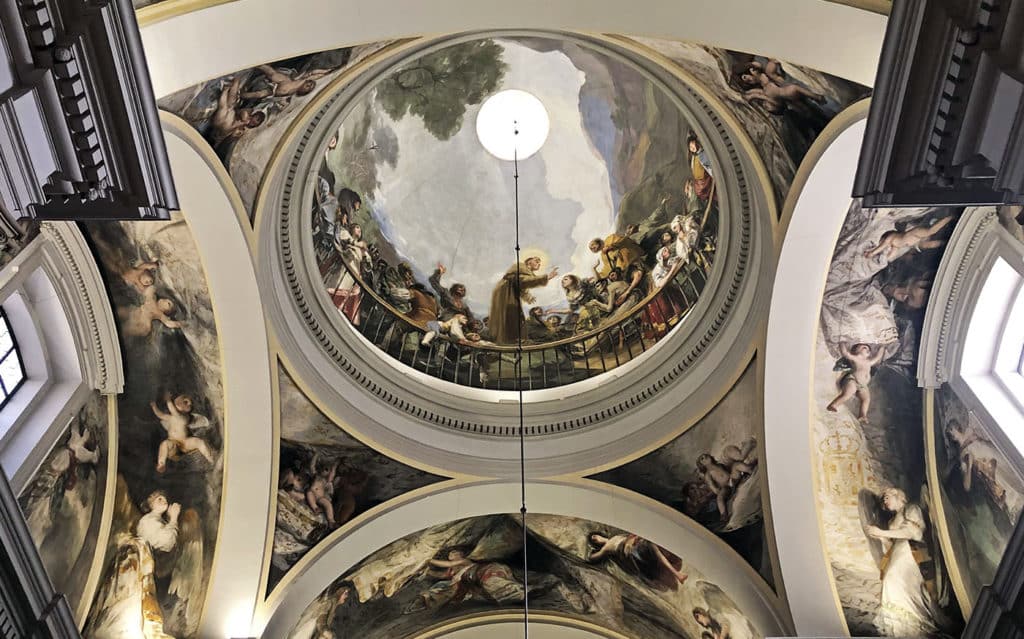 Right next to the Palacio Real, the Cathedral Nuestra Señora de la Almudena is a must see. Although its construction began in 1872 the work was not completed until 1992 so it is a very modern cathedral with contemporary stained glass and beautiful paintings.
Visit the museums
Culturally Madrid is not to be outdone and has some very beautiful museums. Here are a few of them that you should definitely see.
The Sorolla Museum
It's my favorite part of this trip. Installed in the last house of the artist this museum presents some masterpieces by Joaquin Sorolla (1863-1923), the creator of the optimistic image of a luminous and Mediterranean Spain. To find out more about this museum, I invite you to read the article I devoted to it: The lovely Sorolla museum in Madrid
The Thyssen-Bornemisza Museum
Since 1992 this museum has been hosting the formidable collection of paintings of the German Thyssen-Bornemisza family. On three floors you will discover a multitude of styles from the 13th century to the present day classified in chronological order. You will see paintings by Lichtenstein, Dali, Picasso, Hopper, Kandinsky, Chagall, Magritte, Giacometti, Van Gogh, Caravaggio, Rembrandt, Fragonard, Boucher, Cézanne, Degas, Schiele, Munch, Canaletto… A real journey through the history of art!
Tips: free entrance on Mondays from 12 to 4 pm in the permanent collections – www.museothyssen.org/en
Queen Sofia Museum
This museum of contemporary art takes place in a former hospital transformed into an art centre. Recently the construction of a new building has made it possible to enlarge the museum. Between the historical building and the modern one by Jean Nouvel, several temporary exhibitions and many permanent exhibition rooms are waiting for you.
The masterpiece of the museum is Picasso's famous Guernica, which you won't be able to see anywhere else because its condition no longer allows you to move it. You will also see several paintings by Dali and Miro but also artworks by Lichtenstein, Calder, Léger…
Tips: free opening in the evening, from 7pm to 9pm on weekdays and from 1.30pm to 7pm on Sundays – www.museoreinasofia.es/en
The Prado Museum
It's probably the most famous museum in Spain but I was a little disappointed. Generally dull and sad it would need an updated scenography to enhance its treasures.
If it is not the most charming it is nevertheless a must to see some wonders such as Velazquez's Meninas, Bosch's Garden of Delights, several paintings by Goya, Tintoretto, Rubens, Greco, Titian or Raphael. Unfortunately as it is not allowed to take photos I am unable to show you a glimpse of this museum.
Tips: the Prado Museum is open free of charge at the end of the day, from 6 to 8 pm on weekdays and from 5 to 7 pm on Sundays. But watch out for the crowd! – www.museodelprado.es/en
The Mafpre Foundation
Here you will find only temporary exhibitions but generally of high quality and cheap. When I went there an exhibition was dedicated to Chagall and Malevich for only €3. – www.fundacionmapfre.org/fundacion/en/
Walking in Retiro Park
This is the lung of Madrid a gigantic 118-hectare park designed in the 17th century. There is a large pool where you can rent boats.
---
Location map
Find all the addresses mentioned in this article in this map:
---
You now have all the cards in hand to prepare a beautiful stay in madrid! Have a nice trip!
Did you like this article? Pin it on Pinterest!