The universe intrigues as much as it inspires. Since the dawn of time it has been a subject of questioning for scientists but also for artists! We owe to Einstein these words: "The most beautiful thing is the mystery of the Universe… cradle of art and science."
It is around this exciting theme that the new exhibition at the La Poste museum is structured. "Dreaming about the universe" invites thirteen contemporary artists to present their vision of the universe in a 100% dreamlike exhibition! Here is a selection of some of their works, to be discovered until January 10, 2021.
Félicie d'Estienne d'Orves, Mars, Uranus – Light stallions
How long does it take light from Mars or Uranus to reach us? On these standard meters, Félicie d'Estienne d'Orves materializes this duration (between 3 to 22 minutes for Mars; 2h23 to 2h55 for Uranus) using real time data communicated by NASA. If this duration varies so much it is of course because the distance between the Earth and these planets is constantly changing. An original installation that helps us become aware of the size of our solar system.
Vladimir Skoda, Kora
The artist presents several works in this exhibition, with many sets of mirrors. On this one he uses a sphere (symbol of perfection) that swings. Seen from a certain angle, its reflection comes to form a black hole.
Nicolas Baier, Hublot 54 AUR
Nicolas Baier's has represented a catalog of 120,000 stars mapped by the Hipparcos satellite between 1989 and 1993. A multilayer print allows to see this cartography in relief. We can see a large gathering of stars in the center, it is of course there that the earth is located and therefore from this point that we could observe the most stars.
Funny fact: the data of this work are now largely outdated: the Gaia satellite, still in activity, continues to count new stars, we now count more than a million of them!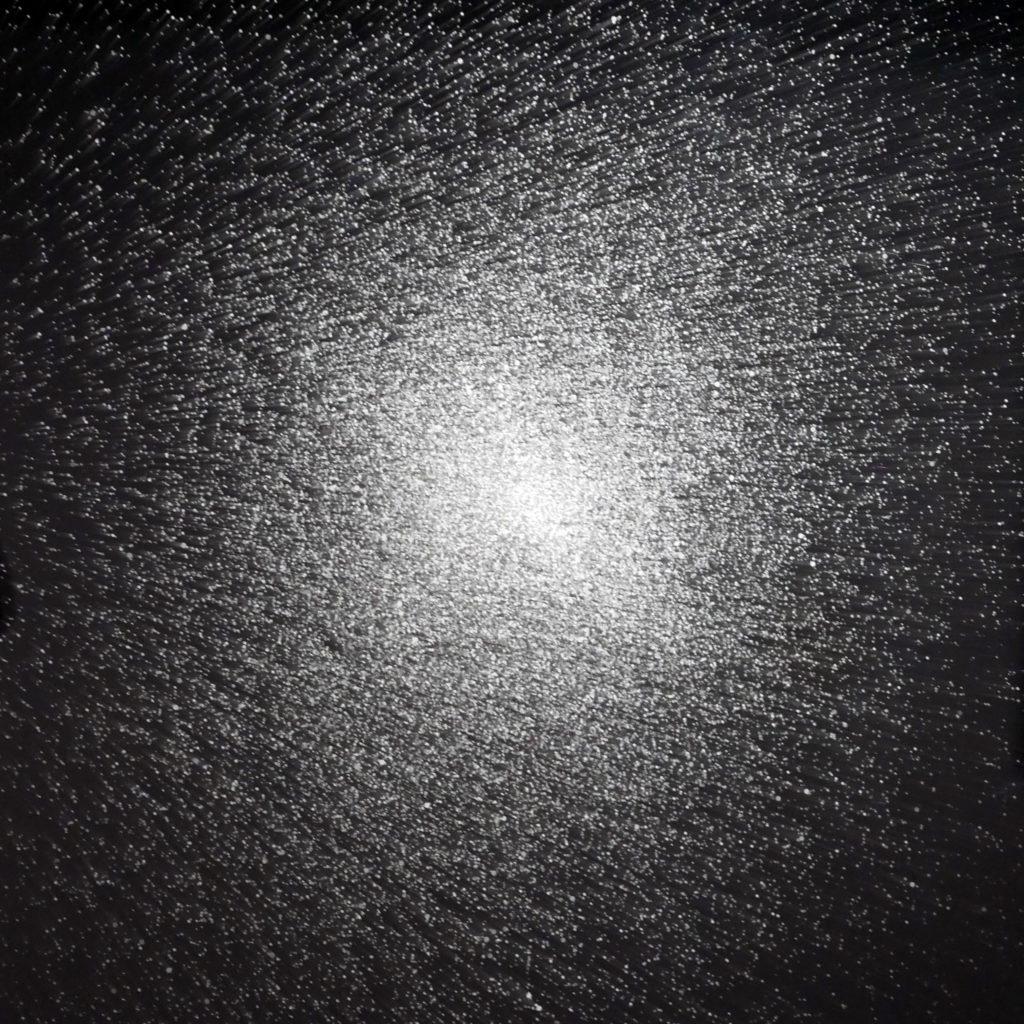 Thomas Brummett, Infinities
These strange photographs evoke images of the cosmos, of course, but on closer inspection there is something unusual about them. This is a photomontage: Thomas Brummett has superimposed images taken by the Hubble telescope on a photograph of his immediate environment (flowers, dust, snowflakes…) creating a new universe.
Marina Gadonneix, The average colour of the universe
What is the average color of the universe? Spontaneously, one would rather lean towards black but it is not! A team of researchers has mixed all the light sources emitted by 200,000 galaxies, and the result is this beige color poetically called "cosmic latte".
Patrick Bailly-Maitre-Grand, Photon Sieve
Wouldn't the universe be at home? The photographer Patrick Bailly-Maitre-Grand created a new sky by simply using an upside down sieve, the rendering is stunning!
Julien Mauve, Greetings from Mars
Always around a work of photography, Julien Mauve went to the American West where the arid landscapes evoke those of the planet Mars. He stages a couple of astronauts who wander on this planet like tourists, photographing their discoveries and making selfies. A fun way to point out a trend in the hyperconnection of our societies that pushes us to share our discoveries on social networks in real time.
David Spriggs, Vision
Using acrylic paint on several transparent sheets superimposed, David Spriggs creates this impressive installation that gives the impression of seeing an explosion, a black hole, hyperspace (everyone will see what they want) in three dimensions. Bluffing!
Many other works are waiting for you at the La Poste museum, I have presented here only a small preview of the exhibition that I strongly encourage you to go and see to discover all the diversity of works proposed around this exciting theme that intrigues so much.
Tip: the exhibition is free of charge on full moon days, i.e. October 1st and 31st, November 30th and December 30th.
Enjoy your visit!
Useful informations
Location:
La Poste museum
34 boulevard de Vaugirard
75015 Paris
France
Opening hours:
Every day, except Tuesday, from 11 a.m. to 6 p.m.
Nocturnal Thursday until 9 p.m. except September 17
Time left:
Until January 10, 2021.
[countdown date=2021/01/11] You have [dtimer] days left to see this exhibition.[after]This exhibition is now closed.[/countdown]