With its historic heritage, charming pedestrian streets and many cultural venues, Leuven is a dynamic and exciting city.
Situated not far from Brussels, it is easily accessible from France and lends itself perfectly to an extended weekend getaway.
So what can you do in Leuven? What visits are a must? Find out in this travel guide!
This travel guide is produced in commercial collaboration with Visit Flanders. The opinions and suggestions for activities in this article are therefore entirely my own.
Leuven in short

How to get to Leuven Leuven is easily accessible by train. From France, all you have to do is travel to Brussels by Eurostar (formerly Thalys) and then take a connecting train to Leuven. Allow 1h20 for Paris – Brussels + 25 minutes for Brussels – Leuven.
How long can I stay ? Although Leuven is a small city, there is a lot to visit. So the ideal is to spend 3 days there to have time to explore everything, taking your time and not getting frustrated.
Getting around the city It's easy to get around the city on foot, with most points of interest located in the city centre. If walking is not your forte, there is a bus network or you can hire a bicycle, the most popular means of transport.
Who's it for? As a family, as a couple, with friends or on your own! All you have to do is adapt your visits to suit your own pace and desires.
When should you go? All year round! In summer you can enjoy the mild weather, in October the beautiful autumn colours and in winter the Christmas atmosphere. Many activities (visits to museums and monuments) take place indoors, so you can escape the rain if necessary.
What language should I use to communicate? Leuven is located in the Flemish part of Belgium, where Dutch is the most widely spoken language. French is not widely spoken, although it is not uncommon to come across French speakers, especially in tourist areas. On the other hand, it's very easy to speak English.
---
What to do in Leuven 8 must-do activities
Strolling through the city
Start your discovery of Leuven by strolling through the city centre. You'll be amazed by the typical architecture of Flanders!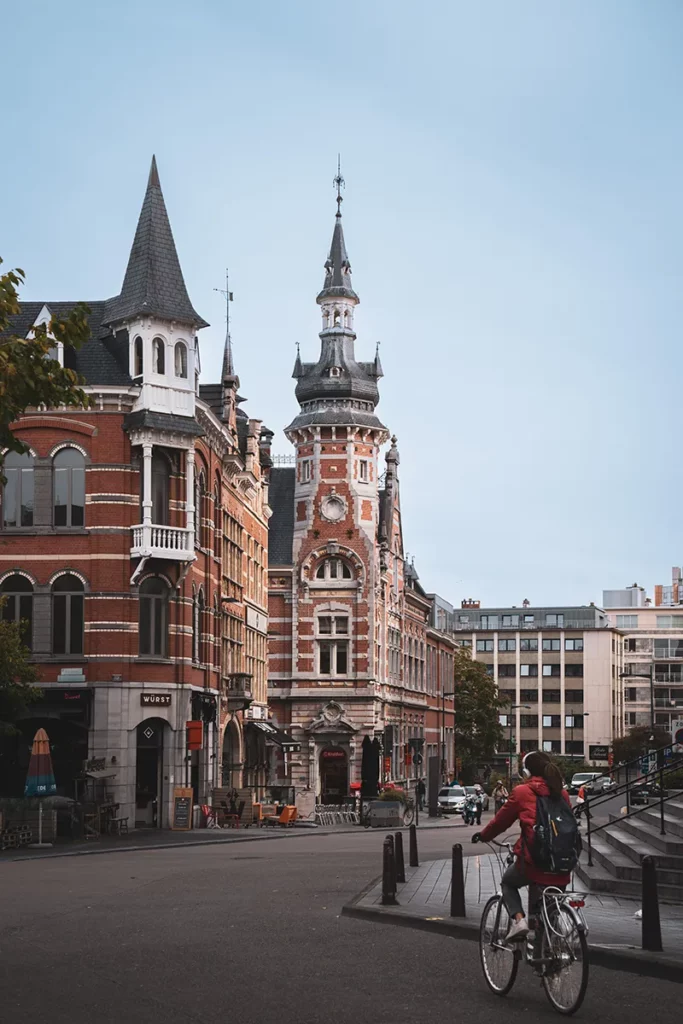 Don't miss the Grote Markt, Leuven's central square, where you can admire the sublime town hall and St Peter's church.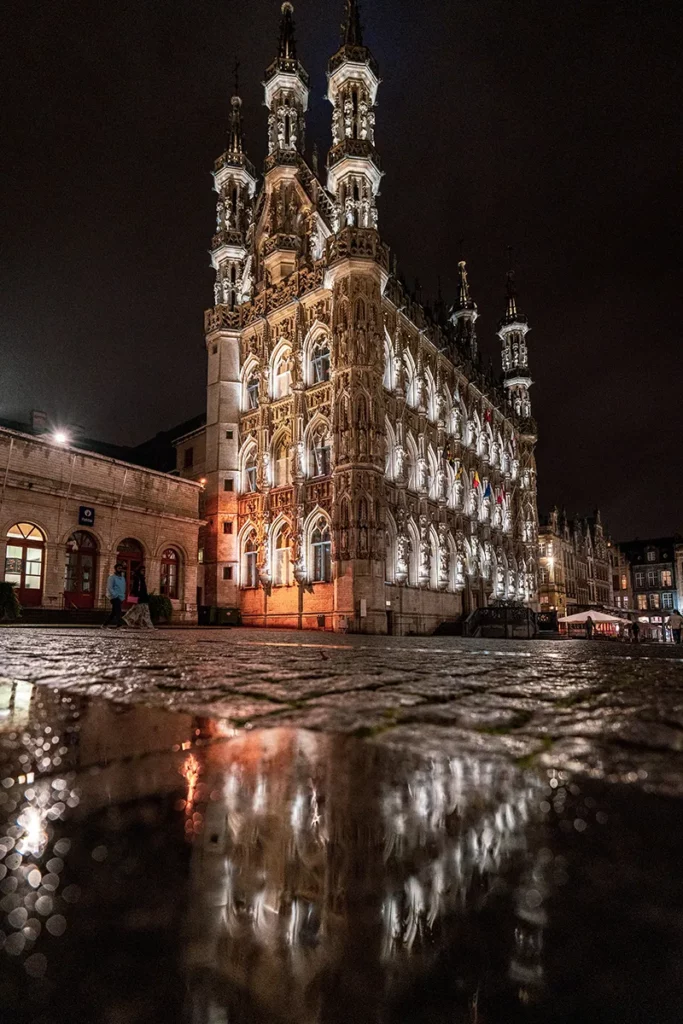 You can also visit the Oude Markt, the city's vibrant square. With its many bars and restaurants, it's a lively place to be in the evening.
Visit the Town Hall
If there's one eye-catching building in Leuven, it's the Town Hall! A masterpiece of Gothic architecture, it stands at the heart of the Grote Markt.
Built in the 15th century, the building miraculously escaped destruction in the two world wars. The exterior is flanked by 236 sculptures, which were only added in the 19th century due to a lack of funds in the early years of construction.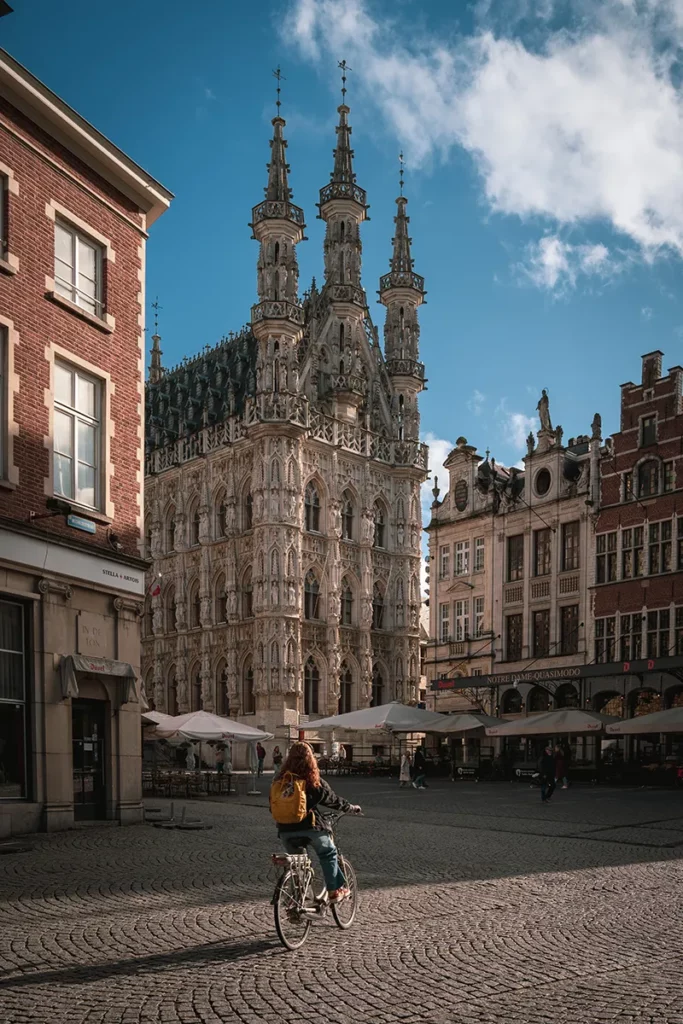 Guided tours of the interior of the Town Hall are available in English.
 Address : Grote Markt
 Times : Monday to Saturday at 4pm, Sundays at 2pm
 Price: €4, free for under-12s
 Tickets: online ticket office
Entering Saint-Pierre church
Located just opposite the Town Hall, St Peter's Church is Leuven's other must-see monument! It was built between the 15th and 17th centuries in the late Gothic style.
Restored in 2020, the church is sumptuous and rich in works of art. Here you can see "The Last Supper" by Dieric Bouts, one of the great Flemish masters. The work is on show at the Musée M until 14 January 2024 as part of the exhibition Dieric Bouts, image maker.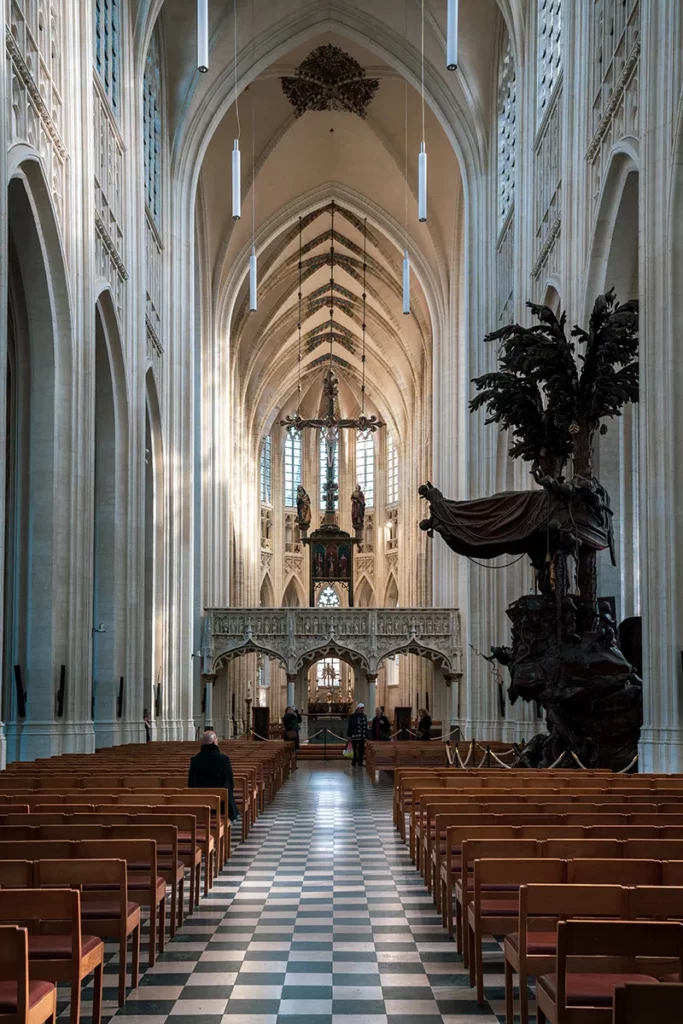 Address : Grote Markt
 Opening hours : Monday to Saturday from 10am to 4.30pm, Sundays from 11am to 4.30pm
Marvel at the Musée M
Museum M is Leuven's fine arts museum. Its collections range from ancient to contemporary art and are mainly representative of artistic production in Leuven and the surrounding area.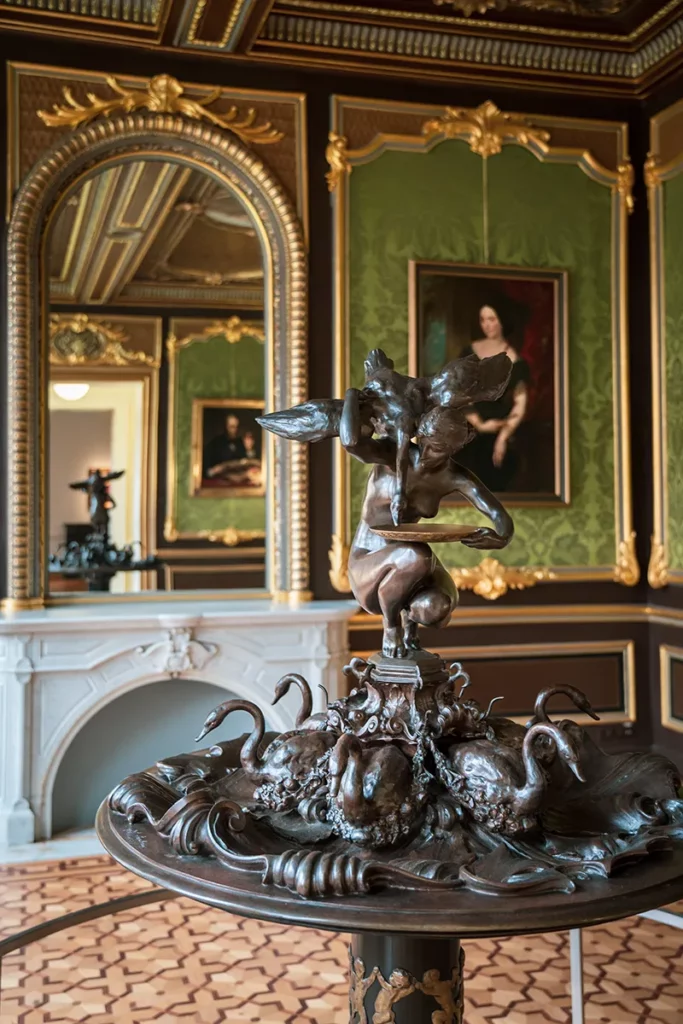 The museum regularly hosts temporary exhibitions. As I write this article, and until 14 January 2024, the exhibition "Dieric Bouts, images maker" is on show. The exhibition takes a fresh look at the work of the Flemish master, a former resident of Leuven, by comparing his paintings with today's visual culture.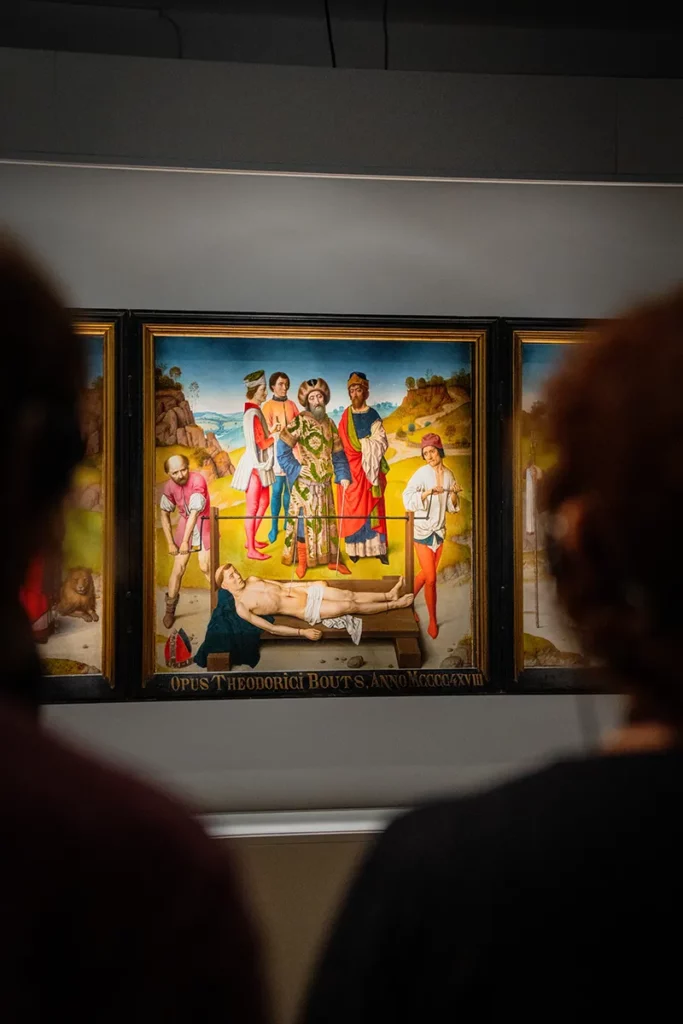 Address: Leopold Vanderkelenstraat 28
 Opening times : daily except Wednesday, 11 am to 6 pm; Thursday night until 10 pm
 Admission: full price: €12, concessions: €10, youth price (19-25): €5, free for under-19s
Stroll through the Great Beguinage (Groot Begijnhof)
The beguinages are typical of Flanders, bearing witness to a religious tradition dating back to the Middle Ages. They welcomed widows or single women who wished to live a religious life without taking their vows.
The Leuven beguinage is a fairly large district with many charming brick houses.
Today, these houses no longer have this religious connotation. They are used mainly by students and teachers. You can also find beguinages in Bruges and Antwerp.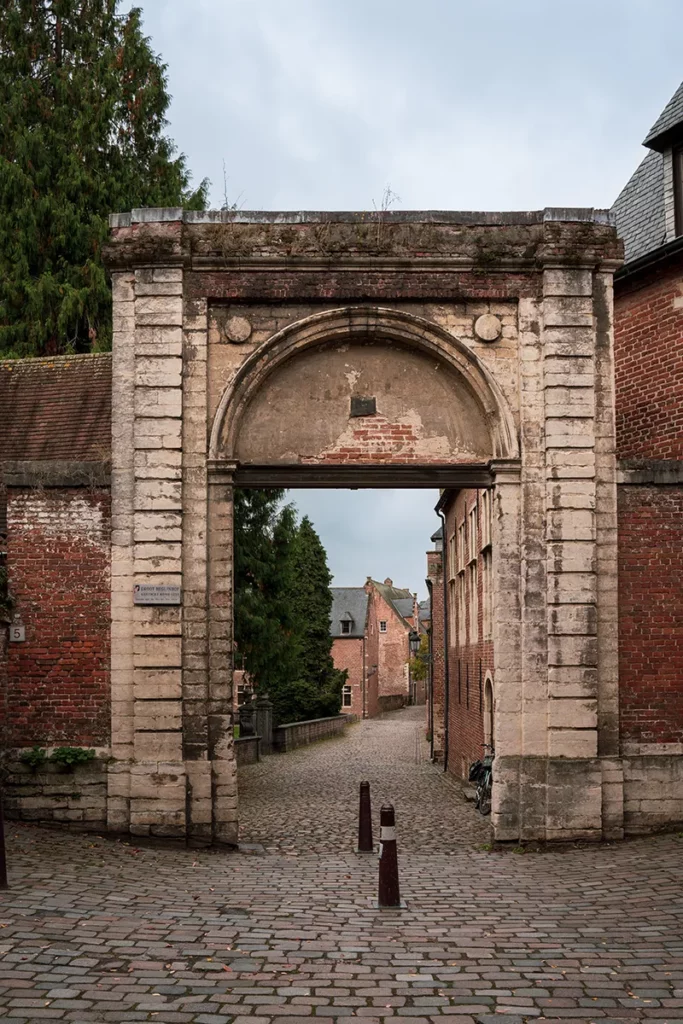 Address : Groot Begijnhof 7
Visit the university library and see the city from its tower
It's impossible to miss the university library, which dominates the city with its towering tower! However, this beautiful building was damaged several times during the 20th century.
In 1914, the city was burnt down by German troops. The university and its 300,000 books went up in smoke. Considered to be the "Belgian Oxford", this disaster made headlines around the world, so much so that in the aftermath of the First World War, the idea of rebuilding the library was born. The reconstruction work was entirely paid for by the Americans and was completed in 1928.
Alas, in 1940, history repeated itself: in the midst of the Second World War, another fire broke out and once again devastated the library. It would be rebuilt for a second time a quarter of a century after the war.
Today, you can visit the library and go to the top of the tower to look out over the city. You can also visit the reading room, but you'll be able to make the most of it if you go at the weekend. During the week, the presence of students limits the possibilities for wandering around and taking photographs in the reading room.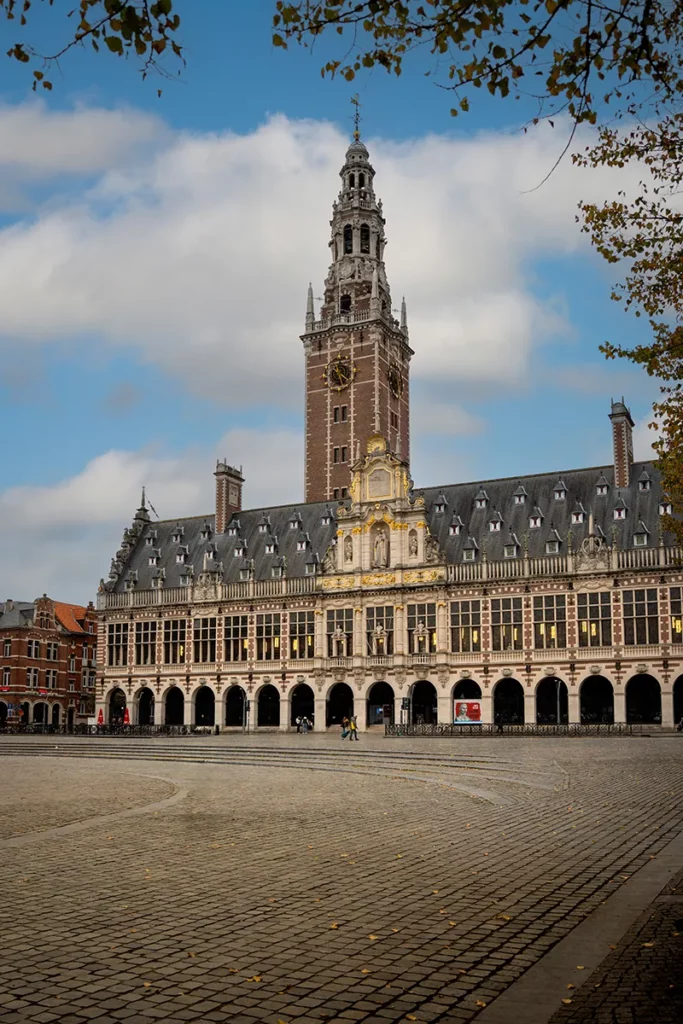 Address: Monseigneur Ladeuzeplein 21, 3000 Leuven
 Opening hours: daily, 10 am to 6 pm, last climb up the tower at 5 pm
 Tickets: online ticket office
Discover Parc Abbey
On the outskirts of Leuven, around 35 minutes' walk from the city centre, Parc Abbey is a particularly well-preserved 12th-century site.
The land was offered to the Norbertine fathers in 1129 so that they could establish an abbey there. This religious shrine was one of the most important abbeys in Belgium and the Netherlands.
This historic monument is now open to visitors. Equipped with an audio guide, you can explore the different areas. The refectory and library, whose ceilings are covered with impressive stucco sculptures, are a must-see!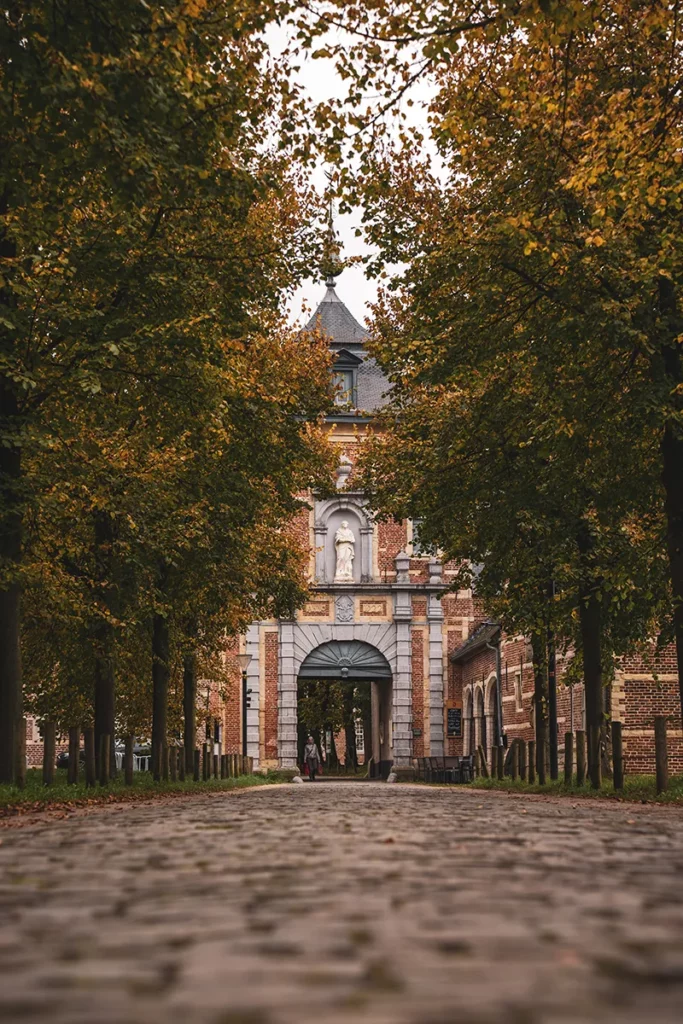 The abbey is surrounded by ponds and fields, making it an ideal place for a quiet stroll.
Address : Abdij van Park 7
 Opening hours : Tuesday to Sunday, 10am to 5pm
 Admission: full price: €12, €10 for students and over-65s, €7 for 12-18s, free for under-12s.
Explore the city by observing the works of street art
Many works of street art decorate the walls of the city. If you're a fan of this type of art, a free app (in English) allows you to follow a route to discover these works and find out more about each of the artists.
 Download the application :
From Google Play Store (Android)
On the App Store (iPhone)
---
Tip: the ILUVLeuven ticket
If you want to visit more than one of the city's monuments, the ILUVLeuven combined ticket offers you a great deal.
For €17, it gives you access to the Town Hall, the University Library and its tower + your choice of the Parc Abbey or the M Leuven Museum.
---
Best places in Leuven
Where to stay? Hotels in Leuven
I advise you to stay close to Grote Markt so that you can be right in the centre and do everything on foot.
Just a stone's throw from the Hôtel de Ville, I recommend the M-Street art hotel. Here, the rooms are modern and decorated in a very pleasant arty style. This hotel is unusual in that it has no reception. When you book, you receive a code valid from the day of your arrival to the day of your departure, which allows you to enter the hotel and then your room. A code locker is also available in the lobby for you to leave your belongings safely when you arrive or leave.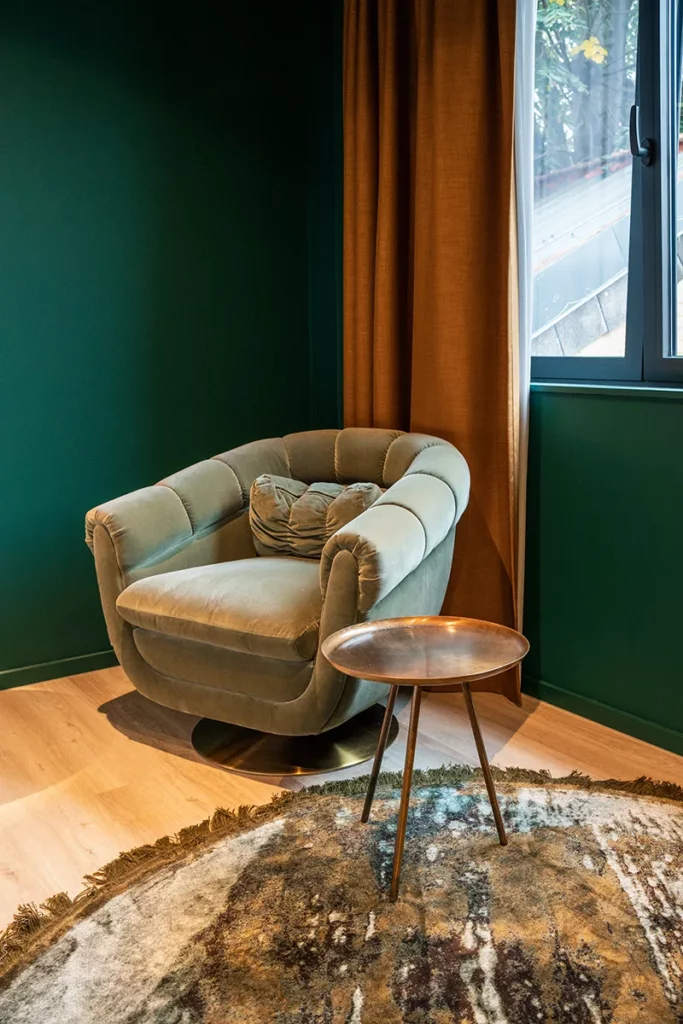 The only downside is that there is no breakfast option, but there is an excellent café just around the corner.
You can also find all the accommodation offers in Leuven by entering the dates of your stay on this Booking card:
This booking card contains affiliate links, which means that I receive a commission if you book accommodation after clicking on this card. It doesn't cost you anything extra, but it helps me to develop Culturez-vous. Thank you for your support! ☺️
Where to eat in Leuven?
Madmum for a coffee or a great breakfast!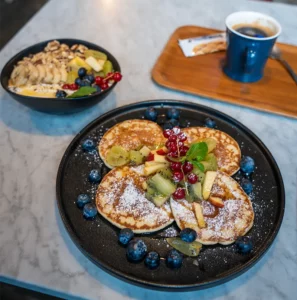 Just a stone's throw from the M-Street art hotel, Madmum is a charming café where you'll find a wide choice, especially for breakfast (pastries, bread, eggs, pancakes, yoghurt, etc.). The team is extremely welcoming and the atmosphere is very pleasant.
Address: Tiensestraat 38
Bar Leuv, a stone's throw from the town hall
For lunch without breaking the bank, here you'll find salads, bowls or sandwiches served on bread or a waffle.) It's simple but very good and home-made!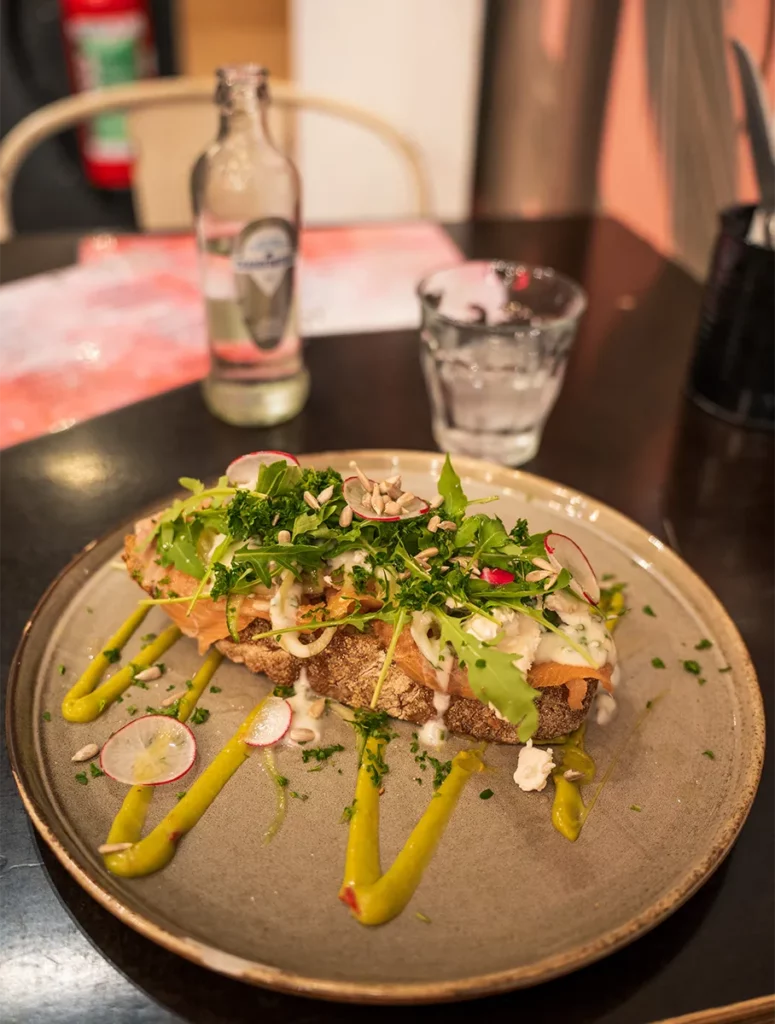 Address: Parijsstraat 6
Baracca, a very good Italian
If you like Italian food, then Baracca is the place for you. Here you can choose from a range of Italian tapas and pizza dishes. A wide range of cocktails is also available. If possible, sit inside to enjoy the atmosphere and watch the chefs and barmen.
It's very good but the service is very slow, so it's best not to be in a hurry and to be in good company!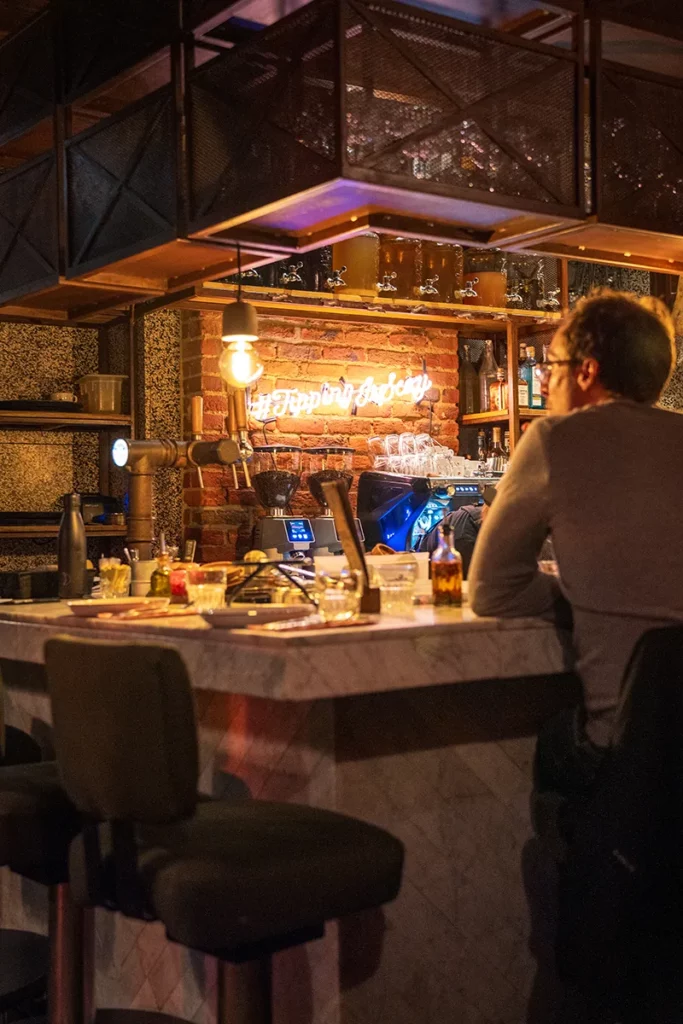 Address: Tiensestraat 34
Booking recommended
Optimist, for small and large appetites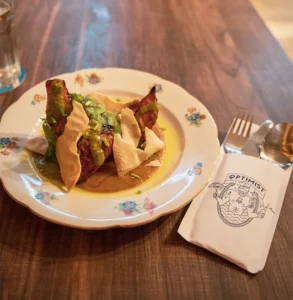 In this restaurant, all the dishes come in S, M or L sizes, so you can choose what you like according to your hunger, or order several small portions to try different dishes or share them with your friends. It's excellent, the dishes (seasonal) are served in a young and friendly atmosphere.
 Address: Vismarkt 7
De Hoorn, original cuisine in a modern neighbourhood
In the north of Leuven, De Hoorn is housed in the former Artois brewery building, at the heart of a modern district that seems to have only recently emerged from the ground.
On the ground floor of the building you'll find a bar, while the restaurant is upstairs. The à la carte menu includes traditional bistro dishes (risotto, burgers, etc.), often with a twist. I particularly recommend the 'Vol au vent', which is quite unlike anything you've eaten before!
Those with a sweet tooth will also appreciate the dessert menu. Our favourite is the vanilla dessert, a white lady revisited to perfection!

 Address: Sluisstraat 79
Booking recommended
---
Interactive map
Find all the addresses mentioned in this article on this map!
---
What to see around Leuven
If you want to extend your stay in Flanders, there are other beautiful towns to discover:
Antwerp
Mechelen
Bruges
---
Enjoy your trip!
This travel guide is produced in commercial collaboration with Visit Flanders. The opinions and suggestions for activities in this article are therefore entirely my own.
All photographs illustrating this article are the property of Antoine Vitek / Culturez-vous and may not be used without written permission.