The city of Antwerp is a perfect destination for an extended weekend away. With many cultural places, a rich historical heritage and nice restaurants, it is a pleasant and dynamic city where it is good to stroll.
What to do in Antwerp? What is the history of this city? What are the must-see visits? The unusual places to discover… All the answers are in this travel guide!
Antwerp in short
How to get there? Antwerp is a city well served by all means of transport but the best way to get there is by train with the Thalys! When traveling with Thalys you can choose between 3 types of experience: Standard, Comfort or Premium. This last category allows you to enjoy access to Thalys lounges in the station, a free meal served at the seat and a larger seat.
Did you know that?
Using the train is the best way to travel while protecting the planet. This means of transport pollutes 20 times less than the car and 28 times less than the plane!
When to go there? Antwerp is a city where you can enjoy the liveliness of its streets and the typical architecture of northern cities. It is best to go between spring and autumn, or in winter and plan indoor visits in case of rain.
How long should I stay? Two days is a minimum to have time to discover the city, but I advise you to spend at least three or even four days to visit Antwerp as a whole without having too busy a program!
How to get around in the city? Antwerp is a human-sized city and you can easily get around on foot. If you don't like walking, you can rent a bike or use the streetcar and bus network, the single ticket costs 2,5€.
How to get around? Antwerp is located in the Flemish part of Belgium where the most spoken language is Dutch. However, English is spoken by a large part of the population and it will often be possible to communicate in French in places used to receiving tourists (hotels, restaurants, museums…).
Tip: Opt for the Antwerp City Card!
If you are planning to visit several museums in the city then choose the Antwerp City Card, a pass valid for 24, 28 or 72 hours that allows you to visit most of the tourist attractions for free and to use the entire city transport network.
This pass costs €29 for 24 hours; €40 for 48 hours or €48 for 72 hours. You can buy it online on the Visit Antwerp website:
---
A bit of history: Antwerp through the centuries
The city of Antwerp had its golden age in the 15th and 16th centuries. It was able to develop thanks to its port, which allowed it to become an important commercial city.
In the 16th century, the Portuguese opened a trading post in Antwerp to distribute in Europe the precious objects and spices brought back from distant countries by the route of the Indies. Thus, in 1515, Antwerp saw the birth of the very first trade exchange. Around the same time, the city became an epicenter of printing thanks to Christophe Plantin. Antwerp was the second largest city in Europe after Paris.
The end of the golden age came in the second half of the 16th century with the wars of religion that put the city to fire and blood.
At the beginning of the 19th century, Bonaparte saw Antwerp as a "gun pointed at England" and encouraged the development of the port, which gave the city a new impetus. Today Antwerp is still the second largest port in Europe. It is an important economic platform but also a cultural epicenter with a rich historical heritage, numerous museums and an intense artistic activity.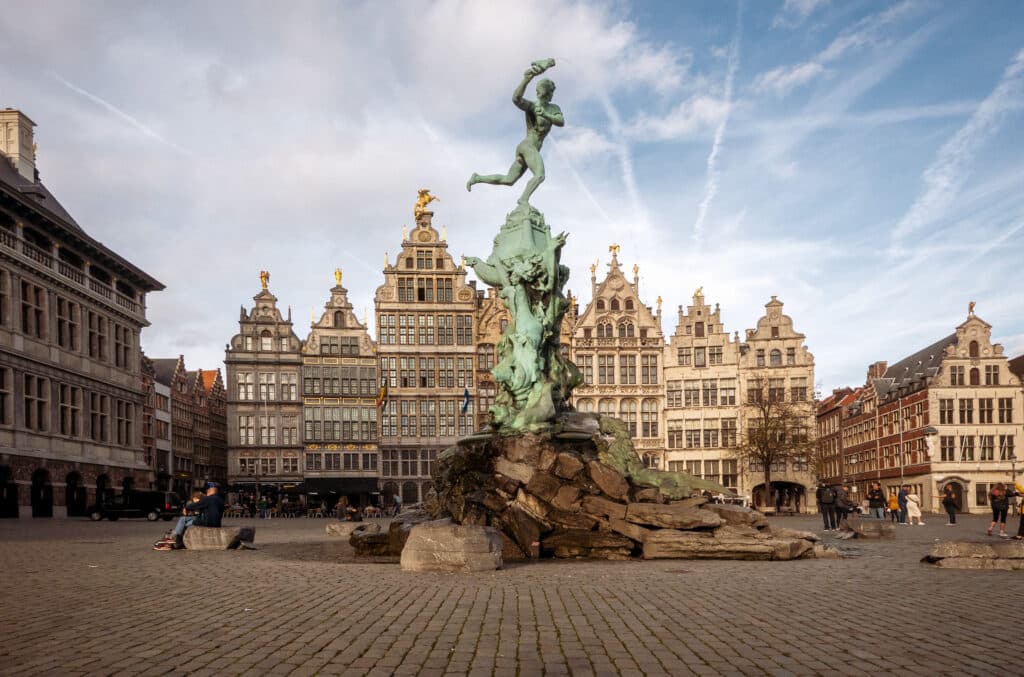 ---
The map of the best places to go
To help you find your way around the city, find all the addresses mentioned in this article on this map. Use the filters in the drop-down menu to select the type of addresses (restaurants, museums…) you wish to display.
---
What to do in Antwerp? 8 must-see activities
Admire the central station
In Antwerp, you'll be amazed as soon as you arrive at the station! The central station is indeed considered one of the most beautiful in the world. It was built in 1836 and gives the impression of entering the world of Harry Potter.
In recent years, the station has undergone major renovations to accommodate new railroad tracks on three levels and to allow the arrival of the Thalys. Today, Antwerp-Central is a modern station, but it still retains its 19th century architecture, a little gem!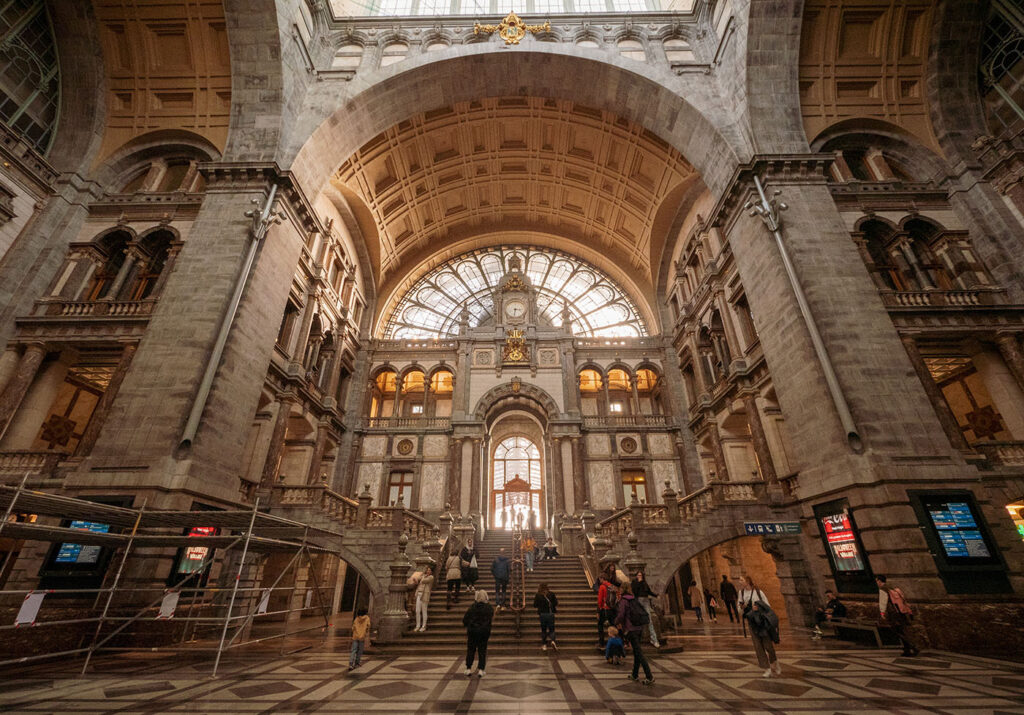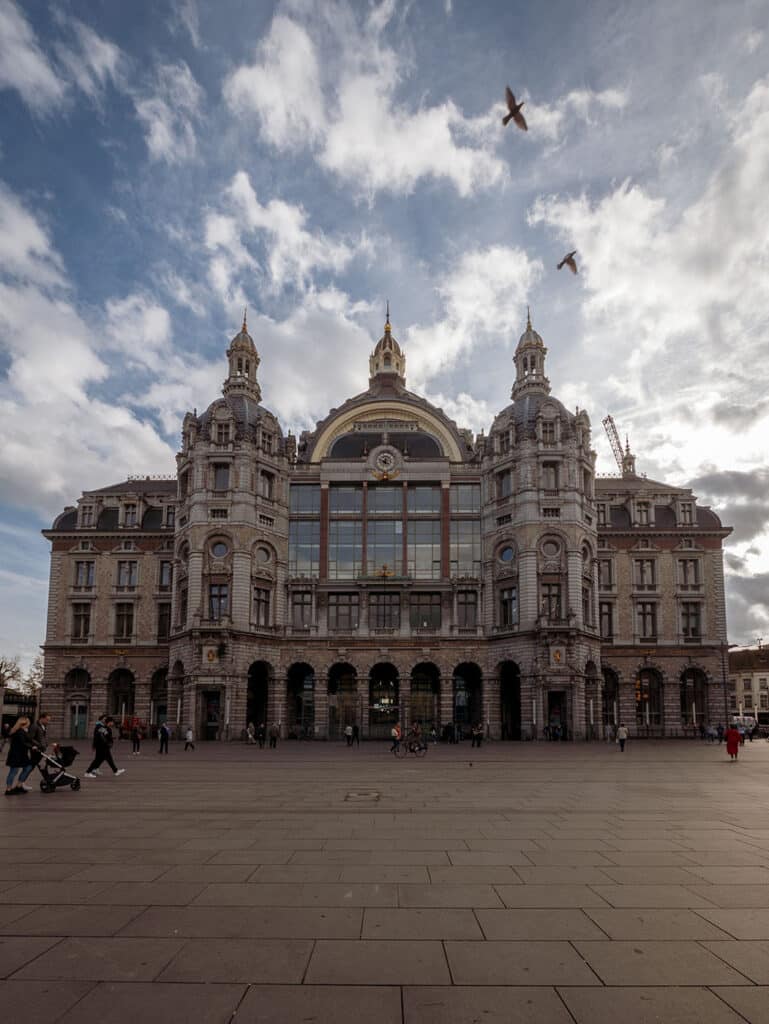 Address: Koningin Astridplein 27
Stroll in the city
Antwerp is a city on a human scale and can be discovered on foot or by bike. Take the time to stroll through the streets and enjoy the atmosphere of the different districts.
Don't forget to visit the city center (around the Grand Place) with its typical northern architecture; the more modern Zuid district (around the KMSKA); as well as the more industrial port area.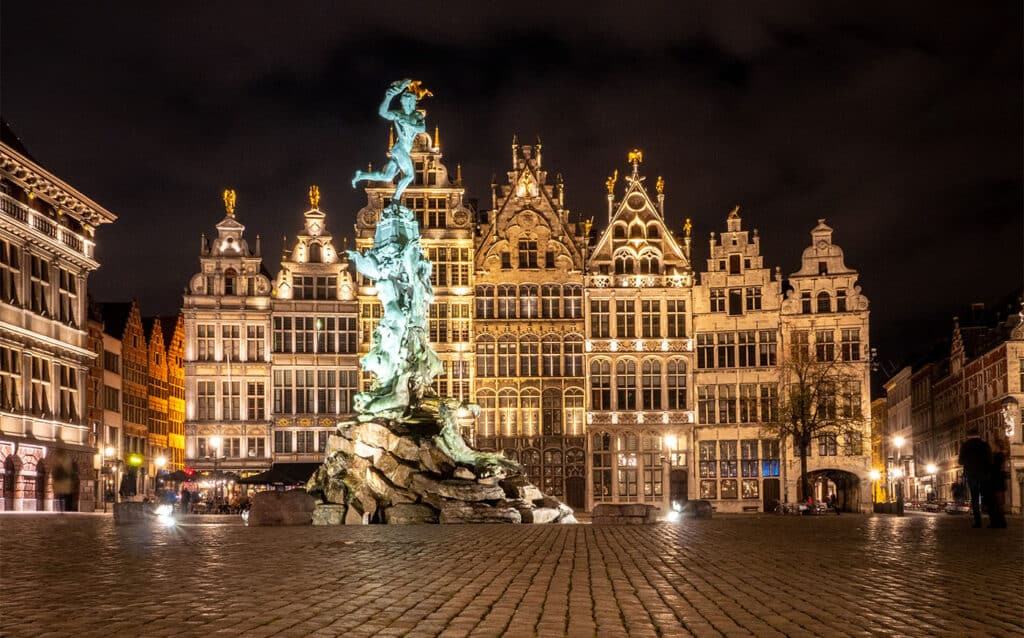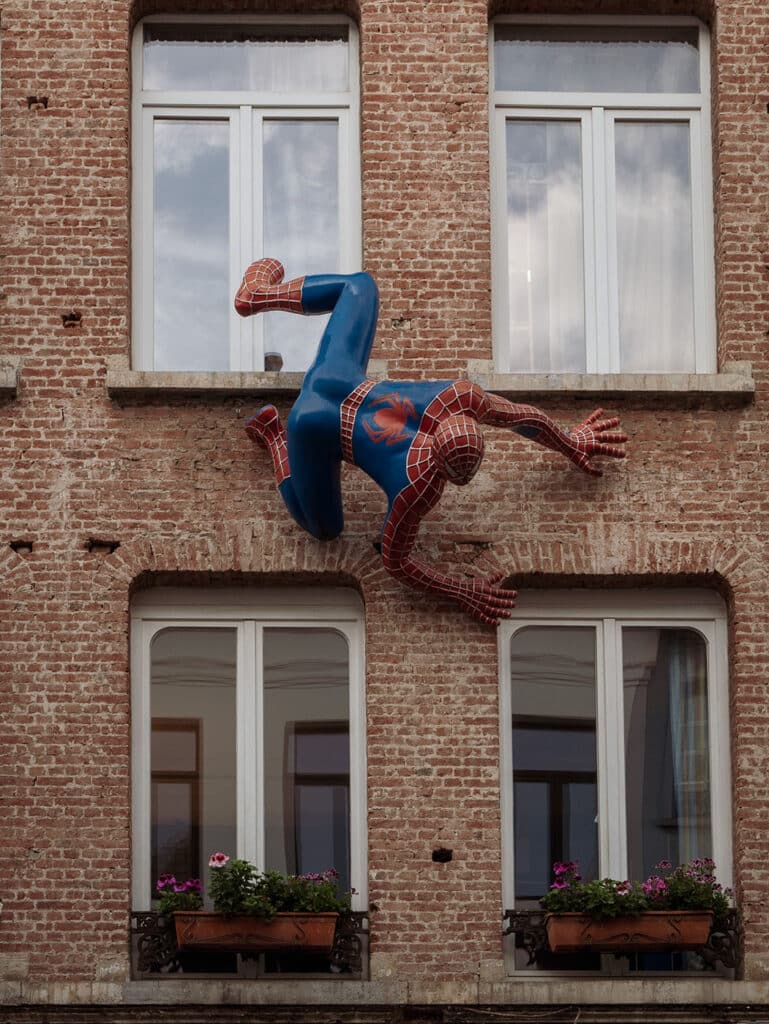 Visit the cathedral
Built between 1352 and 1521, the Antwerp cathedral is a must-see! Its immaculate white nave, its numerous chapels and its four paintings by Rubens make it a must-see building. Inside, no less than 125 pillars support this impressive structure of 117 meters long and 65 wide.
Unfortunately, there is an entrance fee (12 €) but it allows you to enjoy a visit with far fewer people than in other European cathedrals.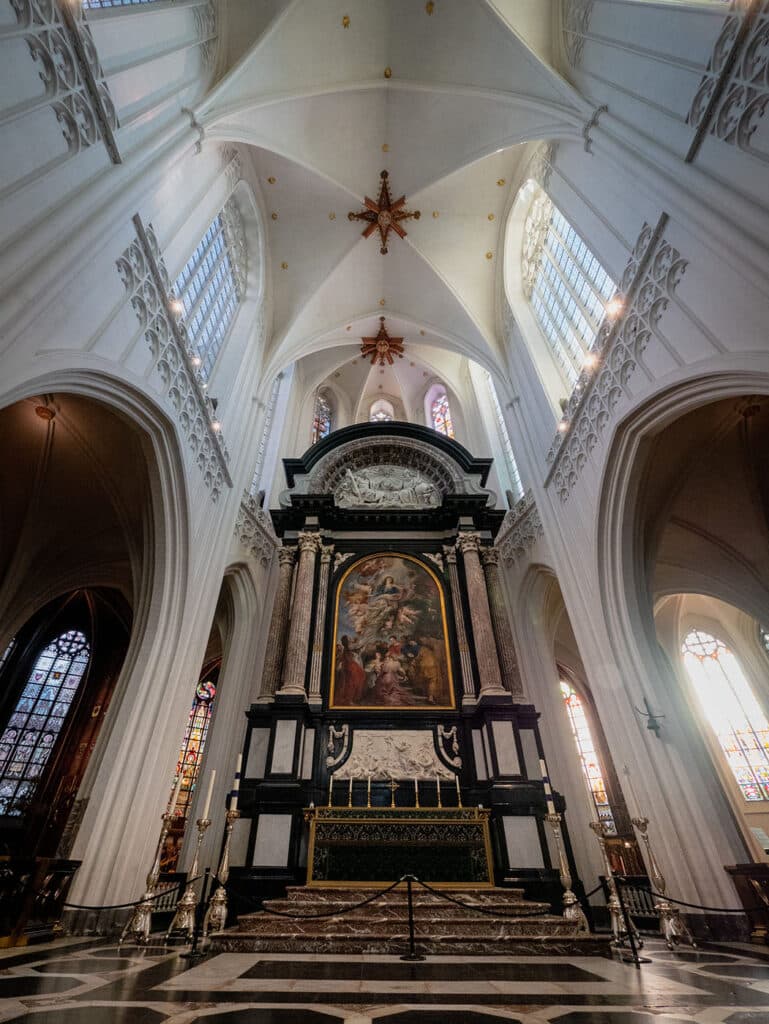 Tip: this visit is included in the Antwerp City Card.
Address: Entrance to the cathedral at Handschoenmarkt 21
Prices: €12, free for children under 18
Opening hours: Every day except January 1st.
Monday to Friday from 10 am to 5 pm
Saturday from 10 am to 3 pm
Sunday from 1pm to 5pm
Dazzle in front of the beauty of the works of the KMSKA (Royal Museum of Fine Arts Antwerp)
The KMSKA is the city's museum of fine arts. It has just reopened after eleven years of work, a major project that has allowed to gain 40% of exhibition space by embedding a new structure in the existing building.
The result is amazing: inside, you don't notice anything even though there are two distinct visiting areas: one dedicated to ancient paintings and the other to modern paintings.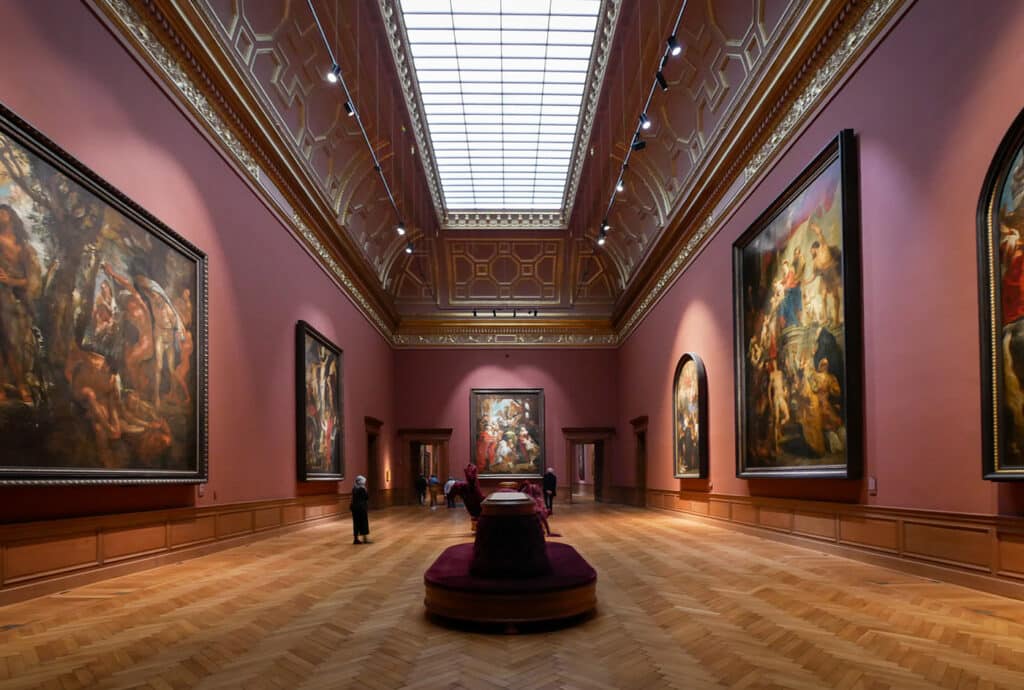 I absolutely LOVED this visit, the KMSKA is one of the most beautiful museums I have ever visited. This new version of the museum has been thought for the public with a perfect lighting, games for children, a projection room where details of artworks are covering the walls, a room with self-service augmented reality helmets or a free audioguide very well thought.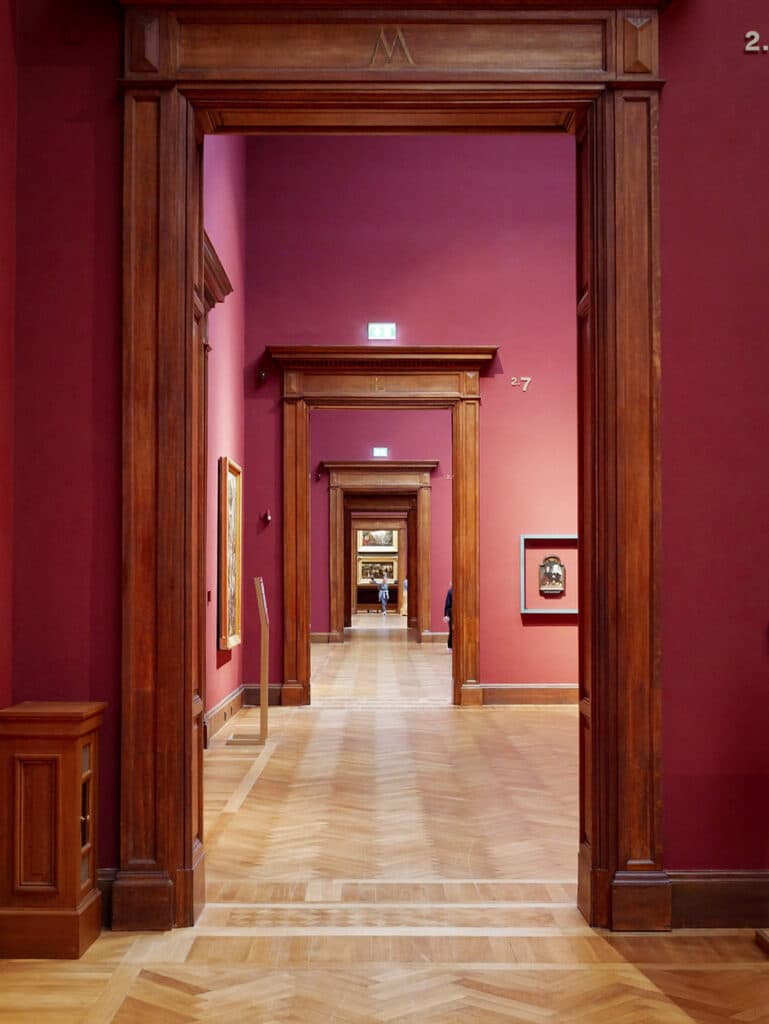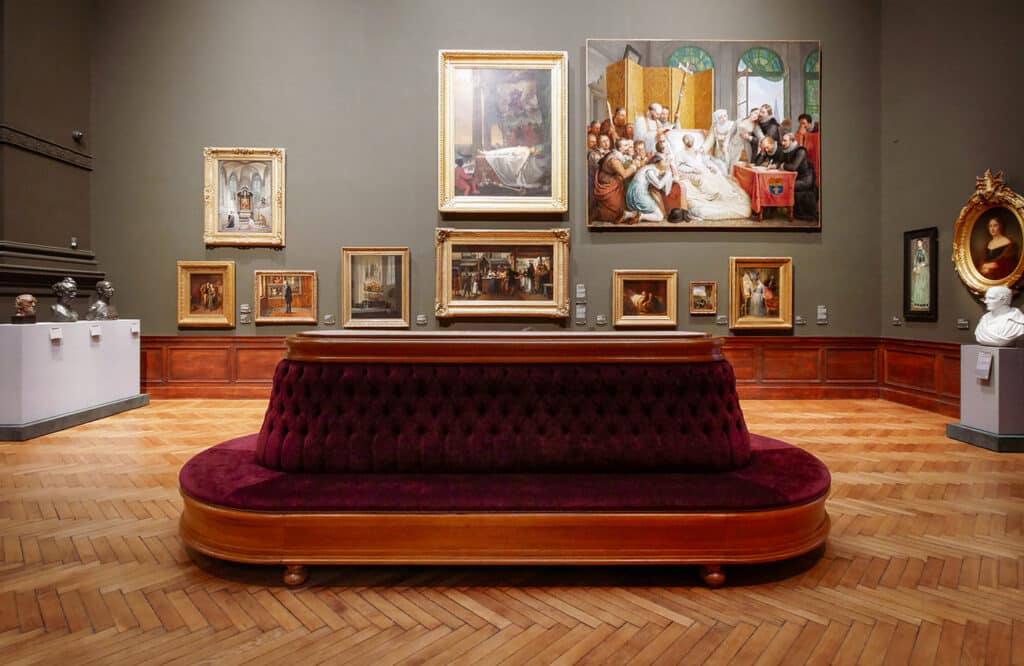 As for the works on display, you'll be amazed: Rubens, Jordaens, Fouquet, Brueghel, but also Magritte, Bastiat, Grosz, Modigliani… and many others.
Address: Leopold de Waelplaats, 2
Prices: 20 €, 10 € for children under 26, free for children under 18
Online ticketing: https://kmska.be/en/plan-your-visit
Visit Rubens in his house
If there is one famous person in Antwerp, it is Peter Paul Rubens! This prodigious painter, born in 1577 near Cologne, arrived in Antwerp for the first time at the age of 12. After a stay in Italy, he returned in 1608.
He bought a bourgeois house in the city which he transformed into a palace where he spent most of his life and where he painted most of his works. Today, Rubens' house can be visited, where you can see some of his works, those of his students, but also get a glimpse of the bourgeois lifestyle in Antwerp in the 17th century.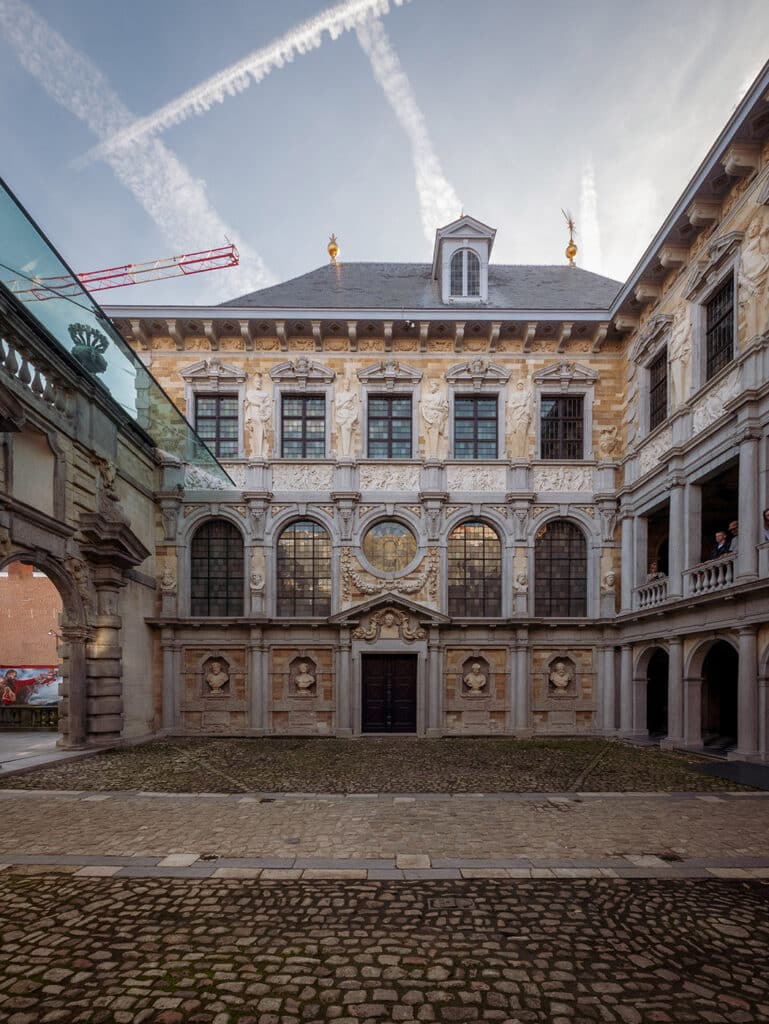 Attention: the visitors are numerous, it is better to book your ticket in advance if you come on a weekend or during the high season.
Tip: this visit is included in the Antwerp City Card.
Address: Wapper 9-11
Opening hours: Tuesday to Sunday, 10 am to 5 pm
Prices: 12 €, 8 € for 18-25 years old, free for under 18 years old
Online ticketing: https://ttk.antwerpen.be/Exhibitions/Overview
Discover the Plantin-Moretus Museum
Christophe Plantin (1520-1589) was nicknamed "the prince of printers". Born in France, he moved to Antwerp in 1549 and became a printer in 1555. He was one of the first industrial printers, a century after the invention of printing by Gutenberg.
The Plantin-Moretus museum is dedicated to him, where you can discover the history of printing as well as several major works published by Plantin such as the first dictionary in Dutch, the first atlas or a luxury bible.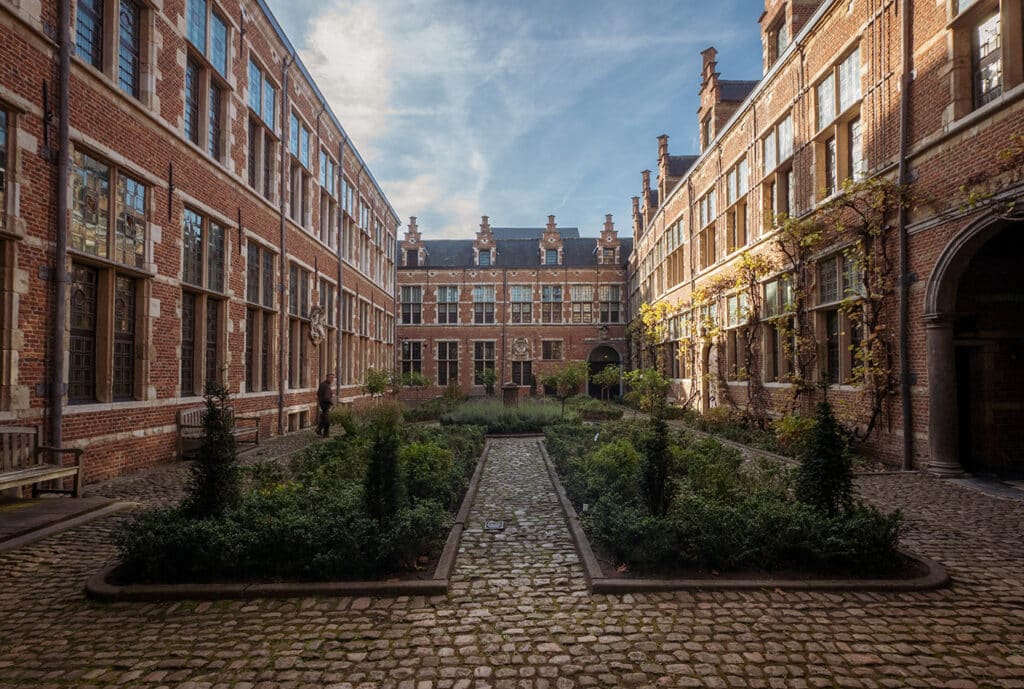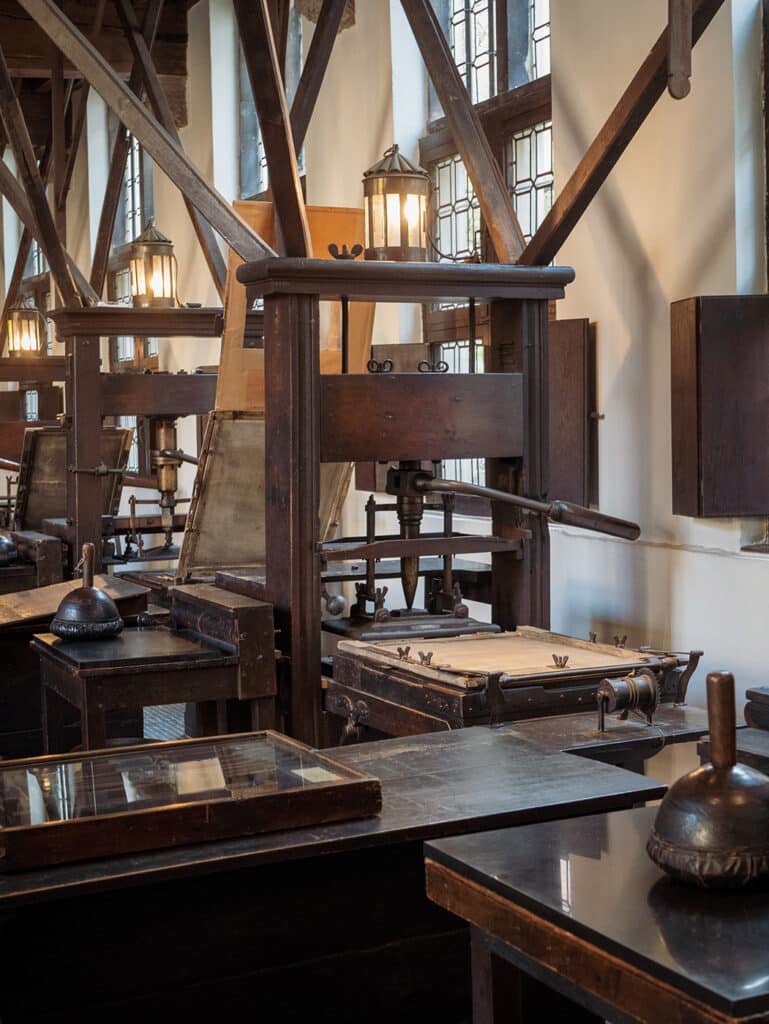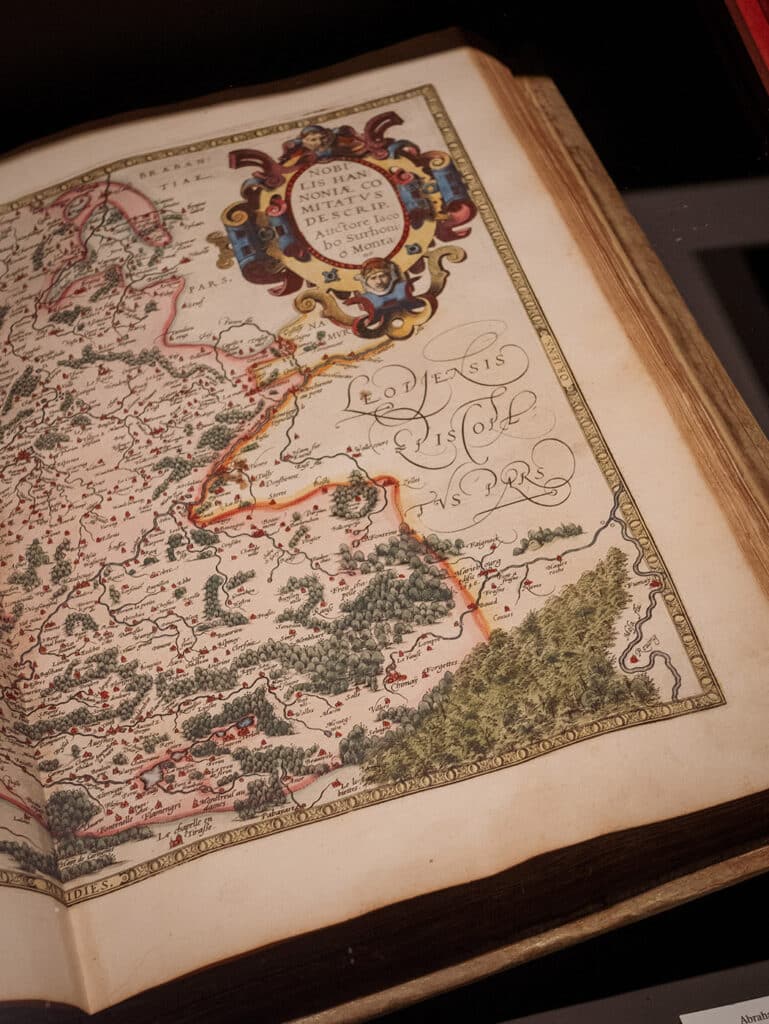 Tip: this visit is included in the Antwerp City Card.
Address: Vrijdagmarkt 22
Opening hours: Tuesday to Sunday, 10 am to 5 pm
Prices: 12 €, 8 € for 18-25 years old, free for under 18 years old
Online ticketing: https://ttk.antwerpen.be/Exhibitions/Register
Go to the terrace of MAS (Museum Aan de Stroom)
The MAS is an ethnographic, anthropological and maritime museum. It is impossible to miss this building with its atypical architecture when you walk along the harbor side.
Built on 9 floors, each level presents an exhibition on various themes that change throughout the year. I recommend that you visit the museum's website to find out what's waiting for you when you come.
The terrace of the MAS is accessible for free and allows you to enjoy a 360° view on the whole city, it's an ideal point of view to take height and contemplate both the historical center and the port.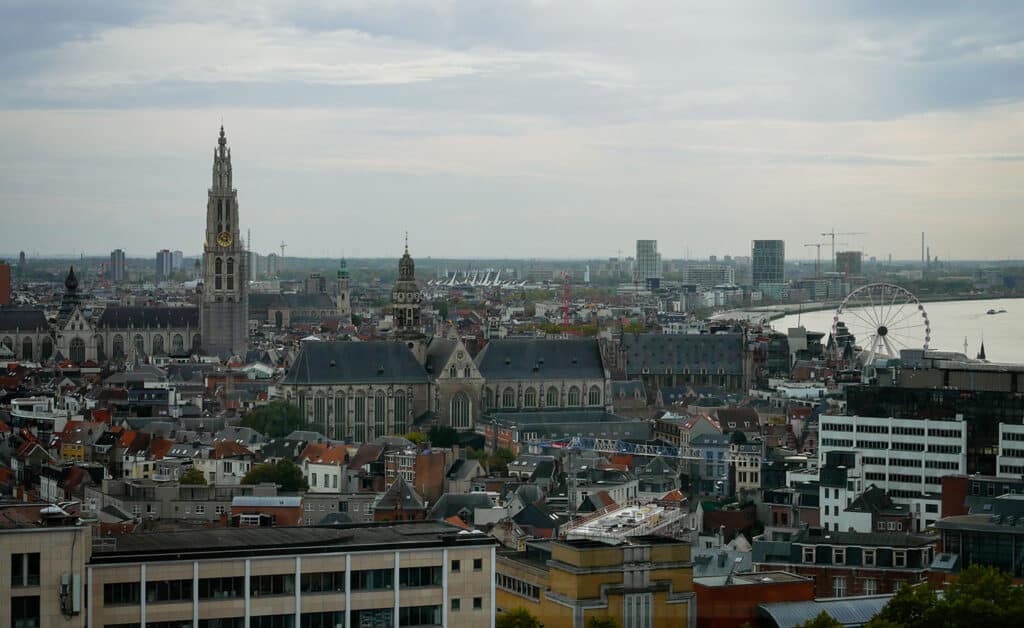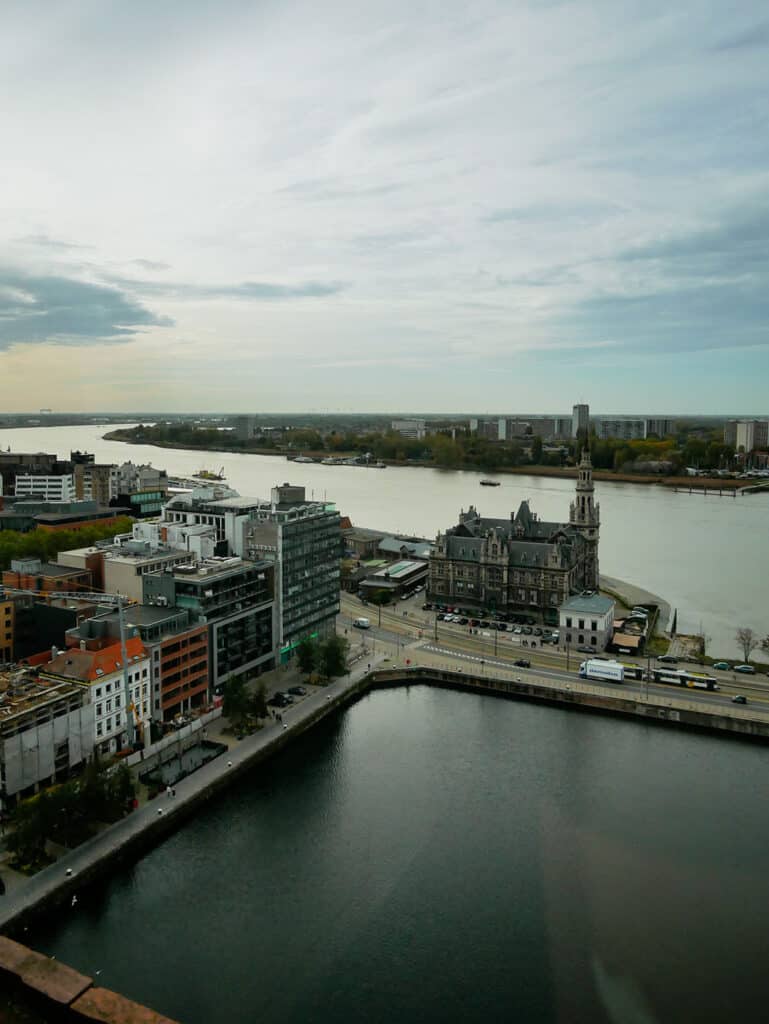 Tip: this visit is included in the Antwerp City Card.
Address: Hanzestedenplaats 1
Opening hours: Tuesday to Sunday, 10 am to 5 pm
Prices: €12, €8 for 18-25 year olds, free for under 18s
Online ticketing: https://mas.be/en/page/tickets
Entering the Sint-Jacob church
Located in the heart of the city and accessible free of charge, this church is a must-see. Its interest is twofold: not only is it very beautiful with a superb starry vault, but it also houses the tomb of Rubens who rests here, behind the choir, for eternity.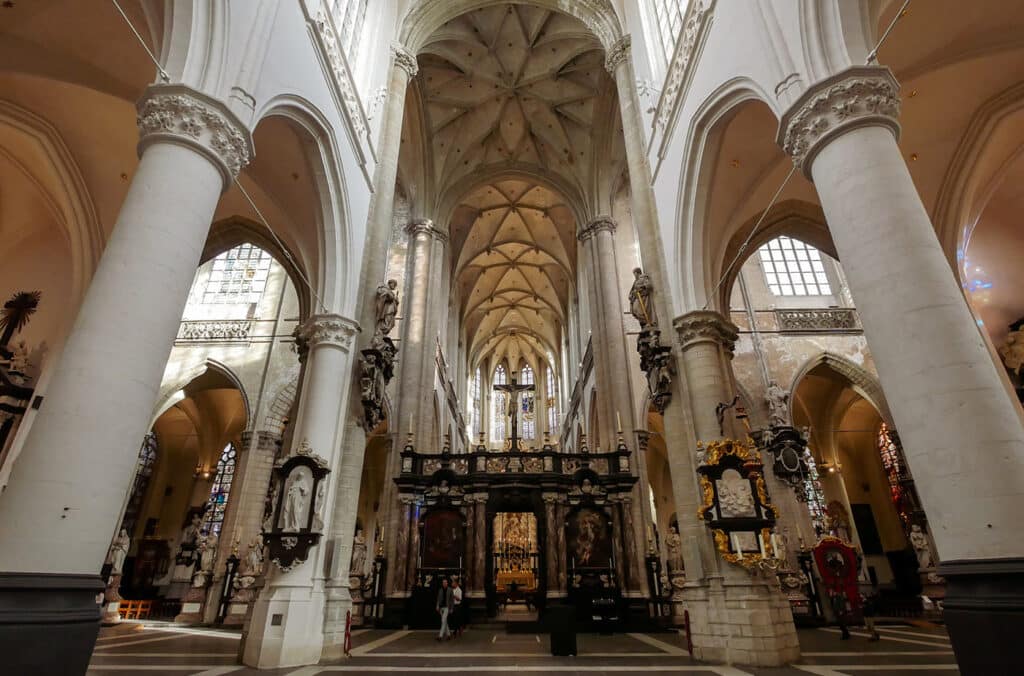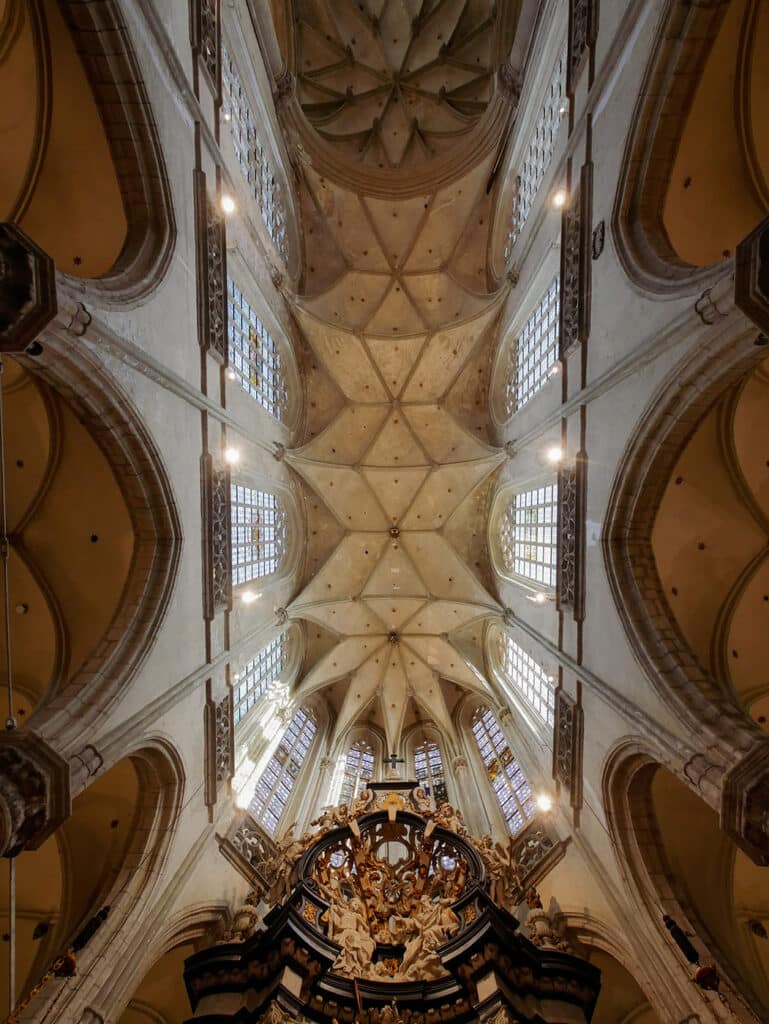 Address: Sint-Jacobstraat 9
Opening hours: every day from 2pm to 5pm
---
4 secret or unusual places not to be missed
The Beguinage
The Beguinage is a little hidden area, although located in the city center. It used to welcome devout women who wanted to live in community without taking their vows. Today it is inhabited by lay people and is a timeless and particularly quiet place, typical of the region. A similar district can be found in the neighboring city of Bruges.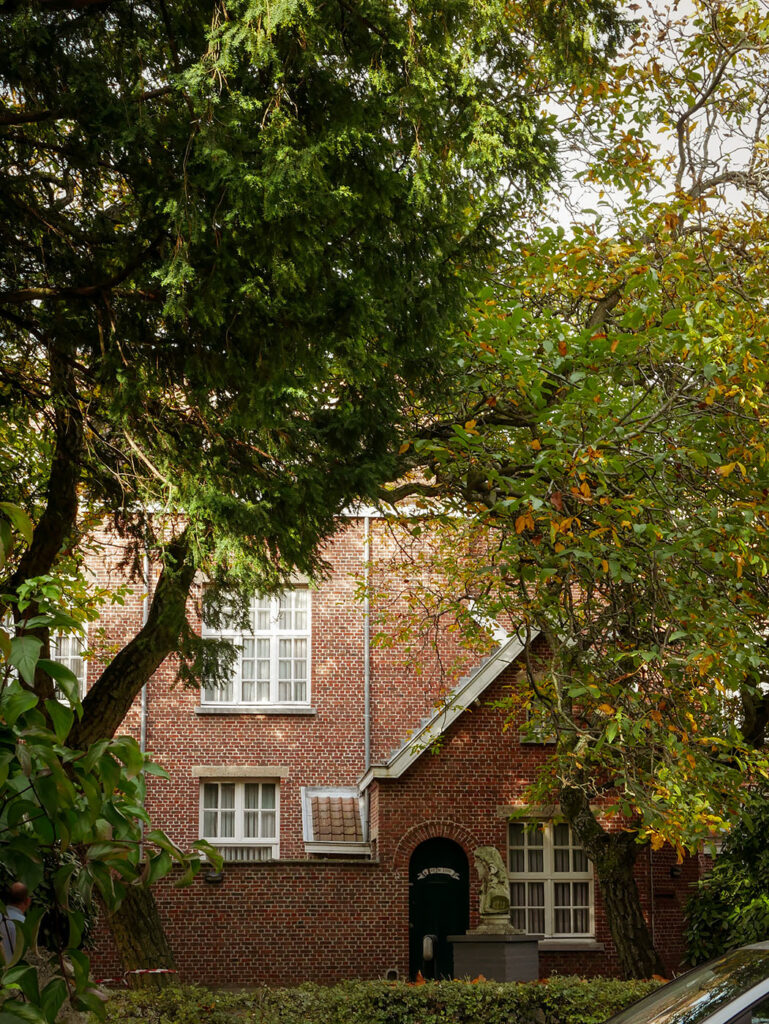 Address: Rodestraat 39
Opening hours: every day from 8 am to 6 pm
The Stadsfeestzaal
This shopping center is located in a former ballroom! Parquet, gilding and glass windows make up the decoration of this unusual place. Go up on the corridor which surrounds this space to have a view on this unexpected place!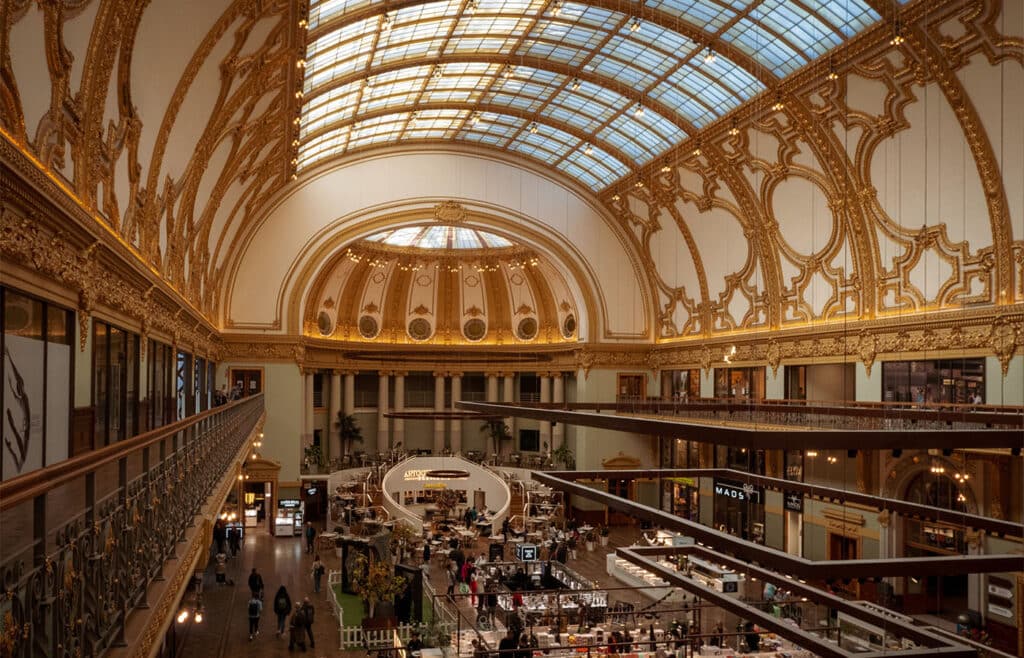 Address: Meir 78
Opening hours: Monday to Saturday, from 10am to 6:30pm
The Felix Parkuis passage
In the 19th century, the port of Antwerp was the busiest in Europe. Many warehouses were built to store the goods that arrived in the city.
After a fire, one of these warehouses was rebuilt but divided in two by an alley to limit the risk of fire spreading and to facilitate the access of the firemen. Today, this passage is an unusual place where you can find stores and restaurants all around.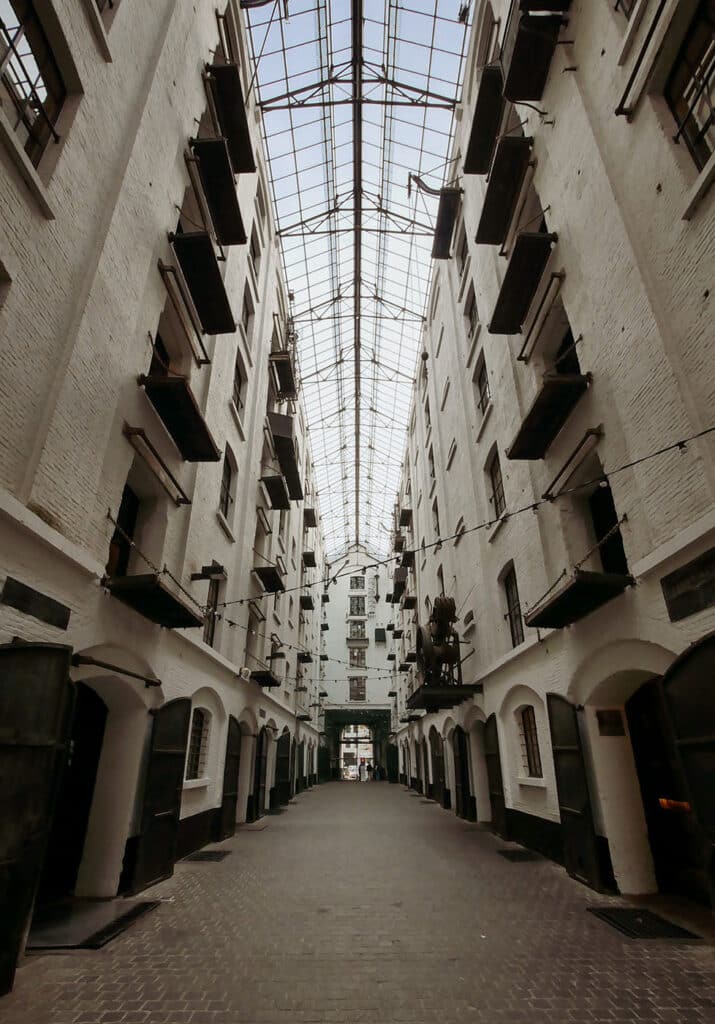 Address: Godefriduskaai 30
The Saint-Anne tunnel
This particularly unusual tunnel allows pedestrians and cyclists to cross the Scheldt, the river that runs through the middle of the city of Antwerp, without risk.
Created in the early 1930s, the tunnel is accessed by long wooden escalators. An art deco structure that can only be found in Antwerp and that will allow you to reach the other side of the river to have a general view of the historical center of the city.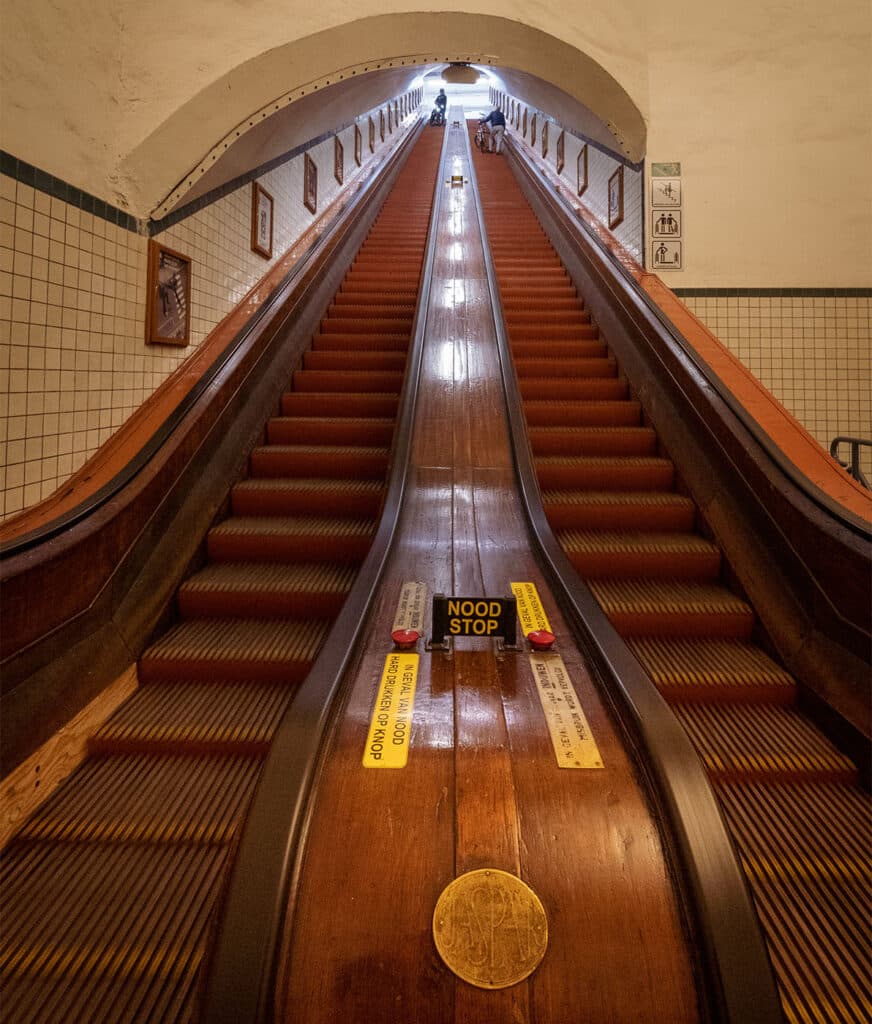 Address: entrance of the tunnel at Sint-Jansvliet 4
---
What are the best photo spots in Antwerp?
Antwerp is a particularly photogenic city and a great playground for photographers. Find a selection of the most "Instagrammable" places in this article: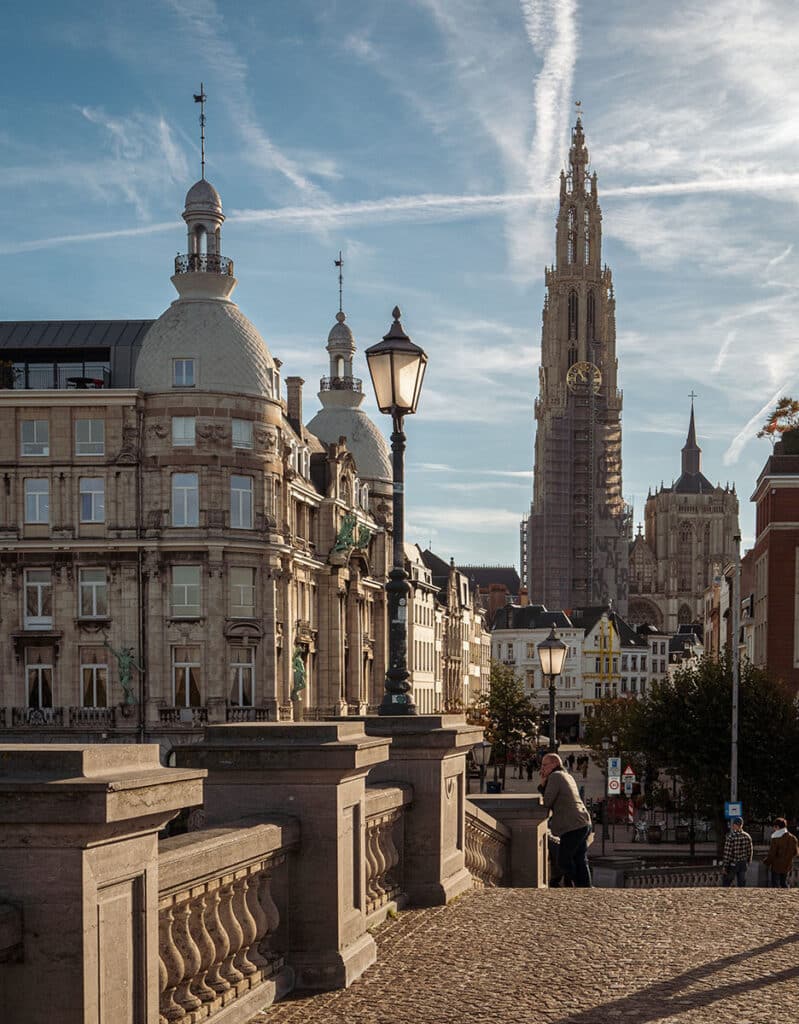 ---
Good addresses in Antwerp
Restaurant tips in Antwerp
Fiera – €€€
Fiera is a well-hidden establishment, with only a discreet door opening onto the street. But when you push it open, you enter a vast space with an incredible architecture, a neat decoration and a lounge atmosphere. This restaurant is located in a part of the old commercial building, a magnificent historical building.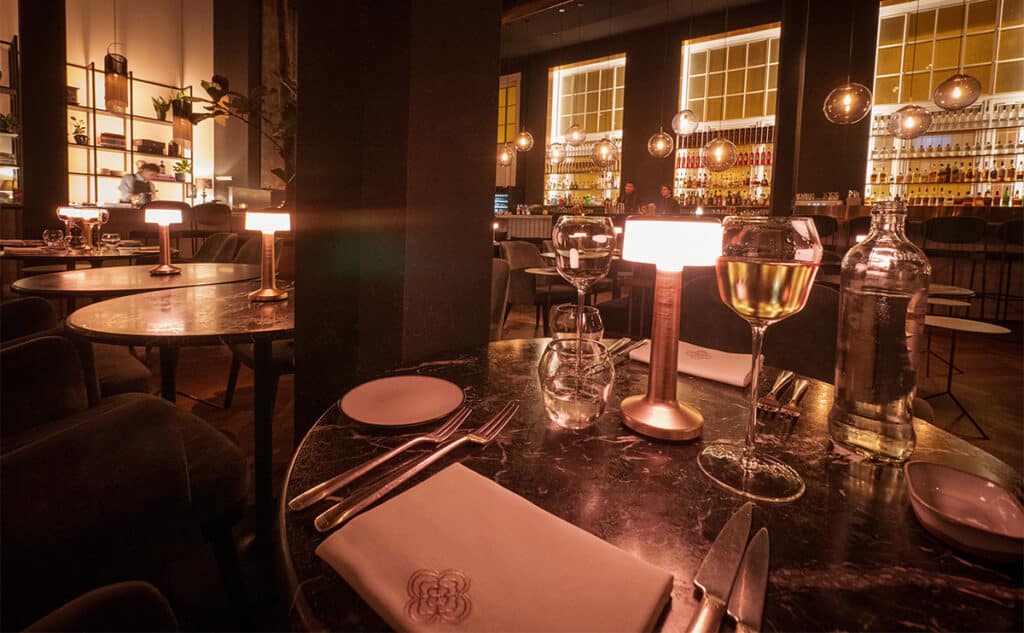 On the plates, you can choose a 4 or 5 course discovery menu or choose dishes à la carte. The influences are cosmopolitan and each dish is named after a city in the world.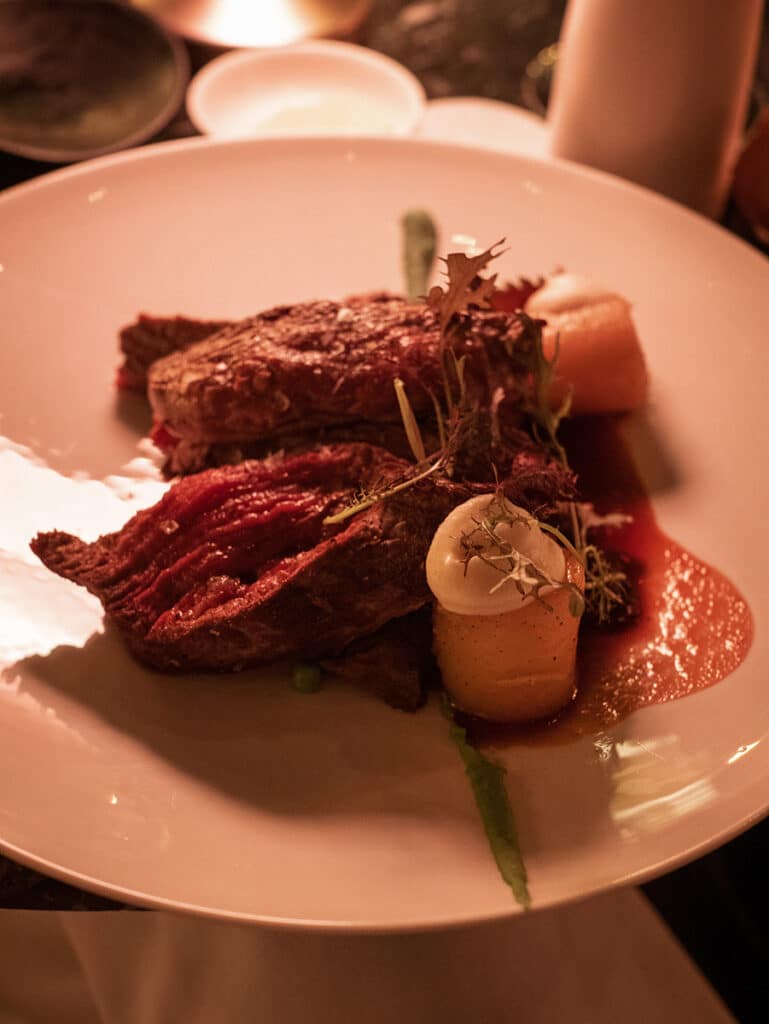 As for drinks, Fiera offers a wide choice of beers and cocktails.
Address: Lange Nieuwstraat 14
Reservation: https://fiera.be/
Local Store – €
Here, everything is home-made! The dishes are simple (sandwiches, bagels, salads…) but very good. It's a perfect place to eat healthy and on the go, between two visits.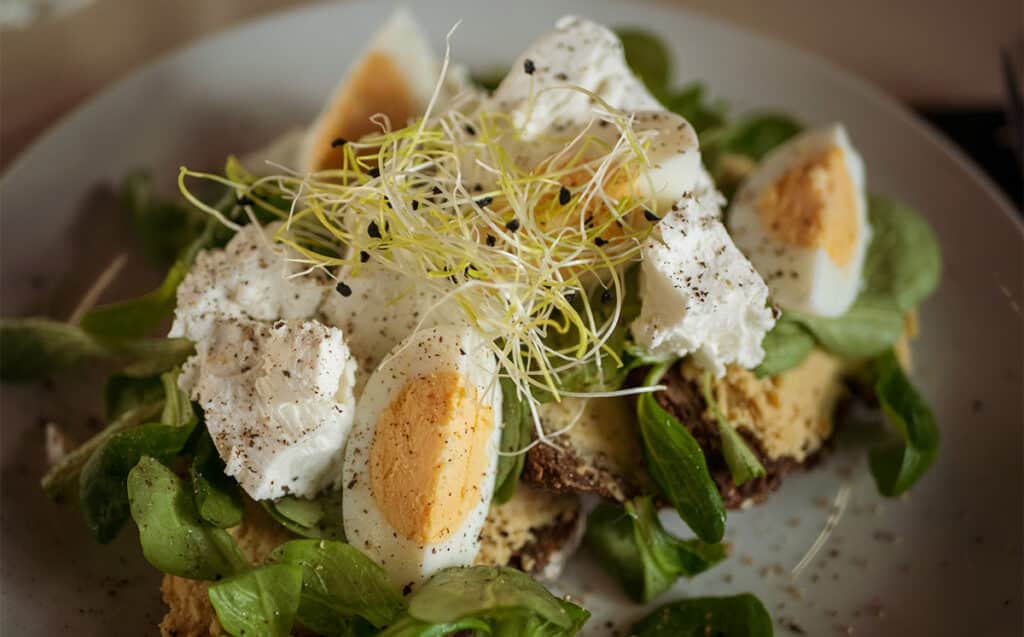 Address: Everdijstraat 20
Reservation: https://local-store.be/
InVINcible – €€
Here is a restaurant with a tasty concept: at Invincible you dine at the bar, in front of the kitchens while watching the dishes being prepared. In the plates, you will find gourmet dishes made from seasonal products.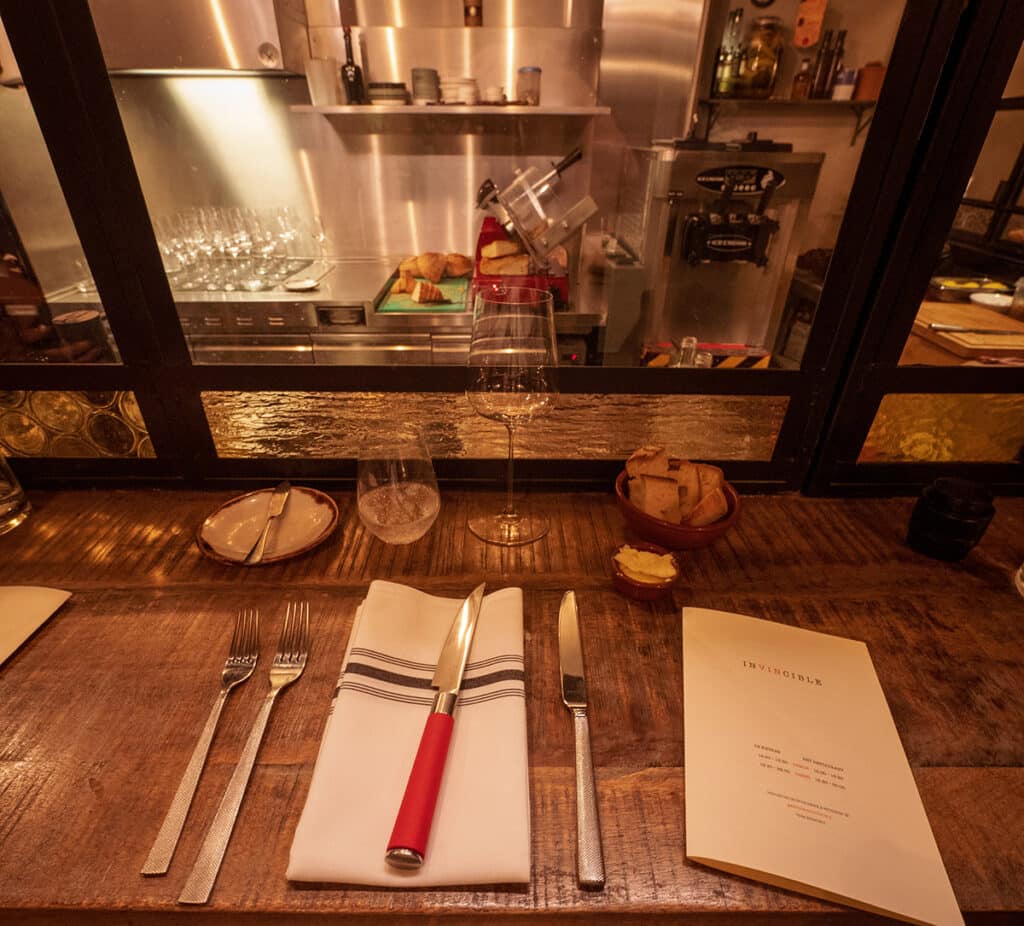 Rated "Bib gourmand" in the Michelin guide, a label that rewards gastronomic restaurants with a good quality/price ratio, InVINcible offers a starter, main course and dessert menu for 44 €.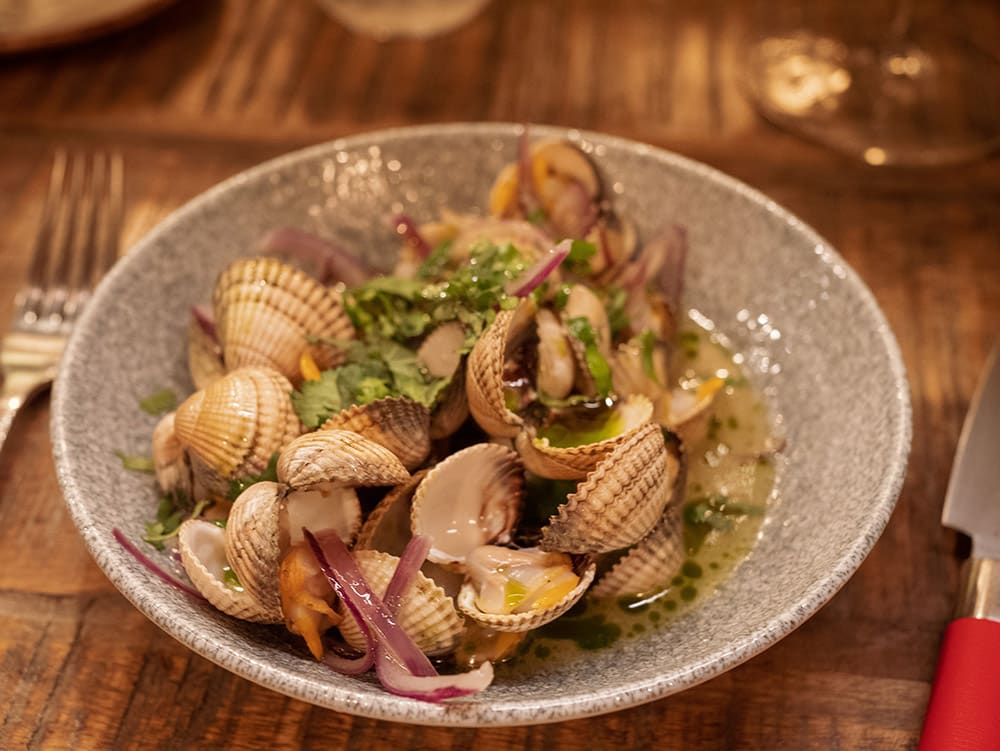 And as its name indicates it, in this restaurant the wine has an important place, one will be able to advise you the beverage which will correspond best to your dishes.
Address: Haarstraat 7/9
Reservation: https://www.invincible.be/
Album – €€€
Located just a few steps from the KMSKA, you will find a relaxed atmosphere here. But don't be fooled by appearances: everything on the plate is divine and cooked to perfection.
The refined and delicately presented dishes are accompanied by homemade bread to die for! An address to be tested absolutely.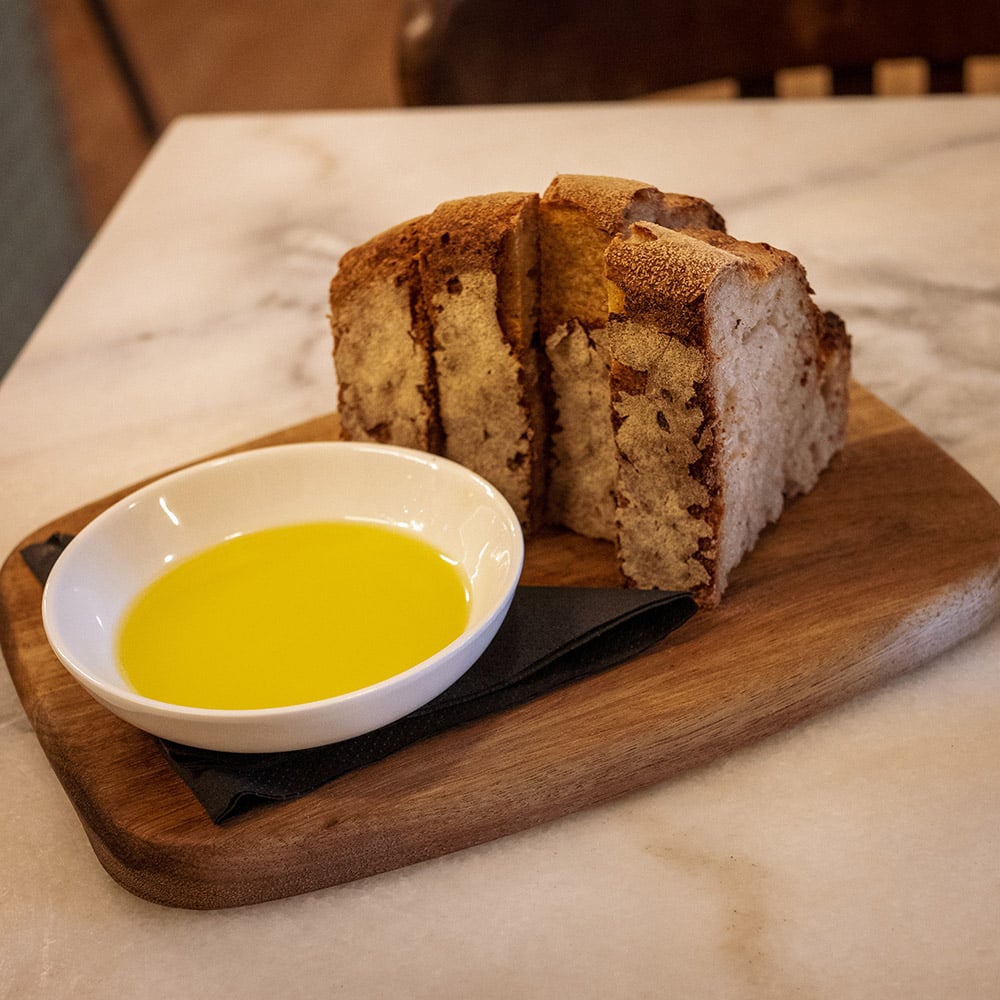 Address: Vlaamsekaai 6
Reservation: https://www.albumantwerpen.be/
Where to sleep in Antwerp?
I stayed at the Hotel Rubens, a quiet establishment located a few steps from the Grand Place, in the historical center and 20 minutes walk from the train station. It's the perfect place to enjoy the city on foot.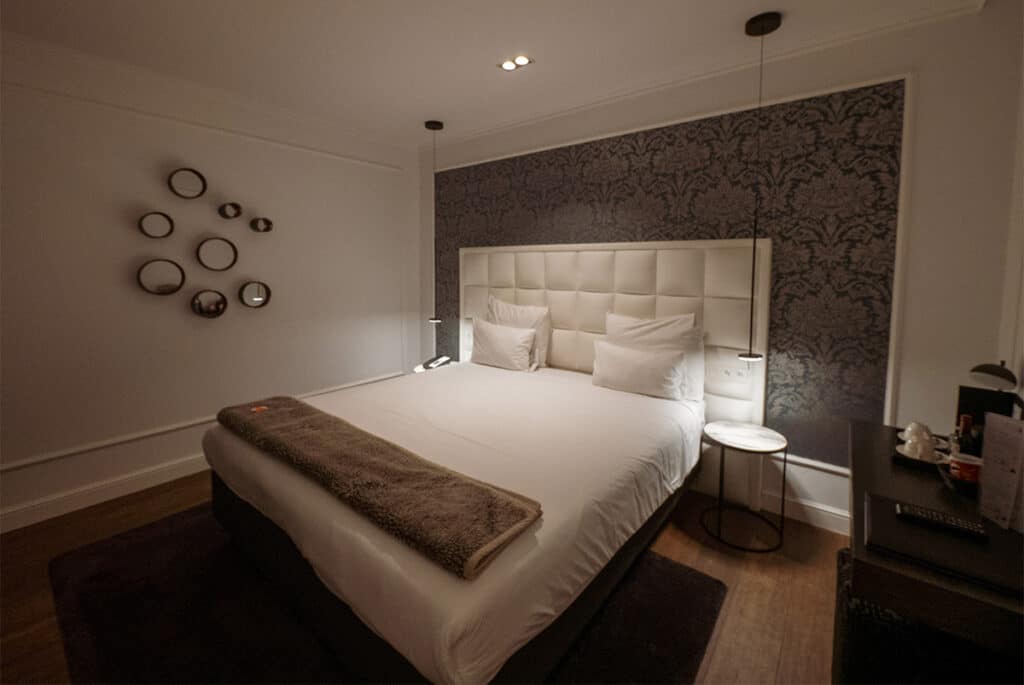 The welcome is very warm and the breakfast is copious (in the form of a buffet with fresh products, like waffles that you can make yourself).
---
Book your visits in Antwerp
Prepare your stay on site: guided tours, tastings, museums… book your activities now.
---
What to see around Antwerp
Extend your stay! Other cities to discover around Antwerp:
Bruges, a city full of charm
Set in the 16th century, Bruges is a destination full of charm that gives the impression of walking in another era.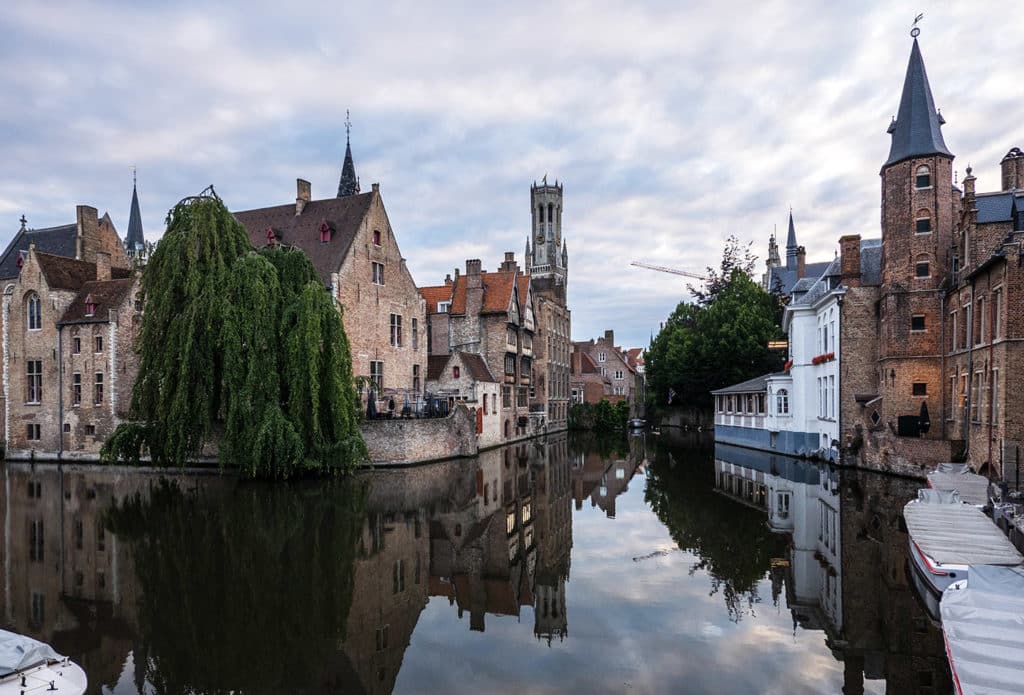 Mechelen, a destination that deserves to be known
Less frequented by tourists than Antwerp or Bruges, Mechelen is a city with many assets: a historical center typical of Flemish architecture, a breathtaking cathedral and beautiful museums.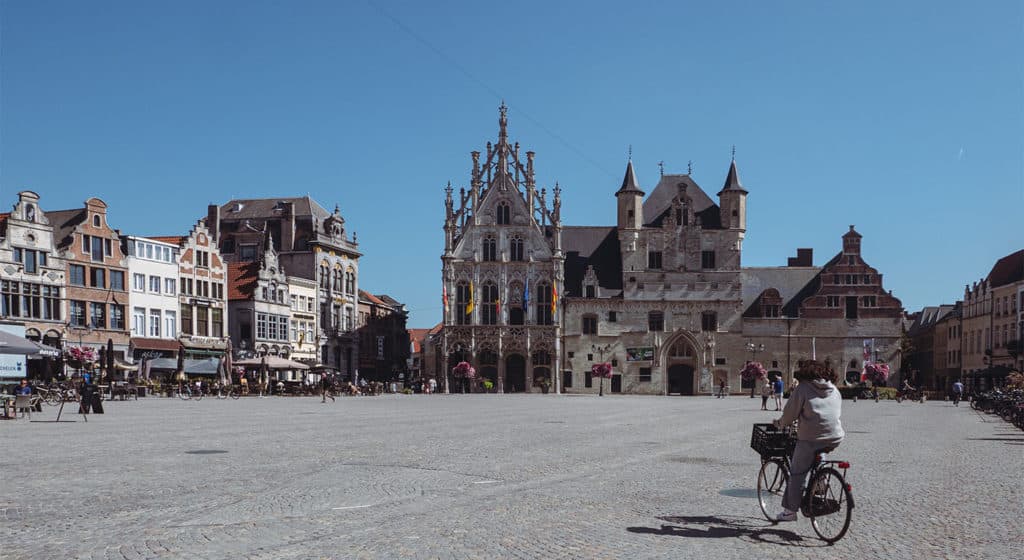 ---
Article realized in partnership with Visit Flanders