How can you discover London without visiting its museums? It would be a mistake not to do so, as in Great Britain the national museums are free!
Here is a selection of museums to visit absolutely if you go to London:
The National Gallery
It is difficult to not fall under the spell of this museum, which offers a panorama of the history of European painting from the 13th to the 19th century. Its four wings allow you to see paintings classified by theme.
Sainsbury's Wing: Early Renaissance (1250 to 1500)
Here, most of the paintings depict biblical scenes with a strong representation of Italian painters. At the far end of the wing is one of the museum's masterpieces: Leonardo da Vinci's Madonna of the Rocks.
West wing: Renaissance (1500 to 1600)
One of the most intriguing paintings is probably Hans Holbein's Ambassadors. In the foreground one is surprised to see a strange shape. You have to stand on the right side for it to reveal itself: it is a skull painted in anamorphosis!
North wing: Dutch Masters (1600 to 1700)
Great names follow one another in these halls: Rembrandt, Rubens, Van Dyck, Velasquez and Caravaggio are exhibited here.
Oriental wing: Impressionist masterpieces (1700 to 1900)
This part of the museum exposes several paintings of French painters such as Ingres, Delacroix, Corot, Seurat, Monet or Renoir. But you will also see a painting by Van Gogh and another by Klimt. This is my favourite part!
Trafalgar Square
Every day from 10 am to 6 pm
Nocturnal on Friday until 9pm
Free admission, except for temporary exhibitions
https://www.nationalgallery.org.uk/
The Tate Britain
The history of this museum is a bit unusual because we owe it to… the inventor of sugar cubes! I named Henry Tate (1819-1899) who was also a great collector.
He bequeathed his collection to the State but also financed the construction of the museum, originally called the National Gallery of British Art, built on the site of a former penitentiary centre. The museum opened in 1897 and quickly took the name Tate Gallery in honour of its founder, and was renamed Tate Britain in 2000 when the Tate Modern opened.
As its original name suggests, the museum houses English paintings from 1500 to the present day. My favourite room is the one dedicated to the great William Turner, nicknamed the "painter of light". In addition to a superb self-portrait, there are some 300 paintings and 19,000 drawings.
Millbank
Open every day from 10am to 6pm.
Free admission, except for temporary exhibitions
https://www.tate.org.uk/visit/tate-britain
The Tate Modern
The Tate collection continued to grow after the death of its founder. So much so that to cope with an ever-growing collection, the Tate Gallery launched the creation of a new museum dedicated to modern art: the Tate Modern.
It was inaugurated in 2000 and is housed in a former power plant. More recently, in 2016, a new extension was created and nicknamed Switch House: it is a ten-storey tower in the shape of an origami. From the top, a magnificent panorama of London is to be observed!
On the collections side, there are works dated from 1900 to the present day and classified in "bulk". Indeed, the Tate Modern ignores chronology and presents about 800 works in rotation, according to the theme of the hangings. You can admire works by Degas, Renoir, Picasso, Matisse, Derain, Braque, Dali, Soulages and Lichtenstein.
Bankside
Open every day from 10 am to 6 pm
Nocturnes on Fridays and Saturdays until 10 pm
Free admission, except for temporary exhibitions
https://www.tate.org.uk/visit/tate-modern
The British Museum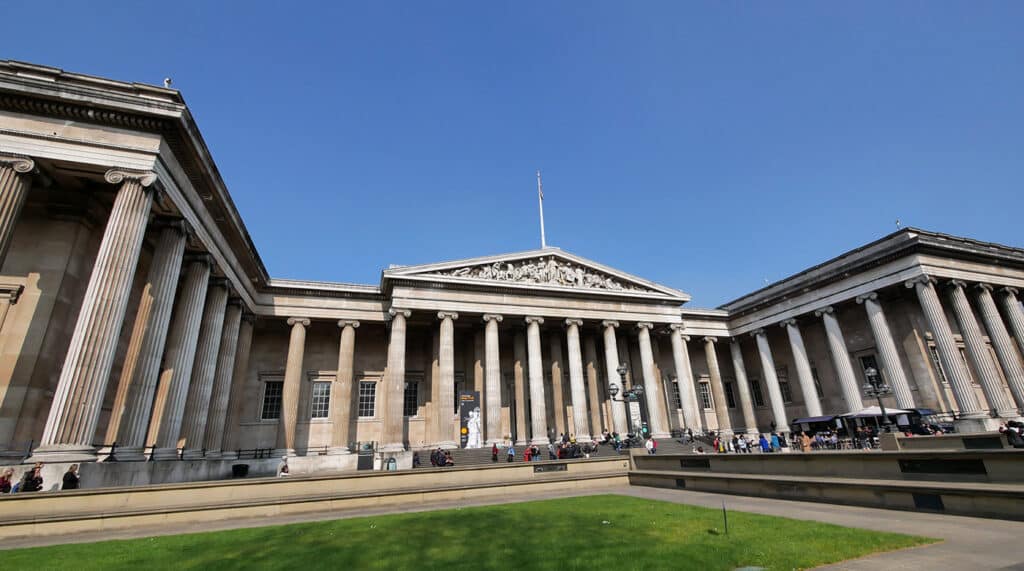 This is probably one of the most unsgrammable museums in the world! In question, its architecture. Created in 1847 in a neoclassical style, the museum was expanded in 2000 with the creation of an interior courtyard covered by a sumptuous glass roof designed by Norman Foster.
The collections of the British include mainly objects and sculptures from various cultures and civilizations. Among the unmistakable items is the famous Rosetta Stone which allowed Champollion to translate hieroglyphics, although found by the French, it became English during the defeat of Napoleon. It is also in the British Museum that you can see the most beautiful pieces of the Parthenon of Athens, brought back from Greece by Lord Elgin.
Other wonders include the remains of the Mausoleum, the tomb of King Mausoleum, dated 350 BC and which is one of the Seven Wonders of the Ancient World; the Golden Cloak of Mold (1900 BC); or a 13th century ivory chess set discovered on a Scottish island. The British also conserve several impressive mummies as well as the national collection of drawings and engravings.
Great Russel Streeet
Open every day from 10 am to 5:30 pm.
Friday night until 8:30 pm
Free admission, except for temporary exhibitions
https://www.britishmuseum.org/
The Natural History Museum
A "wow" effect is guaranteed when you enter this museum whose reception hall overhung by the skeleton of a whale is very impressive!
The scenography has nothing to do with what we see in the french museums: we focus more on the entertainment side, which can please children and teenagers, but for my part, I came out a little disappointed. It's hard to know which specimens are real or fake, it's a bit frustrating.
Cromwell Road
Every day from 10 am to 5:50 pm
Free admission, except for temporary exhibitions
http://www.nhm.ac.uk/
Many other museums are to be discovered in London, including the Victoria & Albert Museum which I unfortunately did not have time to visit. It will be a good pretext to go back to this beautiful city!
Did you like the article? Pin it on Pinterest!