What is the original source of art? This is the question that Paul Klee (1879-1940) tried to answer throughout his career. Through 120 works and personal objects of the artist, the LaM museum returns to this questioning by presenting until February 27, 2022 an exhibition that makes us (re)discover the art of Paul Klee from an angle as intimate as it is fascinating. Here is an overview.
The history of the LaM
The LaM exists thanks to the donation of an important collection of modern art assembled by two enthusiasts: Roger Dutilleul (1872-1956) and his nephew Jean Masurel (1908-1991).
At the very beginning of the 20th century, Roger Dutilleul began his art collection by turning to the painters of the avant-garde. He collected works by Modigliani, Klee and Kandinsky very early on. This enthusiast passed on the virus of beauty to his nephew Jean Masurel who, in turn, started his own collection before inheriting most of his uncle's in 1956. More than just collectors, Roger Dutilleul and Jean Masurel played an active role in supporting avant-garde artists who were, in their time, rejected by institutions.
In the 1970s, Jean Masurel wanted to make his collection public and imagined a museum that would take place in his native region. In 1979, with his wife Geneviève, he donated 219 works to the Urban Community of Lille with the objective of "making the characteristic works of art of our time accessible to the greatest number of people, associating the public with the permanent research on the evolution of modern art, encouraging the creation of works of art and promoting leisure and cultural activities."
The architect Roland Simounet was then entrusted with the project of creating a new museum in Villeneuve d'Ascq. After three years of construction, the museum was built in 1983: the LaM was born! Since then, the museum has made numerous acquisitions and now has more than 7,000 works of outsider, modern and contemporary art in its collections.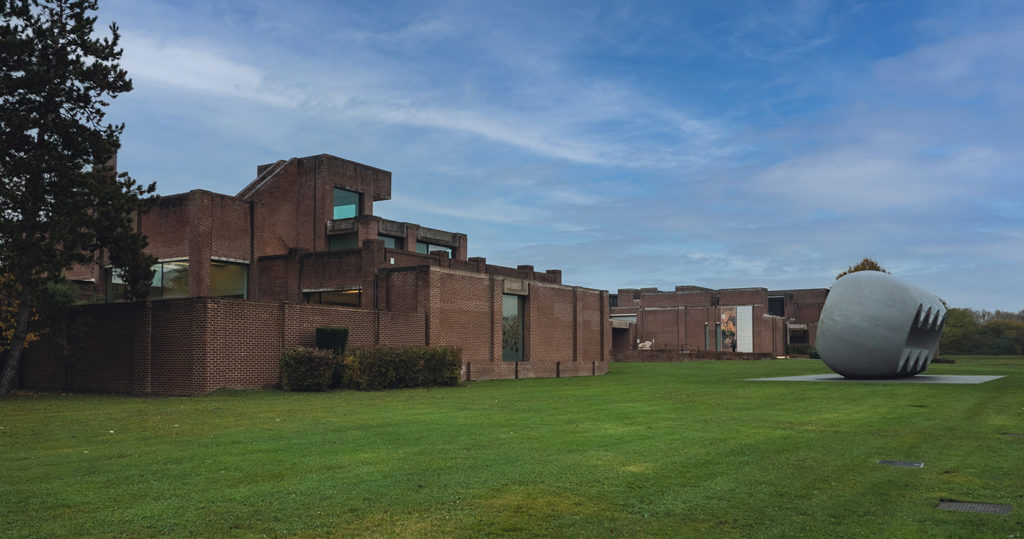 ---
Paul Klee and the origins of art
Until February 27, 2022, the LaM is devoting an exhibition to Paul Klee, an artist whose donor collection included three works and who had not yet been the subject of a monographic exhibition here. This exhibition, organized in partnership with the Zentrum Paul Klee in Bern, explores the artist's reflections on the origins of art through 120 works as well as a selection of objects that belonged to him.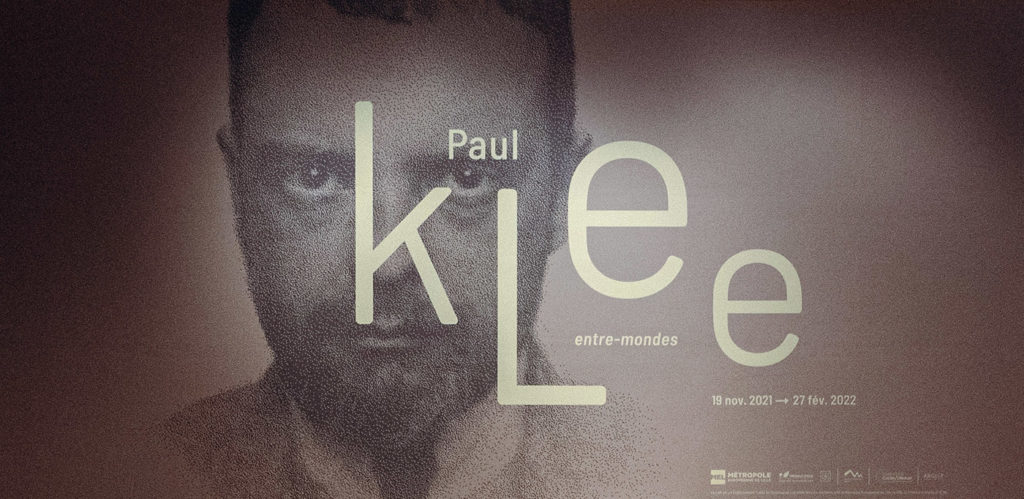 Trained at the Munich School of Art, Paul Klee went to Italy to study art but realized that classical art was an imitation of antiquity and aspired to an artistic creation that broke with the academic canons. In his diary, he writes:
I would like to be like newly born, to know nothing of Europe, absolutely nothing; to ignore writers and fashions, to be almost primitive.
From then on, Paul Klee became increasingly interested in art forms that had not been subjected to Western influences, namely asylums, world art, cave art and children's drawings. The exhibition thus addresses Klee's relationship with these four axes that allowed him to explore the depths of art.
The art of asylums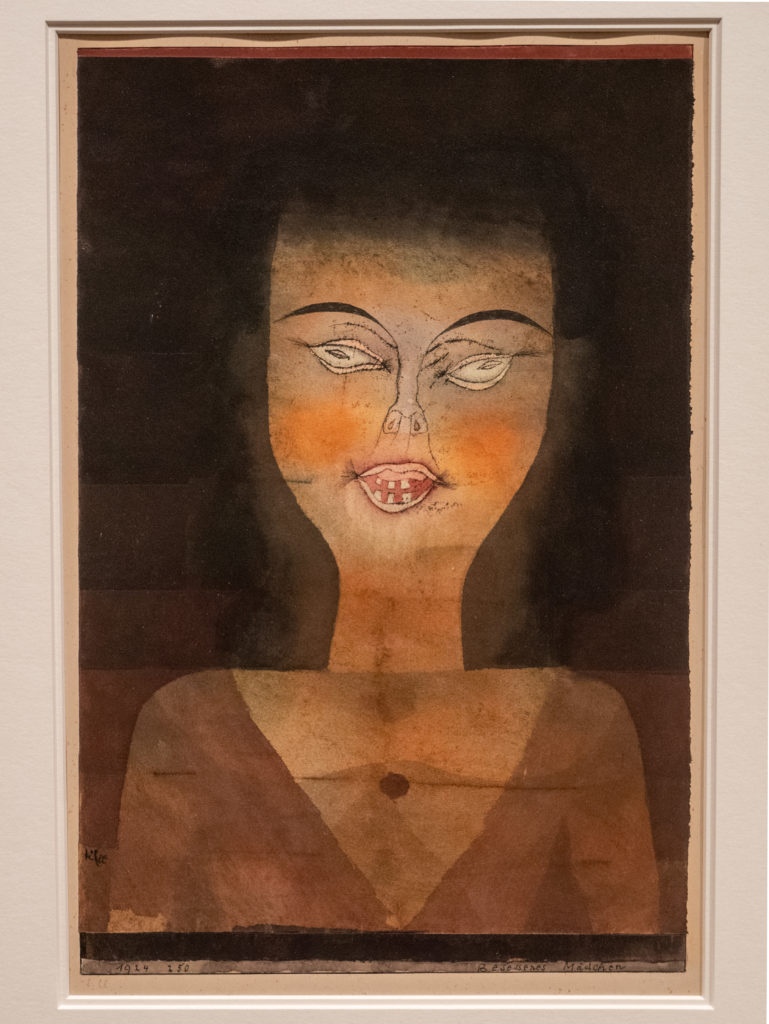 Paul Klee saw in the "insane" "examples for reforming art". He had a copy of a work by the psychiatrist and art historian Hans Prinzhorn, Expressions of Madness, who studied the works of his patients in 1922. The work of Hans Prinzhorn will also interest Jean Dubuffet who will theorize the art brut in 1945 designating the productions of people deprived of artistic culture and escaping any influence.
Klee himself assumed the links of his works with asylums. A similarity that was sometimes used by his detractors: in 1937, Nazi Germany organized an exhibition on degenerate art in Munich where artists were presented as Jewish and Bolshevik terrorists. 17 works by Paul Klee were exhibited and compared to works by psychiatric patients.
The arts of the world
Paul Klee's art was of course nourished by his travels, notably to Egypt in 1928-29, from which he returned with geometric compositions. Inspired by hieroglyphs, Klee developed his own pictorial universe. Several works and objects found in his personal belongings also testify to Klee's interest in African and Asian art.
In this painting (below) done in 1923 while he was teaching at the Bauhaus, Klee depicts a sunken island surrounded by fish, like an evocation of Atlantis which would have sunk because of the pride of its inhabitants.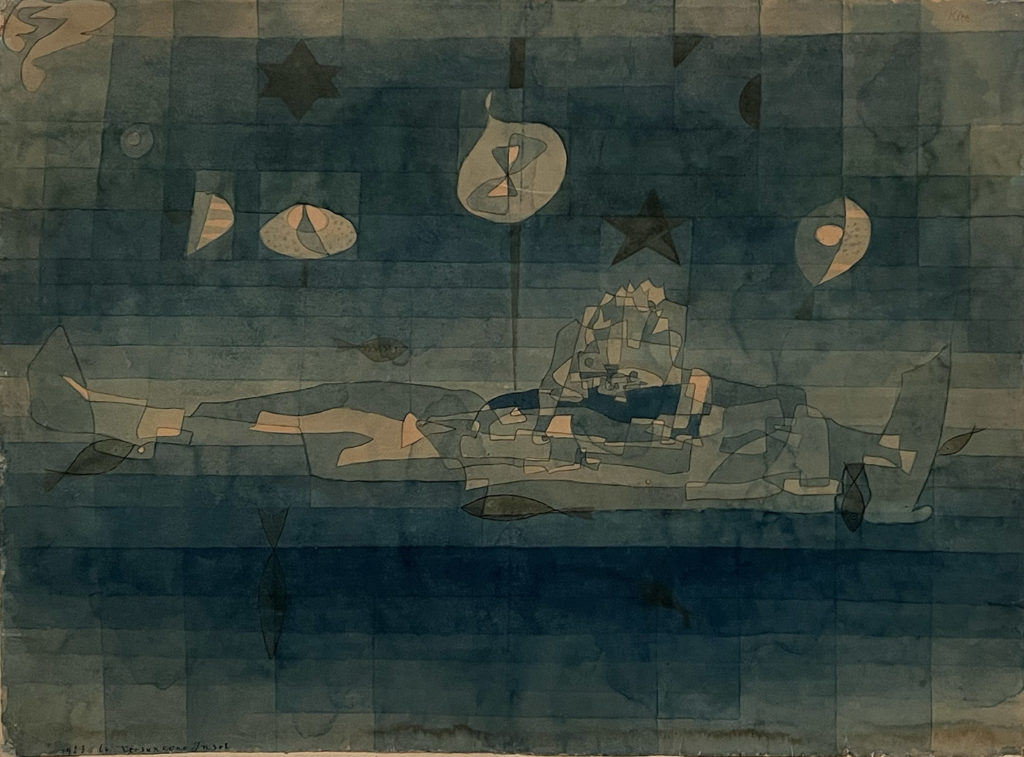 Prehistory
During the first half of the twentieth century, the general public discovered the decorated caves. Museums but also the diffusion of drawings make visible to all this still unknown cave art. Paul Klee was fascinated by the cave paintings which proved that art existed long before antiquity. Accompanied by his wife, the pianist Karoline Stumpf nicknamed Lily, Paul Klee went in 1928 to megalithic sites in Brittany such as Carnac where he discovered the alignments of menhirs.
If Paul Klee fled from classical art, he found inspiration elsewhere and particularly in this primitive art as shown in some of his works.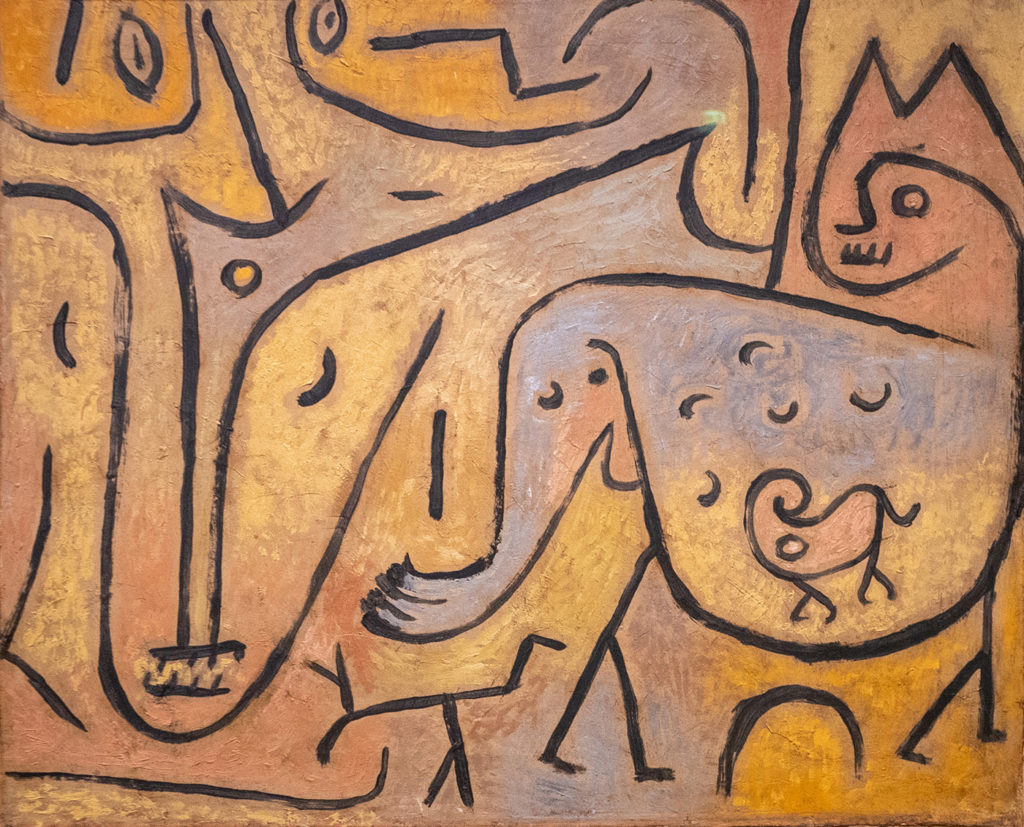 Childhood
When he retired to the family home in 1902, Paul Klee rediscovered his childhood drawings, which were like a revelation to him. They were drawings "executed with an ingenuous look and a lot of style" – he wrote to his wife.
In 1911, when he created a catalog raisonné of his works, Paul Klee included drawings from his childhood. He also drew inspiration from the drawings of his son Felix and did not hesitate to exhibit his adult works alongside children's drawings, thereby provoking much criticism of the value of his art.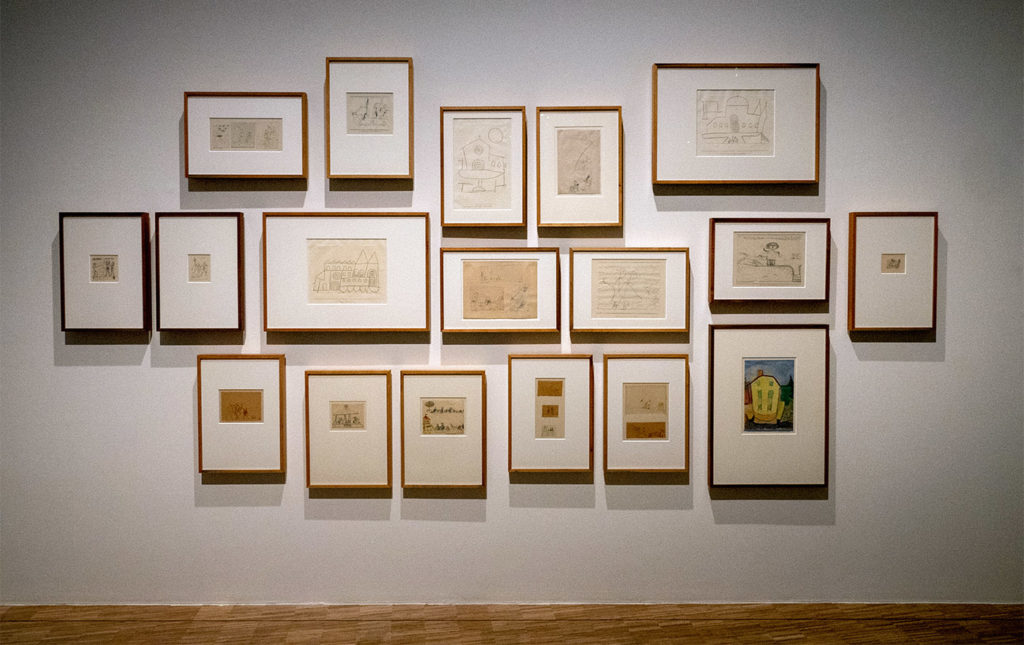 We should not talk about the "art" of the child. It is a mistake! Art is something else. [….] The child is filled, he overflows with images which harass him, from which he must free himself to find his marks in the world which is his. With him, drawing is a biological necessity! He draws as he runs, as he speaks! He must express, transpose, conjure, fix what he sees, what he desires, what he dreams, what is hostile or benevolent to him. […] Never associate my works with those of children! My signs are not intentional supports of contents. They are formations: independent forms, which lead their own life among forms. – Conversation reported by Hans-Friedrich Geist in 1950
In short, all of the "in-between worlds" presented in this exhibition provide a much better understanding of Klee's work, but also open up one's own reflections on what art is and the many forms it can take.
---
It also happens at the LaM!
Take advantage of your visit to see the other exhibitions currently on display at the museum. Until December 12, LaM invites you to rediscover Giorgio Griffa, one of the major figures of the Italian art scene.
And until February 20, 2022, an exhibition mixes science and art history by piercing the Secrets of Modigliani. Based on studies, analyses and X-rays carried out on the master's paintings, you will discover works from a whole new angle.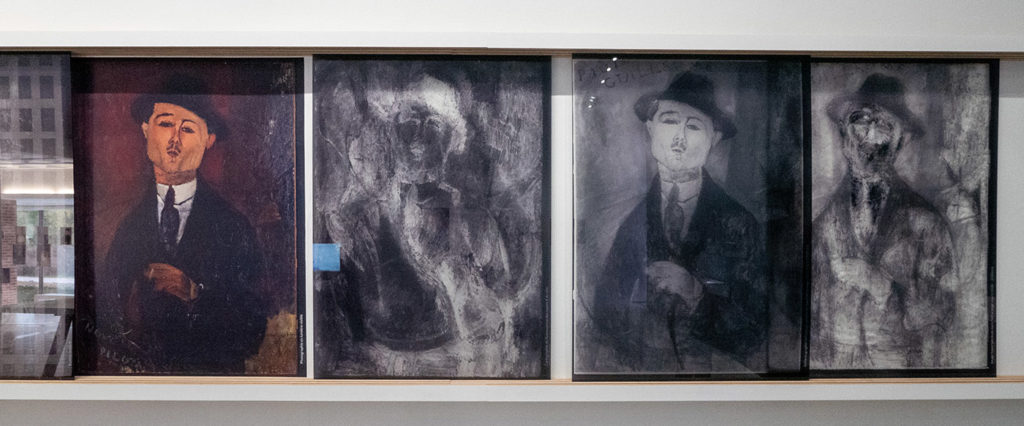 Also take time to walk around the sculpture park. Accessible free of charge, it brings together monumental sculptures by Calder, Deacon, Picasso, Lipchitz and Roulland.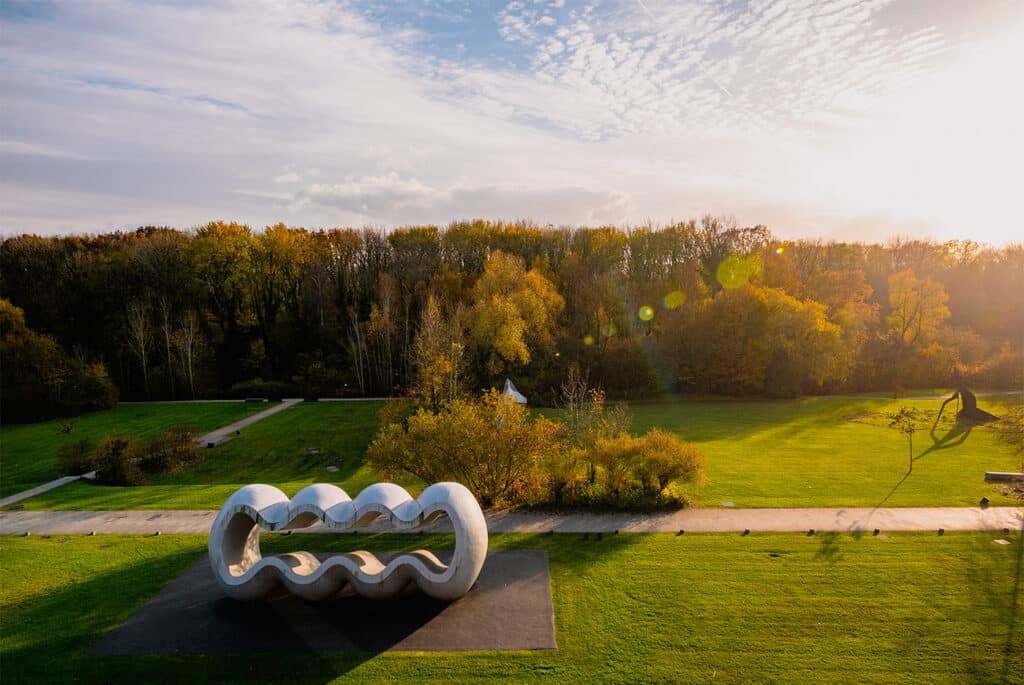 Enjoy your visit!
---
Useful informations
Adress:
LaM
1 allée du musée
59650 Villeneuve d'Ascq (France)
Opening hours:
Until February 27, 2022
Every day except Monday
From 10 am to 6 pm
Article realized in partnership with the LaM