London is a bustling and dynamic capita! Where to start when you spend a weekend there? To help you, here is my selection of 15 things to do absolutely when visiting London!
1. Eat a good breakfast
For a good start, treat yourself to a good breakfast: eggs, bacon, beans, mushrooms, sausages and toast. Yes, it's hearty but at least you'll have strength for the rich programme of visits that awaits you!
A good address to remember: Fitzrovia Belle. This pub near St Pancras station will put you right in the mood with its full breakfast for less than £9 (about €10.5), coffee included. And if you like the place, you can also spend the night there because this pub is also a hotel.
2. Visiting London museums
There are plenty of museums in London and you would be wrong to miss them as the national museums are free! You are free to leave a contribution if you like the visit but it is optional.
Don't miss the British Museum, the National Gallery, the Tate Britain, the Tate Modern or the National History Museum.
READ ALSO: London's 5 most beautiful museums
3. Taking the bus…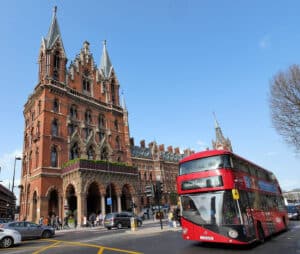 The famous red double-decker buses are ubiquitous in London and are a tourist attraction in their own right. During a journey, treat yourself to a view of London from the floor of one of these buses, it's a great way to discover the city.
The journey costs £1.50, you will need a transport card (Oyster) which costs £5 but which you can then keep for all your London journeys.
4. …and the boat-bus
Several river shuttles allow you to take a trip on the Thames. A good way to see the city differently and in a very pleasant way. I recommend that you use the Thames Clippers company which accepts the Oyster card. It's easier and cheaper (between £4.40 and £9.00 depending on your journey).
5. Making friends with squirrels
The parks in London are beautiful. The largest, Hyde Parc, covers 250 hectares! It is the lung of the city and it is very pleasant to walk there.
Here, as in the other parks of the city, it is not uncommon to come face to face with squirrels, especially if you get close to trees or shrubs. Not very shy and accustomed to crowds, these squirrels who spend their days looking for food will approach you easily!
6. Strolling through Notting Hill
Notting Hill is such a quiet area that it's hard to believe you're still in London! With its colourful houses and typical British architecture, it is very pleasant to walk around.
For food lovers: stop at The Hummingbird Bakery to enjoy a cupcake!
7. Eating fish and chips
How do you get to Britain without falling for a fish and chips? To be eaten the English way, i.e. with vinegar on the chips! Make the most of being in the Notting Hill district and stop at The Sun In Splendour, a charming restaurant serving a delicious and copious fish and chips.
8. Gain height and admire London from Sky Garden
Sky Garden is an impressive bar/restaurant located at the top of a tower in the City district. With a large bay window it allows you to enjoy an incredible 360° view of London. But beware, this place is very popular so it is best to book at least two weeks in advance to make sure you have a slot.
If a reservation at the restaurant obliges you to dine on site, a reservation at the bar or at an open house allows you to discover the place without obligation to consume just to enjoy the view. Day or night it's magical!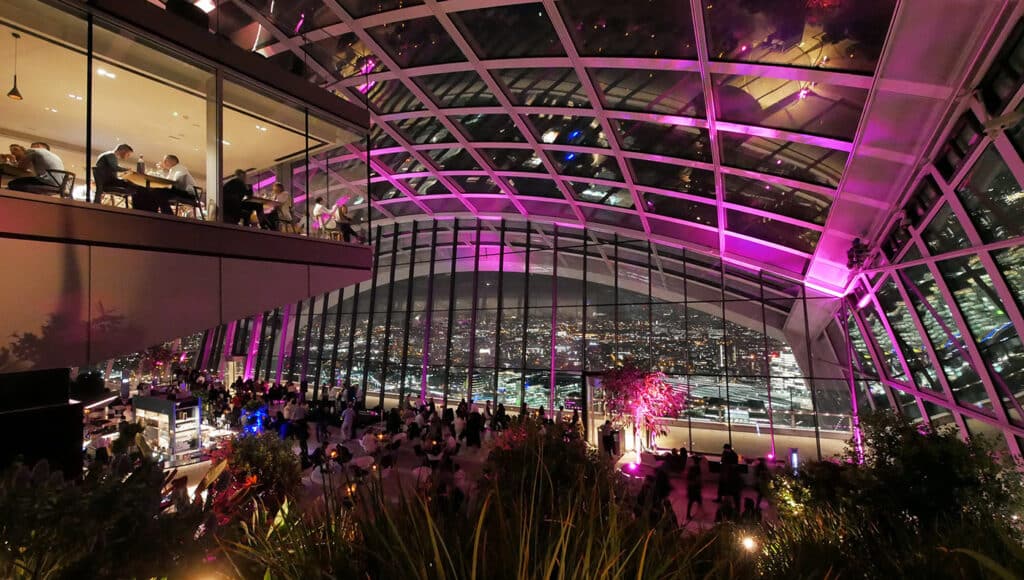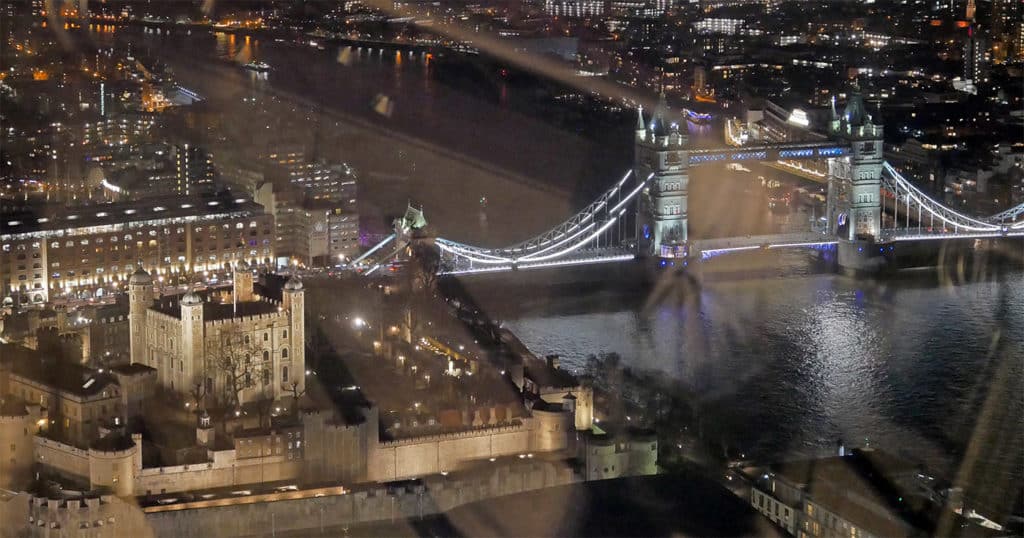 9. Shopping
It is certainly not the most intellectual step, but let's not lie to ourselves: London is the perfect city for shopping, with some unusual boutiques.
The funniest is undoubtedly M&M's world, a whole shop dedicated to the famous sweets, on several floors. Original and fun, it will appeal to young and old alike.
In a completely different standing, direction Harrods, to be seen both for shopping and to discover the superb building. But the most pleasant place is undoubtedly Covent Garden, a covered market where you can find shops as well as restaurants.
10. See the changing of the guard at Buckingham
The changing of the guard attracts a lot of tourists and for good reason: it's typically British and it's free! It takes place at the Queen's palace, Buckingham Palace, every two days.
The ceremony starts at 10.45 am but it is better to arrive early to have a good place and to see well. In case of bad weather it can be cancelled. For good practical information, the best way to find out is to consult the Household Division's website, which will give you precise dates and times.
11. Taking a nap in front of Westminster
The Palace of Westminster is one of the most beautiful monuments in London. The oldest part dates from the 11th century! Originally it was a royal residence but nowadays it houses the Houses of Parliament (the House of Commons and the House of Lords).
Located in the centre of the city it is impossible to miss it. It is also distinguished by its famous Big Ben clock, but as this is currently undergoing restoration work, you'll have to be content to imagine it behind its scaffolding!
Just next door, Victoria Tower Gardens Park provides a place to rest for a while or take a contemplative nap in front of the majestic monument.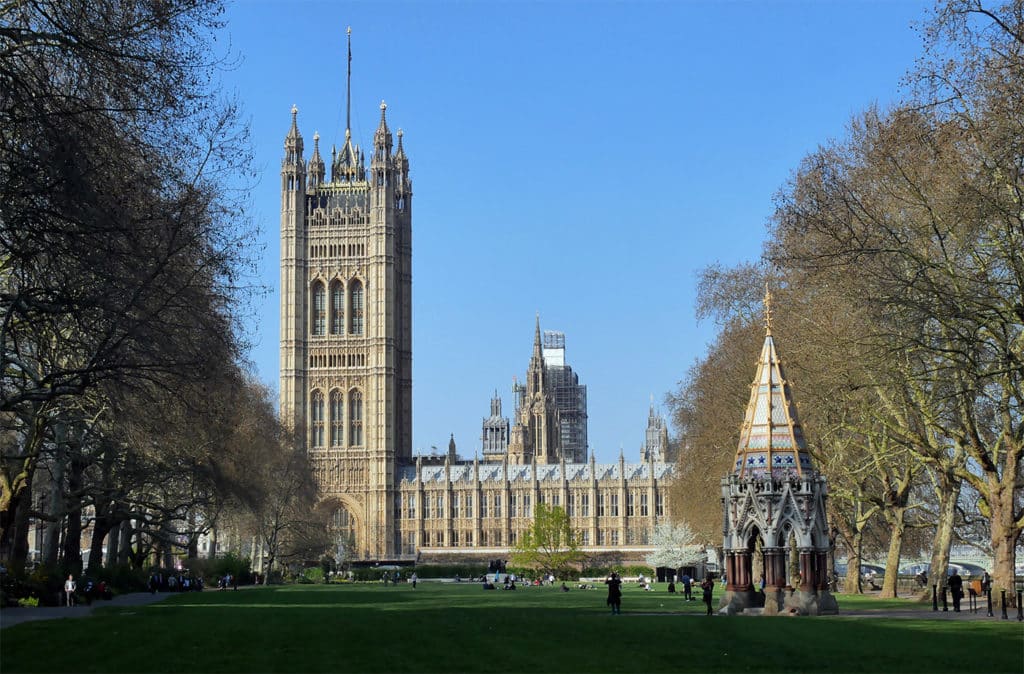 12. Visit Saint Paul's Cathedral
Built between 1675 and 1710 after the great fire of 1666 which destroyed the previous cathedral, Saint Paul's Cathedral is the work of the architect Sir Christopher Wren.
The visit (fee, £16) gives access to the magnificent nave, the crypt and the dome from which one has a magnificent view of the city. A view that is well deserved because the dome is more than 110 metres high and you have to climb 568 steps to reach it!
13. Walking in Brick Lane
Brick Lane is a long street in East London and is organised like a cheerful bric-a-brac. Like a flea market, you can find everything: records, food, furniture…
Beyond the stalls, the charm of this district comes from the street art that one discovers in each street and the many singers and musicians who set the atmosphere.
14. Eating in London's oldest market
Just a short walk from the Tate Modern, Borough Market is London's oldest food market. You can find everything you need to shop there (fruit, vegetables, delicatessen, wines…) but above all many caterers. Burgers, bao, fish and chips, sandwiches… there's everything, the hardest thing is to succeed in making your choice!
15. Discover the unusual and old cemetery of Saint Pancras
Situated on the edge of town, north of St Pancras station, St Pancras Old Church is a small, somewhat gloomy church. Its interest lies rather in its cemetery which hides something unusual…
Around a tree, many stelae have been gathered, once moved to allow the construction of a railway. It was the poet Thomas Hardy, still an architecture student, who had to oversee this thankless task. With time, the tree took root between the steles, giving this unusual concretion.
Little known to tourists, this unusual installation can be discovered in the quiet with the company of a few crows, guaranteed atmosphere!
Find all these addresses (and more!) on this map :
So, when are you going to London?!