To rehabilitate chocolate in all its nobility, such was the wish of Robert Linxe when he created La Maison du Chocolat in 1977. 45 years later, it is Nicolas Cloiseau, Meilleur ouvrier de France Chocolatier, who elaborates the new collections, redoubling his creativity to bring chocolate to its highest degree of perfection. Here is a look back at the history of this great House.
La Maison du Chocolat: 45 years of know-how
Robert Linxe, the "sorcerer of the ganache"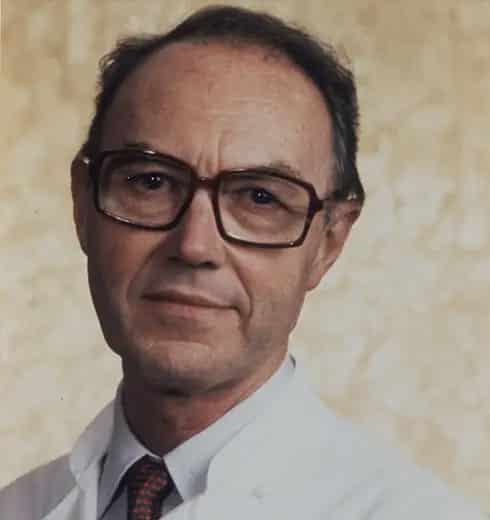 Chocolate is first and foremost a story of gourmandise! For Robert Linxe (1929-2014), the revelation came at the age of 7 when he discovered the subtleties of chocolate at the home of one of his uncles, a restaurant owner in Bordeaux. Falling into the pot at an early age, he trained as a pastry chef and bought a pastry and confectionery shop in Paris, La Marquise de Presles, when he was 25.
For 20 years, he developed a catering business before opening a store dedicated to chocolate in 1977, which he named La Maison du Chocolat, with the aim of "rehabilitating chocolate in all its nobility". If today we are used to going to chocolate shops, for the time it was a real revolution: it was indeed the very first Parisian store entirely dedicated to this delicacy!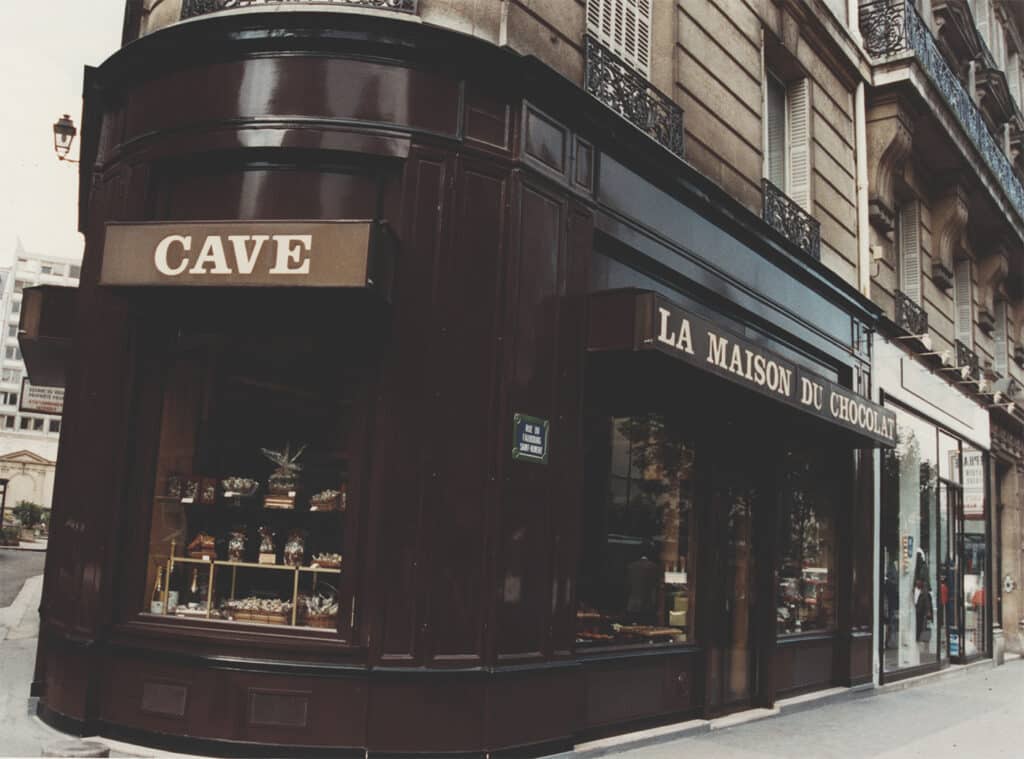 The success of this shop allowed him to sell his creations abroad by opening other stores in New York, Tokyo, London and Hong Kong. Over the years, Robert Linxe pushed his art even further and constantly invented: the "Pleyel", a chocolate cake that pays homage to the Salle Pleyel located next to the first boutique and which is still one of the House's iconic cakes today; new ganaches such as Quito, a soft, round and balanced dark chocolate; but also the first chocolate dress for the second edition of the Paris Chocolate Fair in 1996.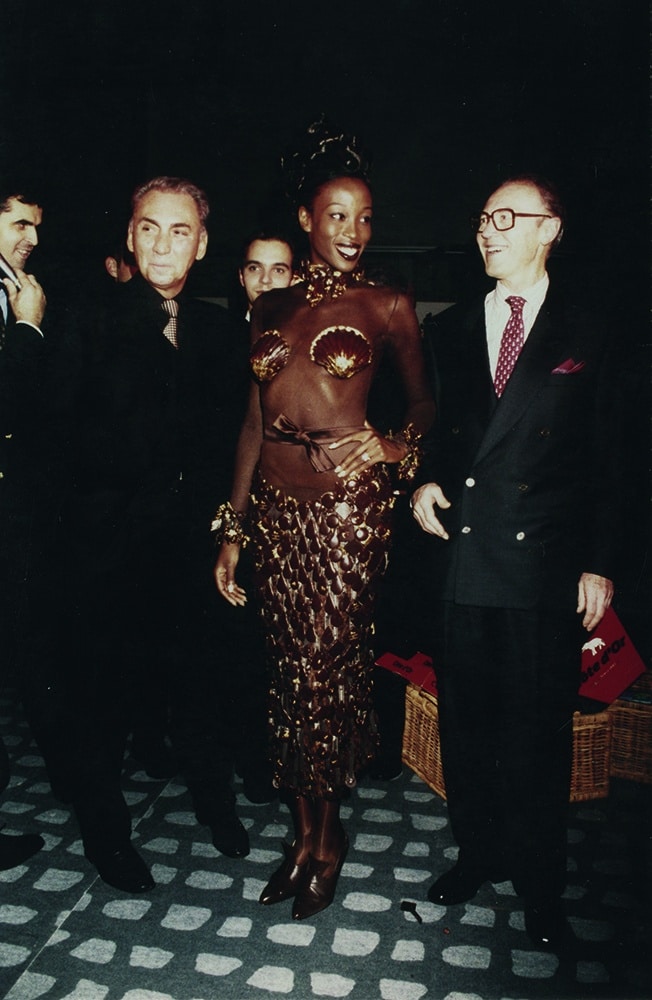 His efforts to make chocolate a noble product will be rewarded by the entry of La Maison du Chocolat in the very closed Colbert Committee which promotes the French creation; then in 2007 by the title of Chevalier of the Legion of Honor.
Nicolas Cloiseau, a "MOF" at La Maison
In 1996, Nicolas Cloiseau arrived at La Maison du Chocolat by chance to perfect his chocolate making skills. Four years later, Robert Linxe entrusted him with the management of the decoration workshop where he elaborates artistic pieces. This high-flying and highly technical position allowed him to develop his know-how, to the point of obtaining the coveted title of "MOF" (Meilleur ouvrier de France Chocolatier Confiseur) in 2007. While the founding father takes a well-deserved retirement, Nicolas Cloiseau takes over the reins of La Maison du Chocolat in 2012.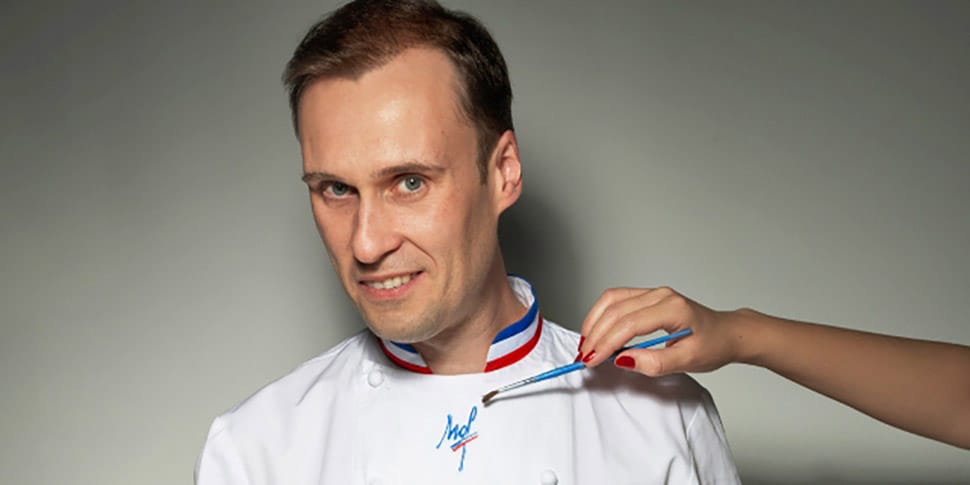 Chocolate: a fashionable product
From chocolate to fashion, the gap is sometimes not very wide, "I have always compared my brand to a chocolate jeweler, with a brown and muffled decor, matching boxes, refined like jewel cases, and cotton ribbons inspired by Hermès" said Robert Linxe.
The care given to the boxes and the different annual collections is indeed reminiscent of the style of the great Houses which, like Hermès, Sèvres or Cartier, reveal the beautiful and the good by transforming a raw material into a luxury product.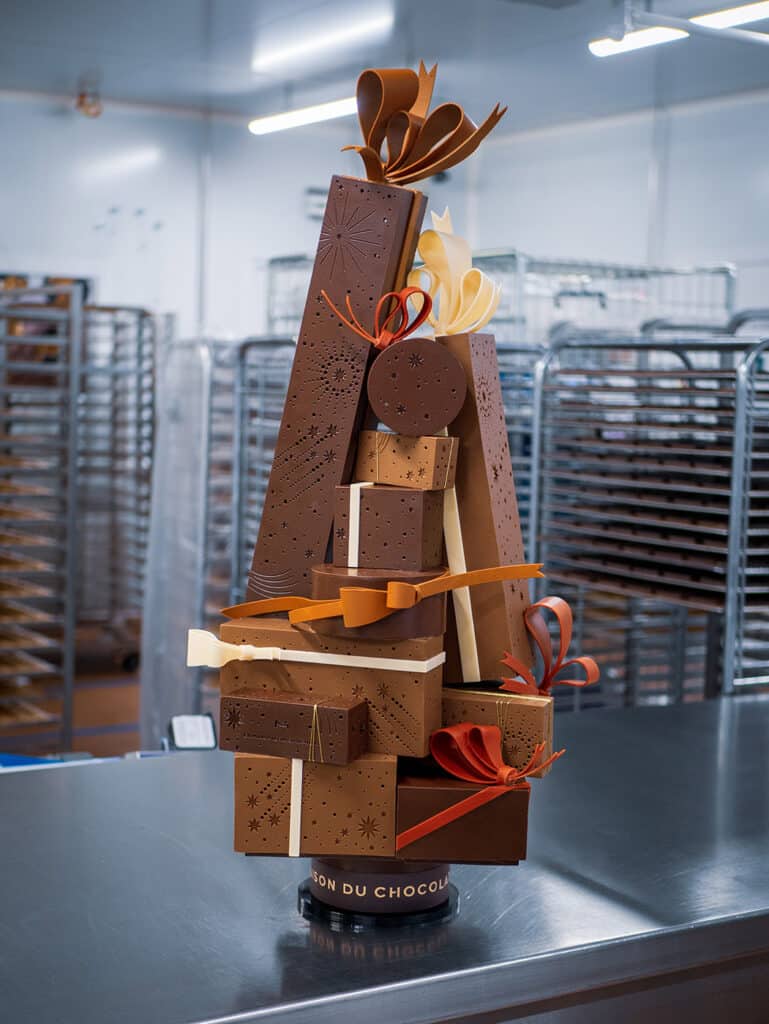 If perfumers have their "noses", these professionals capable of recognizing fragrances and creating perfumes, La Maison du Chocolat has its "referent palates", ten experts whose taste buds guarantee the quality of the new creations.
The selection of cocoa is also similar to oenology. Like wine, the aromatic typicity of each cocoa depends on the soil, the altitude and its fermentation. It is therefore a constant search for the best cocoa in the world to offer different aromas. This year, for example, a chocolate from Cameroon has been chosen for the Christmas creations.
Staying in fashion is not easy because, even in the world of chocolate, tastes change…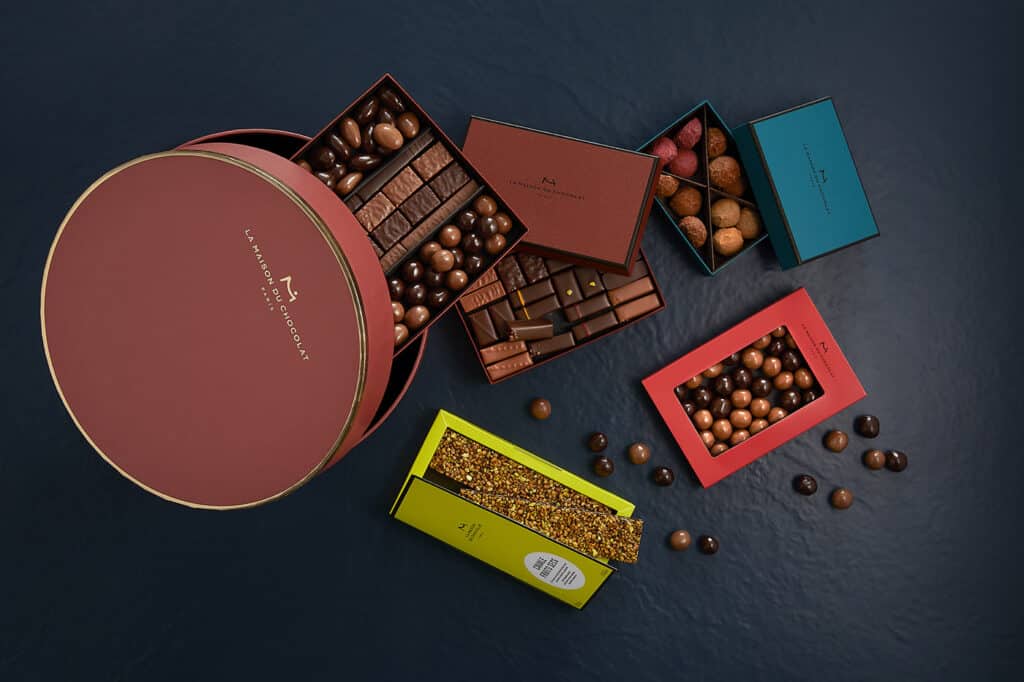 Knowing how to do and redo
Today, chocolate has been democratized: the average French person consumes more than 13 kilos per year! So how can we continue to surprise our customers?
Nicolas Cloiseau, like his predecessor, is always pushing the limits and constantly seeking to reinvent himself. New textures, new sensations… it's all about adapting chocolate to the taste of the day, and following trends, just like in fashion! In recent years, this (r)evolution has involved the elimination of alcoholic liqueurs in favor of fruits with a more intense taste, the reduction of sugar and fat, and the creation of a vegan range without butter.
This research also involves taking into account environmental and social issues. La Maison du Chocolat has joined the "Chocolatiers engagés" network to use cocoa sourced 100% from producers, and to favour suppliers whose social and environmental impact on local communities is positive.
Giving memory to the ephemeral
Of course, producing high-end chocolates, handcrafted in France (the workshops are in Nanterre) has a cost. But these chocolates are not just a simple gourmet pleasure, their flavors and textures bring a special emotion that we remember for a long time; they "give memory to the ephemeral" – to quote a phrase of Thierry Marx. Dare to push the door of a La Maison du Chocolat boutique to taste their creations, you won't regret it!