Inaugurated in April 2017, La Seine Musicale celebrates its fifth anniversary in 2022 and presents a varied program for the occasion: film music, dance, jazz and world music, large orchestras, young audiences… La Seine Musicale is open this year again to all music and all audiences. Here is an overview of some of the highlights of this new season.
Discover at a glance the entire 2022/2023 program
For lovers of modern music
This year, La Seine Musicale welcomes great names in music and artistic creation, starting with choreographer Benjamin Millepied, who will present a revisited version of Romeo and Juliet in September with the L.A. Dance Project.

In November, composer Louis Chedid and pianist and conductor Yvan Cassar will perform their new album "En noires et blanches".

In January, Arthur H will perform with a symphony orchestra, a unique opportunity to hear his captivating voice in a more intimate setting than usual.
Then in March 2023, La Seine Musicale will bring together Ibrahim Maalouf and JoeyStarr in a new creation entitled "Les songes". A show based on texts and poems by Leonard Cohen, David Bowie, Lou Reed, Jim Morrisson and many others.
For small (and big!) children: shows for young audiences
Throughout the year, La Seine Musicale offers shows designed for a family audience, adapted to both children – from the age of five – and their parents.
Film-concerts, musical tales, educational concerts… many shows await young and old alike.
TO KNOW MORE : Which show to see with a child? The family program of La Seine Musicale

How to book a show at La Seine Musicale?
You can book your tickets :
directly from the website www.laseinemusicale.com
by phone at 01 74 34 53 53
at the box office from Tuesday to Saturday, from 11am to 7pm
For fans of symphony orchestras: the Great Works
The quality of its acoustics makes the Auditorium of La Seine Musicale a perfect setting for symphony orchestras. Insula orchestra, the resident orchestra at La Seine Musicale, as well as French and international orchestras, will perform there throughout the year.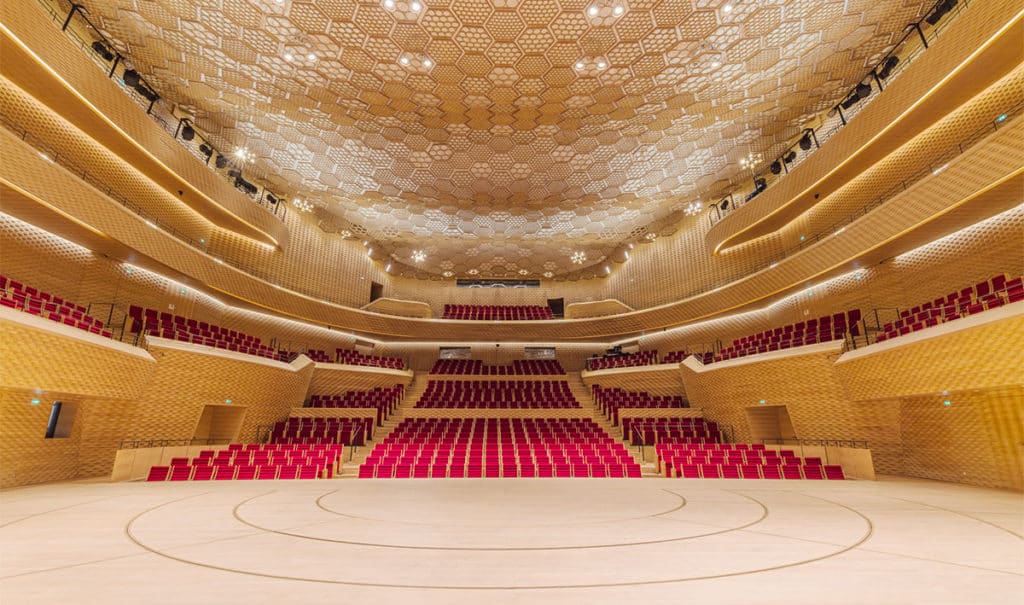 Don't miss "Vivaldi, the four seasons", a creation of La Seine Musicale by the Concert de la Loge, Julien Chauvin and Mourad Merzouki who will perform a sound, visual and danced interpretation of Vivaldi's masterpiece.

New: (re)discover the greatest film scores
This season, La Seine Musicale offers a cycle dedicated to film music: Michel Legrand, Ennio Morricone or the cult films of Christmas.
Special offer for under 28s
Benefit from a reduced rate on a selection of concerts and shows, from 10 €!
To learn about classical music: You think it's classical?
You think classical music is not for you? That it is boring or reserved for an elite? You'll change your mind about this musical genre with " Vous trouvez ça classique ? ", educational concerts of 1h15 organized on Saturdays just before the aperitif!
Conductor Mathieu Herzog and his orchestra Appassionato will give you the keys to understand a work or a composer.

Become a member!
For 15 €, the membership card is valid for all the shows* of the season 22/23 in the Auditorium of La Seine Musicale. It allows you to benefit from :
a 20% discount compared to the full price, up to a limit of 2 seats per show (except for "Sunday Classics")
a 20% discount on the full price for up to 2 adult and 2 child tickets for the "Sunday Classical" format
the possibility of exchanging reserved tickets for another show, free of charge, up to 72 hours before the concert date
SAVE THE DATE! La Seine Musicale opens its doors on Saturday 17 September 2022, from 11am to 6pm. On this occasion, the membership card will be offered to all visitors!
*except exceptional dates

For jazz and world music lovers
Since music has no borders, the jazz and world music program is open to all influences and all generations for unprecedented encounters between artists of yesterday and today.

Rediscover Gainsbourg with André Manoukian and his guests; explore the unique universe of accordionist Vincent Peirani surrounded by Beninese guitarist Lionel Loueke, London saxophonist Shabaka Hutchings and Iranian percussionist Bijan Chemirani…
Book your next show
You can book your tickets :
directly from the website www.laseinemusicale.com
by phone at 01 74 34 53 53
at the box office from Tuesday to Saturday, from 11am to 7pm
---
Useful information
Adress:
Seguin Island
Boulogne Billancourt
Métro ligne 9 – Station Pont de Sèvre
Tramway 2 – Station Brimborion
---
Article produced in partnership with La Seine Musicale