"I was born twenty-five centuries too late" confided Iannis Xenakis. Yet this lover of Greek antiquity was resolutely modern, to the point of reinventing music and creating new architectural forms. Architect, engineer, composer, mathematician… Xenakis was all these things at once, which makes him a particularly atypical artist.
On the occasion of the centenary of his birth, the Philharmonie de Paris invites you to get to know this extraordinary artist who is still too little known through the "Xenakis Revolutions" exhibition, to be discovered until 26 June 2022.
Iannis Xenakis: a singular journey
Born in Romania in 1921 or 1922, Xenakis had a peaceful childhood with a mother who gave him a flute and encouraged him to discover music. But at the age of 10, after the death of his mother, the young Iannis was sent to a Greek boarding school to receive an English education. Away from his family, he immersed himself passionately in studies and sports; he saw himself as an ancient Greek who loved philosophy, archaeology, music and mathematics: everything interested him.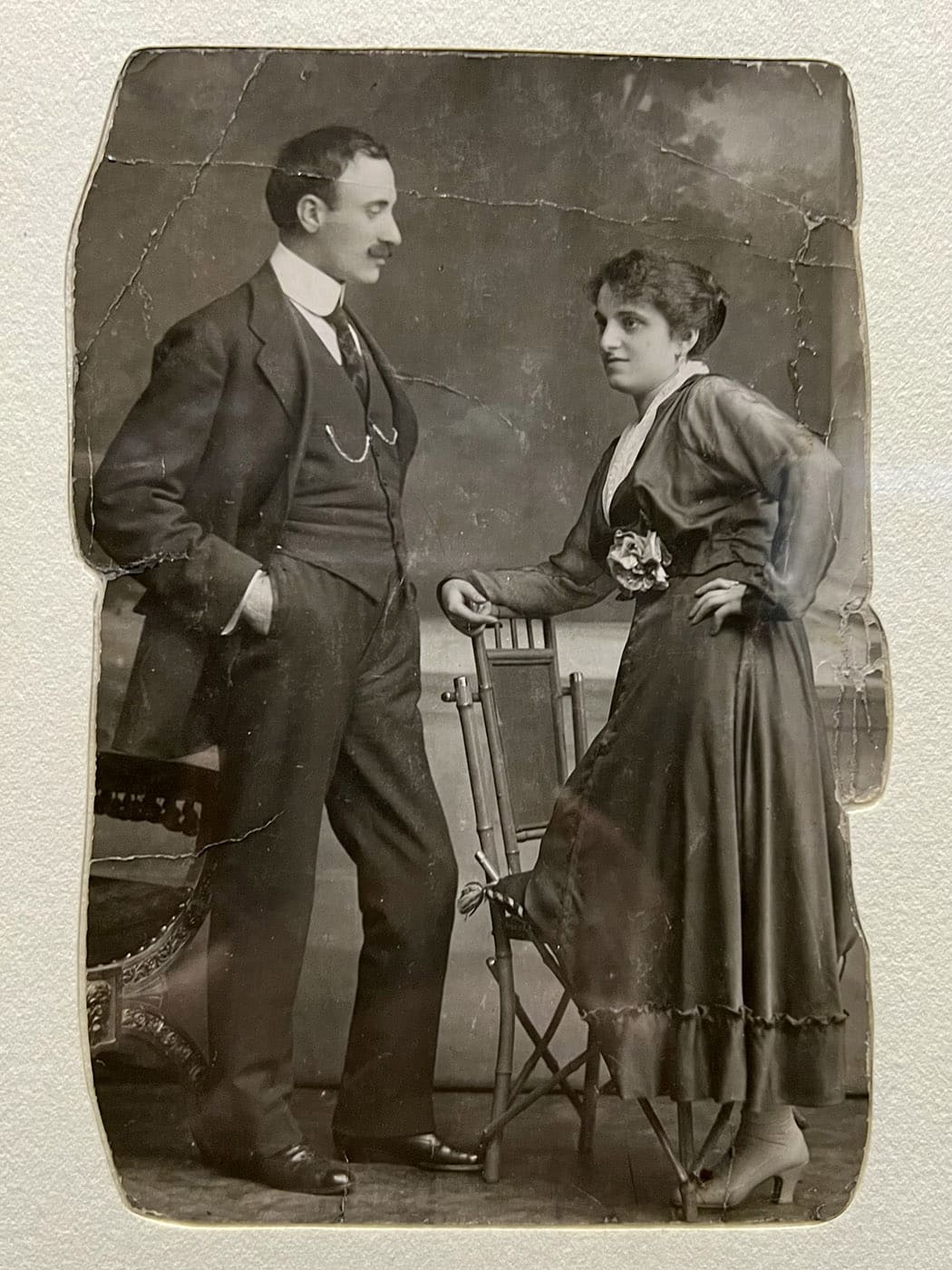 When he became a student at the Athens Polytechnic, the Second World War had just begun and as Mussolini's troops entered Greece, Xenakis chose to join the resistance. In 1945 he was seriously injured by a shell explosion. From this trying period, he will keep vivid memories that will haunt him all his life.
When the demonstrators approached (…), the Nazis were waiting for them with tanks which then fired into the crowd. Shouts of anger, pain, fear, death, suddenly replaced the well-paced scans, which were transformed into a fantastic chaos of hundreds of thousands of voices that filled the entire city. – Iannis Xenakis
In 1947, he resumed his studies while continuing his political struggle. Persecuted, he was forced to flee Greece for the United States before obtaining political refugee status in France.
---
The Philips pavilion and the birth of the "Polytopes"
Recruited as an engineer by Le Corbusier, he was entrusted with the design of some of the famous architect's buildings. For the 1958 Universal Exhibition in Brussels, he designed the Philips Pavilion from scratch.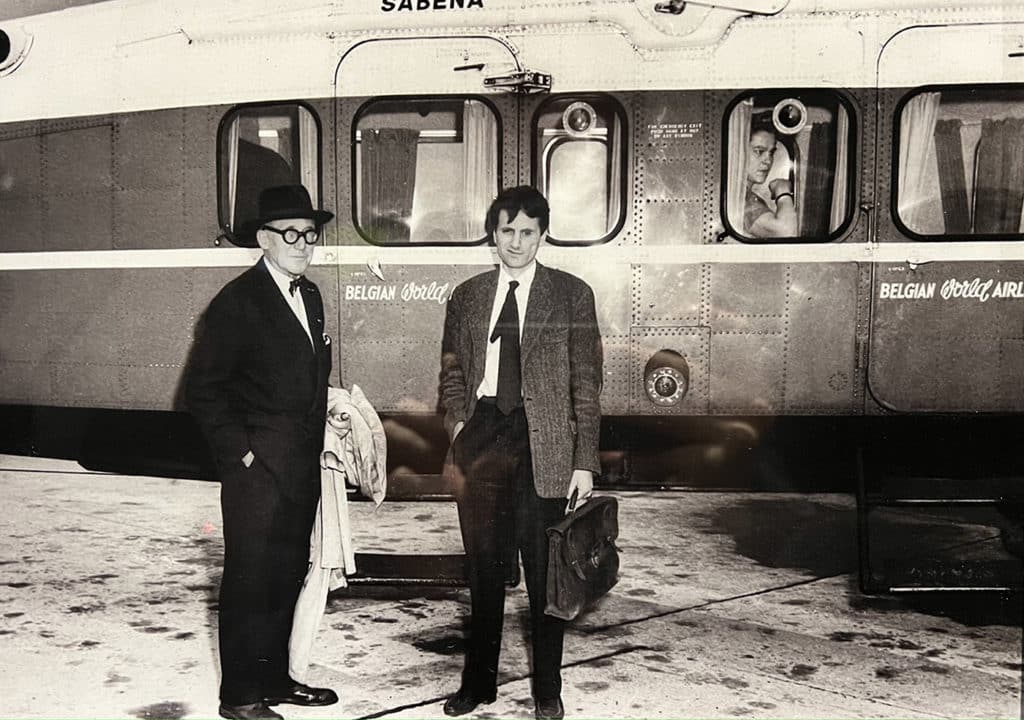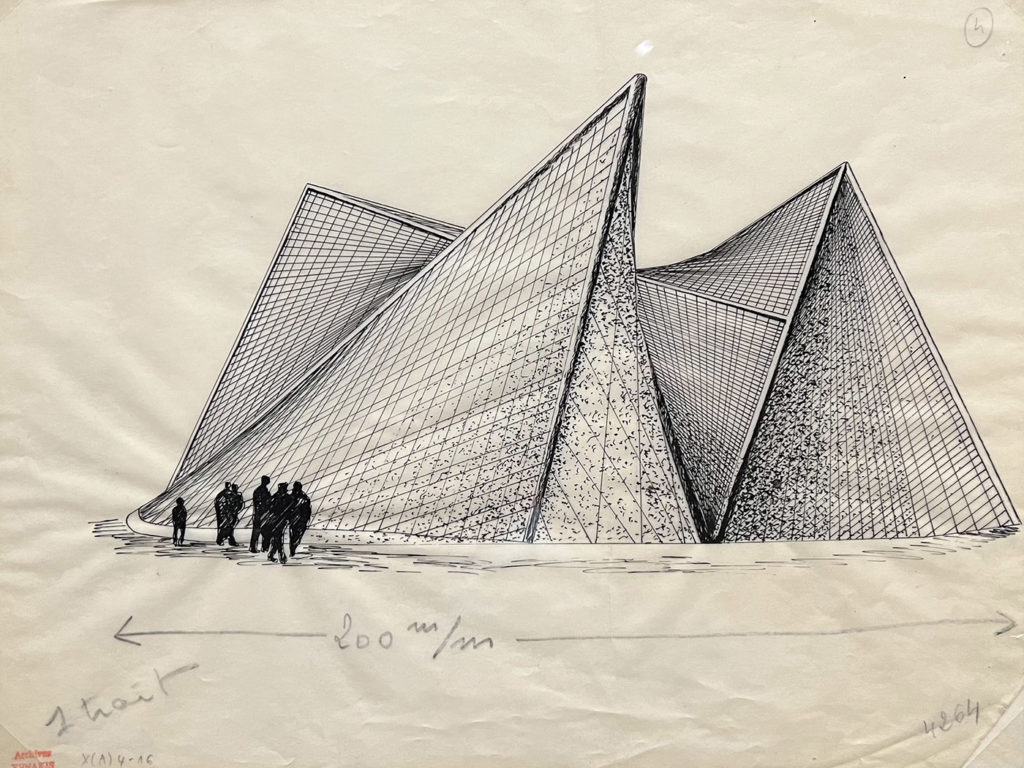 At the same time, Xenakis continued his musical research and imagined a new form of music combining art and science, developed through architecture and mathematics. He created scores graphically before transposing them in the traditional way. So much so that his scores seem to be artworks in their own right.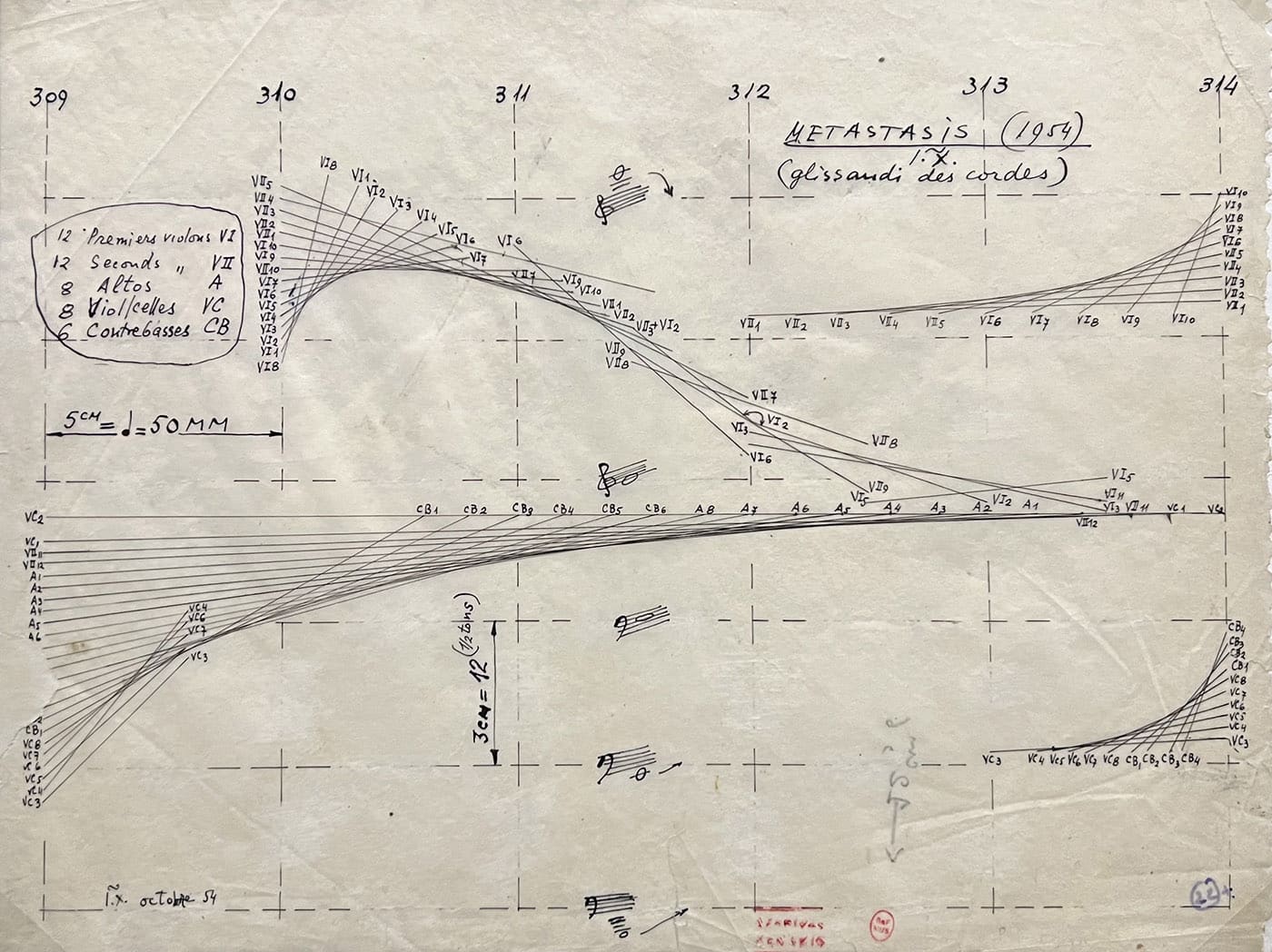 Invited in 1967 to create a work for the French pavilion at the Universal Exhibition in Montreal, Xenakis gave birth to his first "Polytope", a sound and light show, a true synthesis of his thinking, incredibly innovative for its time.
Between 1972 and 1974, the Cluny Polytope, installed in the Cluny thermal baths in Paris on the occasion of the first edition of the Autumn Festival, was a real popular success, attracting some 100,000 spectators! A few years later, he imagined the "Diatope de Beaubourg", an architectural structure created for the inauguration of the Centre Pompidou in which he presented "La Légende d'Eer", a new show, in 1977.
In creating his works, Xenakis was also interested in the spatialization of sound. He drew sketches in which he imagined a new arrangement of an orchestra, no longer facing the audience but in the middle of it. In the drawing below, for example, the conductor is in the middle, each black dot indicates a musician and the filaments represent the audience.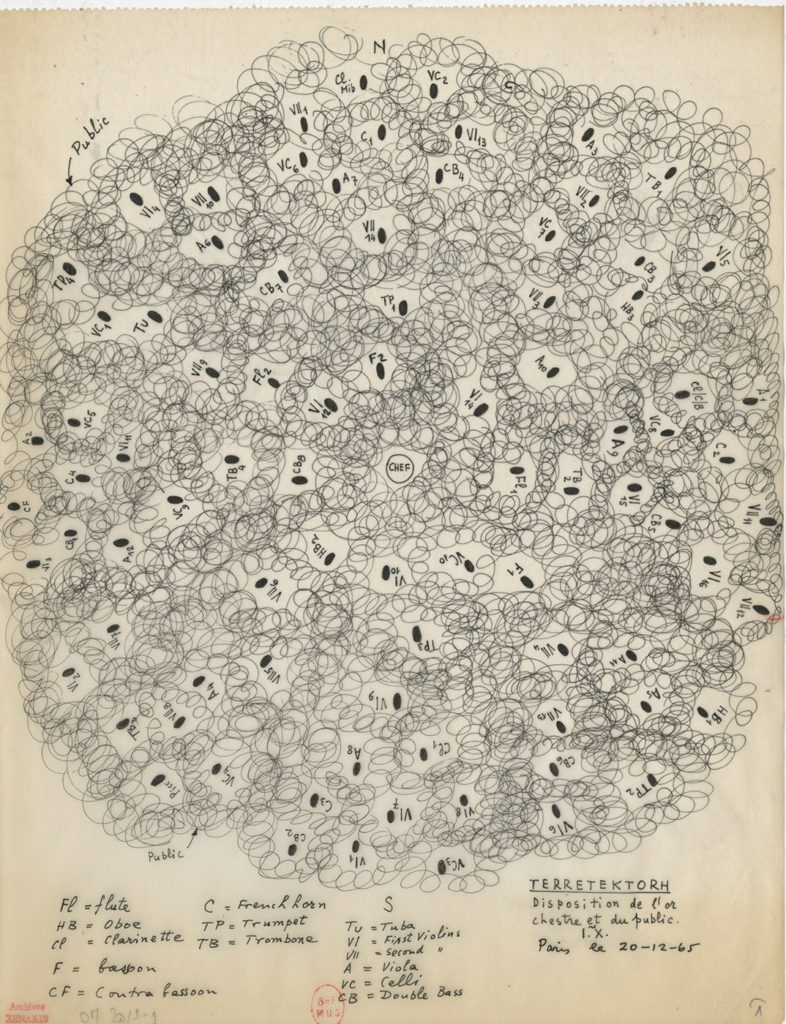 What did Xenakis' performances look like?
To help us imagine what Xenakis' sound and light shows looked like, the exhibition is transformed into a performance hall, playing three musical works accompanied by a light installation.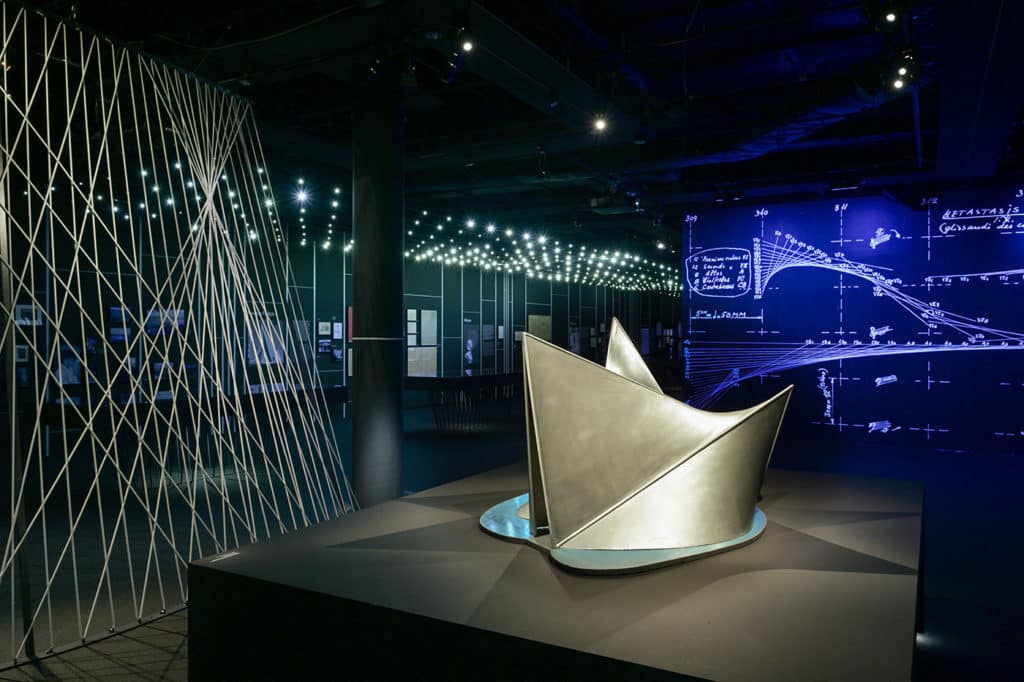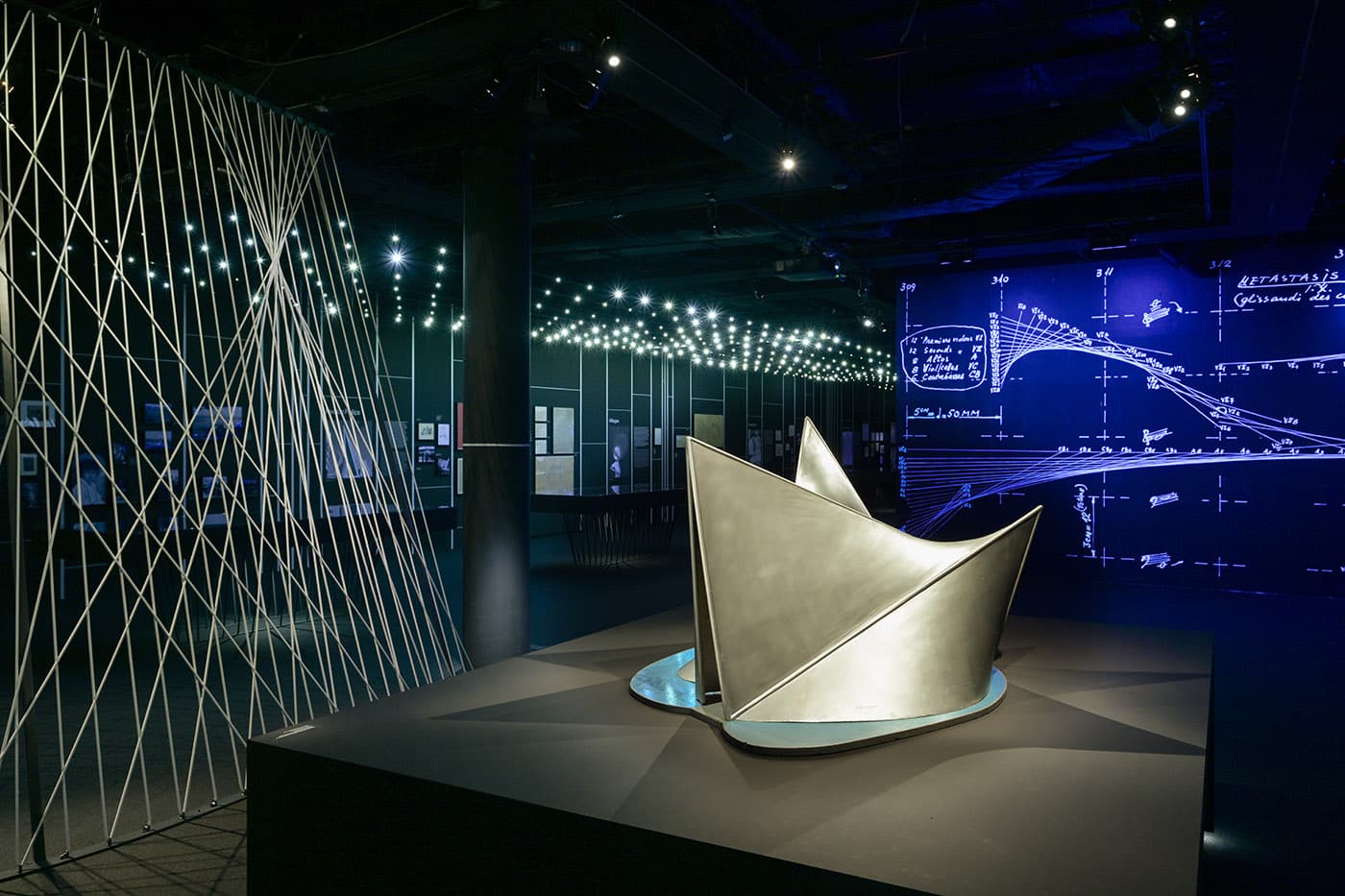 ---
An exhibition conceived as an encounter with Xenakis
Visiting this exhibition, one understands that Iannis Xenakis was an unspeakable character. Architect, composer, mathematician, engineer, computer scientist: he was all of these at once, but he was certainly not one and then the other. All these facets of his personality were intertwined in each of his creations. This is why the exhibition does not attempt to present the facets of Xenakis one by one, but rather the man in his entirety.

This singular approach transforms the visit into an enriching encounter with an artist whom one gets to know as the visit progresses. This encounter is made possible by the loans of numerous personal effects of Xenakis by his daughter Mâkhi Xenakis – also co-curator of the exhibition – which allow us to better understand the personality of this atypical artist.
---
"Echo": a journey in connection with Xenakis in the permanent collections of the Musée de la Musique
As an echo to this exhibition, the permanent collection of the Musée de la Musique hosts a dozen contemporary artworks linked to the kinetic movement and chosen for their affinity with Xenakis' work. A way of rediscovering the museum's remarkable collection.
What is kinetic art?
This artistic movement, which appeared in France in the 1950s, brings together artists who create works in motion: either by a motor, by the wind, by interaction with the viewer or simply by optical effect. The artists claim a form of experimentation by using new techniques to give birth to works capable of touching a large public by their spectacular, interactive or playful dimension.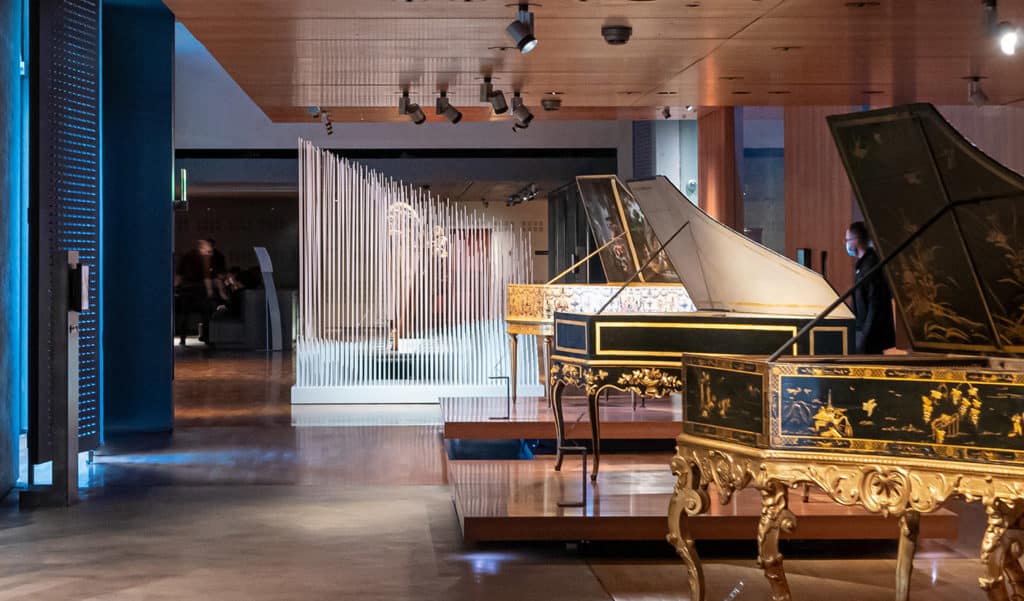 You can discover works by Peter Kassovitz, Laurent Bolognini, Ann Veronica Janssens, Carlos Cruz-Diez, Elias Crespin, Jesús-Rafael Soto, François Morellet, Victor Vasarely and Nicolas Schöffer.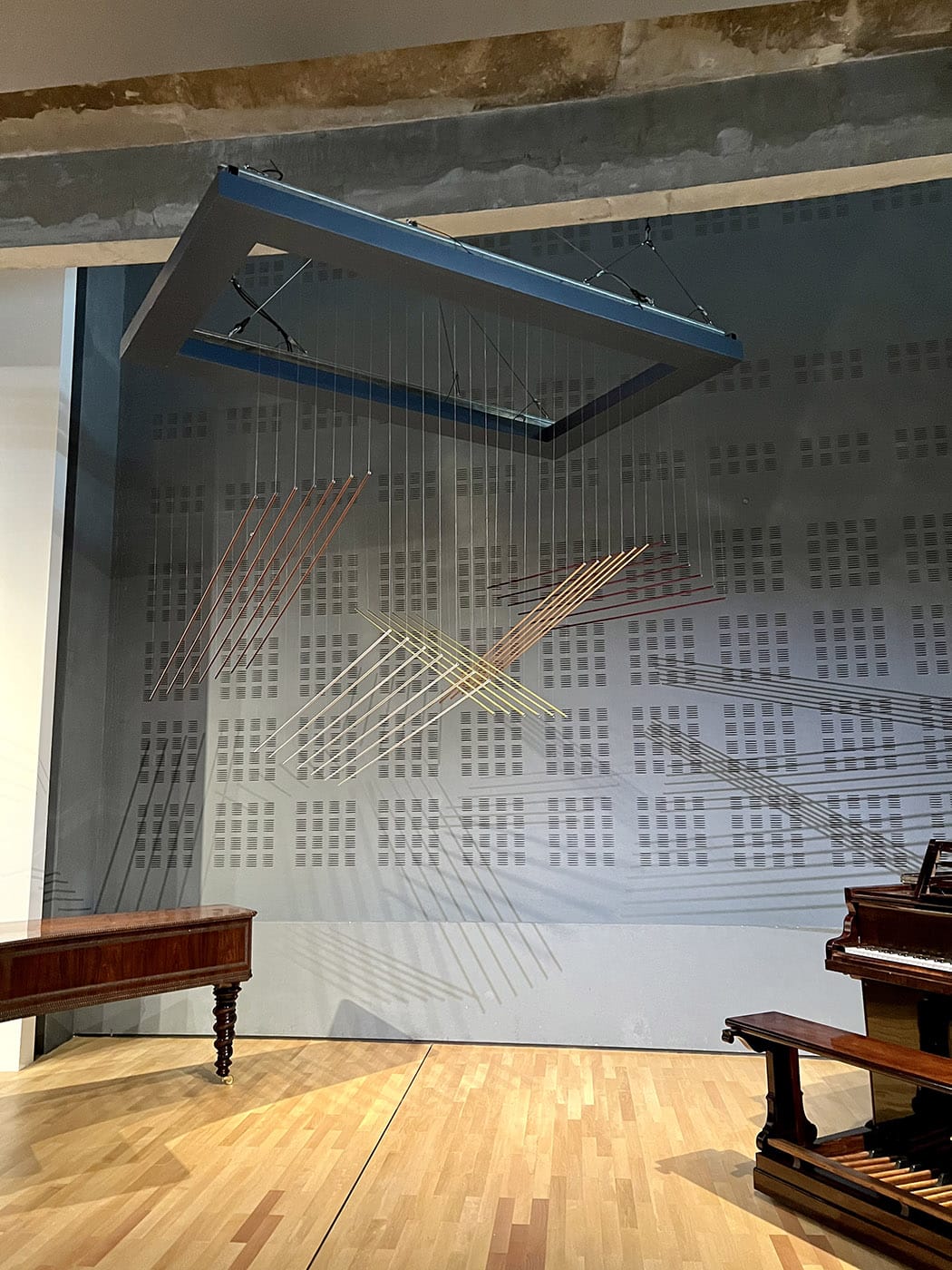 ---
Useful informations
Adress:
Cité de la Musique
Musée de la Musique
221 avenue Jean Jaurès
75019 Paris (France)
Opening hours:
Until June 26th 2022
Tuesday to Friday from 12pm to 6pm
Saturdays and Sundays from 10am to 6pm
Website:
philharmoniedeparis.fr
Admission:
Full price: €10
€8 for 26 – 28 years old
€6 for 16 – 25 year olds
Free for under 16s
---
Article proposed in partnership with the Philharmonie de Paris