If you love nature, beautiful landscapes and travelling without taking a plane, then Switzerland is the destination for you!
Located at the gateway to France, with an excellent rail network, Switzerland is easy to discover by train, the ideal means of transport for exploring several cities.
Which Swiss cities should you visit? What are the best ways to prepare for your trip? How can you save money? All the tips are in this article!
Switzerland in short
How do I get there? Switzerland borders France, and is easily accessible by train. Simply take the TGV Lyria, accessible from Paris, Dijon, Lyon, Avignon, Aix-en-Provence and Marseille. From Paris, it takes just 3 hours to reach Basel, 3 hours 10 minutes to Geneva, 3 hours 40 minutes to Lausanne and 4 hours to Zurich.
How do you get around? Switzerland's rail network is very well developed. Trains are regular and serve many cities. The easiest way is to opt for the Swiss Travel Pass, which allows you to use all trains, buses, streetcars, boats… (see more info below).
What language should I use? That depends on the region you're in! In Switzerland, there are 4 national languages (German, Italian, French and Romansh), spoken differently in each canton. To put it simply: in the west, we speak French; in the south-east, Italian; and in the rest of the country, German. But whatever the region, you can always make yourself understood with a few words of English.
How long can you stay? It all depends on what you want to do! If you simply want to visit a city, two days will suffice, but if you prefer to criss-cross the country, it's best to plan for a week, or even longer if you feel like it ;). In the rest of this article, you'll find a few ideas of cities to discover, to help you plan your stay.
Who's it for? With its combination of nature, culture and gastronomy, Switzerland is suitable for all ages, including families. All you have to do is adapt your visits to suit your tastes.
When to go? Each season has its advantages: in winter you can enjoy snow-covered landscapes in the mountainous regions, while in summer you can see Switzerland in green! If you're planning to travel around the country and discover several cities, I recommend going between spring and autumn, when the weather will be milder and you'll be able to do some walking/hiking.
---
Switzerland by train
Once in Switzerland, you'll be amazed by the quality of the rail network! The country has the highest density of trains in Europe. Whereas in France, traffic has fallen by 40% since the arrival of the car, Switzerland has lost only 10% of its passengers. Over 1.25 million passengers use Swiss trains every day. Trains are generally punctual, clean and comfortable. And with numerous connections, you'll have no trouble getting to most cities.
You'll soon discover that train travel in Switzerland is a real pleasure and an activity in its own right! You'll pass magnificent landscapes: mountains, lakes and green meadows will pass before your eyes – a real treat!
The Swiss Travel Pass for free travel
If you're planning to explore several cities and take a "train trip" in Switzerland, your best ally will be the Swiss Travel Pass, which allows unlimited use of all Swiss transport (train, streetcar, boat, bus). Valid for 3, 4, 6, 8 or 15 consecutive days, this pass starts at €250. If you're under 26, the rate is -30%.
You can also choose the Swiss Travel Pass Flex, which allows you to select non-consecutive dates, ideal if you plan to stay a few days in certain cities.
Tip! 
The Swiss Travel Pass also allows you to visit 500 museums throughout Switzerland free of charge. It's a great way to save money on cultural visits!
The Grand Train Tour of Switzerland, the most beautiful trains and landscapes
The 1280-kilometer Grand Train Tour of Switzerland takes you through the country's most beautiful trains and landscapes. There's no need to do the whole thing – you can just cover a few sections, at your own pace.
Some trains are particularly exceptional, with panoramic windows or a belle époque carriage (on the Montreux – Interlaken line). The entire route can be explored with the Swiss Travel Pass, but on some routes additional booking fees may apply.
---
Which cities to visit?
Every Swiss city has its own particularities: Geneva, Bern, Gstaad, Basel, Lugano and Zurich all have different faces. Here are a few ideas:
Geneva, the most French
Just 3 hours by train from Paris, Geneva is a great place to start a trip to Switzerland. With its rich history, numerous museums and, of course, its famous jet d'eau, it's a city with many assets.
Lausanne, the Olympic city
Lausanne has more than one thing going for it! Situated on the shores of Lake Geneva and surrounded by hills, it's a little paradise. It's also the home of the International Olympic Committee, founded by Pierre de Coubertin in 1894.
In Lausanne, you'll discover a charming, welcoming and relaxing city. You can also take a trip to Lavaux, terraced vineyards with Lake Geneva and the Alps in the background. A landscape so beautiful that it has been declared a UNESCO World Heritage Site!

Basel, the most cultural
Located near the French and German borders, Basel is a cosmopolitan city. With its typical historic center, its forty or so museums and its modern architecture by some of the world's greatest architects, it's sure to please.

Zurich, Switzerland's largest city
With its 400,000 inhabitants, Zurich is Switzerland's largest city! It's also the economic hub. But Zurich is also a very interesting city from a tourist point of view: there's a fascinating historical center, beautiful museums and even the oldest vegetarian restaurant in the world! With its lake and views of the surrounding mountains, Zurich is also a city where nature is never far away. One thing's for sure: you won't get bored here!
Lugano, the most exotic
In the south of Switzerland, in the Ticino region, Lugano is my favorite. With its peaceful lake and numerous mountains, it's a calm, restful city that's a sight to behold. A must-see!
Berne, the capital
Berne may be the capital of Switzerland, but it's still a modest city that has nothing in common with Paris. Here you'll be immersed in a typical Swiss city with charming architecture, surrounded by the Aare, the river that surrounds the city and provides a healthy dose of nature.
Gstaad, the Swiss postcard
In Gstaad, you feel like you're in the middle of a Swiss postcard: chalets, mountains, fir trees, cheese, cows… all the clichés of Switzerland are there! This haven of peace is quite small, so take the time to explore the surrounding area, take a few hikes in the mountain pastures, or even meet the farmers and taste their cheeses.


Lucerne, between lake and mountains
Lucerne is like a painting, with the lake in the foreground and the mountains in the background! A charming, peaceful city where it's good to relax.

Saint-Gall, the most surprising
St. Gallen is located in the very east of the country, just a few minutes from Germany and Austria. The city's heyday was the textile industry at the beginning of the last century. Today, it's a modestly-sized city with a charming historic center. Not to be missed: the richly decorated cathedral and the abbey library in Baroque Rococo style, which will appeal to all lovers of literature.

Winterthur, the old industrial town
Switzerland's sixth largest city, Winterthur had to reinvent itself after the end of the industrial era. Today, Winterthur is developing successfully, relying on youth and culture to revitalize long-neglected districts.
---
Cheap travel deals in Switzerland
Let's be honest, Switzerland is not the cheapest country! Hotel and restaurant prices are sometimes x2 higher than in France. However, there are plenty of ways to save money and lighten the bill for your stay.
Go for the picnic!
If you don't want to go out to eat too often, you can have a few picnics. Stores like Migros and Coop offer a wide range of fresh salads with a good composition at a fair price (€7-8).
Stay in a hotel to take advantage of free transport
In many cities, staying in a hotel entitles you to a free travel pass, given to you at check-in. These cards are valid indefinitely from the day of your arrival to the day of your departure, and often entitle you to discounts or even free admission to a wide range of partners (museums, stores, restaurants). It can therefore be much more interesting to stay in a hotel than to opt for an alternative solution such as Airbnb.
Dive into the rivers
In many cities, the Swiss are accustomed to diving into rivers or lakes to cool off. A free activity, of course, that you'd be wrong not to copy.
Take the Swiss Travel Pass
The Swiss Travel Pass I mentioned earlier comes at a price, but it entitles you to free or discounted admission to a number of partners. In particular, it offers free admission to 500 Swiss museums! Once you've decided on your stay, take a look at the activities you'd like to do to see what's most cost-effective.
Check if Switzerland is covered by your mobile operator
Mobile operators are obliged to include European countries in their packages, at no extra cost. But beware: as Switzerland is not part of the European Union, it is not included in all packages, so every Internet connection or text message you send will be billed at full price!
So take the time to check what's included in your package, or even change operator for your stay.
Check your bank's charges
Switzerland is not in the Euro zone, so the local currency is the Swiss franc (CHF). Most establishments accept payment by card and offer the possibility of paying in Euros, which avoids having to pay exchange fees. However, you may sometimes need change to pay for your purchases, so check in advance the charges applied by your bank for withdrawing money locally; sometimes it's more advantageous to go to specific ATMs.
---
5 must-do activities in Switzerland!
Eating chocolate
It's not for nothing that Swiss chocolate is so famous! In this country it's a veritable institution, so it would be a shame to go to Switzerland without tasting a few, especially since chocolate in Switzerland doesn't make you fat (well, okay, that's not true, but let me believe it! 😉 ).
You'll find chocolatiers in every major city, but certain experiences are not to be missed, such as the Lindt Home of Chocolate in Zurich or the Choco Pass in Geneva, which lets you sample creations from several chocolatiers.
Cheese tasting
Along with chocolate, cheese is one of Switzerland's other specialties, especially if you're visiting mountainous regions like Gstaad. There, don't miss a fondue tasting in a giant caquelon with a breathtaking view of the surroundings; or a visit to the " Cheese grotto ", a veritable cathedral of cheeses where thousands of wheels of cheese are preserved in a former water reservoir.
Taking the train
In Switzerland, the scenery is so beautiful that taking the train is an activity in its own right. In particular, I fell in love with the route between Lausanne and Interlaken, which you can do on board the Golden Pass Express (a Belle Epoque-style train).

Visit the museums
Switzerland isn't exactly known for its museums, but there are some real gems to be discovered. A wide variety of institutions with collections to delight lovers of fine art, contemporary art and photography.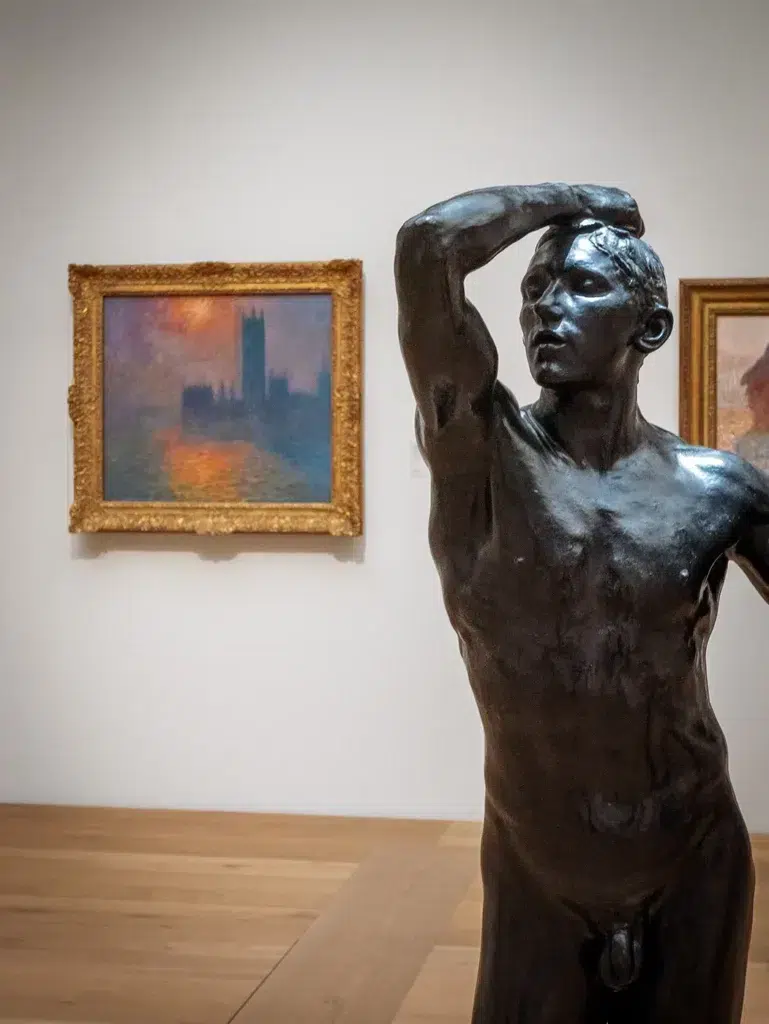 Lakes and mountains
It's easy to see this when you travel around the country by train: Switzerland is a very natural country. In most cities, mountains and/or lakes are not far away. So don't forget to pack a pair of hiking boots and a swimsuit to make the most of it.
You now have all the information you need to plan your stay in Switzerland! Which cities will you visit?