Why not spend a weekend on the French Atlantic coast? Discover the town of Saint-Nazaire, a destination full of surprises!
Known for its industrial life, Saint-Nazaire is also a city open to art, nature and gastronomy. With its beautiful beaches, fascinating cultural sites and rich industrial heritage, Saint-Nazaire is now a pleasant destination for a weekend getaway or more if you feel like it!
What to do in Saint-Nazaire? What are the must-see sights and the best places to spend a good time? In this travel guide, you'll find all the tips and advice you need to prepare your stay.
This travel guide is produced in collaboration with Saint-Nazaire Tourisme. However, I reserve the right to make my own comments, so the opinions and suggestions for activities in this article are entirely sincere.
Saint-Nazaire in short

When should you go? Summer is the best time to go for a swim or to enjoy the beaches, but you can also enjoy the region in spring and autumn, when the weather is mild and there are far fewer tourists than in July and August!
Who's it for? Everyone: solo, as a couple, with friends or as a family. There are plenty of activities to suit all ages (see the rest of this article).
How to get to Saint-Nazaire? Saint-Nazaire is located on the Atlantic coast of France. It's very easy to get there by train: the journey from Paris takes just 3 hours, with direct TGV services!
How much does it cost? A weekend in Saint-Nazaire won't break the bank! If you plan ahead, you can find return train tickets from Paris for less than €100. Some accommodation is very reasonably priced (€60 for two, see the rest of this article) and many activities can be done free of charge. When it comes to food, you can cut the bill by picnicking by the beach, but you'll also find plenty of brasseries and fast food outlets at reasonable prices.
Understanding the history of Saint-Nazaire
The town of Saint-Nazaire has witnessed many key events over the centuries. Initially, Saint-Nazaire was a small seafaring village, but its importance grew considerably during the industrial revolution.
It was in the 19th century that a key event occurred: as the port of Nantes, sunken in the estuary, could no longer accommodate the increasingly large ships, it was decided to establish an outer harbour at Saint-Nazaire, which would profoundly develop the town.
In the second half of the century, maritime trade between countries became increasingly important. The aeroplane did not yet exist, and transatlantic lines enabled soldiers, diplomats and ordinary travellers to cross the ocean. One of these lines linked Saint-Nazaire to Central America, making the town a particularly important transport hub. In this context, Saint-Nazaire developed a shipbuilding industry, with the creation of the "Chantiers de l'Atlantique", which played a crucial role in the construction of famous liners, including the famous "France", "Normandie" and, more recently, the "Queen Mary 2".
During the First World War, the town was the port of debarkation for the first American contingents: almost 200,000 "Sammies" arrived in Saint-Nazaire between 1917 and 1918, and the town lived on American time for those two years.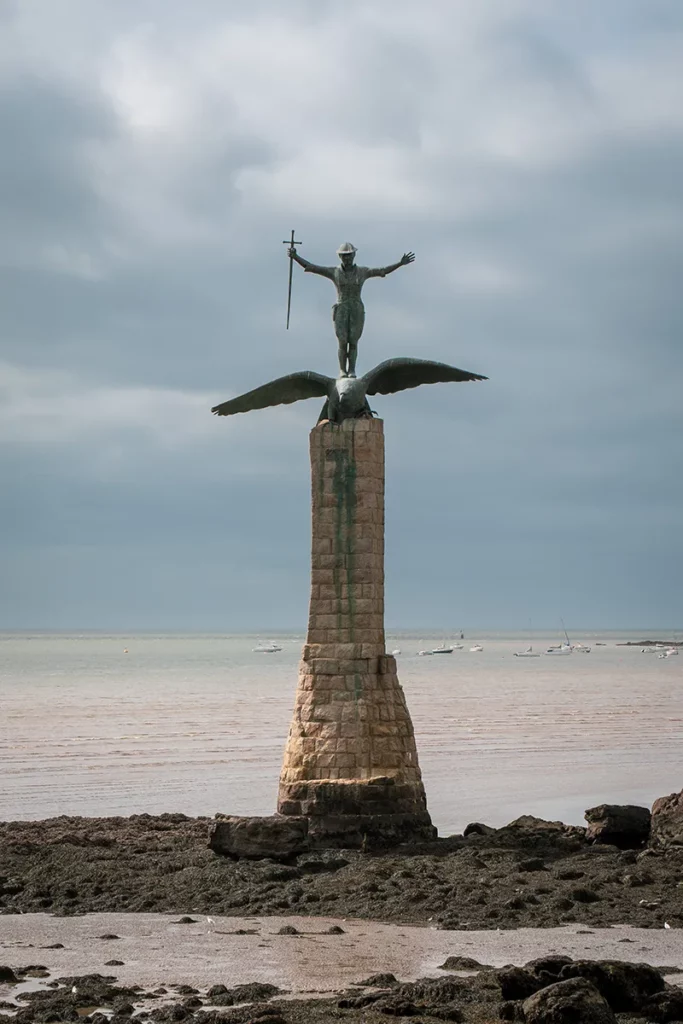 During the inter-war period, the French government encouraged aircraft construction away from the border with Germany. Saint-Nazaire seized this new opportunity and began building aircraft.
The Second World War was particularly devastating for the town. Having become one of the strategic ports of the "Atlantic Wall" built by the German army, which installed a submarine base there, Saint-Nazaire was the target of numerous bombardments and one of the very last French towns to be liberated, 85% destroyed.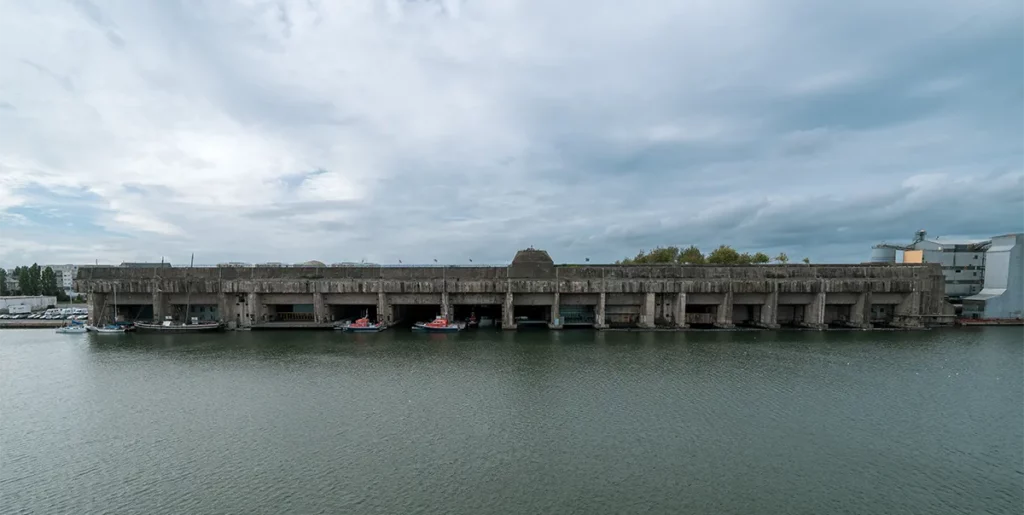 Today, Saint-Nazaire is a modern and dynamic city, with a diversified economy that still includes shipbuilding, but also the aeronautical industry, renewable energy and tourism. The town is also known for its beaches, its deep-water port and its role as France's maritime transport hub.
Since the early 2000s, Saint-Nazaire has capitalised on its history to offer a rich cultural and heritage offering, while preserving its natural beauty spots and offering top-class gastronomy.
Visiting Saint-Nazaire: 10 must-do activities
Walking around the port
To start your discovery of Saint-Nazaire, take the time to stroll around the town centre.
Obviously, in this seaside town, activity revolves around the port. Along the piers you can breathe in the fresh sea air and watch the boats come and go.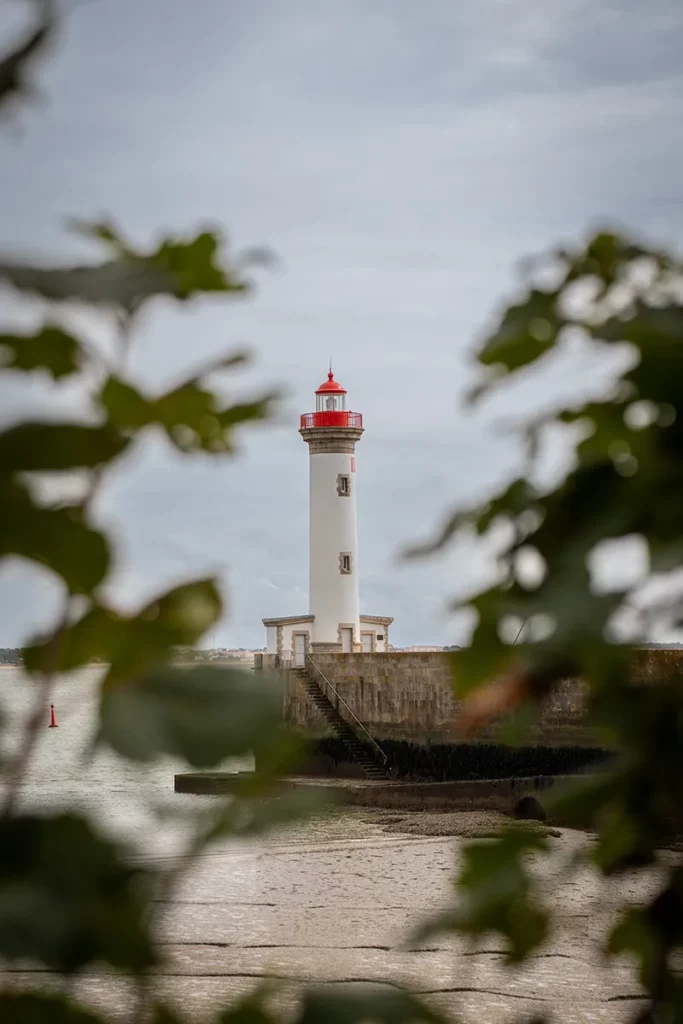 Visit the ecomuseum to learn about the town's history
To really understand how Saint-Nazaire was built, open the door of the ecomuseum. With a host of scale models, you can see how the town developed and admire some of the finest ships and aircraft to have come out of the region's factories!
It's a very enjoyable visit for the whole family, thanks in particular to the tour guides designed especially for young visitors.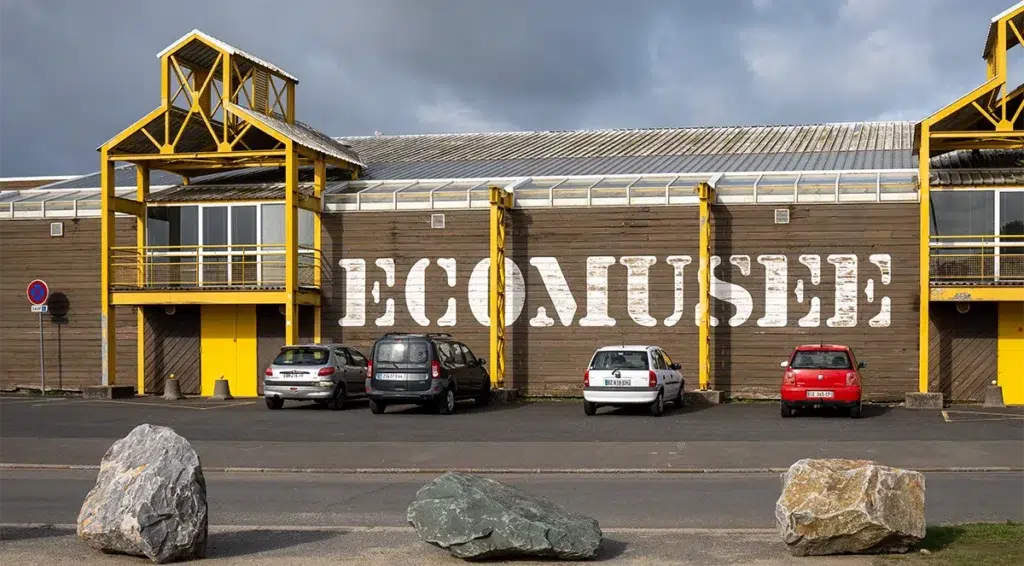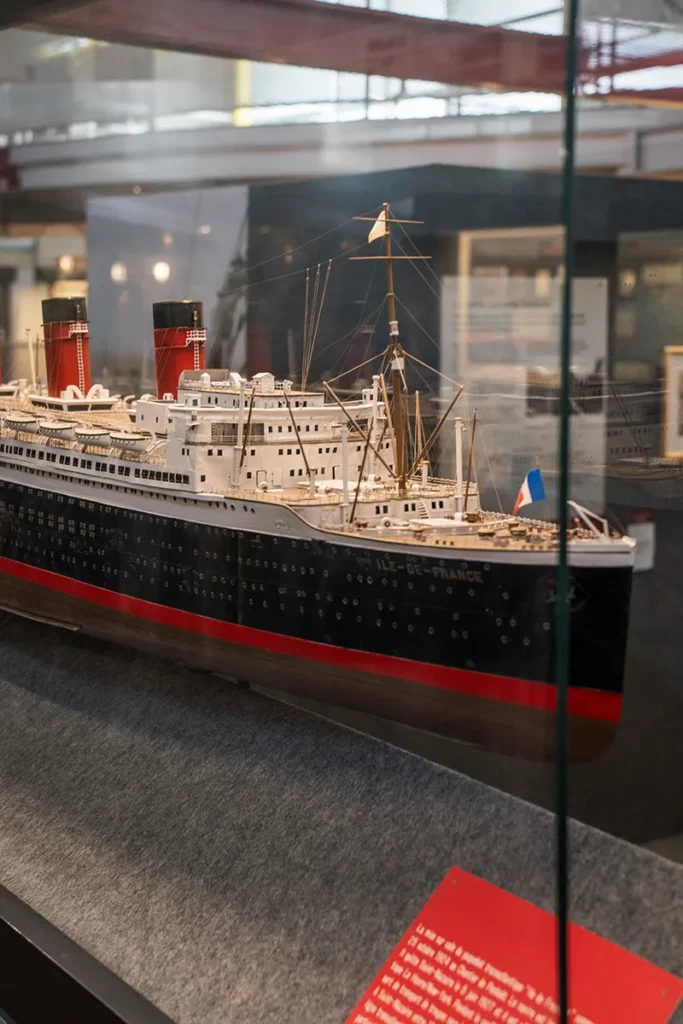 Address: 15 avenue Saint-Hubert
Opening Hours: Daily, 10am to 1pm and 2pm to 6pm
Admission: Adults €5; Concessions €4; children aged 4-17 €2.5; free for children under 4
Tickets at: saint-nazaire-tourisme.com
Embark on Escal'Atlantic: the interactive museum
Why not take a cruise aboard a legendary ocean liner? That's – almost! – what Escal'Atlantic has to offer, an immersive museum that will give you the impression of embarking on a transatlantic voyage. On board, you'll find a wealth of explanations about the ships that made up Saint-Nazaire's golden age, as well as reconstructions of the cabins using objects from the period. You can go down into the engine room, relax on a deckchair facing the ocean or have a drink in the museum bar. It's a must-see!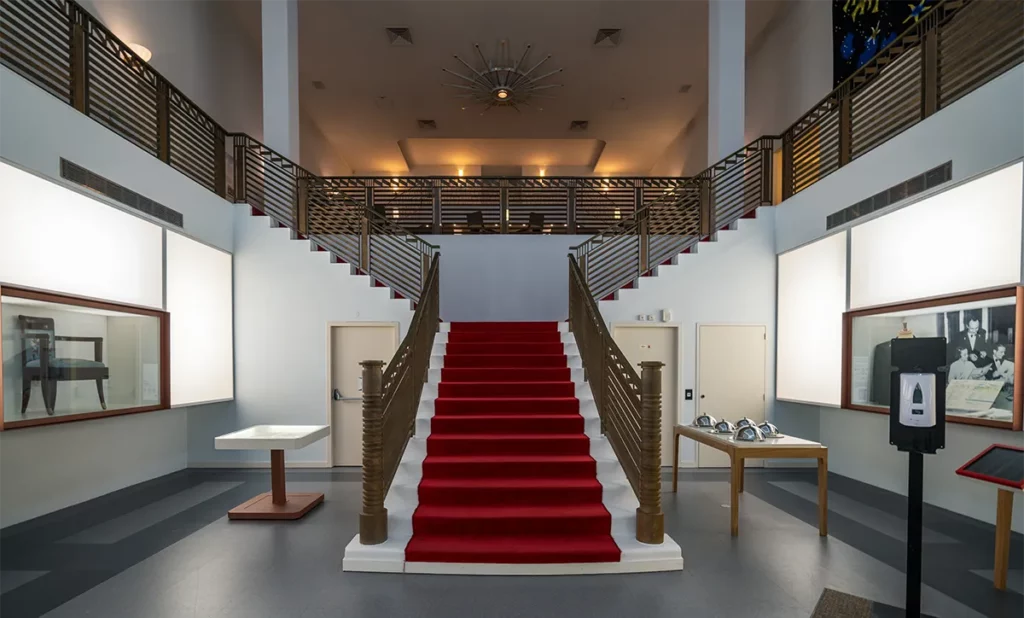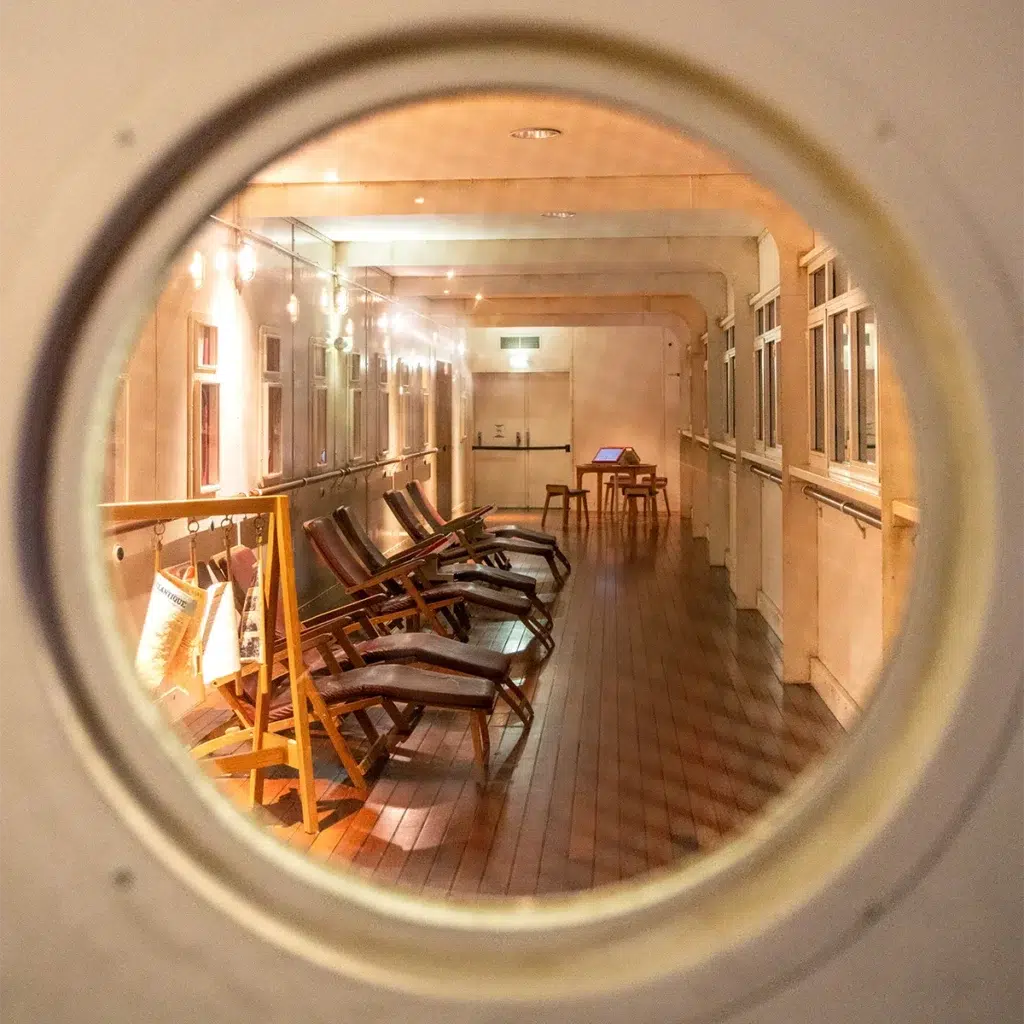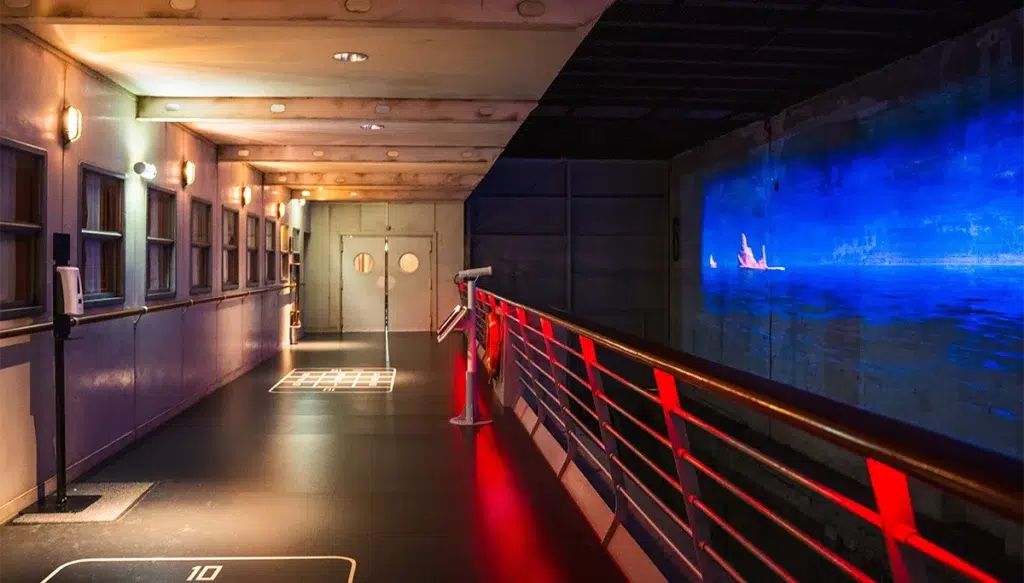 Address: 16 boulevard de la Légion d'Honneur
Opening hours: Daily, 10am to 1pm and 2pm to 6pm
Admission: Adults €15; Concessions €13; children aged 4-17 €7.5; free for children under 4
Tickets at: saint-nazaire-tourisme.com
Take on the role of a sailor and visit the submarine Espadon
In the submarine base, right next to Escal'Atlantic, discover the submarine Espadon! Built in the late 1950s and commissioned in 1960, it was the first French Navy submarine to dive under the ice pack, and could take on board up to 65 crew members.
You can now visit it with an immersive tour designed for all ages. Equipped with an audio guide, you can follow in the footsteps of a secret mission to the North Pole.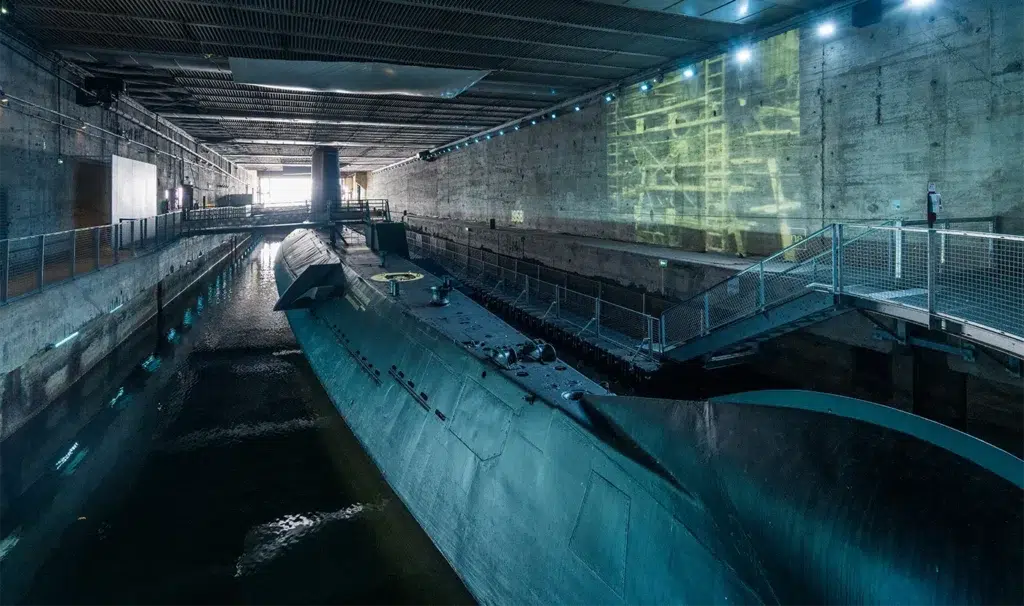 Address: 2 avenue de la Forme Ecluse
Opening hours: Daily, 10am to 1pm and 2pm to 6pm
Admission: Adults €12; Concessions €10; children aged 4-17 €6; free for children under 4
Tickets at: saint-nazaire-tourisme.com
Visit the Airbus and Chantiers de l'Atlantique industrial sites
Saint-Nazaire is now a major industrial town, home to the Chantiers de l'Atlantique shipyard and one of the Airbus sites.
You can discover these industries on guided tours organised from the submarine base, which will take you to the assembly sites for aircraft and the biggest ships.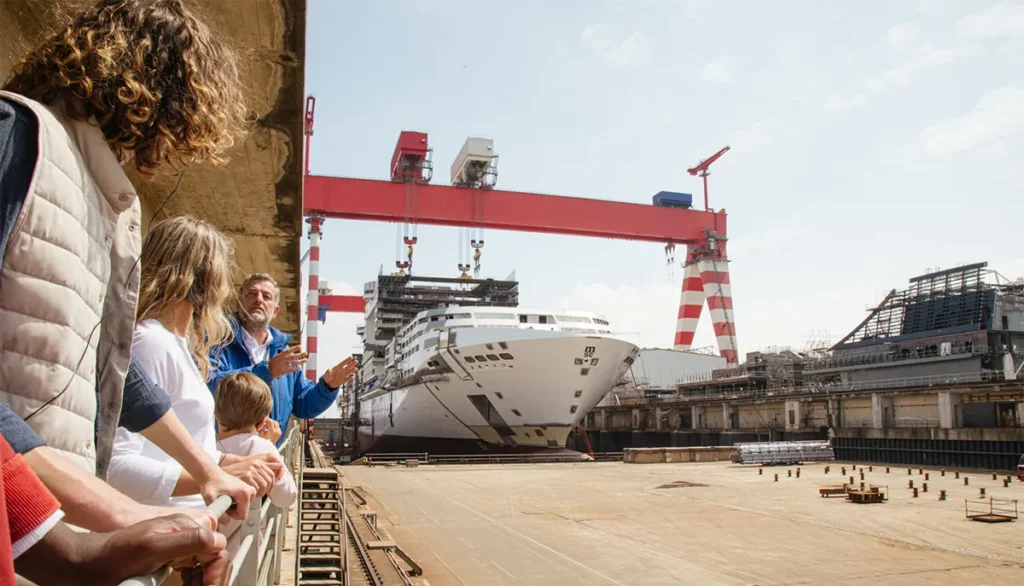 Hunting for street art
Saint-Nazaire is an open-air museum thanks to the many giant murals scattered around the town.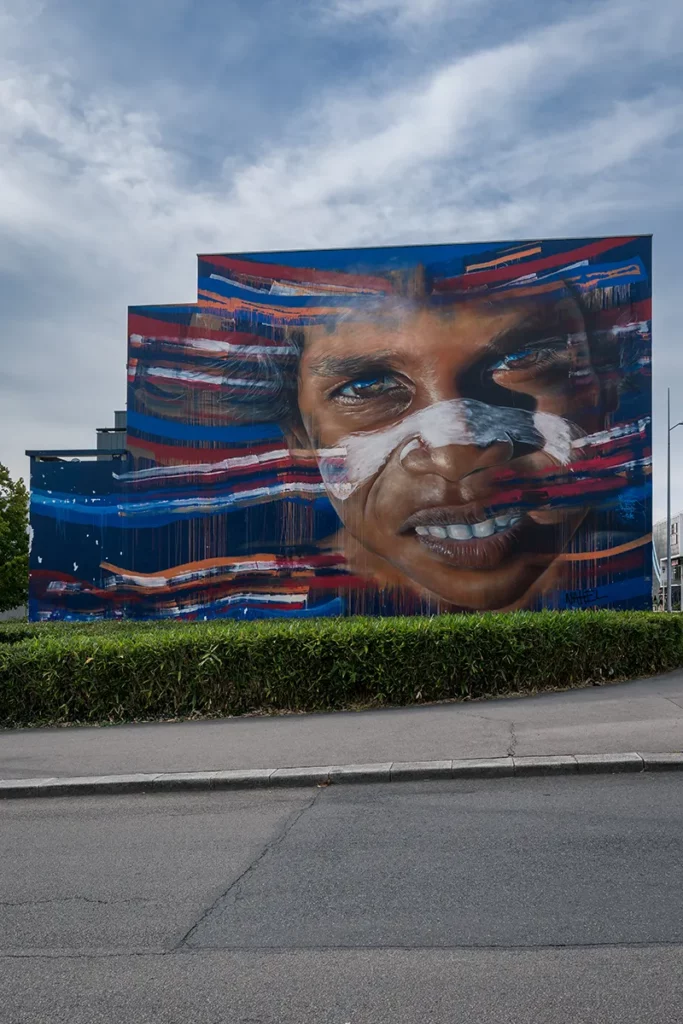 Don't forget to climb up onto the panoramic terrace of the fortified lock to admire Felice Varini's series of triangles, a work in anamorphosis that is revealed when you position yourself at a precise point that you'll have to look for!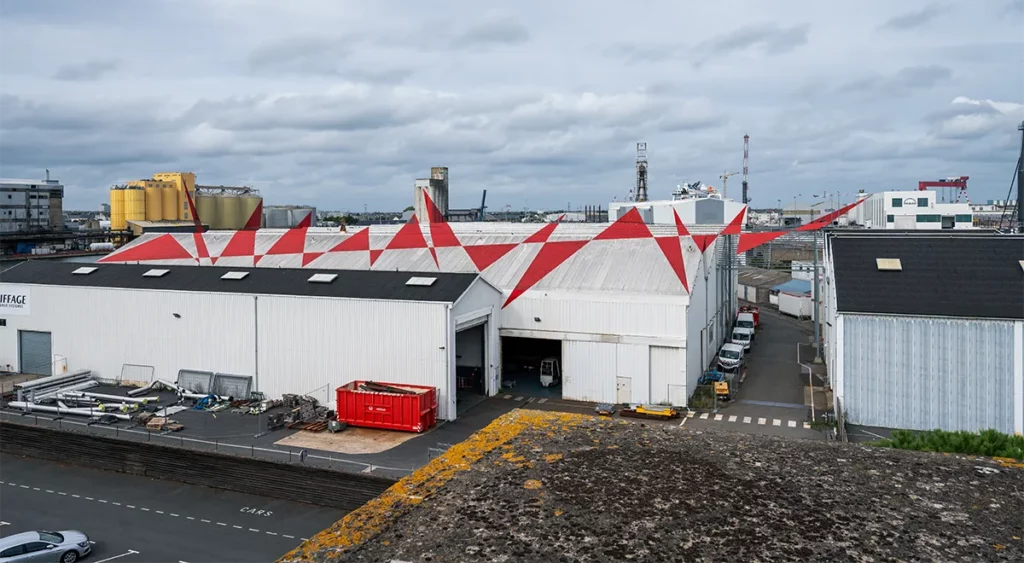 Strolling (or sunbathing!) on the beach
There's more to Saint-Nazaire than its port and industrial life! This seaside town has no fewer than 20 beaches and coves. Right in the centre of town, you can easily put your towel down or take a stroll with your feet in the sand, but I'd advise you to go further afield to discover even more natural areas.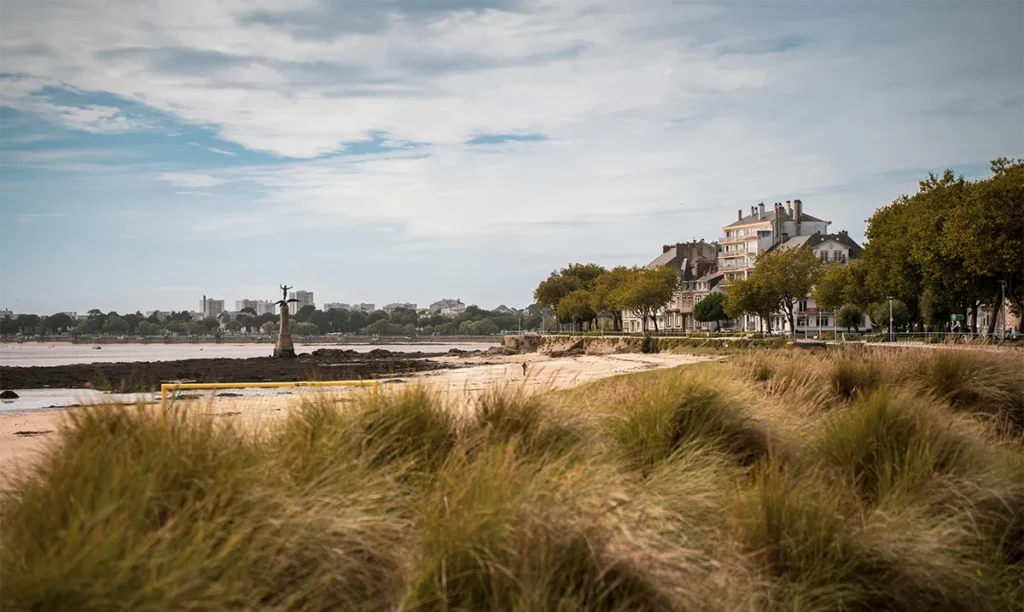 In the Saint-Marc-sur-Mer district, you can admire Monsieur Hulot beach, named after the main character in Jacques Tati's film "Les vacances de monsieur Hulot", which was shot here.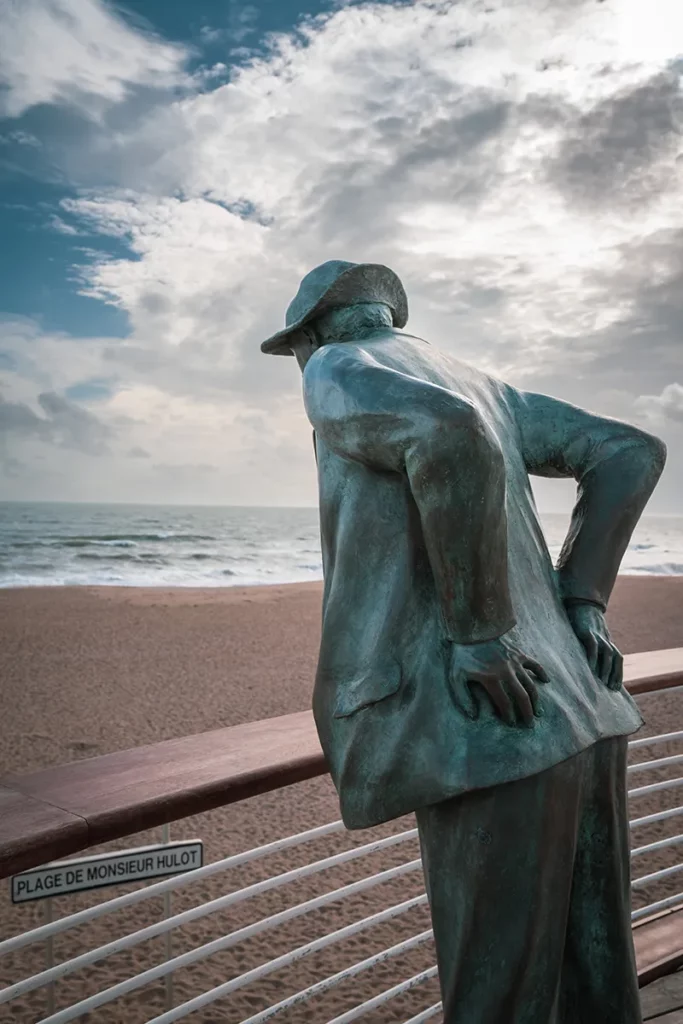 A few hundred metres away, the Trébézy fisheries reveal a wilder landscape.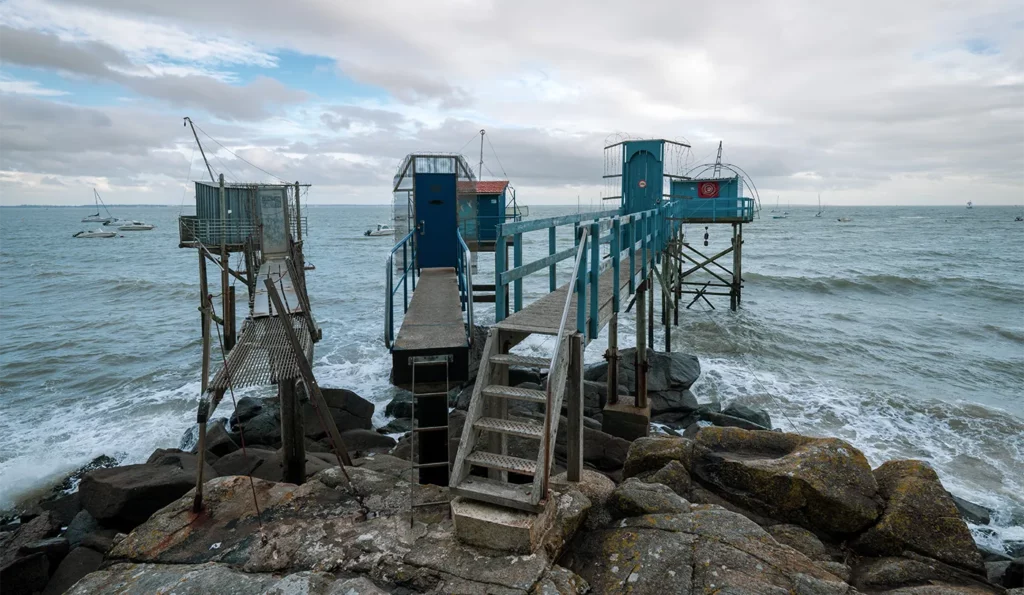 Going to Brière
Inland, discover La Brière, a Regional Nature Park and France's second-largest marshland after the Camargue. Here you'll be able to admire some 900 different plants as well as numerous birds. A 100% nature walk!
Sitting down at a good restaurant
Saint-Nazaire is no slouch when it comes to gastronomy. There are fine restaurants to suit all budgets. Of course, you'll find plenty of fish dishes here, but vegetarians and meat lovers will also find something to their liking!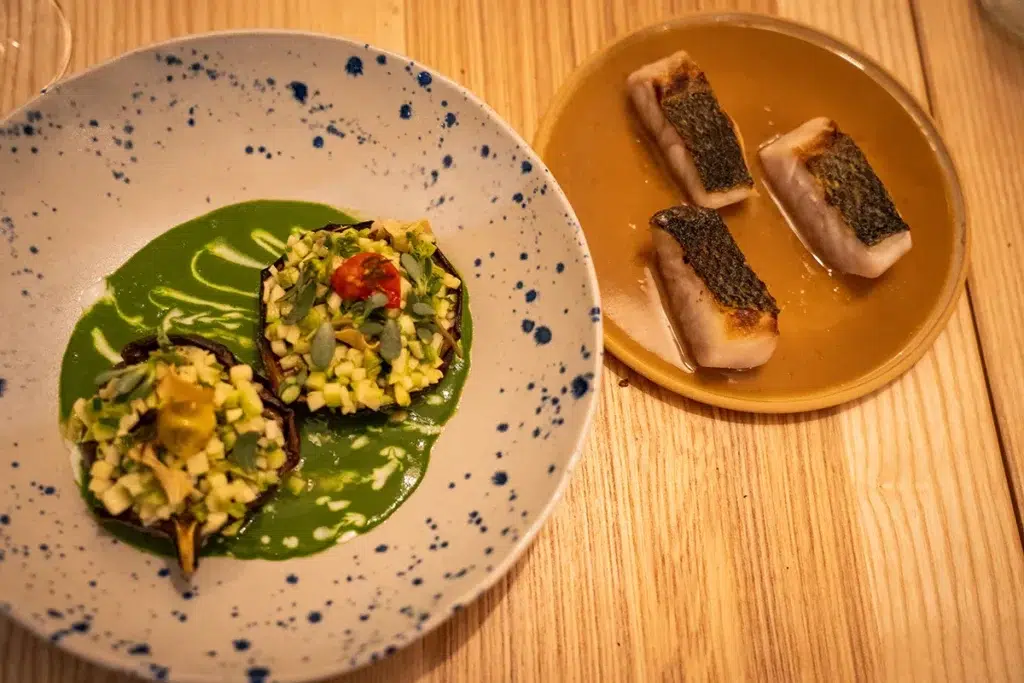 Shopping
If you feel like doing a bit of shopping before you leave, there are several good places to visit:
Le Ruban Bleu: this is an open-air shopping centre where you'll find major national chains.
Les Halles: in this market you'll find more food shops with regional producers. Perfect for doing a bit of shopping and preparing a picnic! And don't forget to take in the architecture of these covered market halls, which have been designated a 20th century heritage site.
Le Garage: just a stone's throw from Les Halles, Le Garage is a creative, innovative and cultural venue where you can meet artists and craftspeople who sometimes sell their creations.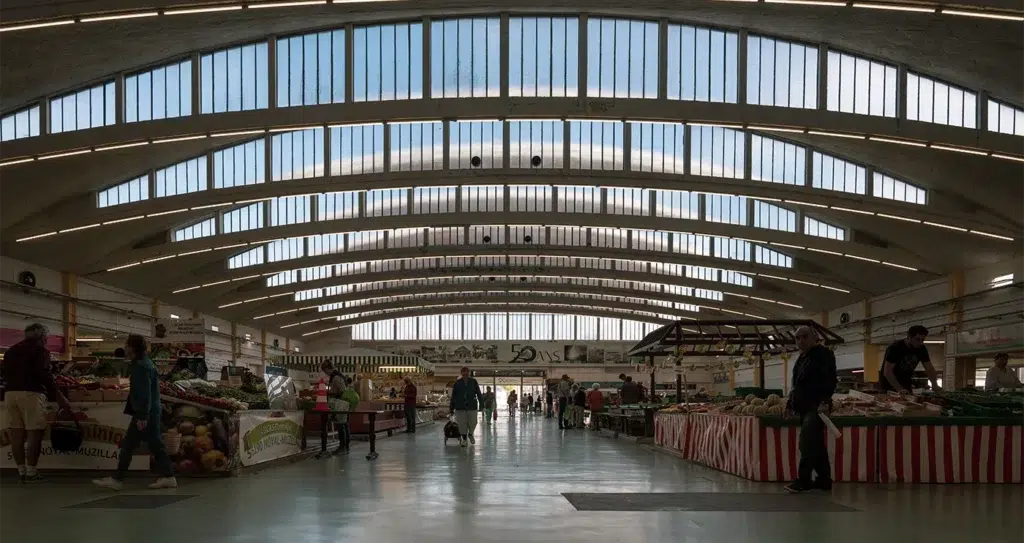 ---
Where can you pack your bags in Saint-Nazaire?
There is a wide range of accommodation on offer, including hotels, gites and guest houses. There's something to suit every budget. Use this map to find the list of available accommodation by entering the dates of your stay:
I particularly recommend " La tête sur l'oreiller", a bed and breakfast located right in the heart of the city, making it easy to do everything on foot.
Agnès, the lady of the house, has turned it into a warm, lively and welcoming place. Rooms start from just €60, including breakfast.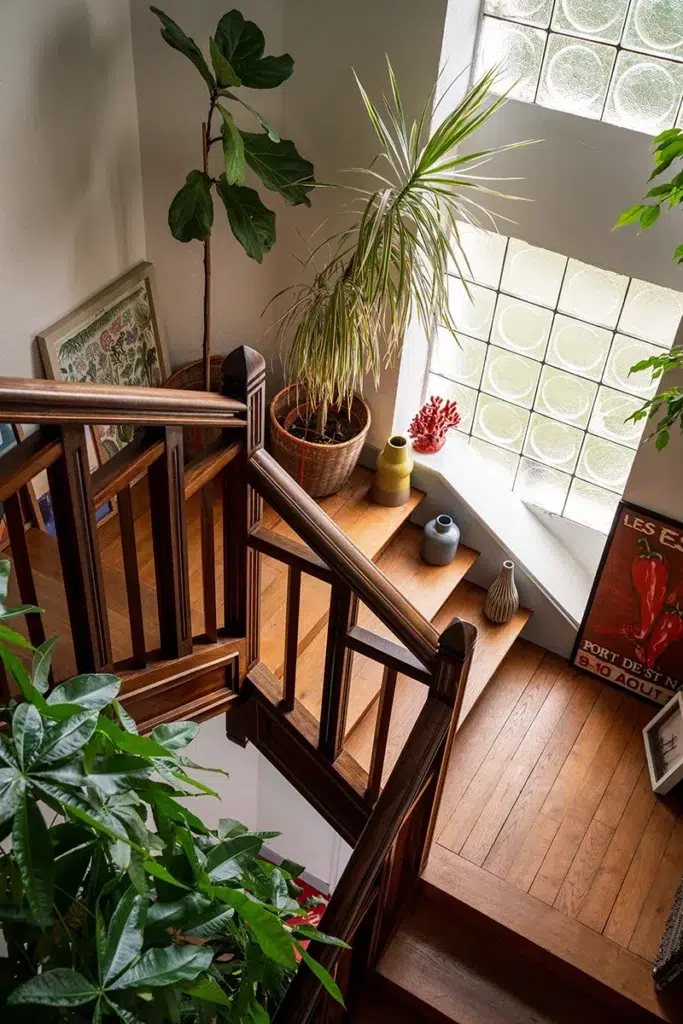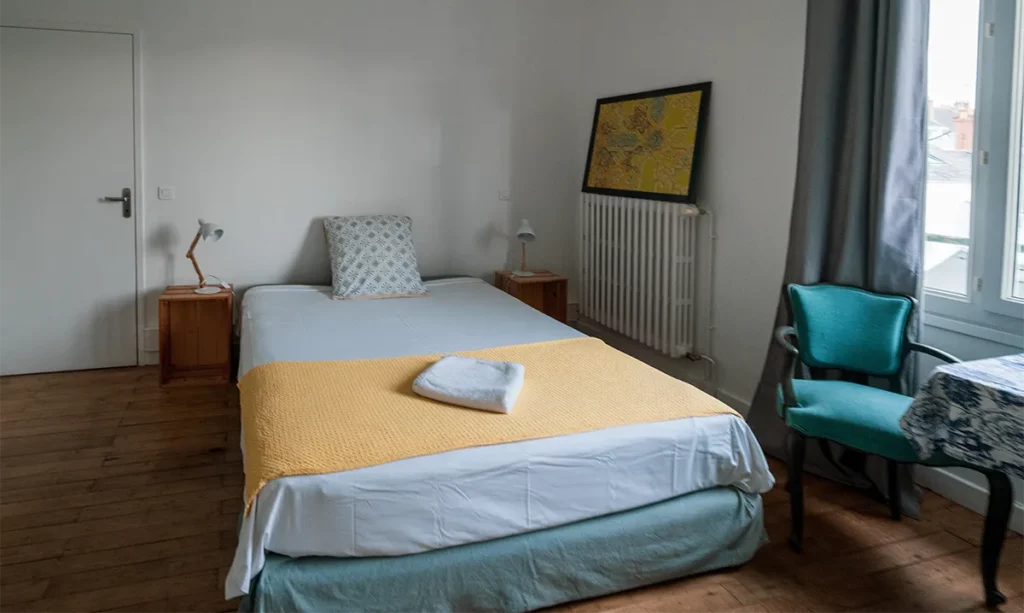 ---
Map of good addresses in Saint-Nazaire
Don't lose your way! Use this interactive map to find all the addresses mentioned in this article.
Tip: use the menu on the right to filter addresses according to your points of interest.
---
Article produced in partnership with Saint-Nazaire Tourisme
Many thanks to Jérôme, Arnaud, Aurélie, Tiphaine, Mathieu, Agnès and everyone I met during my stay for their warm welcome.