There's no shortage of restaurants in Chartres, where "eating well" is part of the art of living, but you still have to go to the right places! Here's a selection of tried-and-tested restaurants that I particularly recommend.
Café Serpente: chic and gourmet
Right next to the cathedral, Café Serpente is a very pleasant brasserie. Housed in a 14th-century building with a 1900s interior decor, you can dine in the midst of a flowery decor.
On the plates, you'll enjoy gourmet bistro dishes (salads, tartines, burgers…) and for dessert, if you still have a little room, I recommend you try one of the homemade ice creams or the profiterole!
It's not the cheapest restaurant in Chartres – expect to pay around 30 euros for a dish and dessert – but the quality is there, the service is impeccable and you're right in the heart of the historic district.


2 Cloître Notre Dame
leserpente.fr
Daily, 8am to 11pm
What to do in Chartres? Must-sees!
If you're passing through Chartres, discover the must-see places to visit during your stay, as well as a selection of good addresses.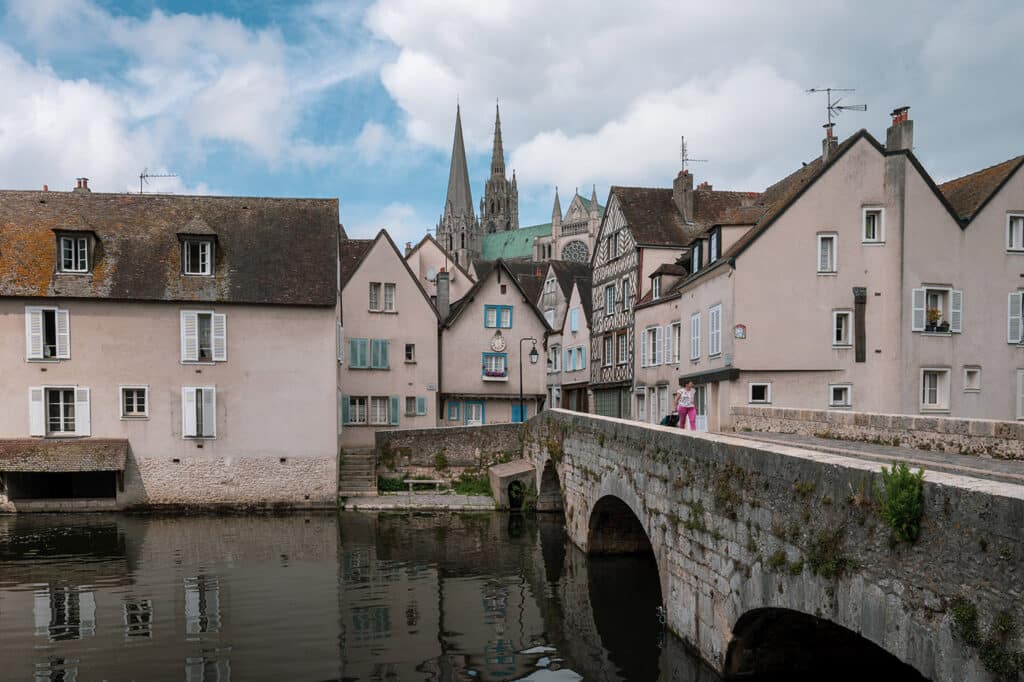 Le 21: intimate and tasty
Another favorite is Le 21, also located right next to the cathedral. Here, Claire and Julien welcome you to an intimate setting with a short menu: 3 starters, 3 main courses, 3 desserts, a guarantee of the quality and freshness of the produce. There's also a fine selection of wines.
Prices are more than respectable for the quality of the dishes: €24 for two courses (starter/main course or main course/dessert) or €29 for starter, main course and dessert, for those with a sweet tooth!


21 Cloître Notre Dame
le-21.eatbu.com
Tuesday to Thursday, 11:30am to 2pm; Fridays and Saturdays, 11:30am to 2pm and 7pm to 10pm; closed Mondays and Sundays.
Aux vieux garçons: opposite the market
Moving away from the cathedral, head for the covered market, where you'll find the "Aux vieux garçons" restaurant. This friendly bistro offers a menu to suit all tastes: fish, burgers, salads and meat dishes. The restaurant's little "plus": each dish comes with a choice of side dishes (fries, salad, mashed potatoes or green vegetables), so you're sure to get the dish that's just right for you.
Expect to pay around 20 euros for the main courses and around 10 euros for the desserts.

12 place Billard
auxvieuxgarcons.fr
Tuesday to Saturday, 9 a.m. to 3 p.m. and 6.30 p.m. to 10 p.m., closed Sundays and Mondays
Le Molière: the charm of a 16th-century building
Housed in the 16th-century Hôtel particulier de Champrond, Le Molière is a gourmet dining establishment. It's also a great place to drop in for afternoon tea and/or pastries.
When the weather's fine, you can swap the cosy interior for the lovely terrace, where you can spend a lovely moment outdoors.
Prices are fairly high (from €20 to over €30 for the main courses), but the dishes are generous, and lunch formulas are available from Tuesday to Friday to lighten the bill: €23 for two courses or €29 for three.


26 place Jean Moulin
comme-o-restaurant.com
Tuesday to Saturday 11am to 10pm, Sunday 10am to 7pm, closed on Mondays.
Bon appétit!