After this complicated year 2020, I think we all dream of a relaxing holiday! What if it was in the Eure-et-Loir? At the gates of the Ile-de-France region, this destination has many assets, especially for Parisians who can find a haven of peace without going far. Zoom on some original activities that await you in this beautiful area!
Eure-et-Loir in short
When to go? Throughout the year, each season has its charm but preferably during the Chartres en Lumières event.
How long to stay there? Parisians can visit Chartres in a single day, but to take the time and relax a little, it is more reasonable to plan on two days. Allow 3 or more days to discover the surroundings of Chartres.
How to get there? By train it takes only one hour to reach Chartres from Paris, then it is better to have a car to explore the rest of the region.
Who is it for? The activities listed in this article are aimed more at couples or groups of friends, but the Eure-et-Loir is full of experiences to do with the family.
How to get to the Eure-et-Loir?
The easiest way is to start your discovery of the department by Chartres, which is the prefecture and has a lot of charm.
From Paris, coming to Chartres is very simple: it only takes one hour from the Montparnasse train station and more than thirty daily connections are provided.
---
5 activities to do in Chartres
Enjoy Chartres en Lumières
Every year the Chartres en Lumières event illuminates the city! Sound and light shows are organized around the most emblematic places of the city. It's free and proposed every evening at nightfall. The 2020 edition will end on January 3rd but don't worry if you can't enjoy it this year, a new edition will arrive in a few months. Learn more about it
Visit the cathedral
The cathedral of Chartres is an old lady that was built in the 13th century in only 25 years! You can spend hours observing it so full of details: no less than 600 animals are sculpted there!
I highly recommend to go and explore the upper parts. The visit is not free (6 €) but allows you to discover the attic which is a real marvel! The original wooden frame was destroyed in the 19th century during a fire, it was replaced by an impressive metal frame.
Visit the picassiette house
Located on the outskirts of the city, the Maison Picassiette is a masterpiece, both disconcerting and extraordinary, of naive architecture and outsider art.
Its author, Raymond Isidore, collected over thirty years thousands of pieces of porcelain and glass of all colors that he then integrated on all the walls of his house.
Relax at the spa
Since we are in the theme of a relaxing weekend, why not treat yourself to a moment in a spa? The one of the hotel le Grand Monarque, located in the city center, is the ideal place to rest: hammam, sauna, whirlpool… are waiting for you.
A free access of 2 hours is proposed at the rate of 15 € for the residents of the hotel. If you are staying elsewhere, a 50-minute treatment + a 2-hour access to the spa is offered at 99€. – To know more
A cooking class with a starred chef
Learning to cook is good. With a Michelin starred chef it's even better! Chef Laurent Clément offers cooking classes for all and adapted to your wishes: pastry making, creation of a bistronomic menu, discovery of food and wine pairings and even a class that starts at the market to learn how to choose fresh seasonal products!
After having cooked your meal, you enjoy it in a friendly moment with the chef. A great experience! These courses take place in Chartres but can also be organized in private places. To know more
Where to put your suitcases in Chartres?
Just a stone's throw from the city center, the Maison Blanche is an exceptional place to put down your suitcases. This establishment, attached to the Grand Monarque hotel, is halfway between a hotel and a guest house. The rooms are worthy of a 5-star hotel with a particular care given to the decoration, but you are free to move around the house and enjoy as you wish the common areas: living room, dining room, kitchen.
It is also the ideal option for a family stay since you can rent the whole house and have a cocoon just for your tribe! It is necessary to count approximately 200 € per room and per night. The house is composed of 5 bedrooms that can accommodate up to 15 people.
Breakfast (very copious!) is offered as an option and is served in the dining room.
---
Elsewhere in Eure-et-Loir
An escape game in Thiron Gardais
Thiron Gardais is famous for its Royal and Military College but you can also find the Abbey domain which offers many activities: a rediscovery of the abbey through the centuries via a digital application, a guidebook to go with the family in the footsteps of the monks in medieval times but also a tea room and a store.
And that's not all! There is also an escape game composed of 3 rooms with different levels of difficulty. The principle is simple: in groups of 3 to 6 people, you are locked up for 1 hour in a room with the aim of solving the investigation you are given before the end of the stopwatch. A way to spend an original moment with family or friends. To know more
Visit of the castle of the Counts of Perche
This powerful keep flanked by 7 towers dates from the 11th century. Transformed during the Renaissance and then during the Revolution when it became a prison, it was bought by the town of Nogent-le-Rotrou in 1950. Since then, it has been reconverted into a museum of the history of the Perche.
The visit of the castle is made with a histopad, a tablet which allows to have an outline of the castle such as it could have been with the passing of time.
A slow-cosmetic workshop
Taking the time is also thinking about the products you use for your skin. Audrey from Divine&Bio offers DIY workshops to create your own cosmetics with quality ingredients and formulas that respect your skin. To know more
---
Some good places to go
The restaurant le Perch'oir in Argenvilliers
We fell in love with this restaurant which offers a delicious and gourmet French cuisine. In a relaxing setting with a beautiful view of the surrounding countryside, you can enjoy tasty dishes. The menu proposes in particular local and regional dishes. To know more
For groups: the Communs du Perche
If you come in a group (large family or seminar), then the Commun du Perche is the ideal place to meet. This incredible place is composed of several rooms, a large common area with many games (billiards, board games…) but also a spa and meeting rooms. A very pleasant cocooning place to rest and meet. To know more
---
The map
Find all the activities and good addresses mentioned in this article on this map!
Have a nice trip!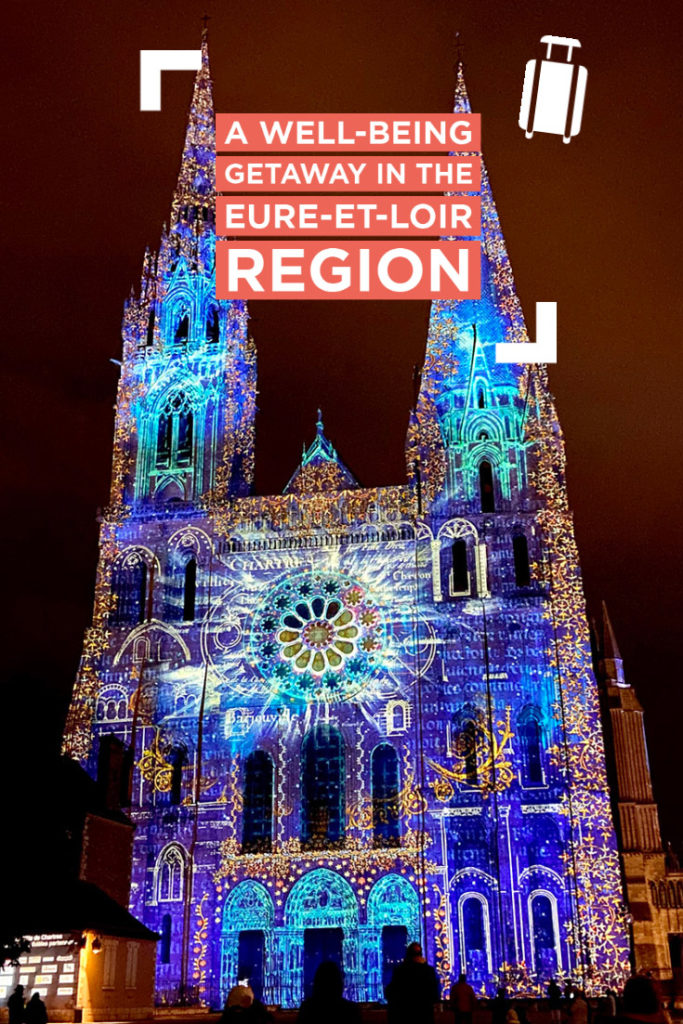 Thanks to Eure-et-Loir Tourisme and the AirPur Agency for organizing this beautiful stay. Special thanks to Suzanne and Emilie.