When you go to New York for the first time, you have the strange feeling that you already know the city. We have seen it so much in movies and TV shows that its streets seem familiar to us. However, New York is a gigantic city, seven times bigger than Paris!
So what are the must-see activities in New York? What are the good addresses and the good plans? Find in this travel guide all the information to prepare your stay.
New York in short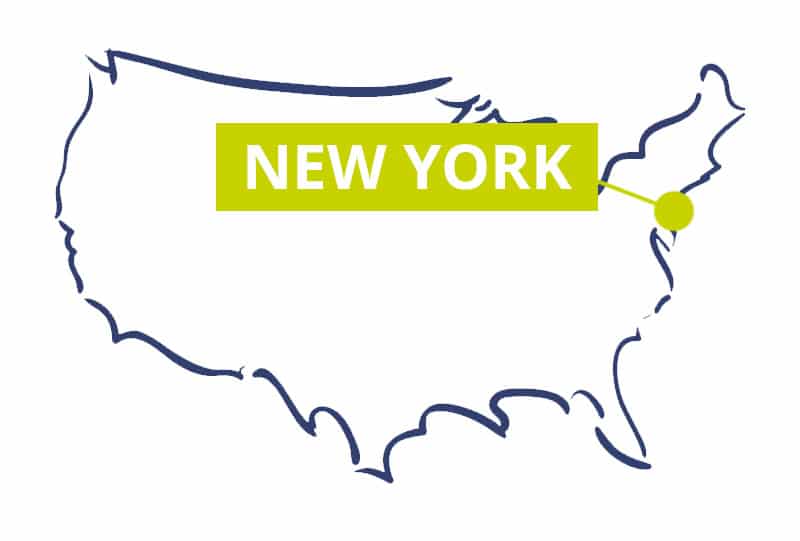 When to go there? The best seasons to discover New York are spring and fall. You will enjoy a pleasant climate, neither too hot nor too cold. To take advantage of the low prices, however, go in winter. I chose to go in February when the climate is colder (temperatures can vary a lot from one day to another, from -10 to +10°c) but if you are well covered you will be able to go around the city without any problem.
How long should I stay in New York? If it is your first stay in New York, I advise you to stay at least 7 days. This is a minimum to discover all the must-see places of the city without being frustrated of not having had time to do everything.
Who is it for? New York is a hectic city that never sleeps! If you hate crowds, noise and don't like walking, then choose another destination. Otherwise, it is a city that will please everyone: between its numerous walks, its neighborhoods with different universes and its museums, there are many activities and you will inevitably find several made for you!
How much does a stay in New York cost? In low season (February), the stay cost me 2200 $ all included (flight, hotel, meals and activities) but the budget can be multiplied by two or three if you travel in good weather. For a summer trip, book your flights and hotels several months in advance to get the best rates.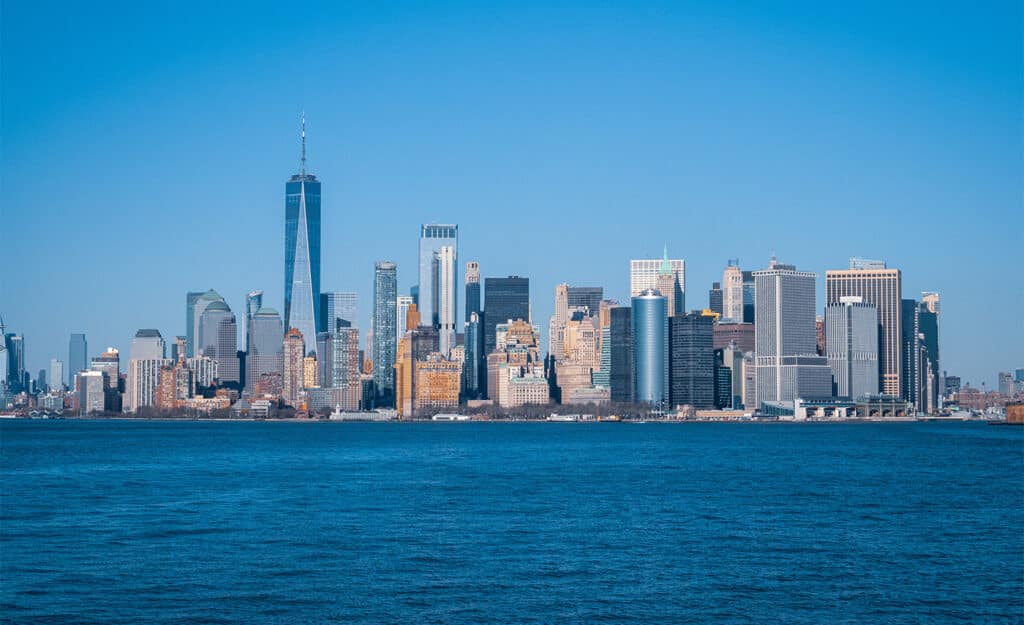 ---
How to get around New York?
Whether by foot, bus, subway or cab, it is easy to get around the city.
By subway
The subway is cheap and runs 24 hours a day. A single ticket costs $2.75, but the most cost-effective way is to take a weekly pass, valid for 7 days, for $31.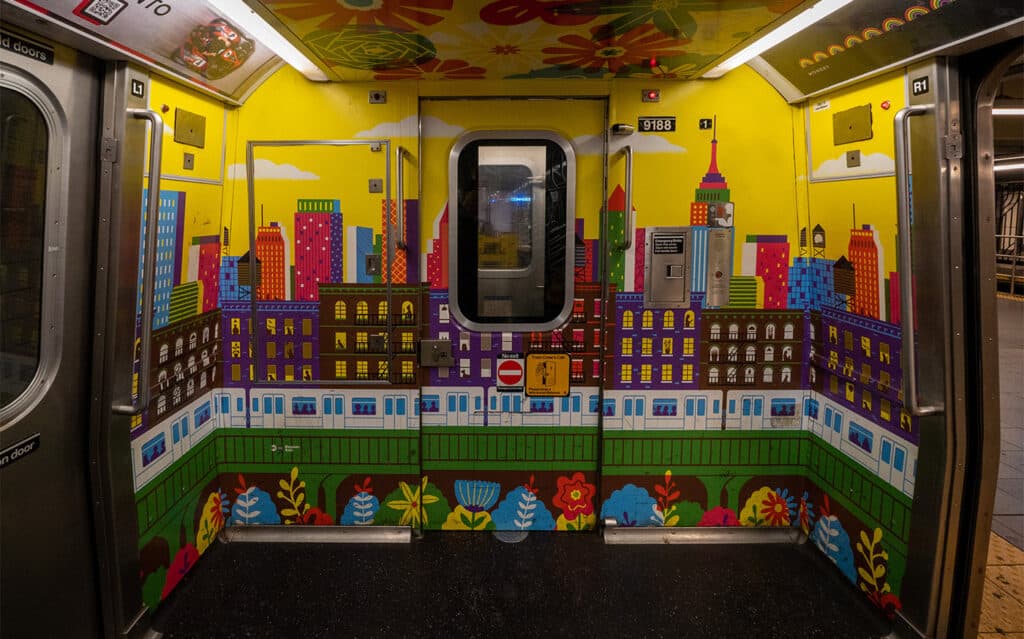 By cab
It is impossible to miss the "Yellow cabs" that crisscross the city. The fare depends on the length of the trip but cannot be less than $4.5. You should also count on a tip for the driver, usually around 10-15% of the fare.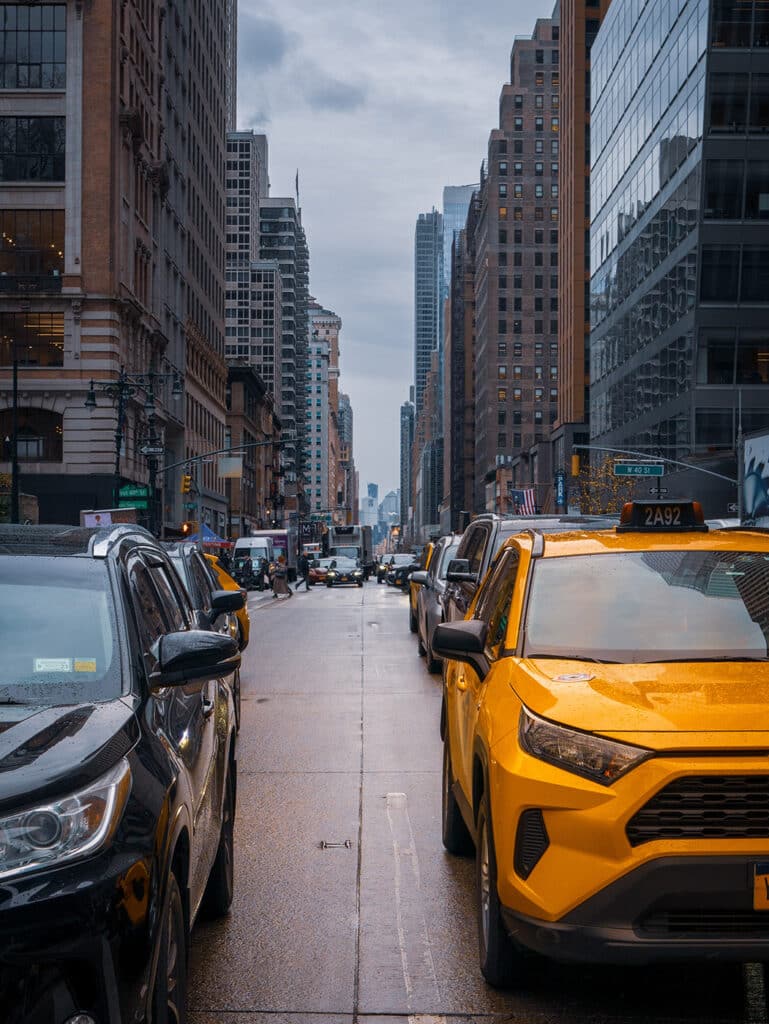 By ferry
The Eastern Island ferry is a must because it offers one of the most beautiful views of Manhattan. The best part is that it's free!
---
What to do in New York ? The 10 must-do activities
Visit the museums
The MoMA, the Met, the Guggenheim or the Whitney museum… All these names probably tell you something: they are some of the most beautiful museums in the world. It is indeed in New York, in these prestigious places that you will be able to see some world famous masterpieces.
Visit this article to see the museums not to be missed in New York: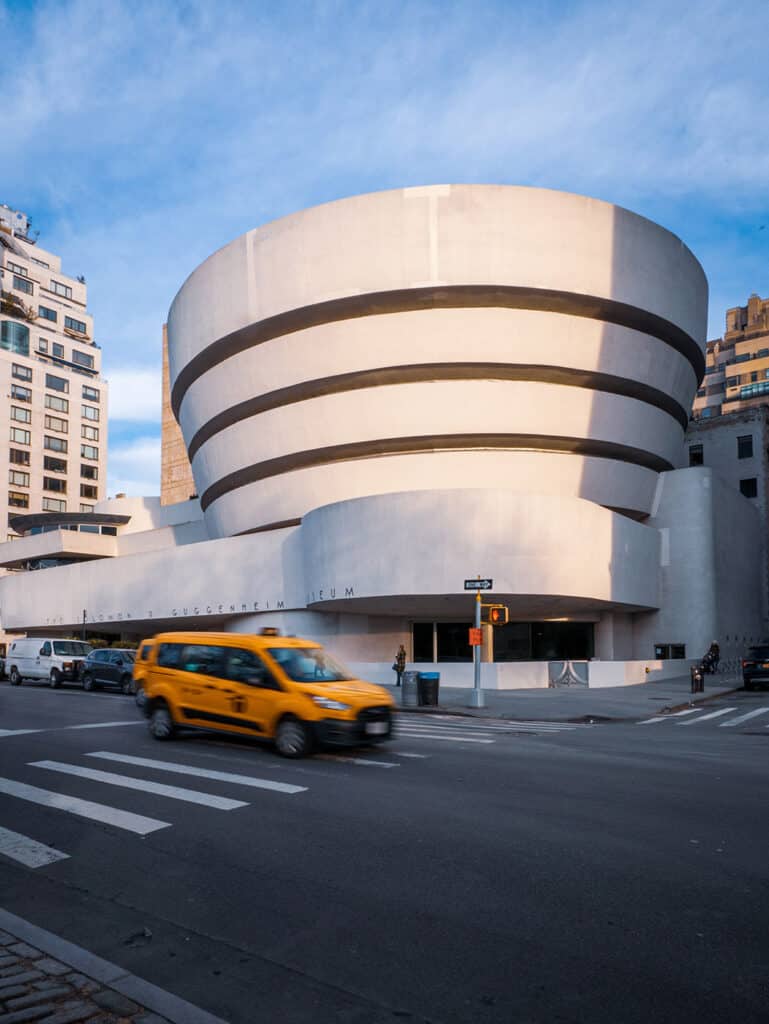 Going on the High Line
The High Line is a suspended park that stretches for 2.3 km. It was created on the site of an old railway line. Accessible for free, every day, from 7am to 7pm, it is a walk not to be missed that offers spectacular views of the city and several works of street art.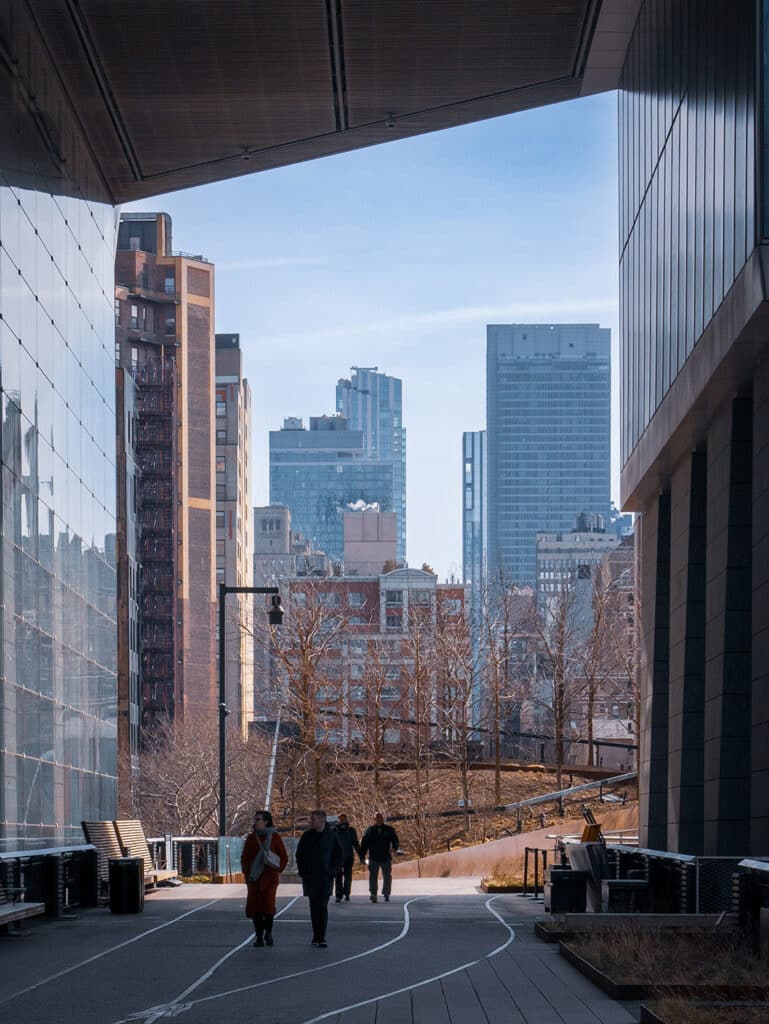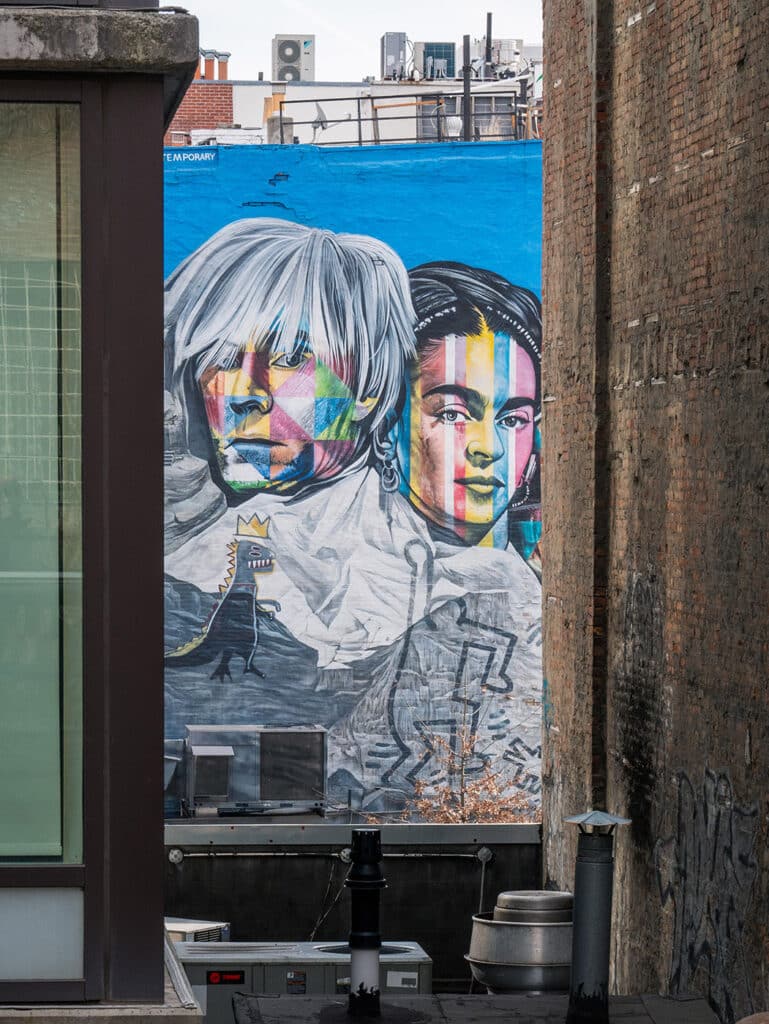 Several entrances allow you to access it, I advise you to start with the entrance located at Hudson Yards near "The Vessel". You can then walk along the High Line to the Whitney Museum.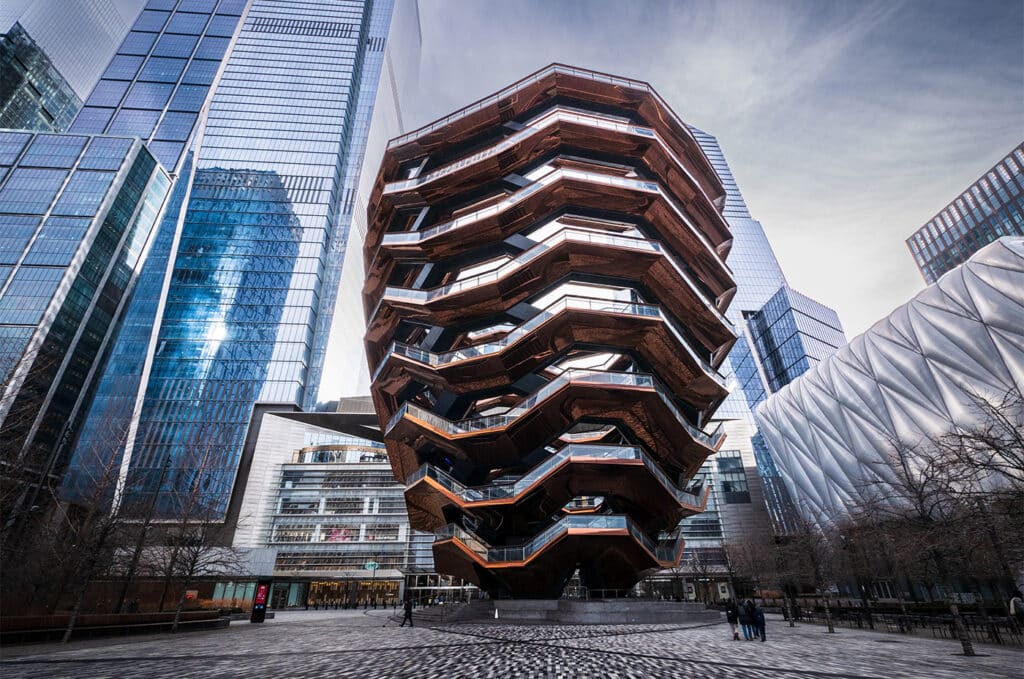 Find more information and all the access points on the official website.
Walk in Central Park
Central Park is the green lung of New York, a gigantic park located in the heart of Manhattan. It covers 341 hectares and it takes almost an hour to walk through it!
All around this island of nature, the skyscrapers give the impression of an urban forest. Take the time to stroll through the different areas of the park, you can chat with squirrels or with some New Yorkers who come here to picnic or play music.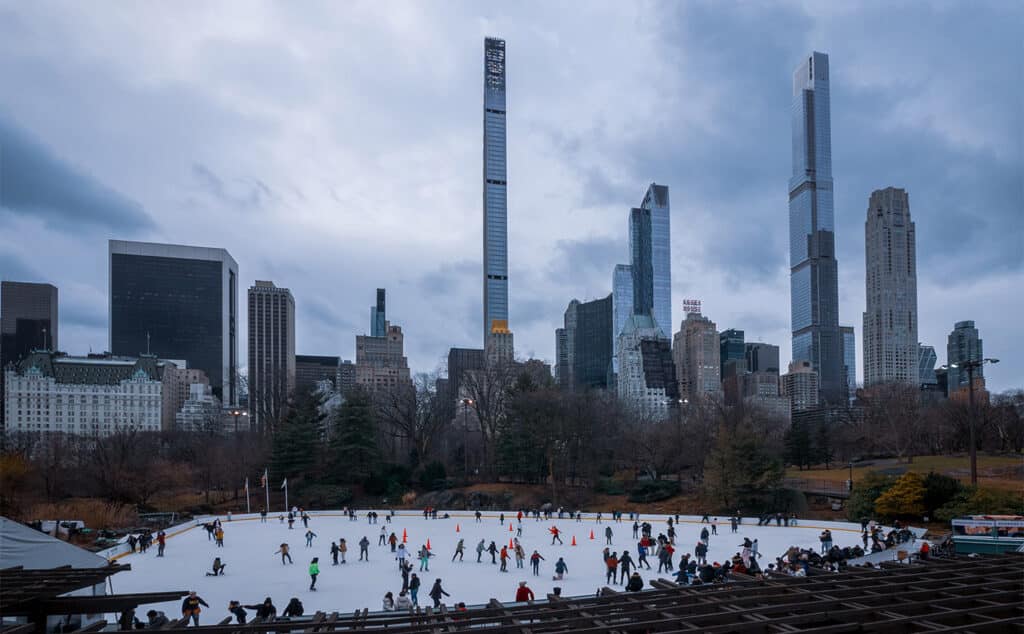 Go say hello to the Statue of Liberty
A symbol of Franco-American friendship, the Statue of Liberty has stood on Liberty Island since October 28, 1886. It is one of the most famous monuments in the United States.
To get close to it, it is necessary to take a ferry. Two options are available to you:
The free Staten Island ferry
This ferry connects Manhattan to Staten Island, it runs every day 24 hours a day and is free to use. About 70,000 people use it every day.
Although this ferry does not go directly to Liberty Island, it does come close to the Statue of Liberty and allows you to see it without having to pay for it! Be careful: the ferry remains at a good distance so you won't be able to observe the statue very closely. If you can take good quality pictures, you will need a telephoto lens.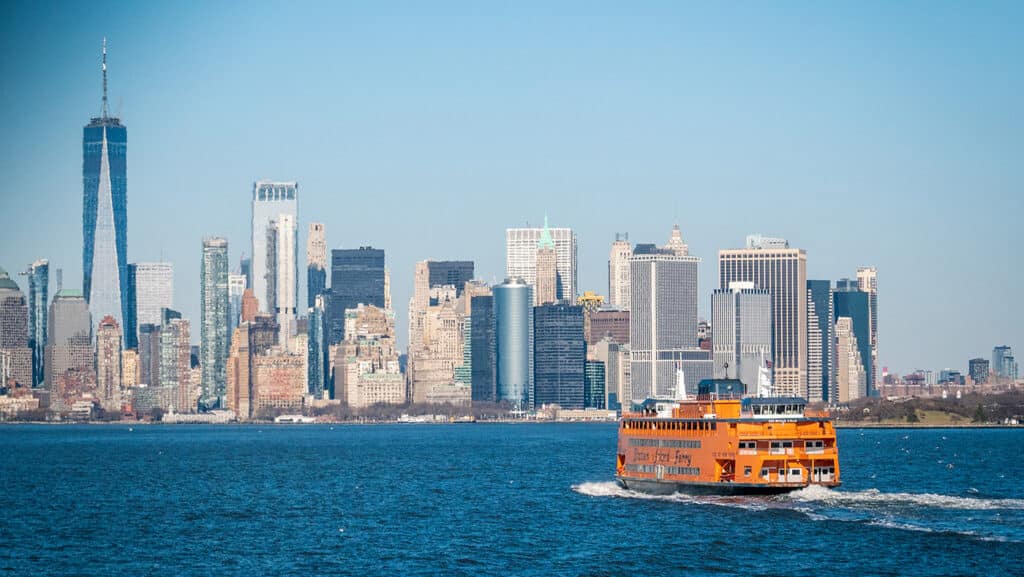 Boarding from the Whitehall Ferry Terminal
The Statue City Cruises ferry
The other option, for a fee this time, is to take a Statue City Cruises ferry that takes you directly to Liberty Island, at the foot of the statue. The ferry also serves Ellis Island, where you can visit the fascinating Immigration Museum (free of charge) which gives you a better understanding of how New York City was built.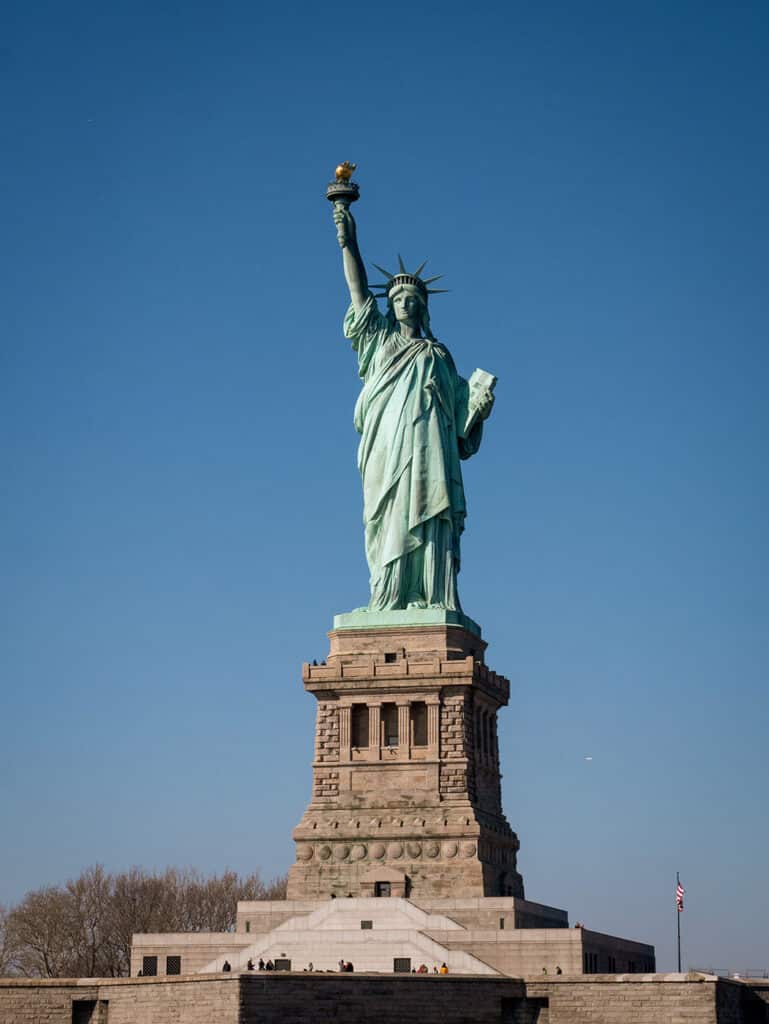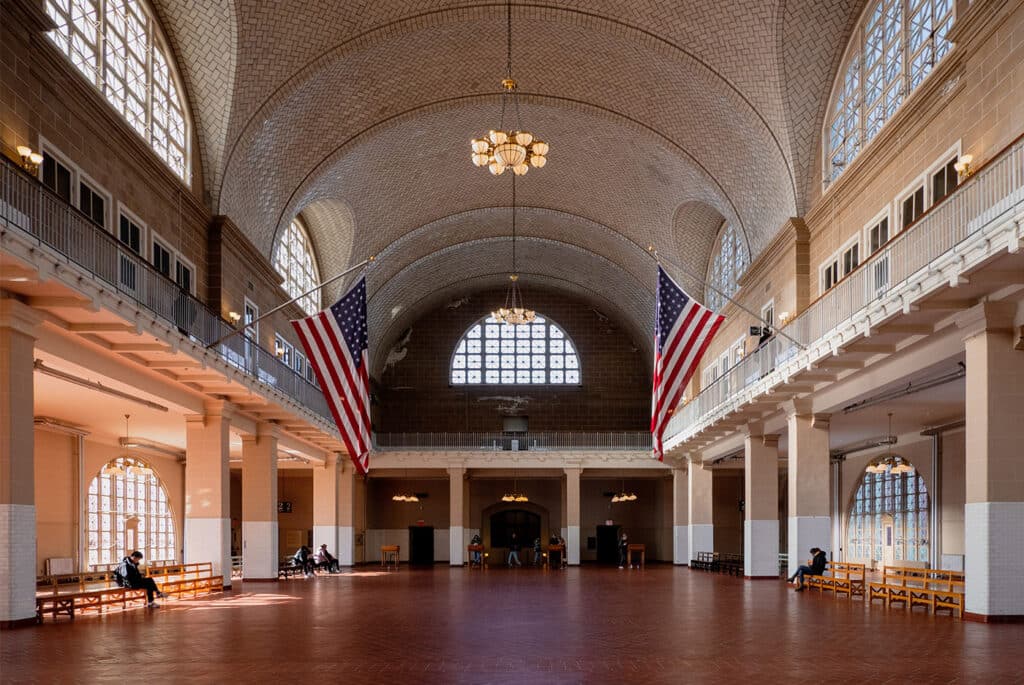 Boarding at Battery Park – $24.5 / person
Walk on the Brooklyn Bridge
The Brooklyn Bridge is the most famous bridge in New York and for good reason: with its granite pillars and the cables that support its deck, it is a particularly photogenic bridge that can be seen in many films and series.
The traffic is on two levels: one dedicated to cars and the other to pedestrians, which makes it a very pleasant bridge to walk on. For photos, try to go there early in the morning to have a nice light and avoid the crowd.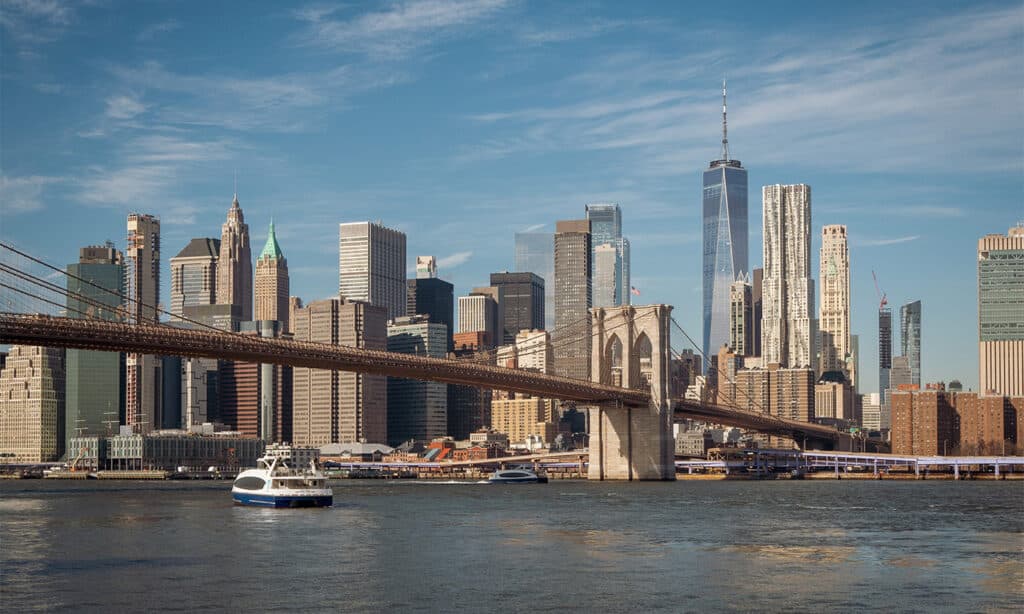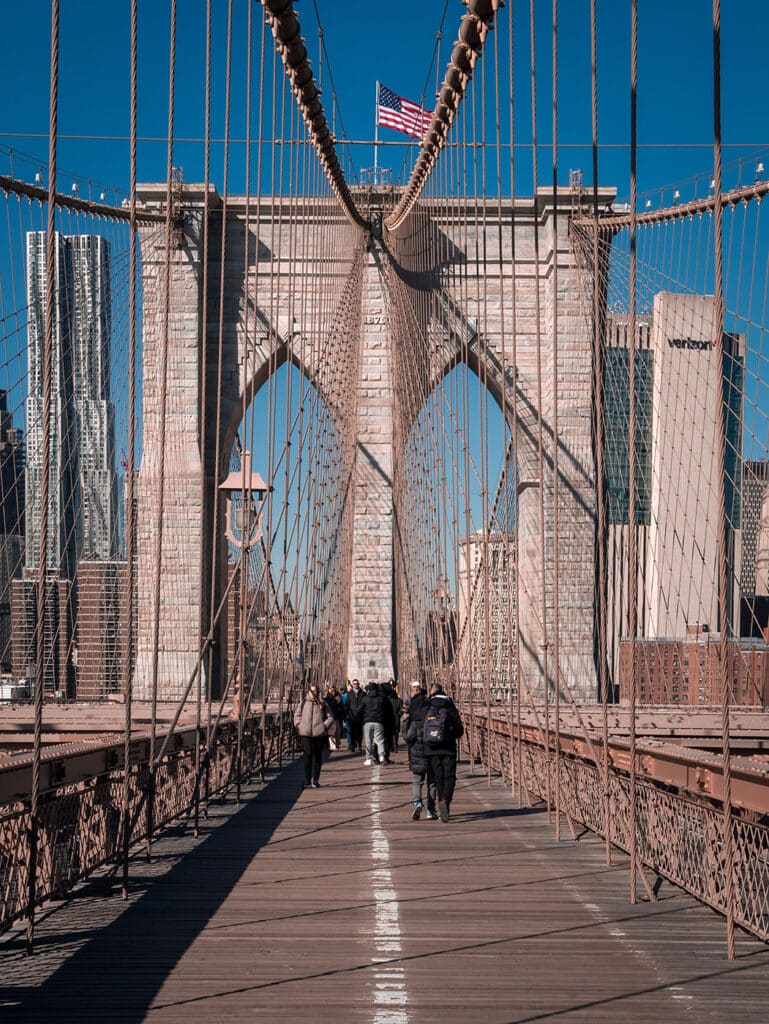 Did you know that?
Completed in 1883, it was the first bridge to connect Brooklyn to Manhattan across the East River, but a few days after its inauguration, a rumor spread: the bridge would collapse. A panic and the ensuing stampede caused the death of 12 people.
To convince people of the bridge's strength, a circus troupe was called in to parade the 21 elephants of its menagerie across the bridge!
Go to Time Square and see a Broadway musical
Time Square is one of the busiest places in the world: it is estimated that more than 360,000 people pass through it every day! Its geographical location, in the heart of Manhattan and a stone's throw from Broadway, makes it a very busy area that attracts many tourists and New Yorkers. For the anecdote, it owes its name to the former headquarters of the New York Times.
Today, Times Square has a little bit of an amusement park with its many advertising screens. But this is also what makes this place so special.
Take advantage of being in the area to go see a Broadway musical but book your tickets several days or even weeks in advance to get a good seat without breaking your piggy bank!
Entering Grand Central Terminal
Grand Central Terminal is one of the largest train stations in the world. When you enter it, you will surely feel like you have been there before because it appears in many movies. Look up at its ceiling which represents constellations of stars!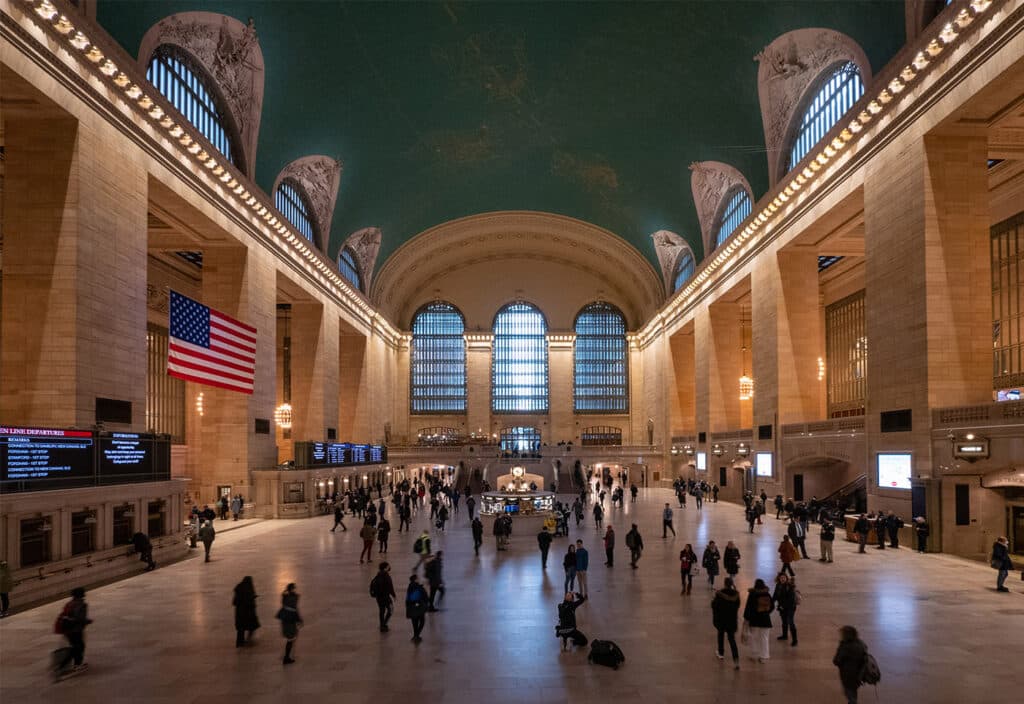 Visit Saint Patrick's Cathedral
This amazing neo-gothic cathedral seems lost in the city! Built between 1858 and 1879, it has been surrounded by skyscrapers over the years.
Do not hesitate to push the doors to visit the interior. The entrance is free.

Climb a skyscraper
To get a sense of the immensity of New York, I highly recommend climbing a skyscraper. There are two main options: the "Top of the Rock" and the Empire State Building
This is the top of the Rockfeller Center, an observation point located on the 70th floor, 260 meters high! From there, you will have a 360° view of the city from three observation decks. It is also from this place that you will have one of the most beautiful views of the city, with the Empire State Building in sight!
My advice: go there one hour before sunset. With just one ticket you can enjoy the view by day and by night.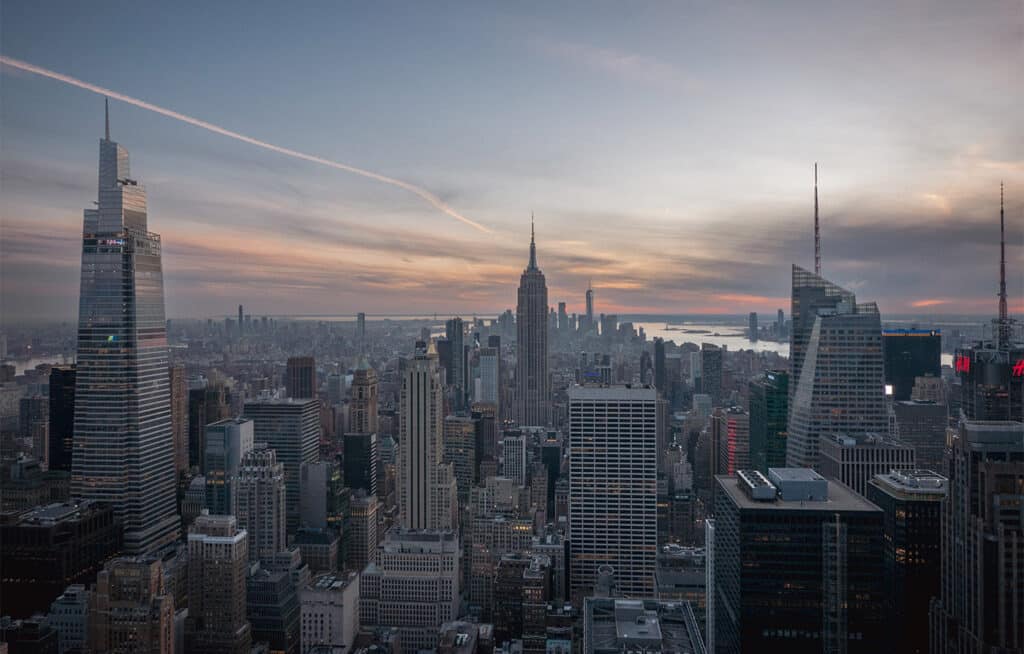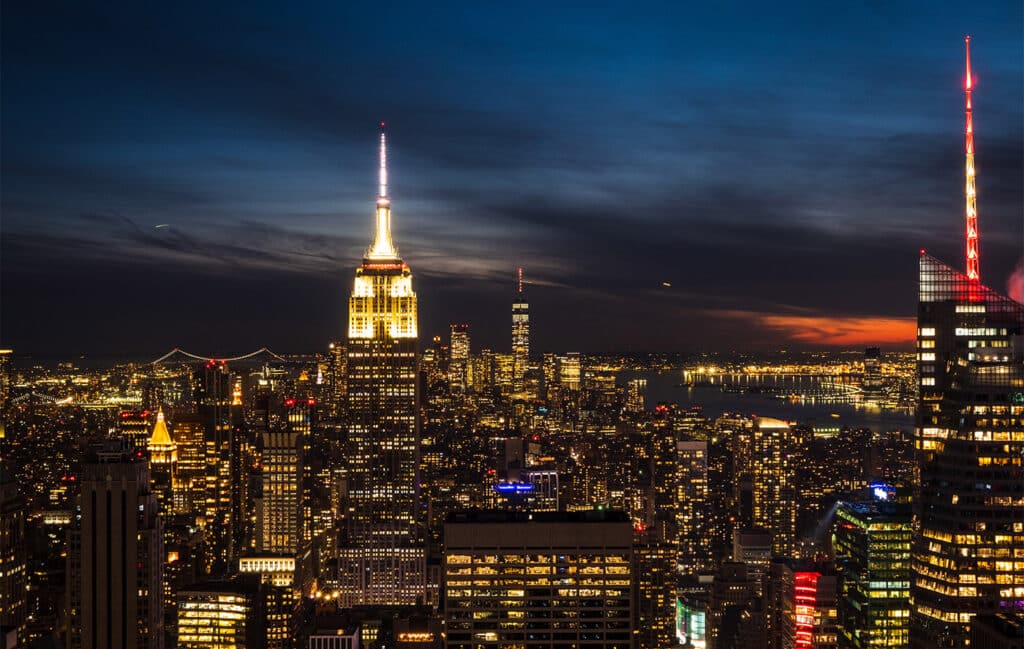 The entrance fee starts at $34. In low season (winter) you won't need to book, but if you travel during the summer, it's better to book a slot in advance, or even take an express pass that allows you to get immediate entry (for $85 anyway…). For the more fortunate, a VIP tour for $125 allows access to a guided tour without waiting.
The Empire State Building
The most famous skyscraper in New York is another must-see for a great view of the city. Especially since, unlike the Top of the Rock, there is no glass to obstruct your shots.
The entrance is preceded by a small museum that recalls the history of the construction of the building. We learn for example that only 13 months were enough to make it come out of the ground! Completed in 1931, the Empire State Building remained the highest building in the world for 40 years.
The observation deck, located on the 86th floor, offers a magnificent view of New York. The entrance costs 44 € but there are more expensive options if you want to go at sunset or enjoy an express entry.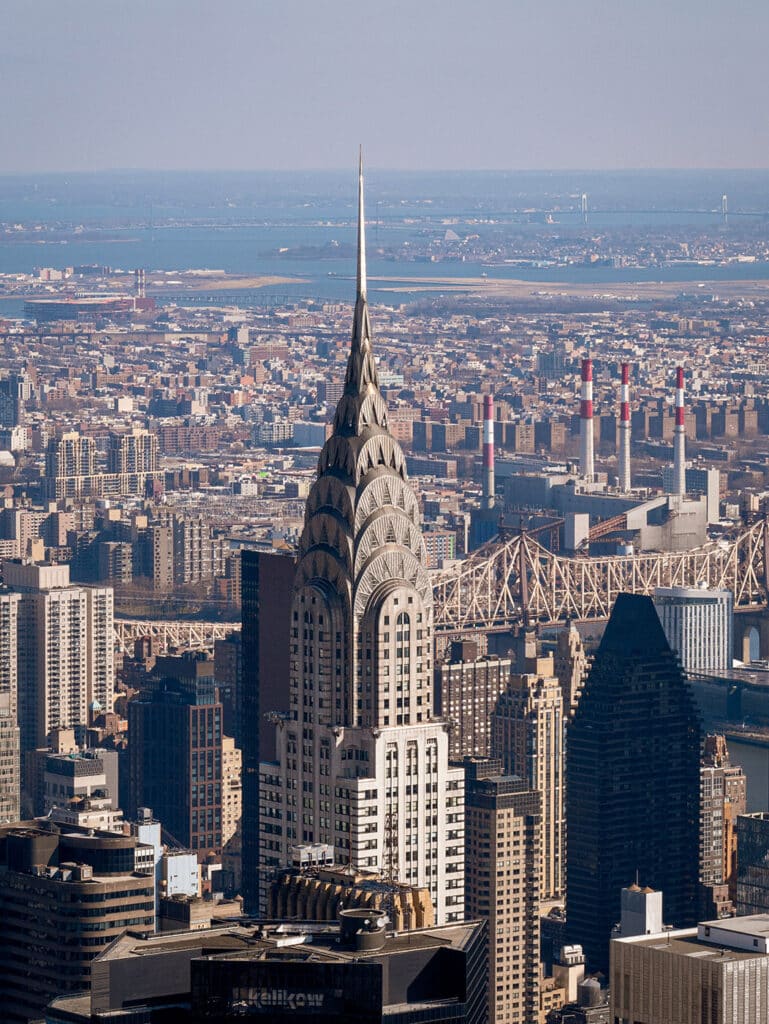 Tip: to benefit from special rates on several activities in New York (museums, Empire State Building, ferry to the Statue of Liberty…), opt for the City Pass. It is valid for 5 major attractions in New York and allows you to save up to 40%.
Going to Ground Zero
"Ground Zero" is the name given to the site of the World Trade Center, the two towers destroyed in 2001 during the terrible attack that killed nearly 3,000 people.
In the place of these towers is now a memorial, two holes where water is poured perpetually. All around, you can read the names of the victims. On some of them, you will find a rose that indicates that it is the day of the birthday of that person.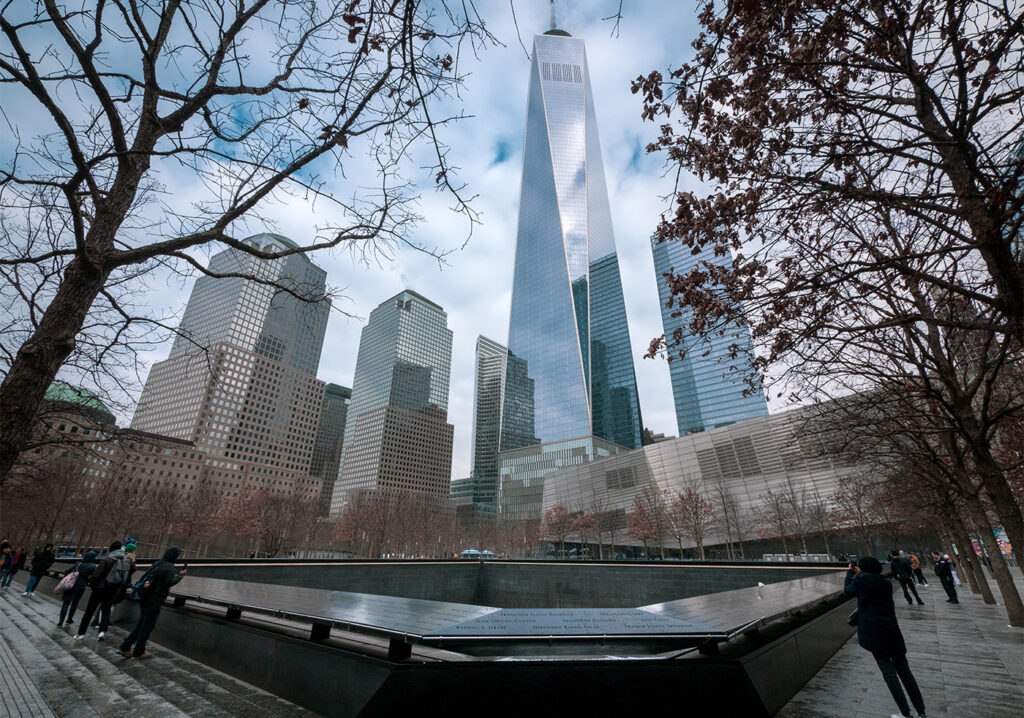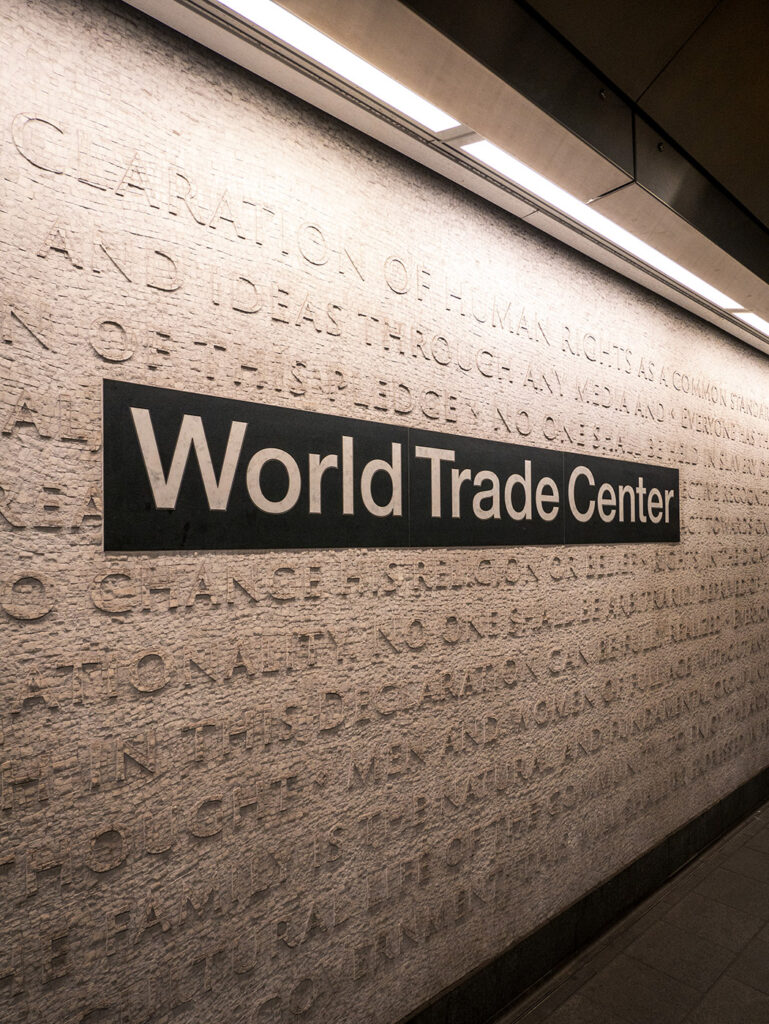 Next to Ground Zero, a huge glass skyscraper stands. It is the One World Trade Center, nicknamed "Freedom tower" built as a sign of resilience. It measures 1776 feet in reference to the year of the Declaration of Independence of the United States.
---
Interactive map of New York
Find all the addresses mentioned in this article on this map. Use the menu on the left to select the points of interest that interest you (museums, monuments…).
---
Where to stay in New York?
New York is a huge city, so no matter where you stay, you will need to take the subway, a bus or a cab from time to time.
However, I recommend that you stay in Manhattan, between 23rd and 42nd Avenues and between Lexington Avenue and 9th Avenue. This is the central area that will allow you to do a lot of things on foot and to go quickly from one place to another in the city.
In terms of accommodations, it can be nice to spend a few nights in a skyscraper to enjoy a beautiful view of the city and be immersed in the urban forest that is New York. However, rooms with a view are often expensive and after a few days you won't pay much attention to them. Also keep in mind that staying in a skyscraper has a few drawbacks such as a long waiting time at the elevators! If you want to try the experience, I went to the SpringHill Suites by Marriott New York Manhattan Chelsea, a modern establishment with free breakfast. The view is beautiful but during my stay I had to go down the stairs twice because of fire alarms… an adventure we could do without!
Find on this map all the available hotels, as well as their rates, according to your dates of stay:
---
Before leaving for the United States: some precautions
Before starting your trip, it is important to think about some practical details!
Fill out your ESTA
You don't need a visa to go to the United States for a short stay of less than 90 days. However, you will have to fill out a (long) form and pay a small fee of $21.
Everything is done online at https://esta.cbp.dhs.gov/, at least 72 hours before your departure.
Take out an insurance policy
In the United States, medical expenses are expensive and your European health insurance card will not be valid. In case something happens to you during your stay, it is important to take out travel insurance to cover the costs. These insurances are generally between 50 and 150 € per person depending on the length of your stay and the guarantees they cover (amount taken in charge, civil liability, repatriation, cancellation insurance…).
---
Around New York
Extend your stay! Only 3 hours by train from New York, discover the capital of the United States: Washington. There, all the museums are free as well as most of the institutions (capitol, supreme court, library of congress…) which open their doors to you. A fascinating city to understand the administrative functioning of the United States.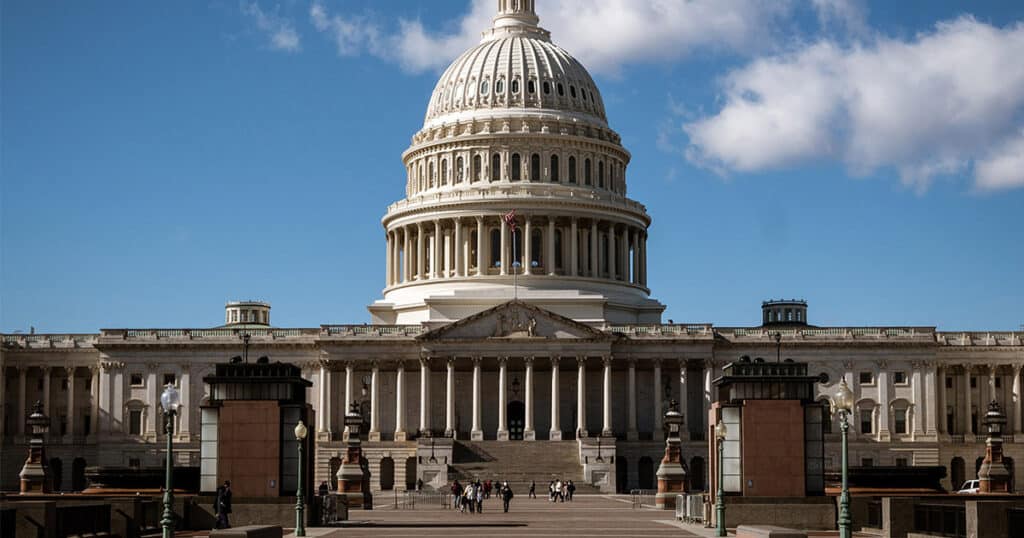 Did you like this article? Pin it on Pinterest!