In the south of Finland, Helsinki is a city renowned for the beauty of its landscape, its art of living and its architecture. All of which make this capital one of the most beautiful cities in Europe.
With its museums, numerous restaurants, historic buildings and openness to nature, Helsinki offers a wide range of activities, making it a destination that's equally suited to solo travellers, families, lovers and friends.
How should you prepare for your stay in Helsinki? What are the must-do activities for a great visit to the city? Here are some tips and good addresses for an unforgettable trip!
Planning a trip to Helsinki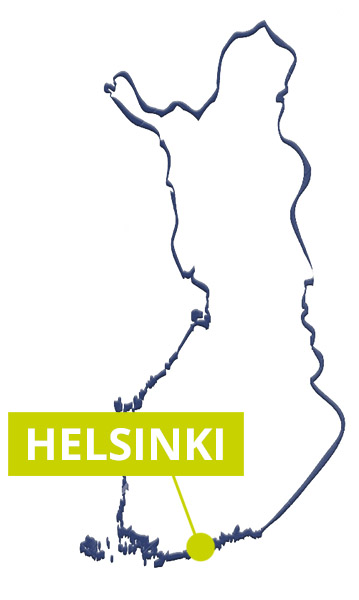 How long does it take to visit the city?
Two days are enough to explore the centre of Helsinki, but allow 3 or 4 days to discover some of the islands in the archipelago. Helsinki is also a great gateway to explore the rest of Finland if you want to extend your stay.
When is the best time to visit Helsinki?
Finland is a rather cold country, so it's best to go during the summer, when you can enjoy long days and pleasant temperatures. What's more, in Finland the new school year starts at the beginning of August, so you'll be able to avoid the crowds better in August than in July.
Who is it for?
Something for everyone! The city is pretty kid-friendly, so you can go as a family, as a couple or with friends. There's plenty to do: museums, gastronomy, nature… you're bound to find something to suit you!
Getting around Helsinki
The city is easily explored on foot, but if you don't like walking or want to get out of the city centre, Helsinki has a very good public transport network (metro, tram, bus and even ferry!). Tickets can be bought online or directly on your smartphone using the " HSL " application. In the city centre, a ticket valid for 80 minutes costs €3.10, and the journey from the city centre to the airport costs €4.10. Day passes are also available.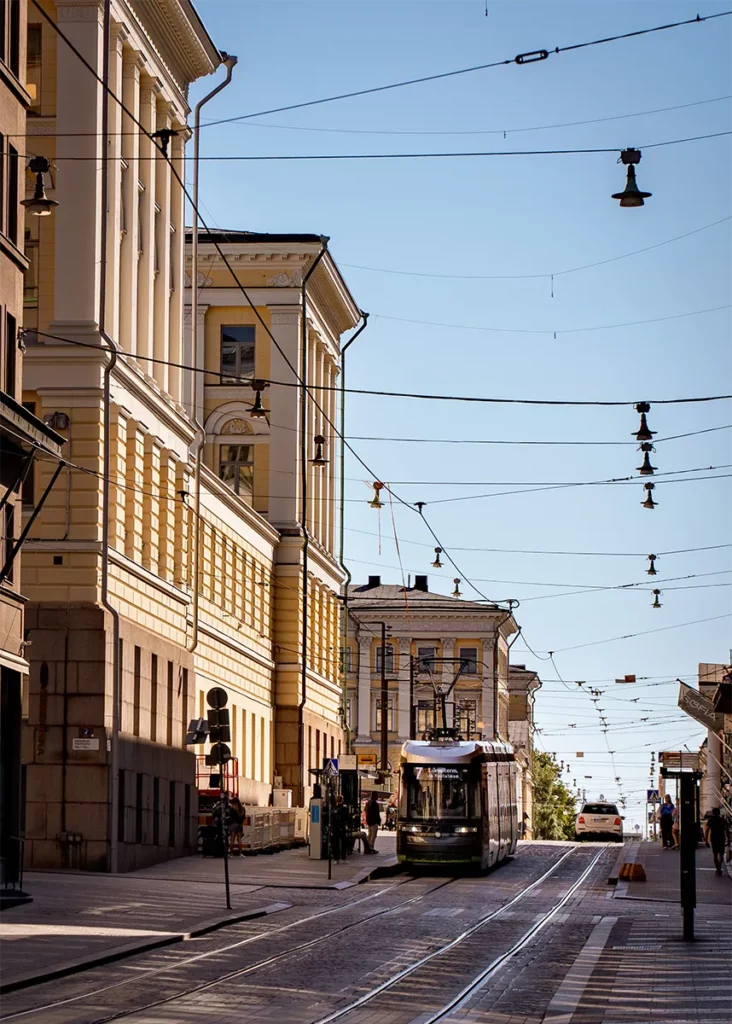 What language should I use to communicate?
Finland has two official languages: Finnish and Swedish. However, especially in Helsinki, almost everyone speaks English.
What is the cost of living in Helsinki? How much does a stay cost?
Restaurants: Helsinki is not as expensive as other parts of Northern Europe. Restaurant prices are similar to those in Paris, and public transport is fairly cheap.
Accommodation: something for everyone! If you're not looking for luxury, you can find hotels in the city centre for less than 100 euros a night (see the addresses below).
Visits: on the other hand, cultural venues are often quite expensive: expect to pay around twenty euros for an adult visit to a museum, but many activities can be done free of charge (see the rest of this article).
---
A short history of Helsinki
Helsinki was founded in 1550 by the Swedish King Gustav I Vasa under the name of "Helsingfors" to become a strategic port on the Baltic Sea. When Sweden lost the war against the Russian Empire in 1809, Helsingfors became the capital of an autonomous grand duchy and grew considerably. When Finland gained independence in 1917, the town became the capital of the fledgling republic.
Did you know?
Today, the city has two names: Helsinki in Finnish/English, and also Helsingfors in Swedish, one of the country's two official languages!
During the 20th century, the city grew rapidly, modernising its infrastructure and industries. Helsinki has also played host to key moments in world history, most notably the 1952 Summer Olympics, which helped to raise the city's international profile.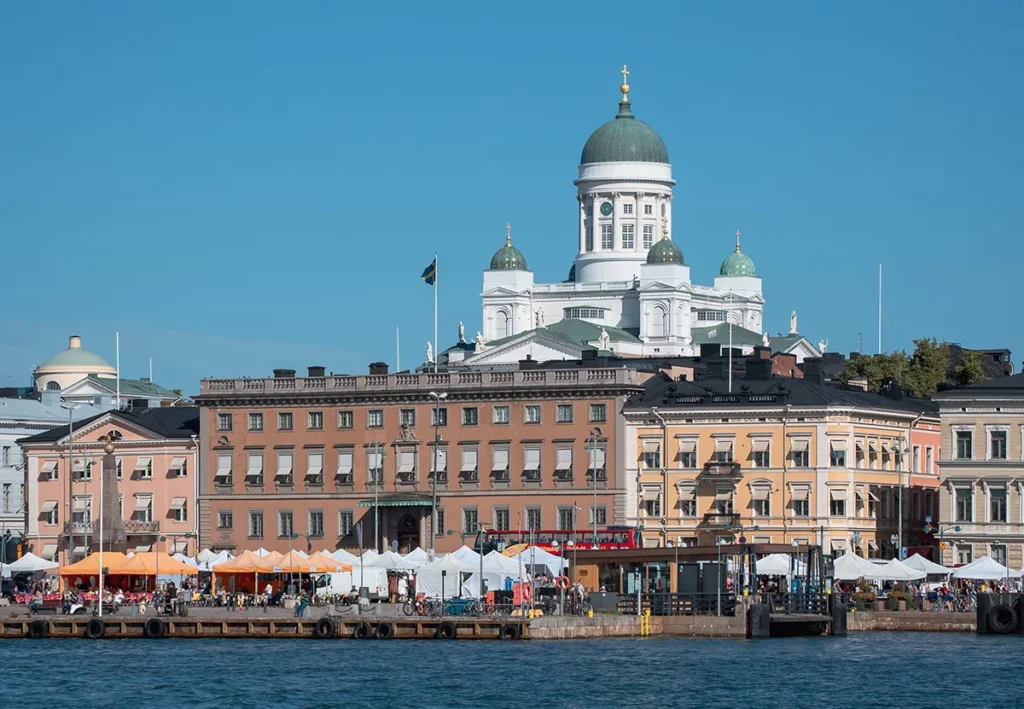 ---
8 must-sees in Helsinki
Going to the Senate square
This square in the centre of Helsinki brings together the country's political, religious, scientific and commercial functions, with the government palace, the Lutheran cathedral, the main university building and Sederholm House, the home of Finnish merchant, shipowner and industrialist Johan Sederholm. It remains one of the city's main squares to this day.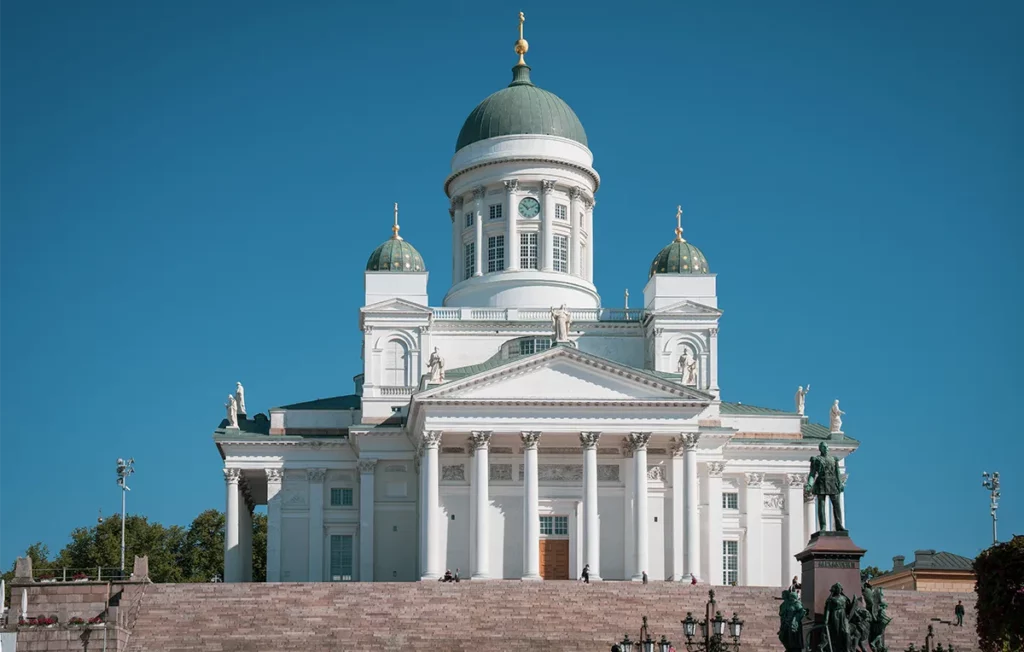 Stroll along the port
The port is a bustling place. People flock here to board a boat, but not only that: the many street food stalls make it the perfect place to grab a bite to eat.
Take a look at the Ferris wheel too. It's not quite like the others: one of its cabins contains a sauna! Saunas are part of the Finnish way of life, and most Finns take one at least once a week… and why not on a Ferris wheel?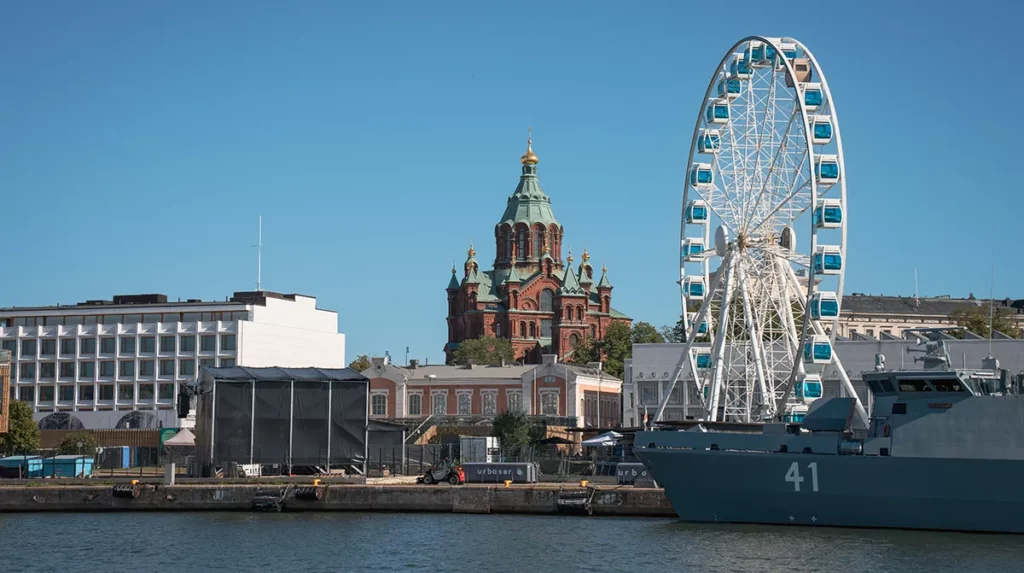 Continue your journey to the Ouspenski Cathedral, an Orthodox cathedral that doesn't go unnoticed with its red hue due to the bricks that make it up. The richly decorated interior is breathtaking.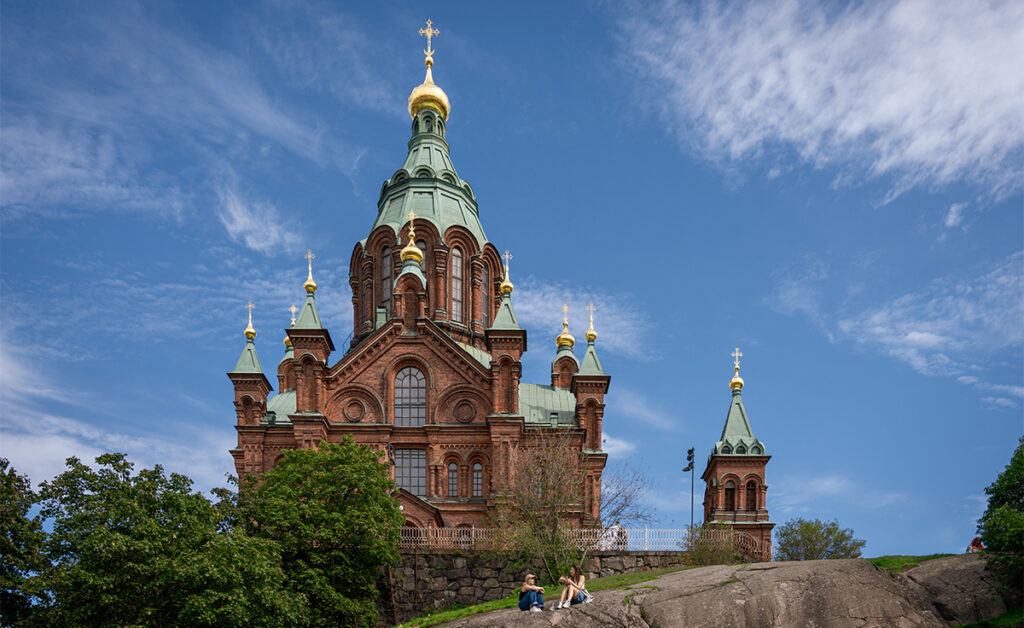 Visiting museums
There are many museums in Helsinki, but if you have to visit just one, I highly recommend the Ateneum, which has Finland's largest collection of classical art. Here you can see many works by Finnish artists such as Albert Edelfelt, Hélène Schjerfbeck, Sam Vanni, Elga Sesemann, Ulla Rantanen and Tove Jansson.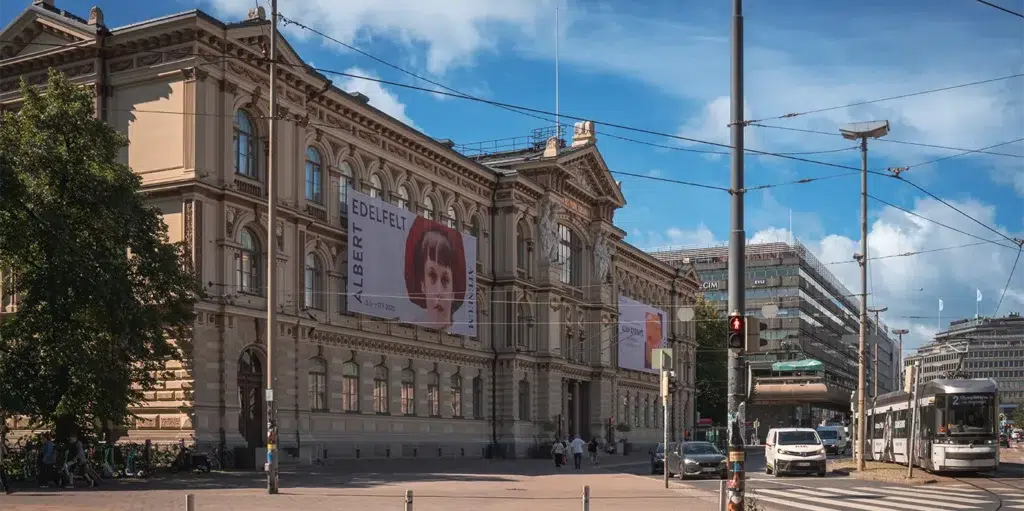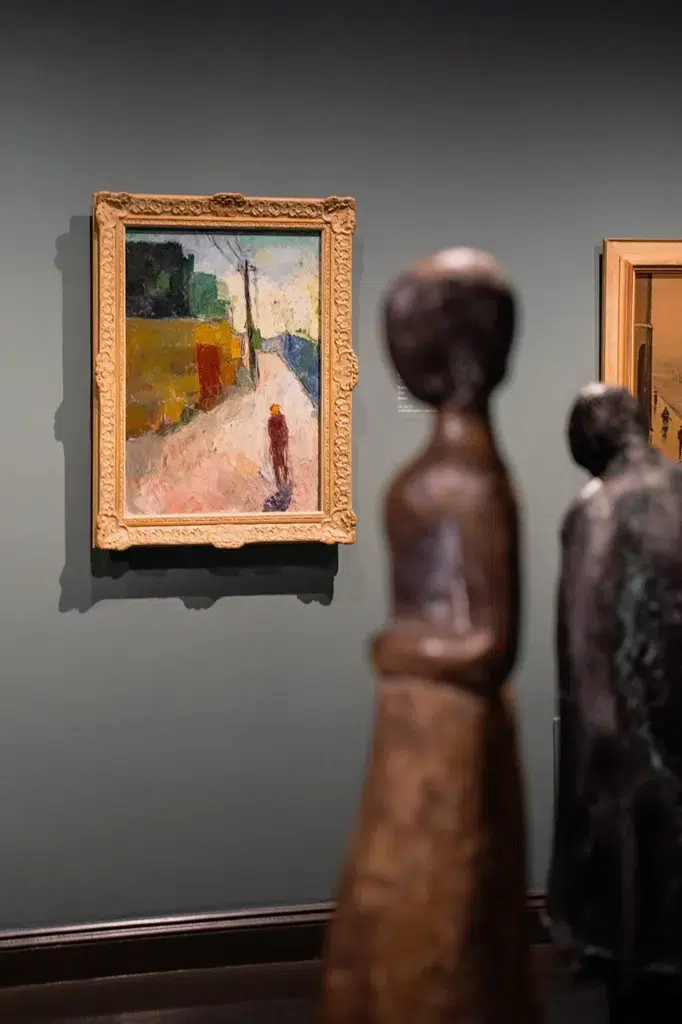 Nearby, you can also discover Amos Rex, a museum of modern and contemporary art, and the Kiasma Museum, the city's museum of contemporary art.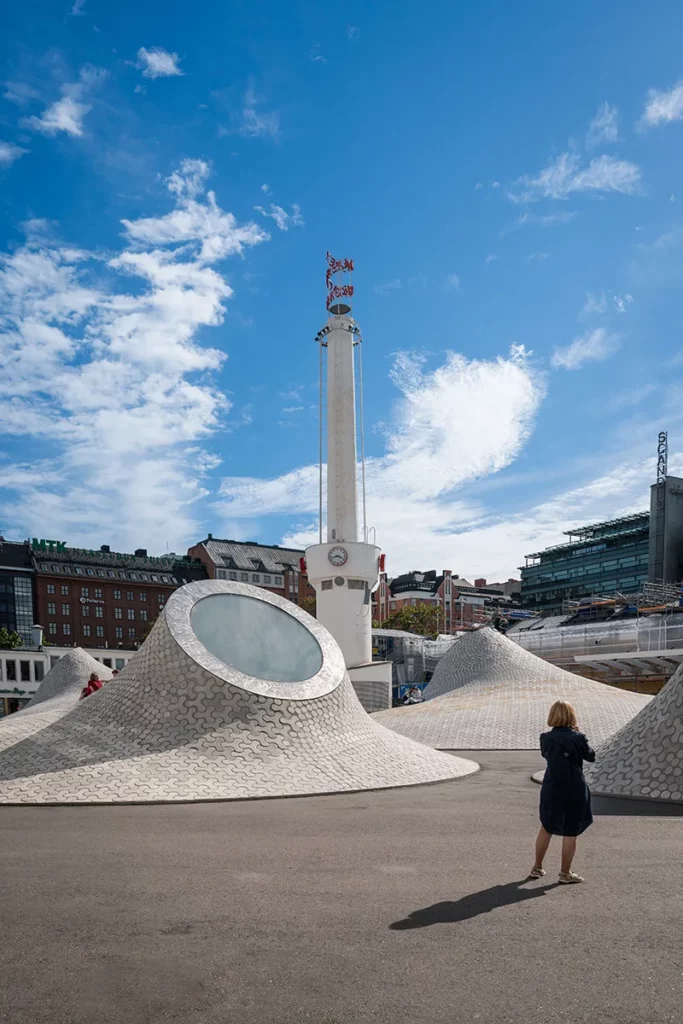 Enter the Oodi central library
Visiting a library is surprising! But you'd be wrong not to!
More than a library, this building is a real place of life for Finns. Here, you can not only consult books, but also play video games, record music in the studio, print your photos in xxl format, take part in sewing workshops, or even have a drink. Surprisingly for a library, there is even a dedicated area for toddlers, so that young parents can also come and work.
The icing on the cake is an esplanade where you can enjoy a lovely view of the city.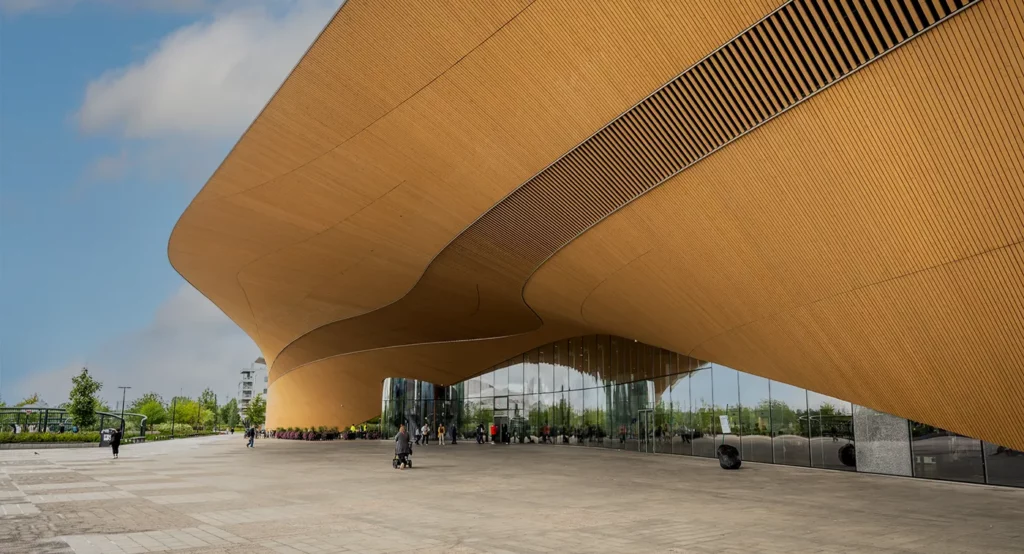 Take the ferry and visit an island
There are almost 300 islands in the Helsinki archipelago! You can visit the UNESCO-listed fortress of Suomenlinna, built on a group of islands at the entrance to Helsinki harbour. You can get there by ferry, which is easily accessible with an HSL ticket (the city's public transport group).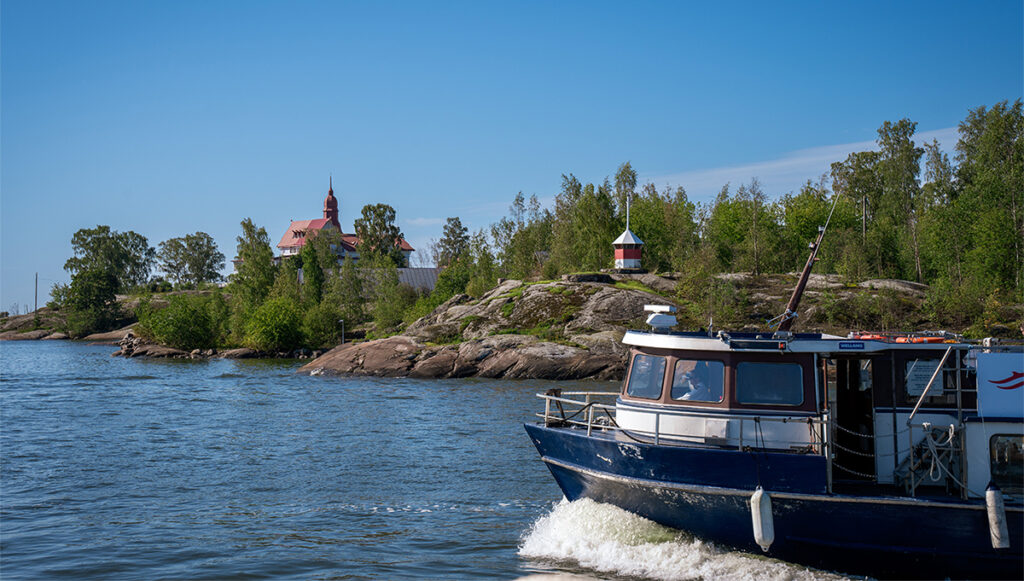 Entering Temppeliaukio church
This astonishing church was built in the 1960s from granite stone by brothers Timo and Tuomo Suomalainen. Its unusual architecture makes it a popular tourist attraction, with almost 500,000 people visiting every year. There is an entrance fee (€5), but it's well worth a visit.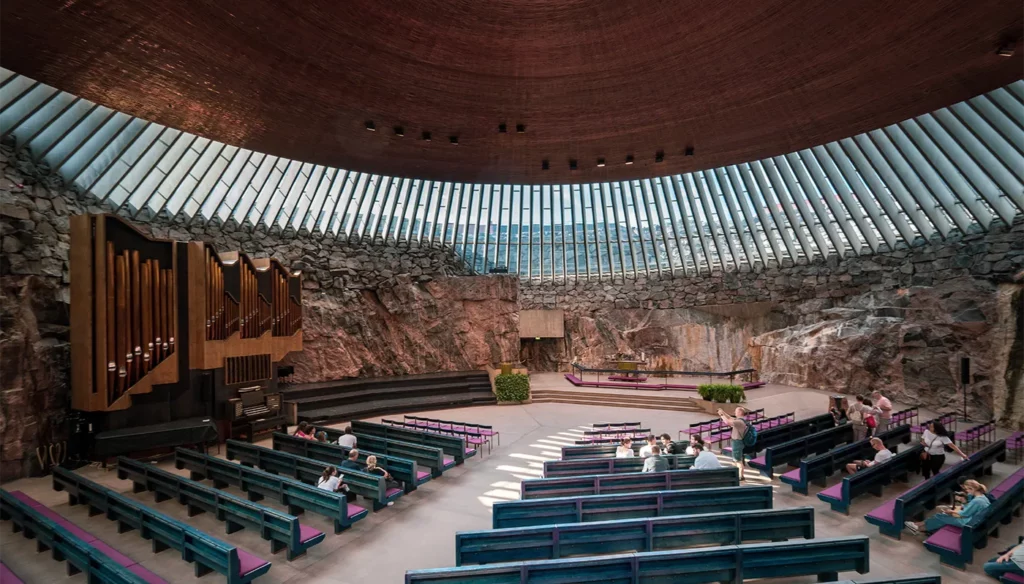 Strolling through the design district
This district stands out from the rest of the city with its art deco facades. You'll also find plenty of boutiques, galleries and workshops.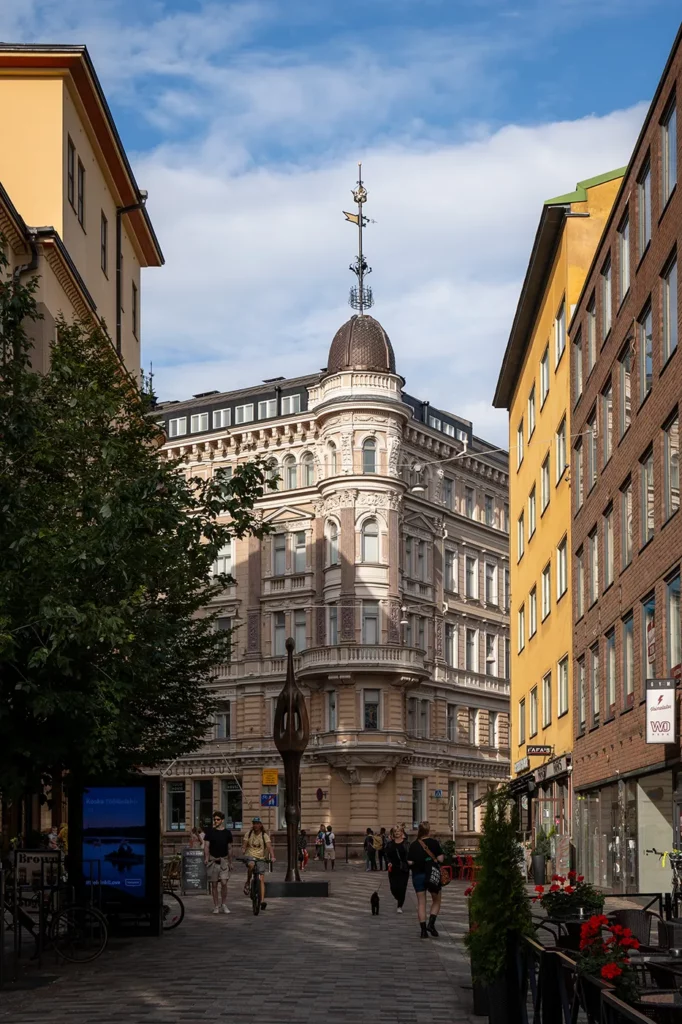 Shopping along the Esplanadi
Esplanadi is a small park bordered by two very chic avenues! It's a bit like the Champs Elysées of Helsinki.
The perpendicular streets are home to numerous shops, including Fazer, Finland's most famous chocolatier.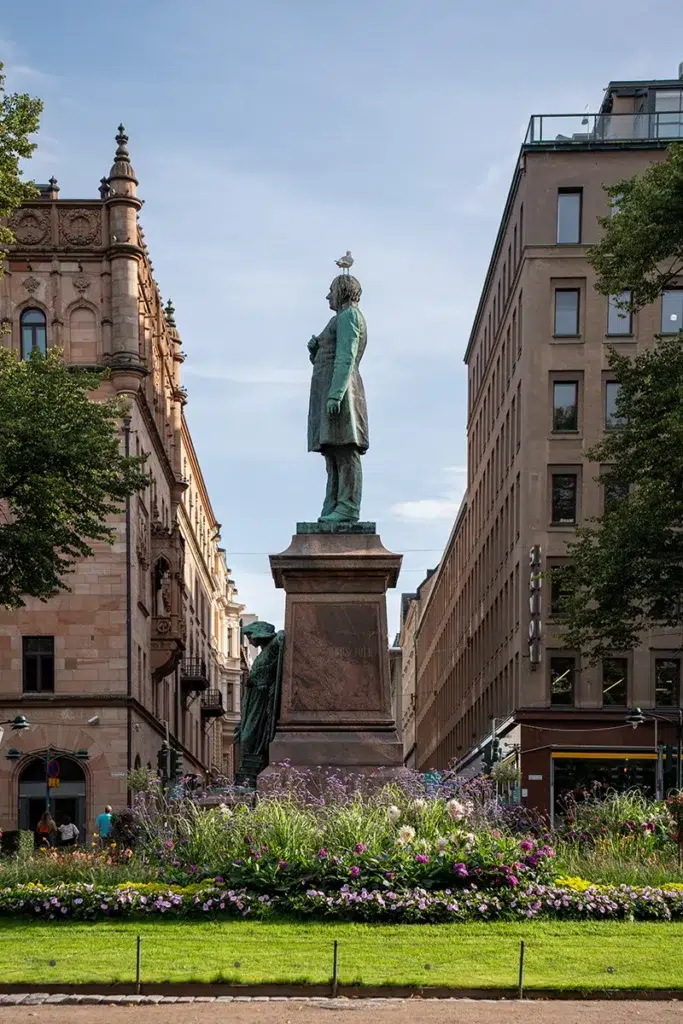 ---
Good addresses
Where to stay in Helsinki?
My advice is to find accommodation right in the city centre, around the Lasipalatsi tram station. That way, you'll be close to everything: museums, the port, the design district and the station for a quick connection to the airport.
I was able to try out two hotels in ideal locations, which I highly recommend:
Omena Hotel Yrjönkatu – €
It's a very basic hotel, but clean and well located at less than €100 a night right in the heart of the city. To keep costs down, there is no concierge; you are given a code to access your room.
The rooms are small but have all the necessary comforts: private bathroom and toilet, microwave, kettle, television, etc. There is no breakfast, but you can easily find coffee and pastries in the nearby cafés.
Marski by Scandic – €€€
We're moving upmarket with this very comfortable hotel, with spacious rooms, very designer public areas, an incredible breakfast and a view of the city if you're lucky enough to have a room on the upper floors.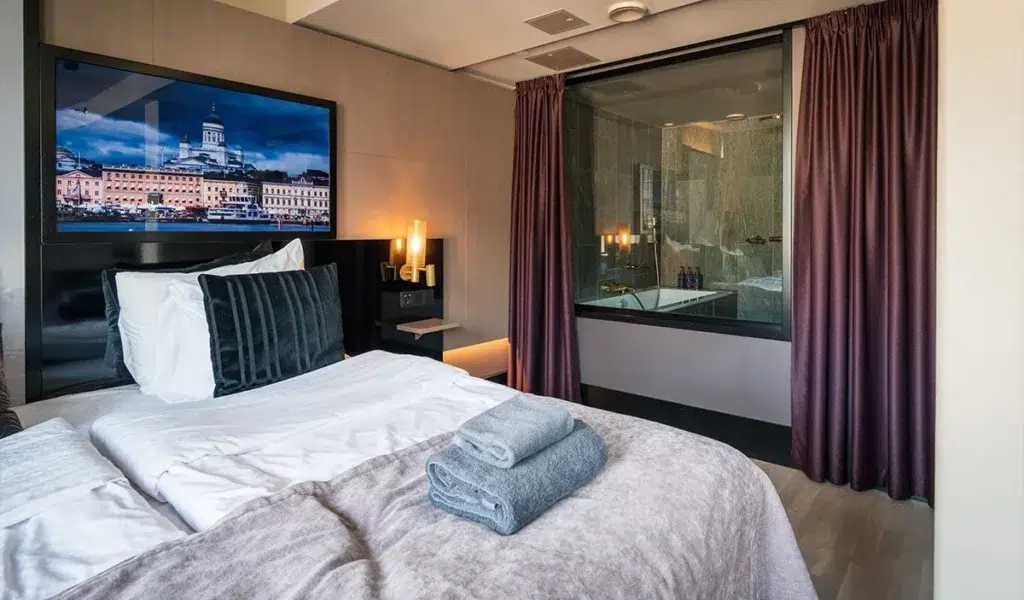 And also…
Of course, there are many other hotels in Helsinki. Find all the available hotels and their rates by entering the dates of your stay on this map:
Where to eat in Helsinki?
There's no shortage of good restaurants, with prices that are fairly reasonable for a northern country, close to Parisian prices. Here are a few addresses:
Pay attention to mealtimes
The Finns have completely different mealtimes to us. Lunch is taken around 11.30am and dinner is served from 5pm. So it's not unusual to find restaurants closed from 8pm!
Don't forget to book on Sunday!
In Finland, work on Sundays is paid double, so some restaurants don't open that day and there is less on offer than during the rest of the week. To be sure of finding a table, remember to make a reservation.
Natura – €€€
Natura is my favourite! You can enjoy local and modern cuisine at a very reasonable price for an establishment of this quality. The 4-course menu + amuse-bouche costs €49.
Awarded a Michelin Green Star, Natura uses local produce sourced from less than 50 km away or harvested from their own garden. A must try!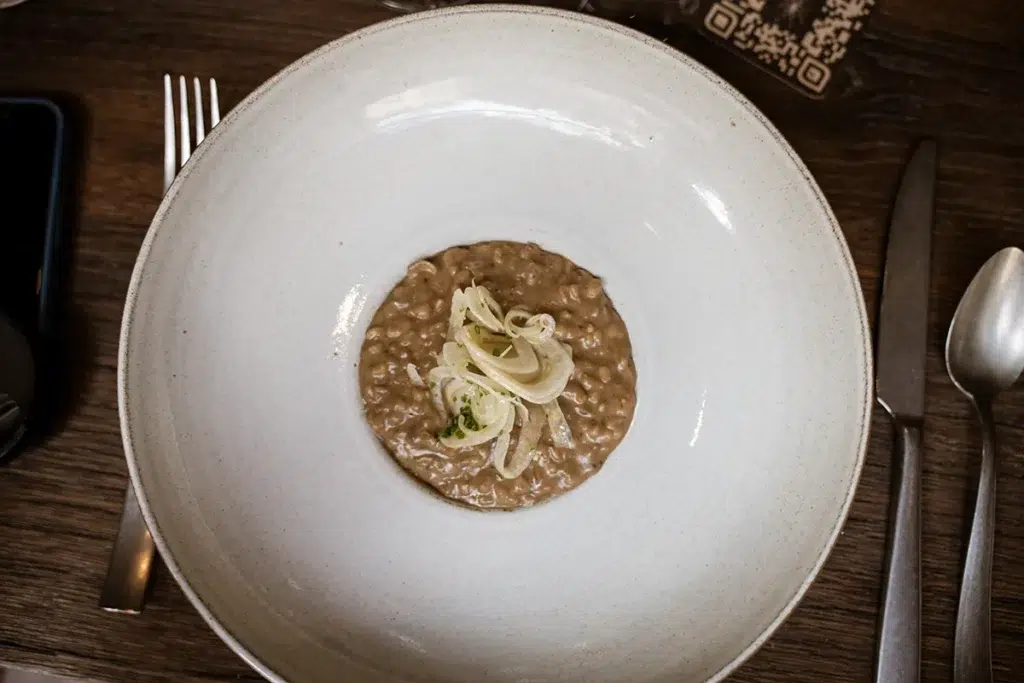 Iso Roobertinkatu 11
Du mercredi au dimanche 17:00 – 00:00
https://www.restaurantnatura.com/
Nolla – €€€
In Finnish, Nolla means 'zero'. The restaurant is totally committed to a zero waste approach, with its own compost bin and microbrewery. Nolla even goes so far as to make its employees' aprons from old sheets!
When it comes to food, all the ingredients come from local producers or are products not used by neighbours. This approach has earned Nolla a green star in the Michelin guide.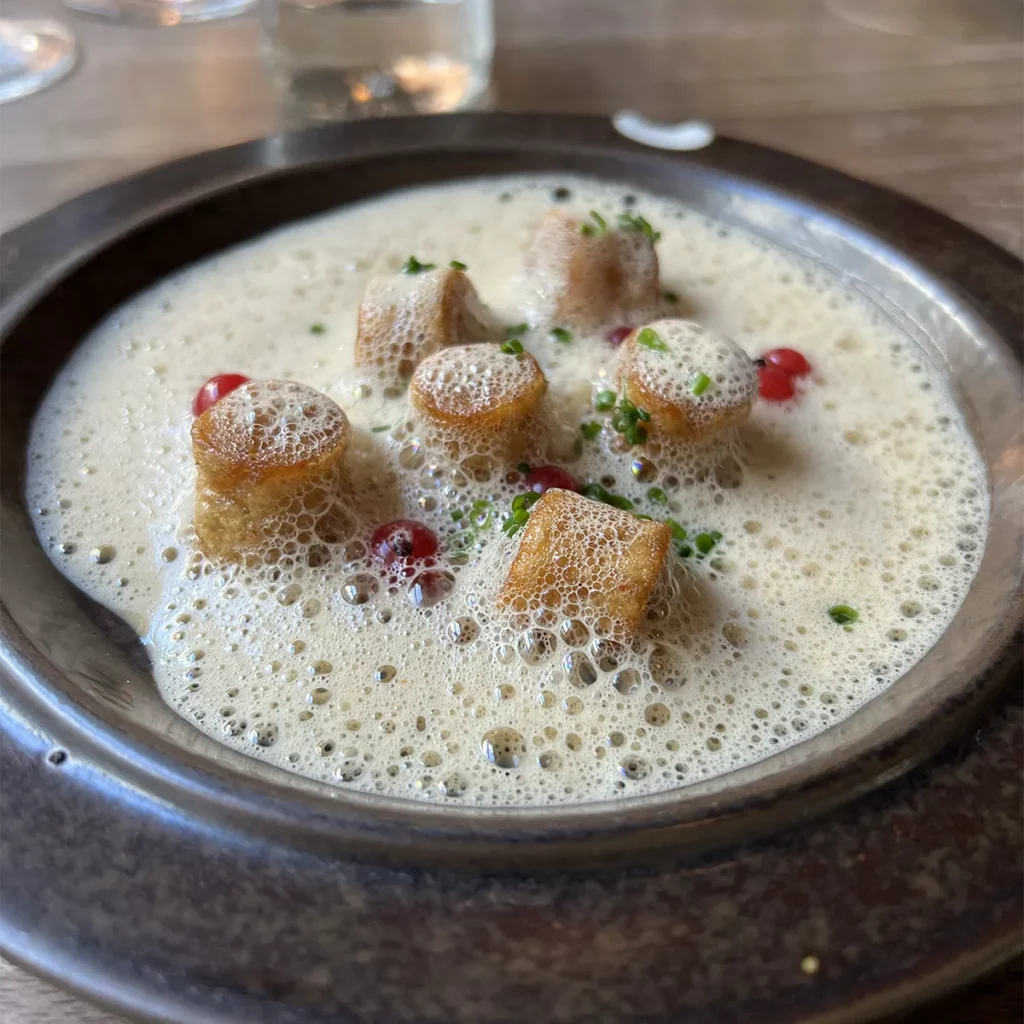 Fredrikinkatu 22
Tuesday to Thursday 17:00 – 23:00
Friday and Saturday 17:00 – 00:00
https://www.restaurantnolla.com/
Responsible gastronomy
The city of Helsinki has 3 restaurants that have been awarded a Michelin Green Star, which promotes exemplary examples of eco-responsible gastronomy.
By comparison, Paris has only 5, despite having 4 times the population.
Café Java – €
Right in the centre of town, a stone's throw from Amos Rex, Café Java is a brasserie serving sandwiches, salads and soups, ideal for a quick bite between two visits.
Try the salmon and potato soup, a typical Finnish dish available here for around twelve euros.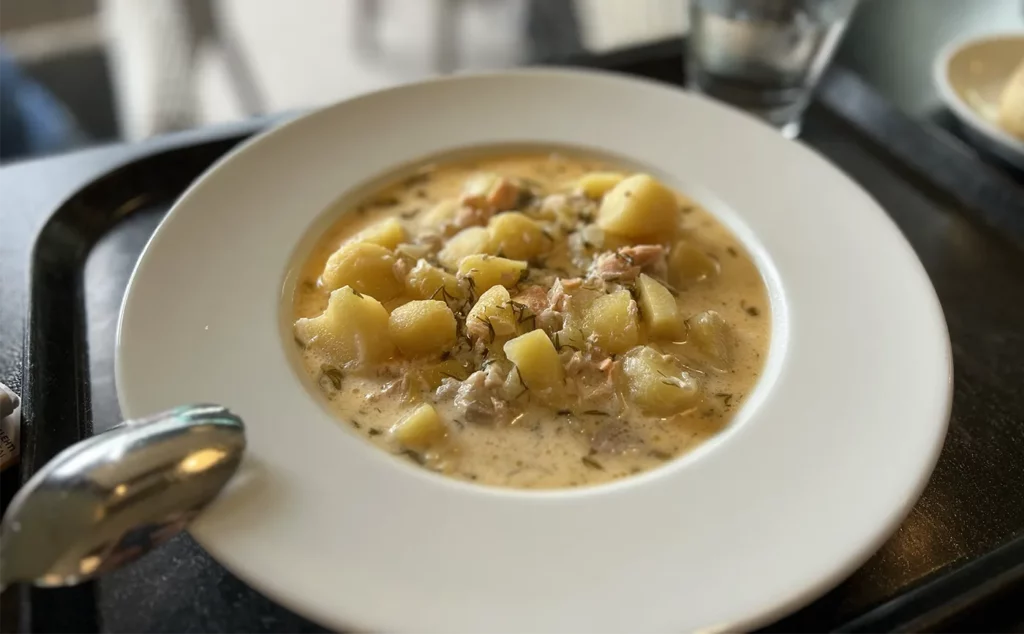 Mannerheimintie 22
Every day except Sunday, 9am to 9pm
https://www.cafejava.fi/
Oodi Library cafeteria – €
The town's library is also a lively place with a cafeteria. At lunchtime, you can enjoy a buffet lunch for around twelve euros, including coffee!
Töölönlahdenkatu 4
Monday to Friday, 08:00 to 21:00
Saturday from 10:00 to 20:00
Sunday from 12:00 to 17:00
The Old Market Hall (Vanha Kauppahalli) – €€
Under the Old Market Hall, you'll find a wide range of food shops. At mealtimes, it's a bustling place with a warm atmosphere. Here you'll find both traditional dishes and world cuisine.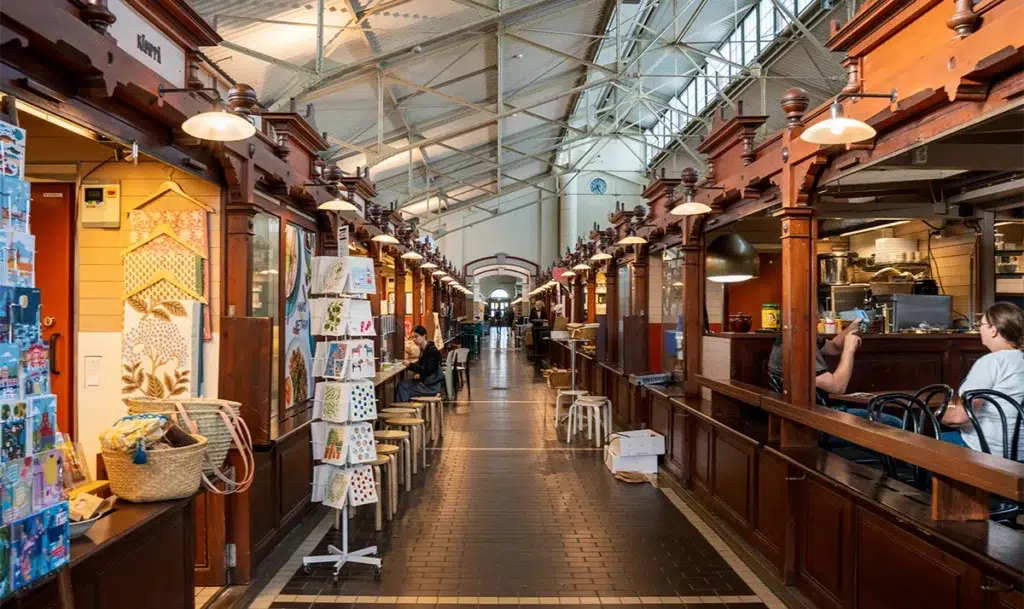 Eteläranta
Monday to Saturday 08:00 to 18:00
Sunday from 10:00 to 17:00
Lappi Restaurant – €€€
For a chalet-style dining experience right in the centre of Helsinki, the Lappi restaurant offers traditional Finnish cuisine in a cosy setting with log walls.
This atmosphere comes at a price (you'll be hard pressed to find a dish for less than €25), but it does give you the chance to sample traditional dishes such as reindeer schnitzel.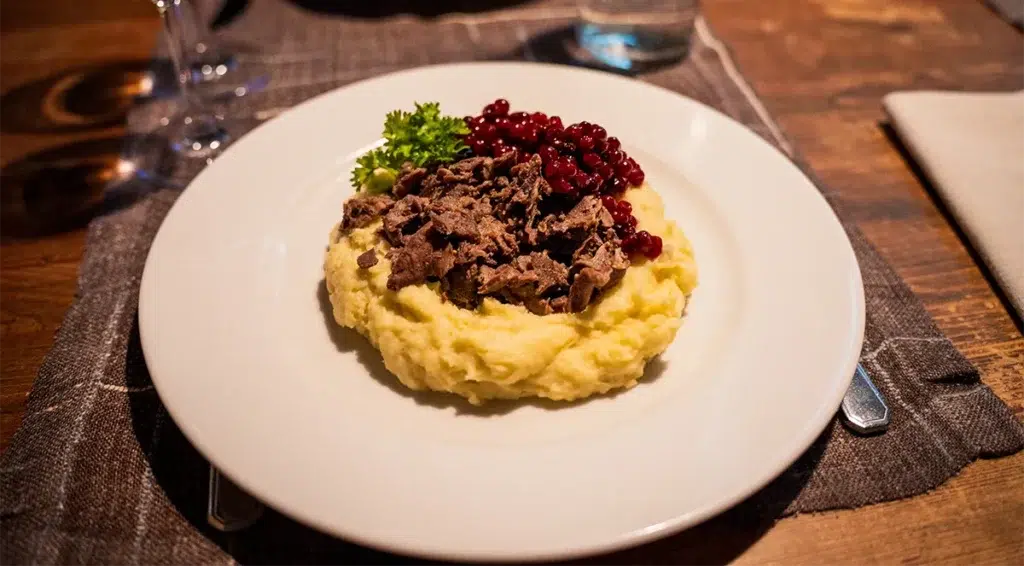 Annankatu 22
Du lundi au samedi, de 16:00 à 22:00
https://lappires.com/en/
---
Interactive map
Find all the addresses mentioned in this article on this map. Use the menu on the right to filter the points of interest.
---
Around Helsinki: extend your stay
If you have the time, Helsinki is a great starting point for exploring the Lake District. If you hire a car, it only takes 4 hours to get there and immerse yourself in a very natural environment.
You can also cross the Baltic Sea to Tallinn, the capital of Estonia, in a 3-hour boat trip, or take a ten-hour cruise to Stockholm in Sweden.
---
Many thanks to Visit Finland, Helsinki Partners and the PR Boutique for their invitation.