With more than 188 000 lakes, Finland is a country where the water is never far away. Principally concentrated in the zone orientale du pays, la région des lacs de Finlande is a perfect destination to find le calme, la quiétude et se reconnecter à la nature en adopt l'art de vivre Finlandais.
Comment préparer un séjour dans la région des lacs de Finlande ? Où se loger ? Quelles sont les visites incontournables ? Toutes les informations sont dans ce guide de voyage !
Planning a trip to Finland's Lakeland region

How long will you be there?
Ideally at least a week. It's a soothing region, so it's best to take your time, punctuating your days with outings in the forest and by boat, rather than rushing around.
Who's it for?
For everyone! As long as you love peace and quiet and nature.
How do you get there and get around?
It's difficult to discover this region by public transport, so a car is almost essential if you want to be completely free. You can hire a car from Helsinki, and it then takes around 3 hours to drive to the Lakeland region.
What language should I use to communicate?
Finland has two official languages: Finnish and Swedish. However, most tourist operators (hotels, restaurants, etc.) speak English.
When should you go?
Winter and summer are two venues, two atmospheres: frozen lakes and snow in winter; mild, sunny weather in summer. Each season has its own charms, so the choice is yours! But if you opt for winter, beware of driving on icy roads, and make sure you're well covered up.
Are there mosquitoes?
By the lakes, you can expect to be swarmed by mosquitoes! In August, I wasn't really bothered, but it seems that mosquitoes are more prevalent in June-July. So it's a good idea to take mosquito repellent at this time of year!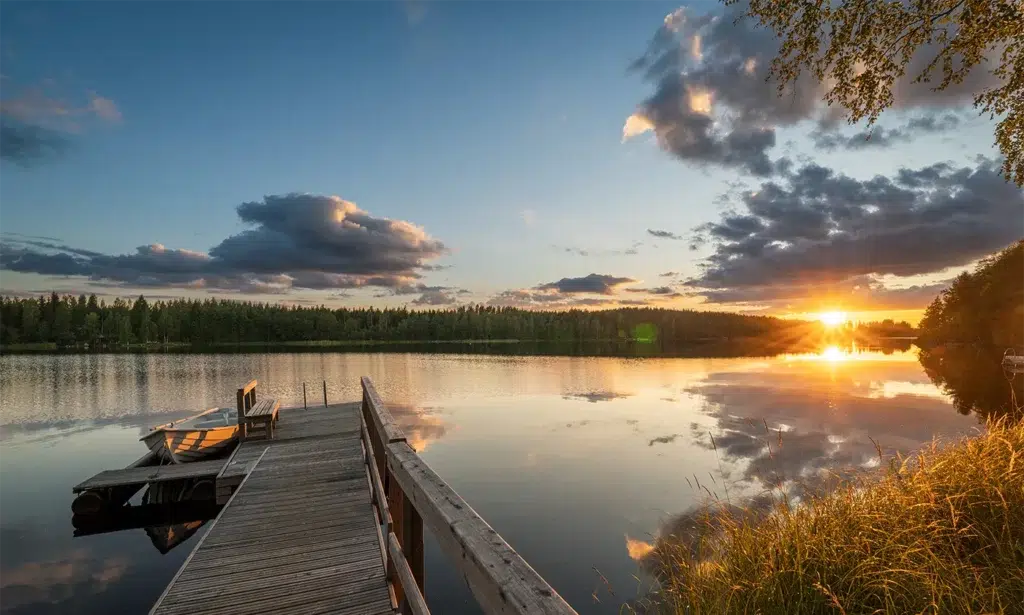 How much does a stay cost? What is the cost of living?
Accommodation: of course, it all depends on the level of comfort you expect, but accommodation will be your main expense, especially if you're looking for a lake view. Expect to pay at least €150 a night for a simple lakeside chalet, and up to €500 for a villa where 6 or 8 people can stay – ideal for a holiday with family or a group of friends.
Activities: you can cut costs considerably by sticking to forest or lakeside walks. On the other hand, you'll have to shell out a little cash for a boat trip, which often costs around €80 for a 3-hour ride.
Food: the region is not as expensive as Lapland or other northern European countries. Restaurant prices are similar to those in Paris/London. What's more, you can easily save money by preparing picnics, which are very pleasant on a lakeside!
Car hire: this will depend on how far ahead you are and the options you choose (size of car / insurance, etc.), but you should expect to pay around €600 for a week.
---
What should you visit in Finland's Lakeland region?
Lakeland is a vast area with plenty to do. It's impossible to list them all, so here are a few suggestions for visits and good addresses for an itinerary built around the towns of Savonlinna, Oravi, Mikkeli and Lahti.

Saimaa, Finland's largest lake
With a surface area of almost 1,400 km2, Lake Saimaa is the largest in Finland and the fourth largest in Europe. It contains more than 3,500 islands! Most of the activities listed below take place around this immense lake.
Savonlinna and its castle
Savonlinna is a small port town best known for Olavinlinna ("Olaf's fortress"), its castle, which has the distinction of being the most northerly medieval castle in the world!
It was built to protect the border and control the waterways in a strategic location surrounded by water, where the current is strong enough to prevent this part of the lake from freezing over in winter and thus make any attack more difficult.
You can either take a self-guided tour of the castle or a guided tour, in English, which takes you up to the dungeon where you can enjoy a view of the surrounding area.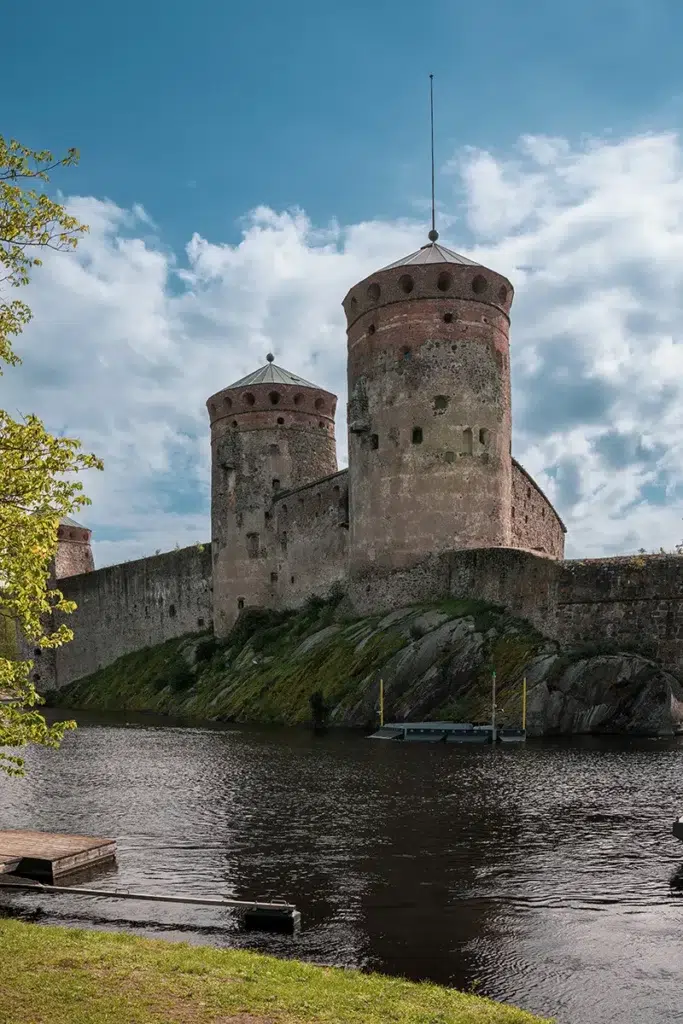 Address: Olavinlinna, FI-57130 Savonlinna
Tickets: €8, €4 for under-17s, free for under-7s
Where to stay around Savonlinna? Oravi Village villas
Oravi Village offers a wide range of water sports activities on the lake, as well as several accommodation options. If you're travelling with family or friends,the villas lining the lake are a haven of peace.
Inside you'll find all the equipment you'd expect to find in a house: fully equipped kitchen, washing machine, barbecue… and even a sauna! All that's left to do is put down your suitcases.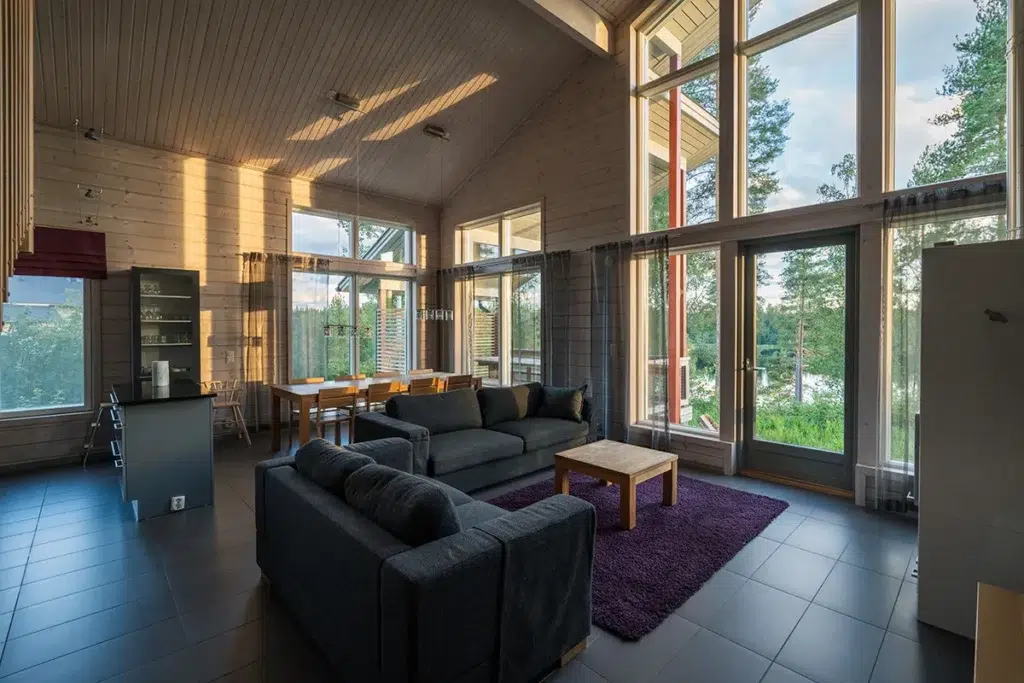 Facing the lake, you can easily go for a swim, take a canoe trip or simply admire the scenery. In fact, it was here that I witnessed the most beautiful sunset of my life!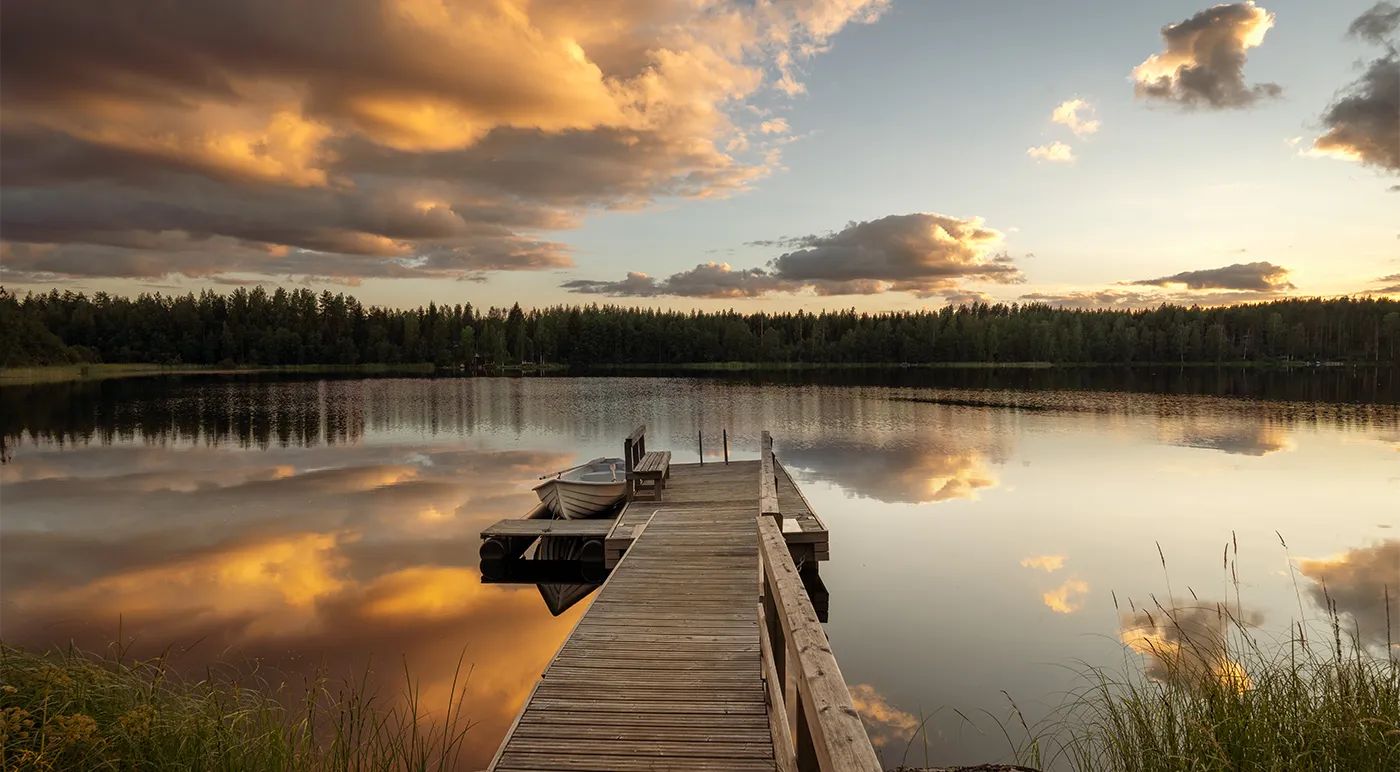 Go in search of Saimaa's ringed seals
Lake Saimaa is home to a species found nowhere else: the ringed seal, recognisable by its marbled fur.
This is a rare and endangered species, with around 400 recorded in the whole of the lake. Boat trips are available to observe them, but beware: this seal mainly comes out at the end of the day to go fishing and can stay underwater for 20 minutes. It is therefore difficult to see them and you need to be patient (and have a good pair of binoculars!) to try and spot them.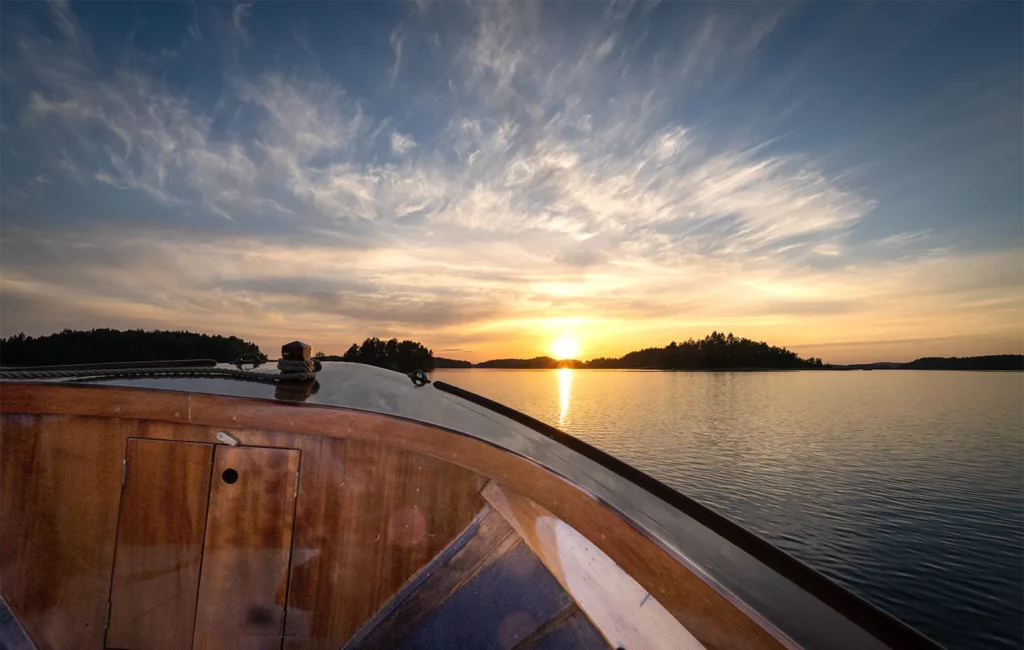 Where to stay? Järvisydän hotel / spa
On the lakeshore, the Järvisydän hotel-spa offers a wide range of unusual accommodation: lakeside suites, rooms in the forest or "cocoon" rooms in the shape of a bird's nest.
The concept is original, but unfortunately it's a very large holiday village with accommodation very close together, which greatly reduces the impression of immersion in the heart of nature.
However, if you're looking for a place with lots of activities, this is a convenient place to stay, as you'll find a spa, several restaurants, the chance to take walks in the forest or boat trips (it was from this hotel that I was able to go seal watching) and even tastings of local produce.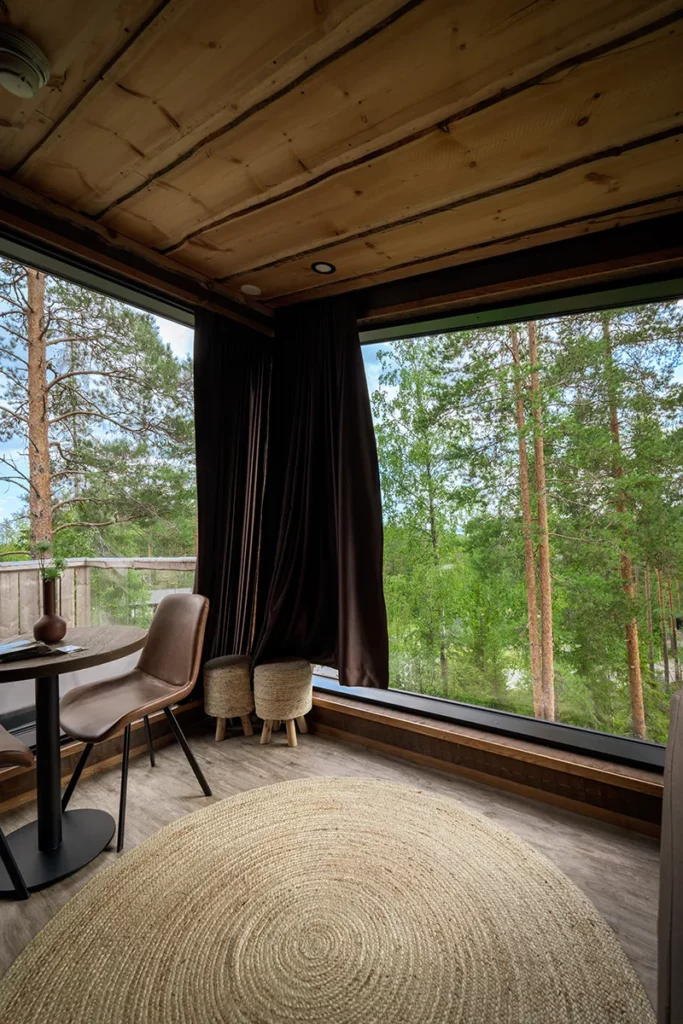 Mikkeli and the Muisti Centre for War and Peace
In Finnish, "muisti" means "memory and remembrance". This centre focuses on the war and its impact on society.
This modern museum explores Finland's role in the Second World War, and provides a fascinating insight into the country's history and its relations with its neighbours.
Interactive features bring the visit to life. You can listen to eyewitness accounts or enter a virtual reality module that lets you feel like a soldier at the front.
Address: Ristimäenkatu 4, 50100 Mikkeli
Admission: adults €18; 12-17 year olds and students €12; free for under-12s
Times: Every day except Sunday, from 10am to 5pm
Restaurant tip: Tertti Manor
Tertti Manor is both a farm and a restaurant. Here you can enjoy cuisine that follows the rhythm of the seasons, using raw materials produced locally, either in the farm's own garden or from farms in the surrounding area.
The restaurant has been run by the same family since the late 1800s and is particularly well-known in the region. You can enjoy traditional dishes in a setting typical of the region.
You can also stay at Tertti Manor, where 6 rooms are available for rent. It's an ideal place if you're looking for peace and quiet and greenery!
Address : Tertti – 50350 Mikkeli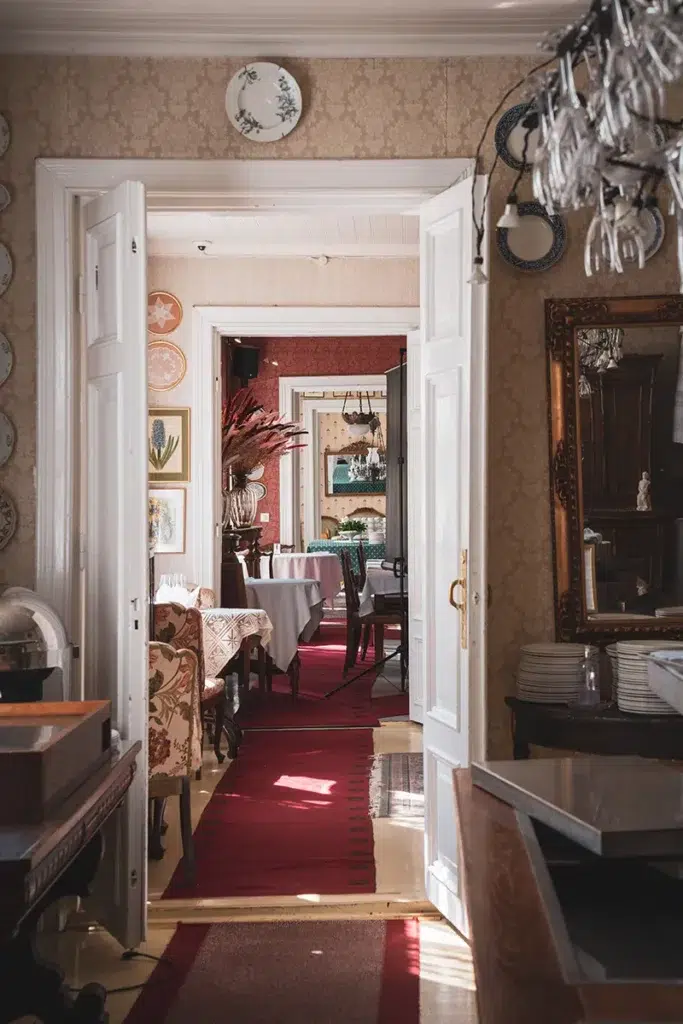 Beautiful nearby accommodation: Saimaanranta resort
Close to Mikkeli, Saimaanranta Resort offers a wide range of accommodation: hotel rooms, luxury flats and lakeside villas. It's a peaceful, well-designed place: the various accommodation options are spaced far enough apart not to be too close to your neighbours and still feel 'at home'.
The location is magnificent and the villas are particularly interesting when travelling with a family or a group of friends. They have several independent bedrooms, each with its own shower room, as well as a sauna, barbecue, large kitchen and lounge. Each villa also has its own private pontoon with access to the lake. A little corner of paradise you'll never want to leave!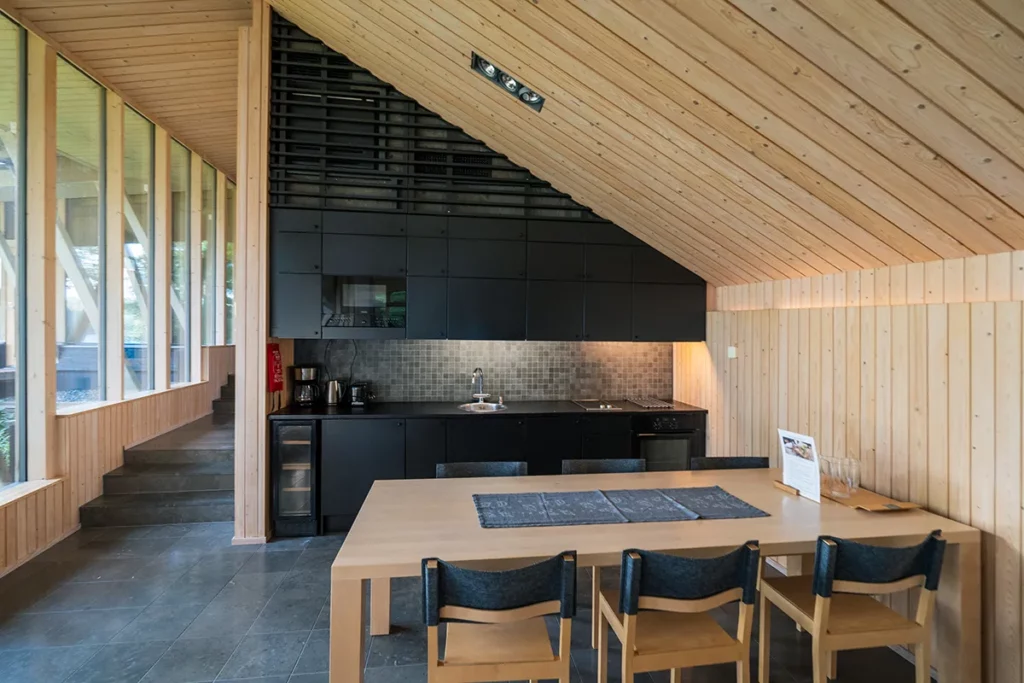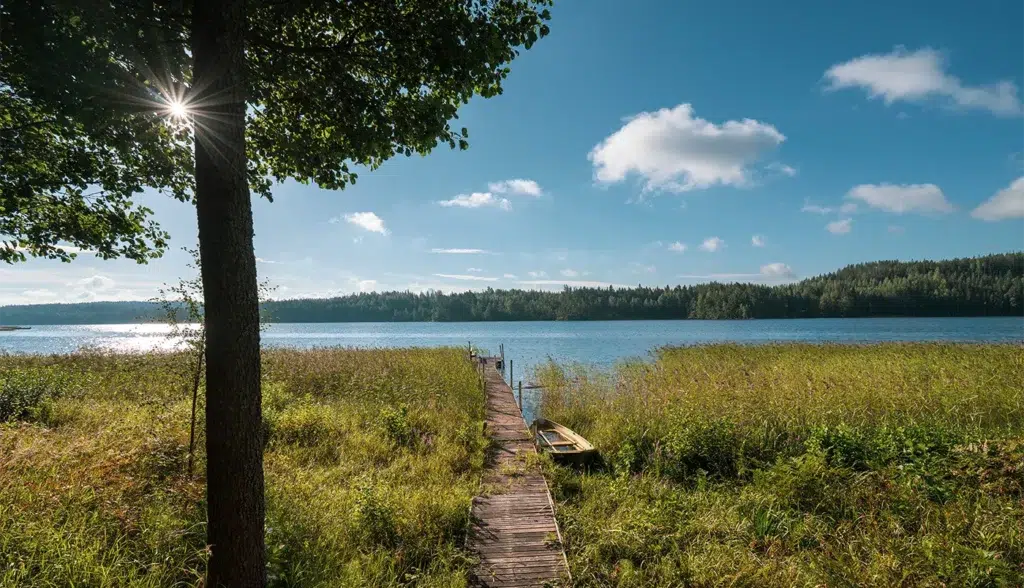 Discover the region's natural riches with Uhkua
Asta and Iikka from "Uhkua" offer a wide range of nature-related activities for an authentic experience off the beaten track.
With them, you can take a boat trip on the lake, learn how to pick and cook mushrooms or discover cave paintings while enjoying a delicious meal made from local ingredients.
Uhkua also offers a floating sauna on the lake and a floating bedroom for a guaranteed reconnection with nature!
Address: Suurlahdentie 3189, 52360 Someenjärvi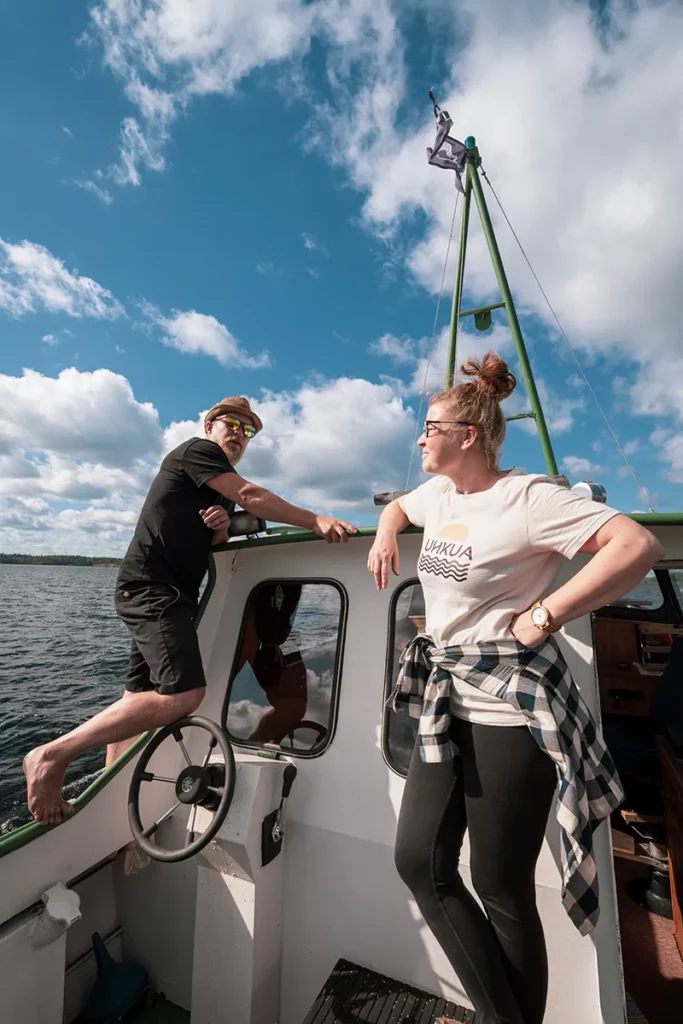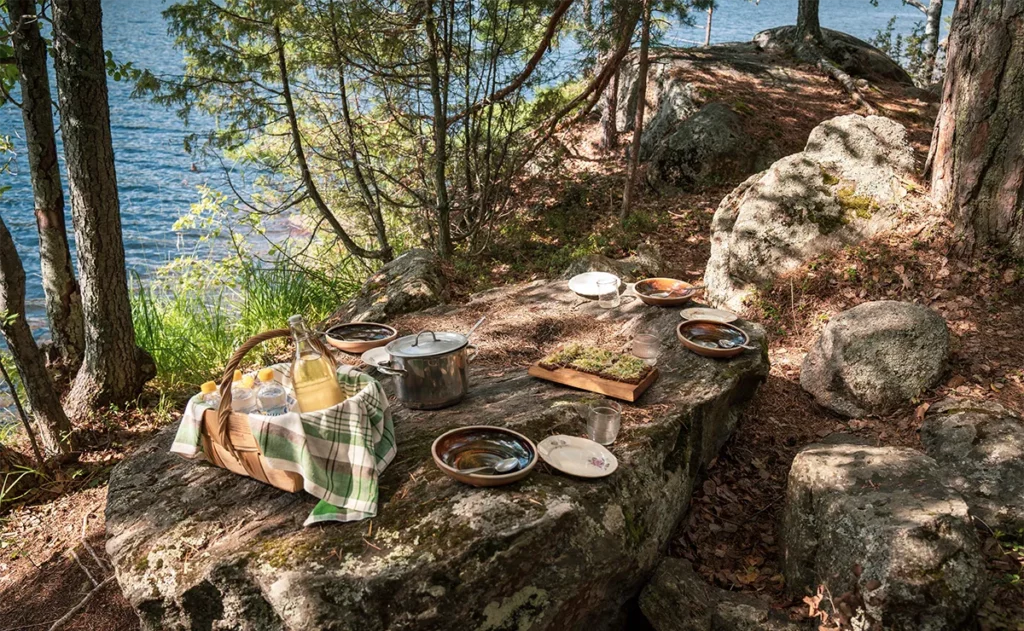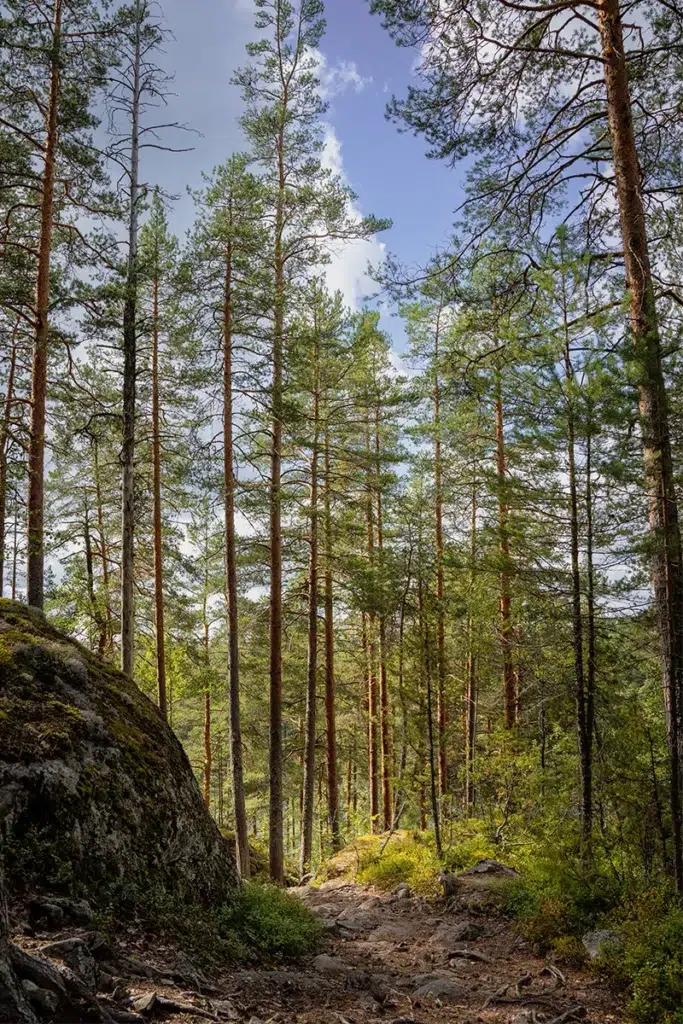 Pulkkila esker (Pulkkilanharju)
This 8-kilometre esker is a magnificent road lined with water and trees, but don't just drive along it: take the time to stop for a very natural walk with beautiful scenery in store.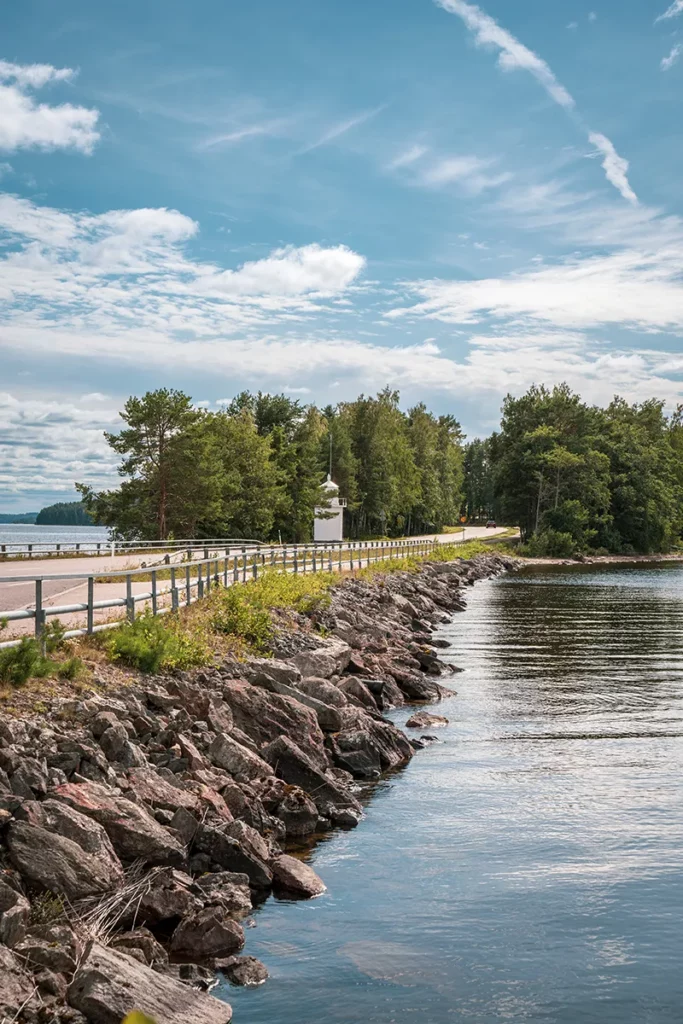 Lahti, the green city
A former industrial town, Lahti is becoming an example of ecological transition, so much so that in 2021 it was elected "European Green Capital". Lahti is also aiming for carbon neutrality by 2035.
In this town, you can take a stroll by the lake or go for a walk in the forest right in the centre!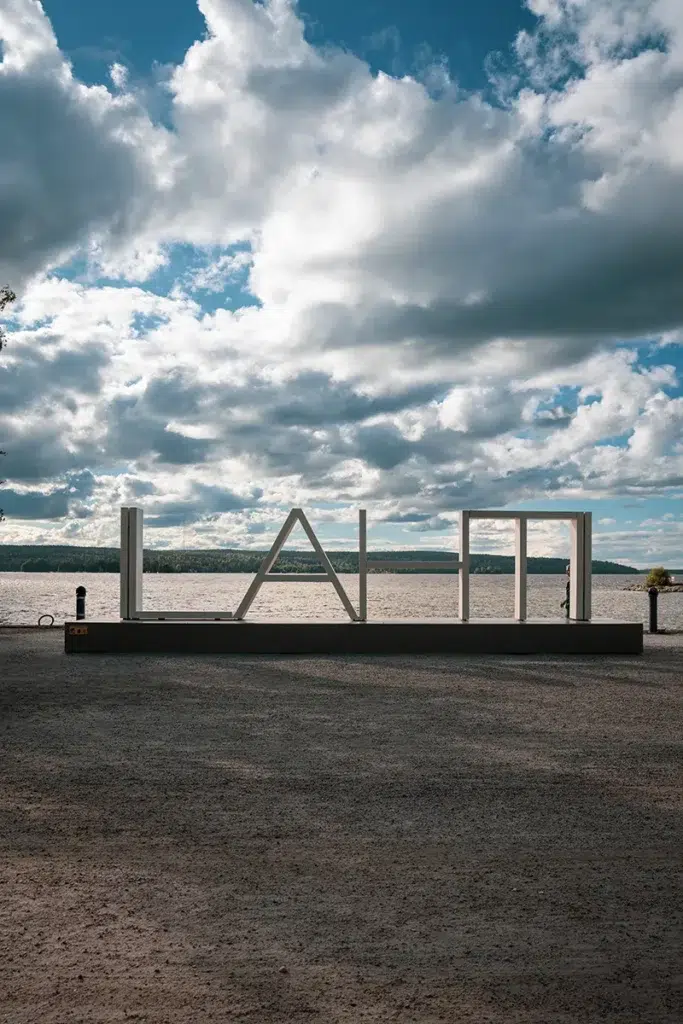 The best accommodation deal: a lakeside chalet just 5 minutes from the city
On the shores of Lake Alasenjärvi, a 5-minute drive from Lahti, Antinkallio Lakeside Cape is a haven of peace. It's small but cute, with all the necessary equipment: barbecue, fridge, small kitchen and even a sauna!
This chalet is especially nice for enjoying the outdoors. The bedroom is very small. It's a lovely haven of peace, but especially for fine weather.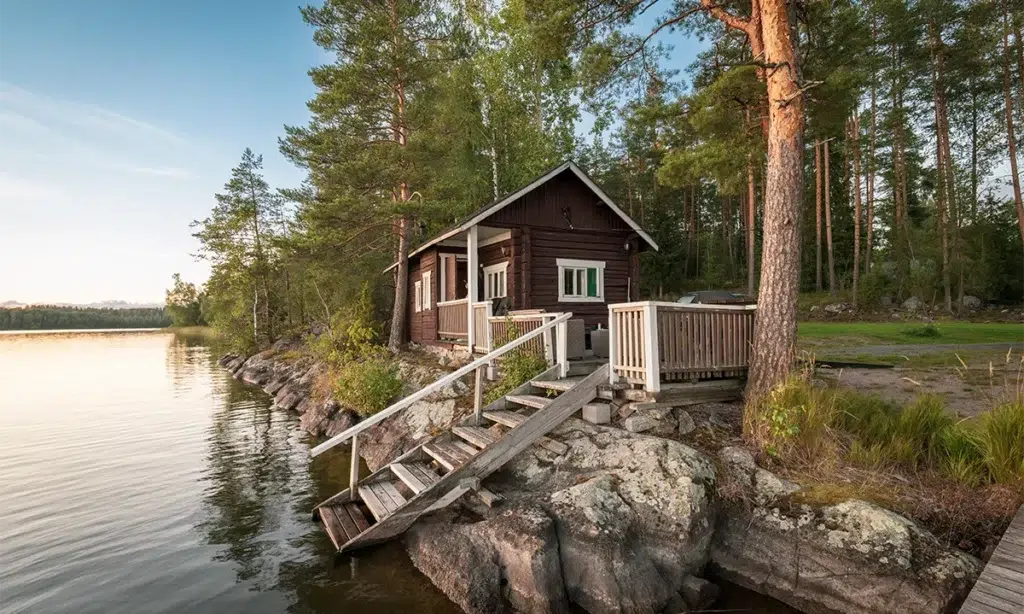 ---
Interactive map
Find all the addresses mentioned in this article on this map. Use the menu on the right to filter the points of interest.
---
Extend your stay
In the south of Finland, don't miss the city of Helsinki, the country's capital.
Renowned for its scenic beauty, art of living and architecture, Helsinki is one of Europe's most beautiful cities.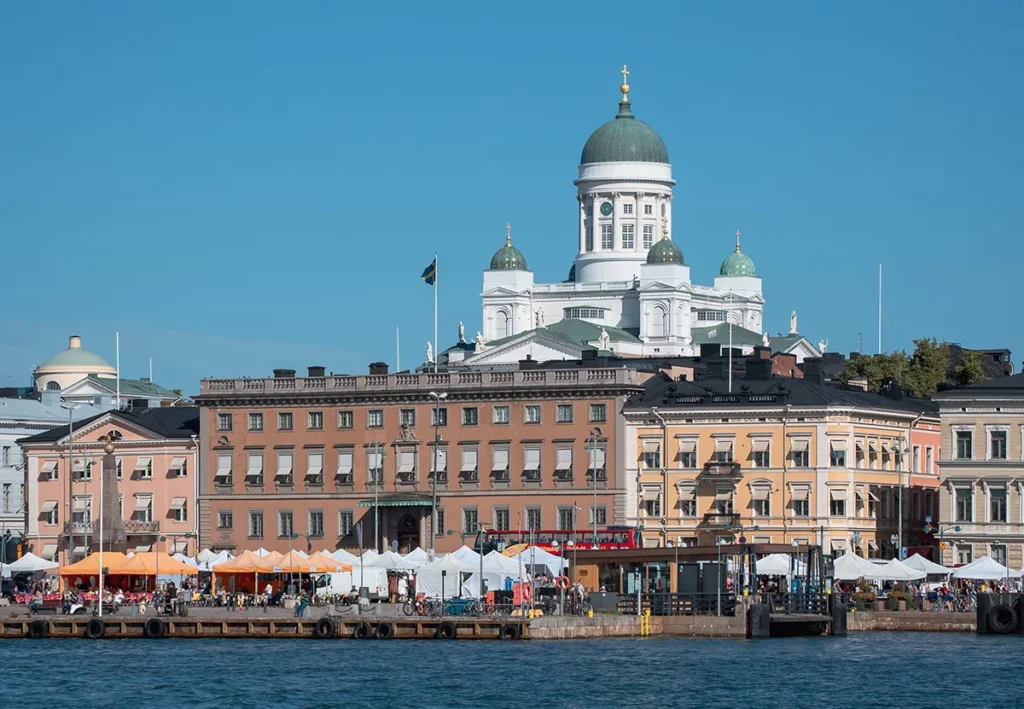 ---
Many thanks to Visit Finland, Visit Saimaa and Boutique RP for their invitation.