In this period when you have to stay at home, I propose a series of interviews with cultural professionals. An opportunity to find out more about their jobs, the institutions in which they work, but also about the measures they deploy to maintain a link with the public despite the confinement.
Today, it is Elise Lafages, who is in charge of digital communication at the Dijon Opera, who has agreed to take part in the game of the confinement interview! What are her days like in this unusual context? And how do you manage the communication of an Opera when the shows are at a standstill? Elise presents us the many tools set up by the Opera to continue to promote this art through the internet.
---
Can you introduce yourself, tell us about your background and your position?
My name is Elise, I am attached to the digital communication of the Dijon Opera House.
I did two years of Hypokhâgne, Khâgne, then a bachelor's degree in History (Sorbonne) and Information and Communication (Assas). In the second year of my Master's degree, I specialized in digital communication, alternating at the Centre des monuments nationaux. I also had the opportunity to work in an agency, at Dream On, and in Brussels, at Opera Europa for OperaVision.
My typical day? I open a thousand tabs on the internet, I switch from one social network to another and multiply the to do list! I do a lot of research and I'm constantly researching and documenting myself, because content creation is at the heart of my job. I think that social networks are a form of digital mediation. Opera is stories, anecdotes, know-how… There is so much to share!
I'm also often on the set of the Auditorium*, taking pictures of the backstage, that's the magic side of my work. I'm immersed in the world and I exchange with the artists, the technical teams… I love meeting all these different profiles and sharing my curiosity on our social networks.
*The Dijon Opera House has two stages: an Auditorium with one of the most beautiful acoustics in Europe and a Grand Theatre with an Italian-style auditorium dating from 1828.
Since the lockdown, how have you been organizing? How are your days going?
Laurent Joyeux, the general and artistic director of the Dijon Opera, has set up an online programme: "The Dijon Opera invites you home!". We offer online broadcasts of operas and concerts, treasure hunts, Tutoperas for children, operations for mobilized audiences, young people and residents in EPHAD …
So I have to be more creative to communicate on social networks about these events and activities. I build threads on Beethoven, Monteverdi, the story of the first opera, quizzes on Instagram about Beethoven, I tell the legend of Orpheus… All this to keep a link with our audience and offer them a playful approach to the productions we broadcast.
In the end, my days don't change much from what I usually do. It's more intense, and the big difference is that I don't go down to the set anymore… I must say that I miss that, and I miss the connection with my colleagues!
What's your office at the Dijon Opera House look like? And your containment office?
I don't have a picture of my office at the Dijon Opera… So here's a picture of the set, because I consider it to be a bit of my office!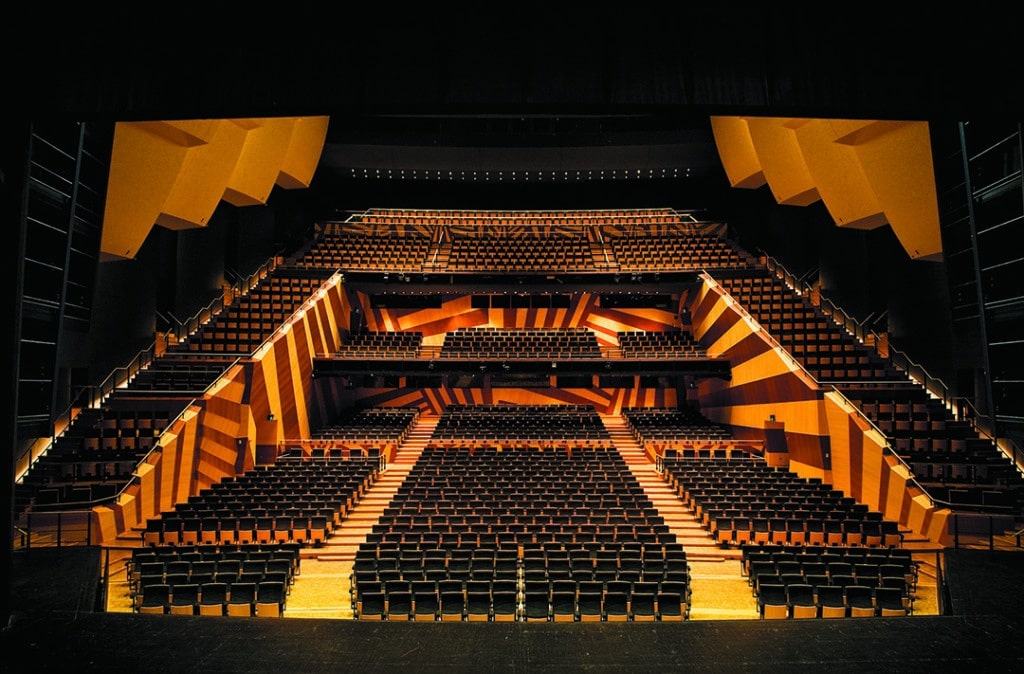 Since the lockdown, I've moved into my room! I'm lucky, the room is bright and I'm well-equipped.
What advice do you have for Internet users who would like to keep a link with the Dijon Opera while staying at home?
I'll meet you on Tuesday evenings, Thursday evenings and Saturday evenings for musical evenings! Beethoven symphonies, baroque or contemporary operas, there is something for everyone. And on social networks, of course, to discover the works and composers and be ready to watch our broadcasts. This week, on the occasion of Easter, we also launched an opera version of our Easter Easter Easter Egg Hunt on the website of our digital library, OperaBack. I challenge you to solve our riddles, thought up with Opera Playwright Stephen Sazio! All of this is sitting comfortably on his sofa (or his deckchair, depending on what you're looking for). And it's free!
Which work do you recommend to those who want to learn about opera?
It's hard to choose! Since I have a weakness for dance, I recommend Rameau's opera "Les Boréades". Barrie Kosky's staging combines opera and dance. It is the last work composed by Rameau in the mid-18th century. The composer was never able to attend the performances because he died after composing it. It took 250 years (1982) for the work to be revived! The production we are presenting was elected by the critics as the Best European Co-production 2019.
I've never seen it, I wasn't in Dijon at the time. I can't wait!
---
Many thanks to Elise for her confidence!