If I tell you Tchaikovsky, you probably think of some of his masterpieces like The Nutcracker (1892) or Swan Lake (1877). But how well do you know this composer?
Here are 7 anecdotes about Pyotr Ilyich Tchaikovsky (1840 – 1893), one of the greatest Russian composers.
Article produced in partnership with La Seine Musicale
Decipher Tchaikovsky's ballets during an educational concert
In Tchaikovsky's works, dance holds an essential place. The composer of Swan Lake, one of the world's most performed works, often created his works in response to personal events, so it's no coincidence that his creations touch us so deeply.
So how did Tchaikovsky manage to strike a chord with us? On Saturday, January 21 at 6pm, at La Seine Musicale, conductor Mathieu Herzog and his orchestra Appassionato, will offer you a didactic concert where you will learn to decipher the work of the composer with the help of examples.
Also present on stage, the dancers of the Paris Opera Léonore Baulac and Guillaume Diop, will give body to certain pieces.
Leave your prejudices about classical music behind and learn to decipher Tchaikovsky's work in this original 1 hour and 15 minute concert to be enjoyed just before the aperitif!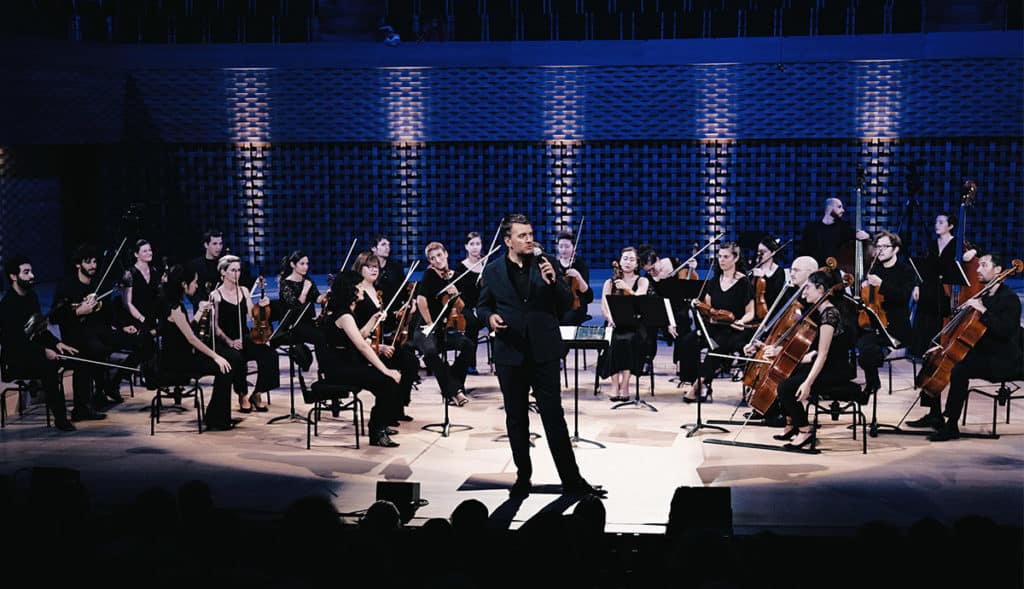 Tchaikovsky was a gifted child
The least we can say is that young Pyotr Tchaikovsky was very talented! When he was only four years old, he attended the lessons of his brothers and sisters so that at the age of six, he could already speak French and German, in addition to Russian, his mother tongue.
As for music, he started learning the piano at the age of five. It took him only three years to be able to read music perfectly.

He fully embraced music after his mother's death
In June 1854, Tchaikovsky's mother, who had always encouraged his musical practice, died of cholera. Deeply affected by this loss, Tchaikovsky found solace in music and began to compose.
One of his teachers thought that he had no future in music
It was Tchaikovsky's father who financed his musical studies. He called upon a well-known piano teacher, Rudolph Kündinger. Although Kündinger recognized that Tchaikovsky had a good ear for music and a good memory, he did not see in him the makings of a good composer or performer and was far from imagining that he would become a great name in music.
His marriage lasted only 2 months

Tchaikovsky was homosexual but, in the puritanical society of the time, he decided to marry in order to ensure his social position. He married one of his former students, Antonina Miloukova, in July 1877, but the marriage soon failed. His wife was so unbearable that Tchaikovsky tried to commit suicide two months later. Finally, in September of the same year, he used an appointment in Saint Petersburg as an excuse to leave her and never see her again.
He had a strange relationship with a wealthy and music-loving widow
In 1876, Baroness Nadezhda von Meck, a wealthy widow and great lover of Tchaikovsky, began a letter-writing relationship with him and paid him a pension of 6,000 rubles per year for thirteen years. Throughout these years, they exchanged some one thousand two hundred letters!
Shocked by the discovery of Tchaikovsky's homosexuality, the baroness put an end to their correspondence and to the pension she was paying him, officially claiming financial problems.

At its premiere, Swan Lake received a rather cold reception
In 1875, the Bolshoi Theatre commissioned her first ballet, Swan Lake. Tchaikovsky jumped at the chance: he dreamed of trying his hand at this kind of music and the 5,000 ruble fee was not insignificant. But the composer worked without consulting the choreographer and the score proved too ambitious for the Bolshoi. The choreographer, overwhelmed, modified the score here and there, so that the first performance was far from perfect and did not correspond to what Tchaikovsky had wanted. Without being a failure, the public reception is rather cold. It would take twenty years for the ballet's plot to correspond to the music initially imagined by Tchaikovsky.
There is some doubt about the cause of his death
Tchaikovsky died on November 6, 1893, at the age of 53, but the lack of evidence on the diagnosis of his illness leaves a doubt on the cause of his death.
It is assumed that he died of cholera after drinking unsterilized water from the Neva River, but other hypotheses suggest that he committed suicide following a complaint against him concerning a homosexual affair that was considered scandalous.

---
Learn to decipher Tchaikovsky's work in a discovery concert at La Seine Musicale
If you think that classical music is not for you or that it is too uptight a genre, put aside your prejudices and let yourself be carried away by this pedagogical concert proposed at aperitif time to start the evening with friends or family, on Saturday January 21 at 6 pm.
During 1h15, Mathieu Herzog, the Appassionato orchestra as well as the dancers Léonore Baulac and Guillaume Diop from the Paris Opera, will reveal the secrets of Tchaikovsky's ballets.
On the program: excerpts from The Nutcracker, Swan Lake and Sleeping Beauty, performed in the auditorium of La Seine Musicale.
---
Article produced in partnership with La Seine Musicale