Why not spend a weekend in Chartres? Located just an hour from Paris, this city is the ideal destination for a change of scenery at low cost.
With its cathedral, its evening illuminations, its astonishing Maison Picassiette and its accrobranche course right in the heart of town, Chartres offers a wide range of activities for all ages.
What's there to do in Chartres? What are the best addresses and tips for exploring the city? All the answers in this travel guide!
Chartres in short
How do I get there? The train is the best option! From Paris (Montparnasse station) it takes just 1 hour, and there are many connections throughout the day. Expect to pay €18 one way.
When to go? Ideally between April and December, to take advantage of the Chartres en Lumière illuminations (more details later in this article).
Who's it for? All ages! It's a perfect destination for couples, but also works well with friends or family, adapting the activities to suit everyone's tastes.
How long to stay? Ideally 2 days and 2 nights, to get the most out of the city without rushing. You can extend your stay by exploring the rest of the Eure-et-Loir.
How do you get around? On foot! Chartres is a city on a human scale, so it's easy to explore on foot. The historic center is not very car-friendly, so it's best to leave your vehicle in the parking lot.
---
What to do in Chartres
Stroll around the city center
Chartres is a city full of charm. Take the time to stroll through the streets of the historic center to soak up its atmosphere. I particularly recommend going to the lower town for a pleasant stroll along the banks of the Eure.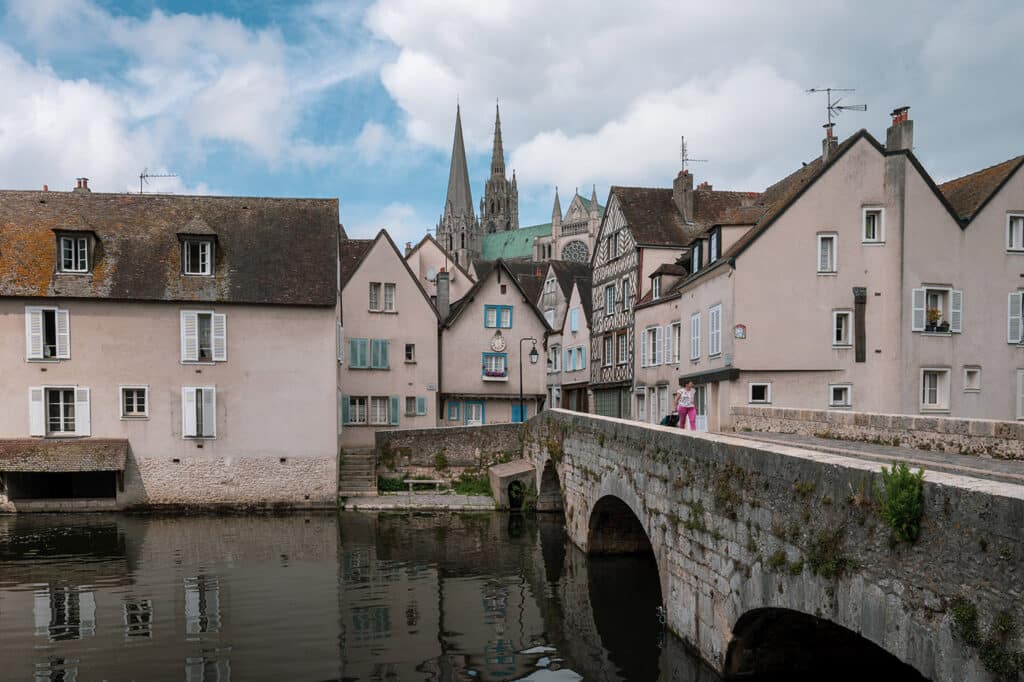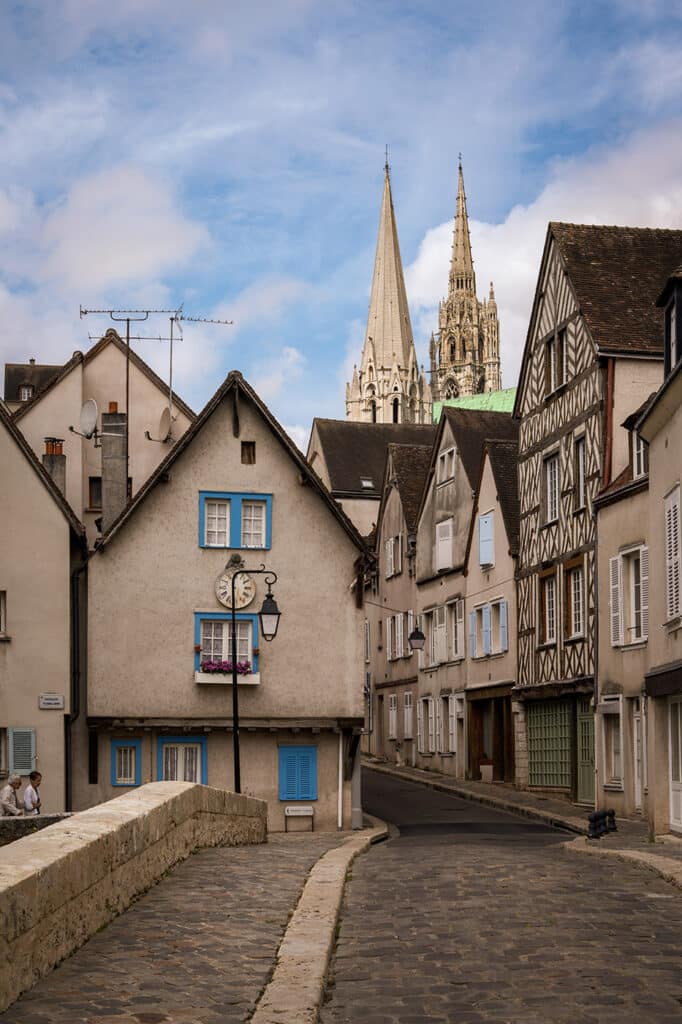 On Saturdays, you can also take a trip to the covered market, where the atmosphere is warm and welcoming.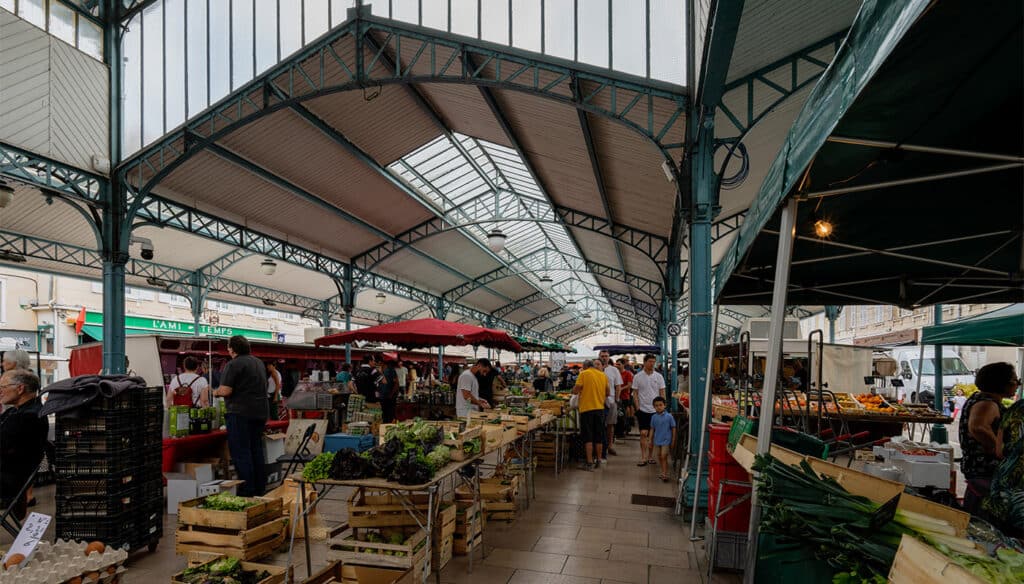 Visit the cathedral
You can't come to Chartres without visiting the cathedral! You won't want to miss it, as it dominates the city. Chartres Cathedral is so remarkable that it was one of the first French monuments to be listed as a UNESCO World Heritage Site.
Built in 1194, after the first building burned down, Chartres Cathedral was completed in just 26 years and is still in an excellent state of preservation. A masterpiece of Gothic art, it has had numerous influences on French and international architecture.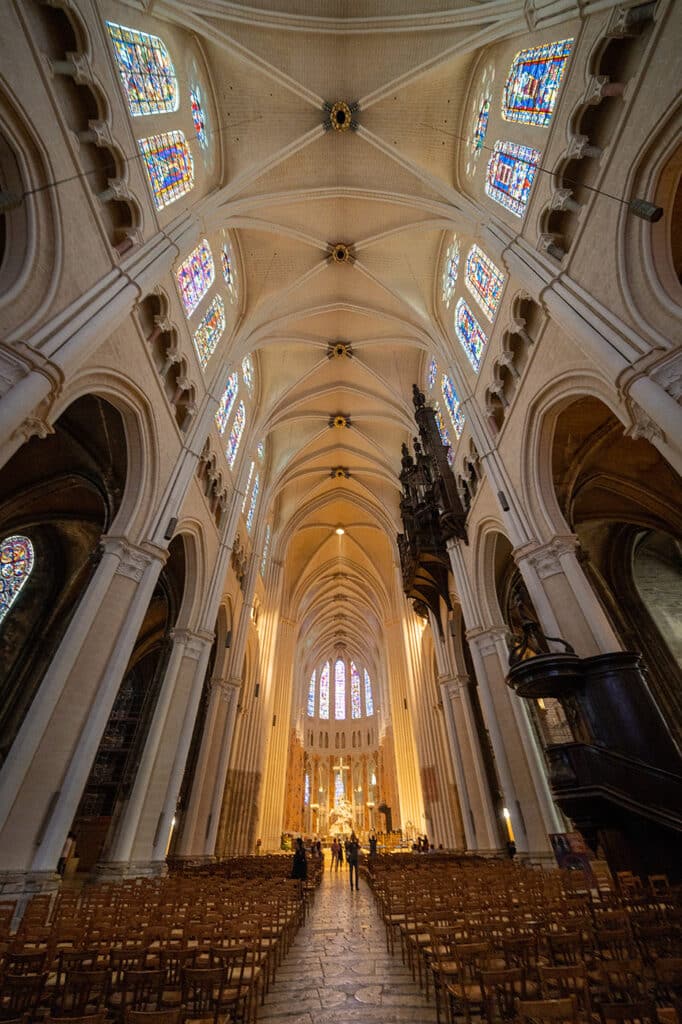 A must-see: focus on 3 must-sees
The cathedral's builders sought to make it tall and luminous, so 2,500 m2 of stained glass windows can be admired. Remarkably, 80% are still original, some of them particularly famous for their intense blue color, the famous "Chartres blue". Over 5,000 figures are depicted, including some 13th-century trade guilds.
In the nave, you'll probably notice a labyrinth-like design on the floor. If you were to unroll it, it would be 261 metres long! An invitation to meditation, it symbolizes human existence, sometimes long, winding and complex, but with beauty at the end!
A veritable lace of stone, the choir tower was built in the 16th century. 8 meters high and spanning 90 meters, it presents the story of the Virgin Mary and Christ.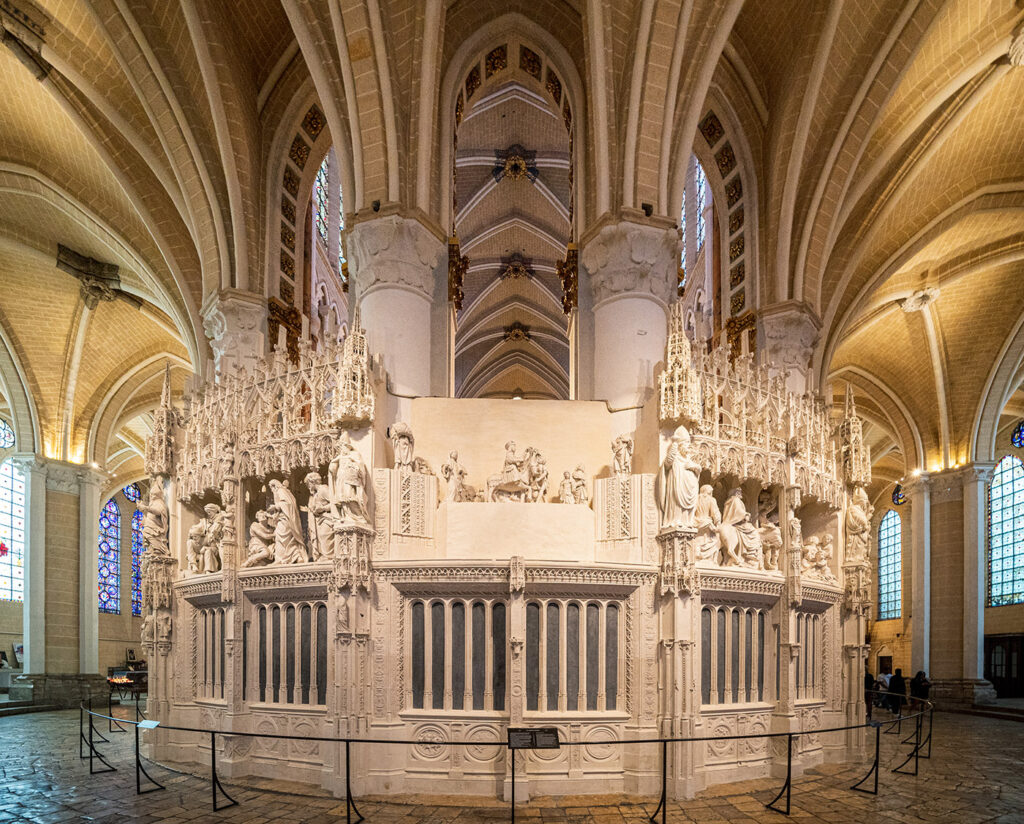 16 Notre Dame cloister
Free admission
Open daily from 8.30 a.m. to 7.30 p.m. and until 10 p.m. on Tuesdays, Fridays and Sundays in July and August.
Please note that many services are held in the cathedral. To discover the cathedral without disturbing the faithful, check the program for the day of your visit. https://www.cathedrale-chartres.org/agenda/
Bonus: explore the upper parts!
If you're not afraid of heights or stairs, why not explore the upper parts of the cathedral? You'll not only enjoy a magnificent panoramic view of the city, but also discover the metal framework built after the fire of 1836, which destroyed the original structure. Book your visit
Enter the Centre International du Vitrail
The Centre International du Vitrail is a complementary visit to the cathedral. An interpretation area explains the meaning of all the bays. You can also admire some 50 stained glass windows from the Renaissance period, as well as an exhibition space featuring contemporary creations.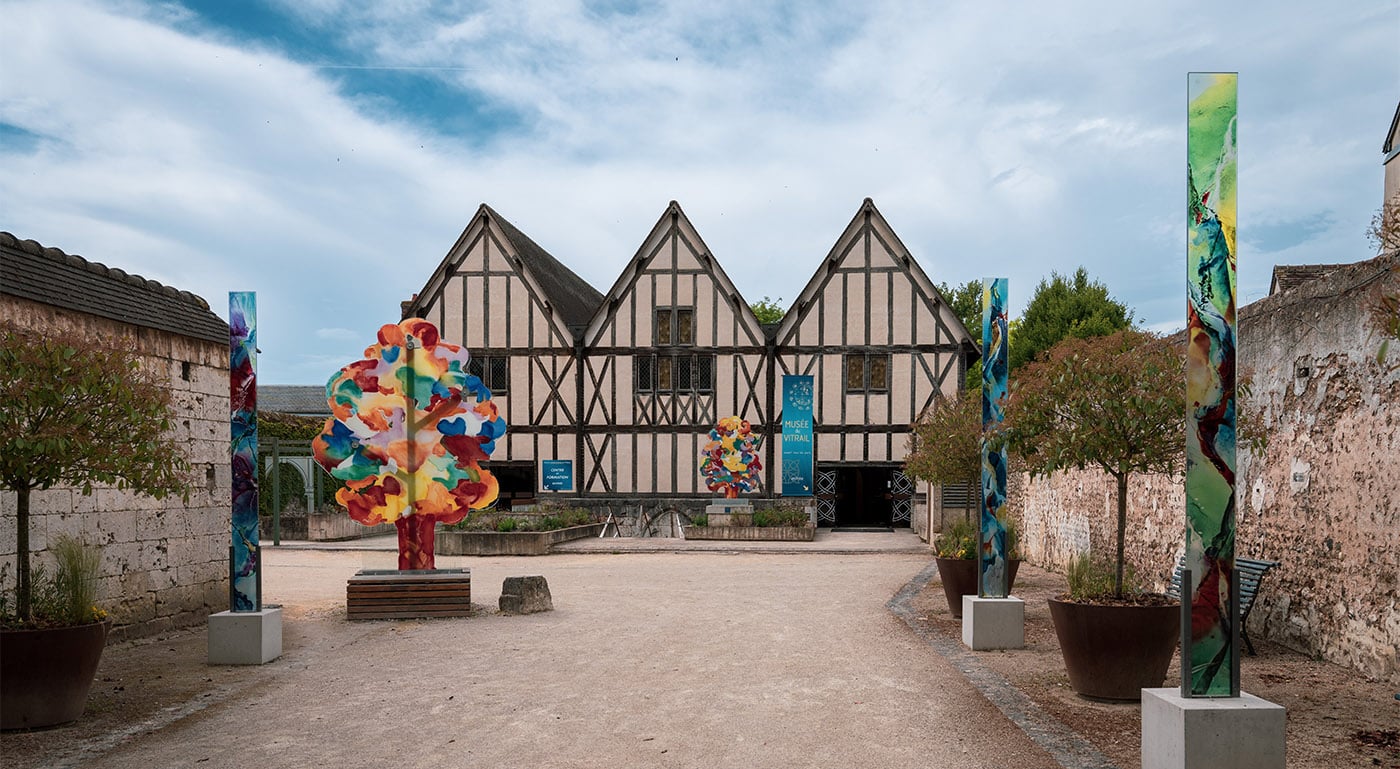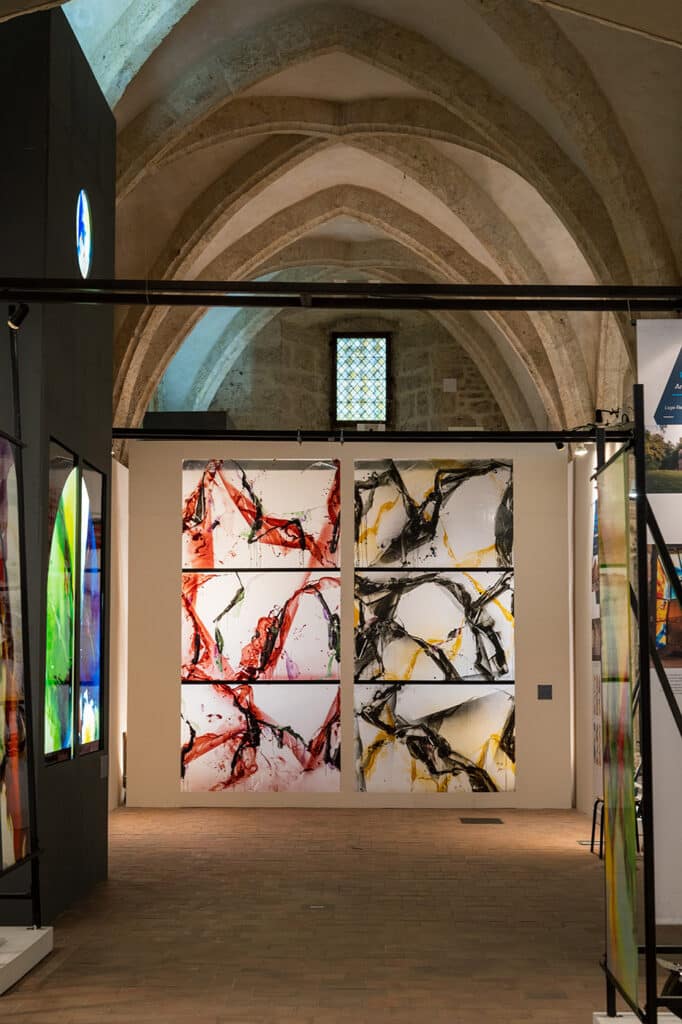 5 rue du Cardinal Pie
Monday to Friday, 10.15 a.m. to 12.15 p.m. and 2 p.m. to 5.30 p.m.
Saturdays and Sundays: 14h-17h30
Full price: €7 / Reduced price: €6
https://www.centre-vitrail.org/en/
See Chartres en Lumières
At nightfall, from mid-April to early January, Chartres lights up! Twenty or so buildings become screens for animated projections. It's an invitation to discover the city in a different way, by focusing on bridges, houses and the most emblematic monuments.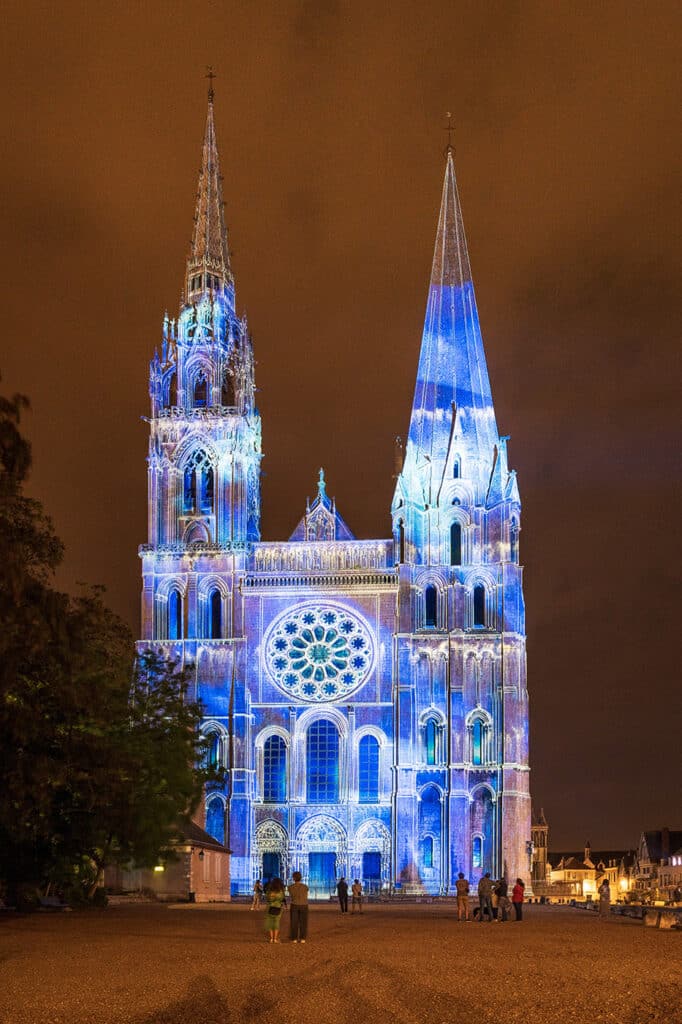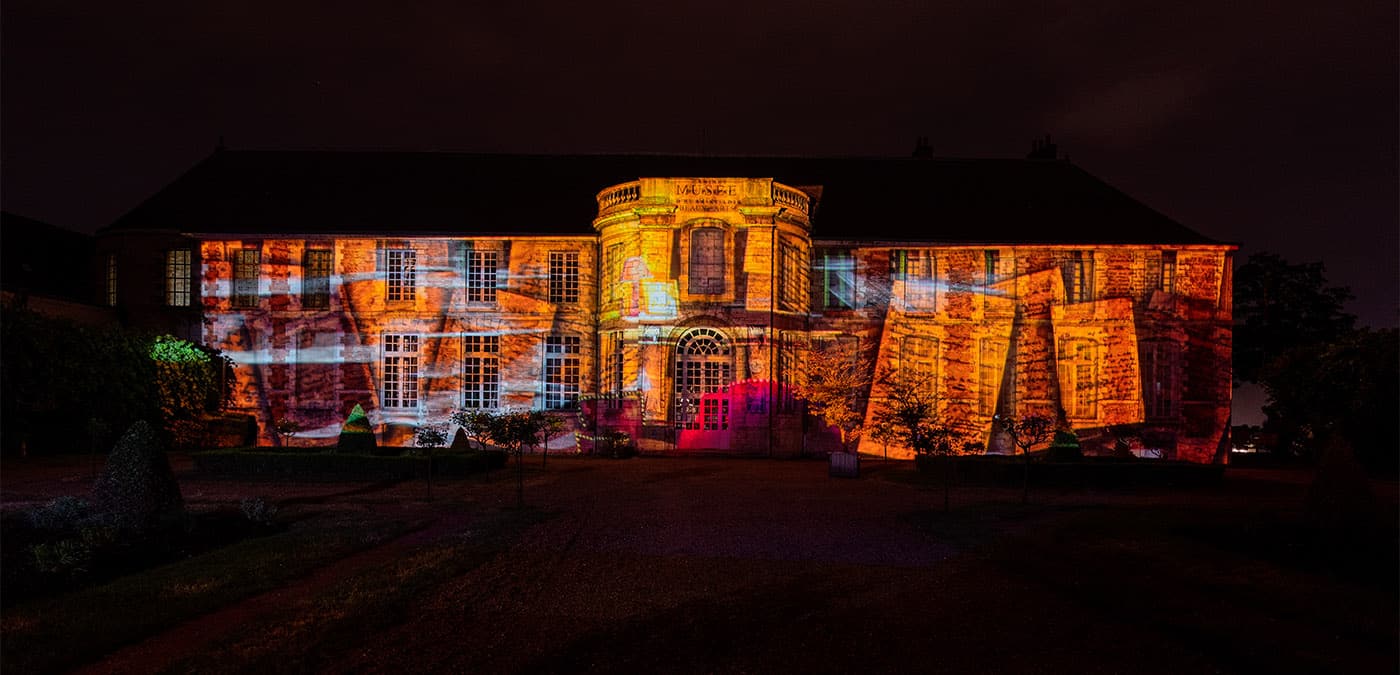 Visit the Maison Picassiette
Chartres' other must-see is the Maison Picassiette. A home decorated with an earthenware mosaic. This astonishing creation is the work of Raymond Isidore, who bought the land in 1929 for his wife Adrienne.
After building the house with his own hands in just one year, he embarked on the mad project of decorating it with ceramic pieces. A whim he pursued to the point of covering furniture in the same way!
As the years went by, his project became better known and the Picassiette house attracted more and more curious onlookers. After his death in 1964, his wife continued to live in the house until her retirement in 1979. Since then, the house has become the property of the city of Chartres.
Today, the house can be visited on its own or with a guide (€12). On Sunday mornings, an immersive tour lets you follow a guide who takes on the features of Adrienne Isidore, Raymond's wife, as she prepares to leave the house (€15).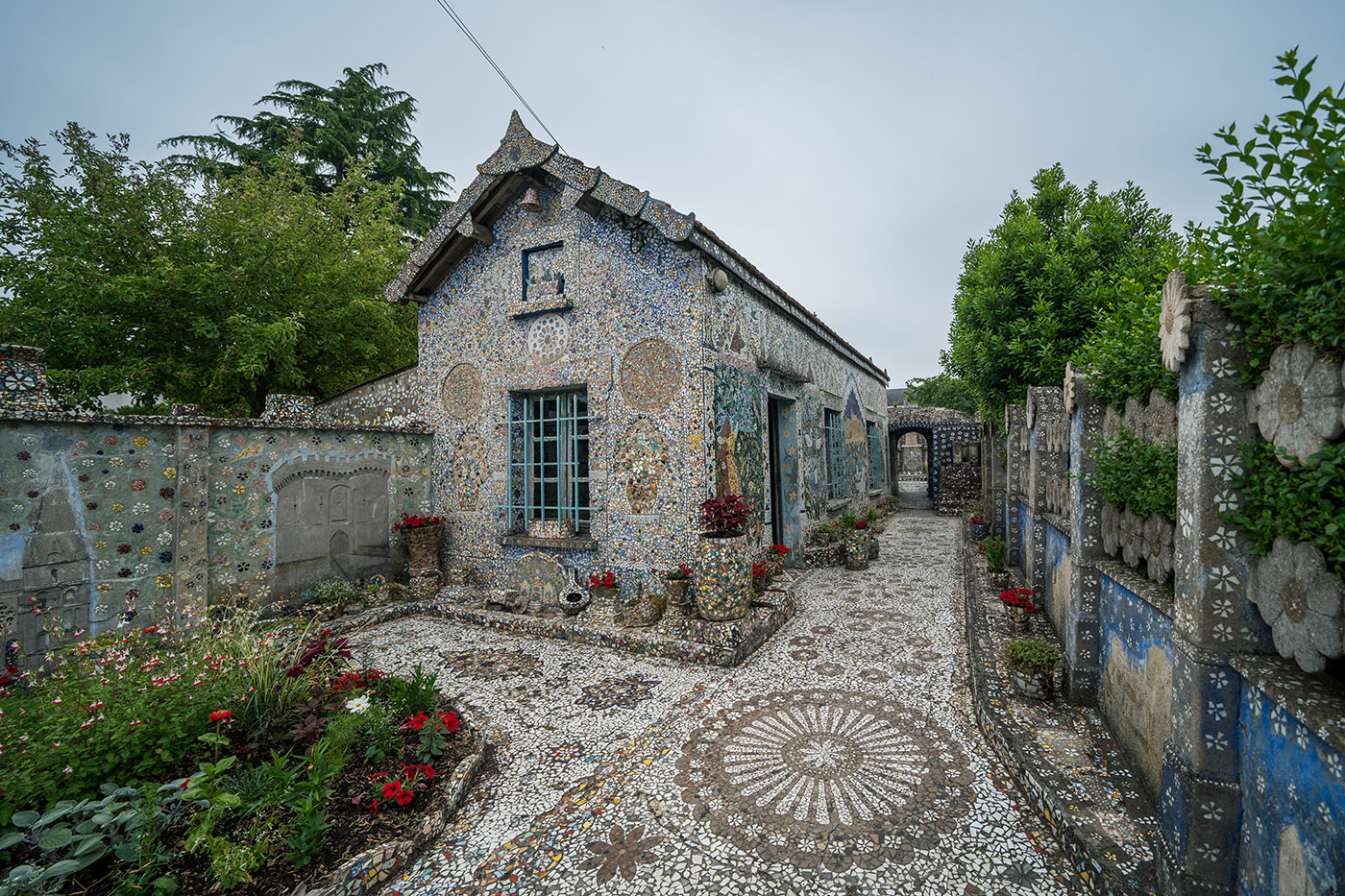 22 rue du Repos
maison-picassiette-chartres.com
From March 15 to November 15, Wednesday to Saturday, 10am to 6pm, Sundays and public holidays, 12pm to 6pm.
Full price: €9 / Reduced price: €4 / Free for children under 6
https://www.maison-picassiette-chartres.com/
Tree climbing
Right in the heart of town, a stone's throw from the station, in the Parc Angré Gagnon, an accrobranche course awaits you!
You don't need to have done it before to enjoy this adventure! The courses are fairly simple and, above all, very safe. Right from the start, you're strapped to a lifeline that you won't leave during the course, so there's no chance of getting hurt. 6 courses are available, accessible to all with a minimum height of 1m10. The very first ones are pretty straightforward, while the 5th and 6th require a little more agility and a fear of heights, as they take you several meters into the air. Allow around 2 hours to complete all 6 courses.
Personally, I'm not afraid of heights, but I'm not a great sportsman and I'd never done accrobranche before. In the end, I completed all 6 courses with great pleasure. It's a fun and original activity that will appeal to young and old alike.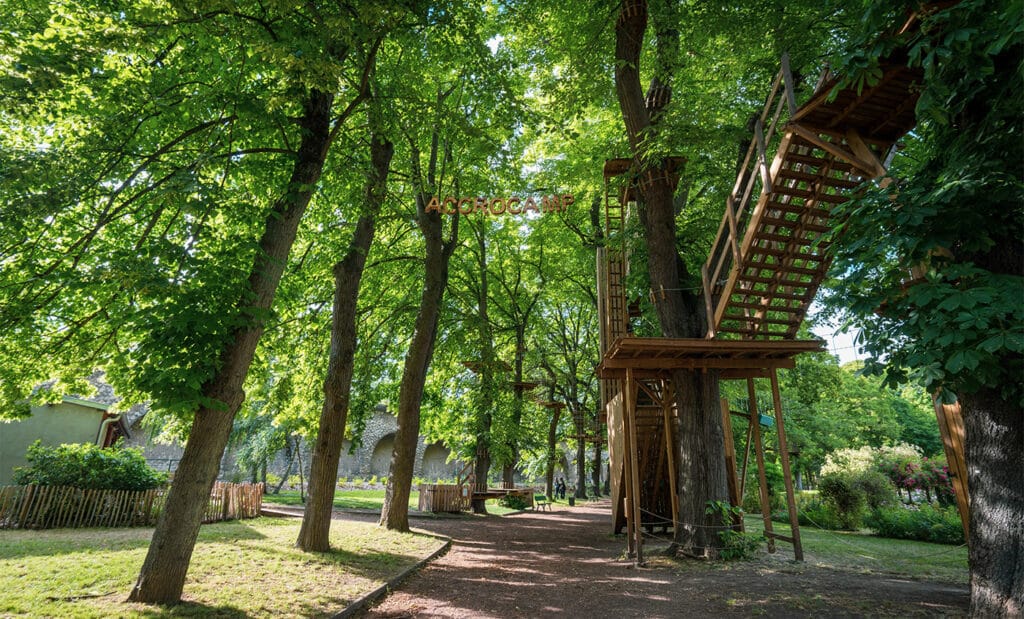 Parc André Gagnon, 6 place Saint Jean
From €17 for the first 2 courses and up to €27 for the 6 courses
Online booking recommended: https://www.accrocamp.com/parcs-accrobranche/chartres/
---
Good addresses in Chartres
Where to put your bags?
There are several hotels in Chartres, but I fell in love with Maison Ailleurs. Neither quite a hotel, nor quite a bed and breakfast, it's an old building that has been entirely restored with great taste. Each room is warm and welcoming, with a small kitchenette so you can save money if you prefer not to eat out too often.
Breakfast is delivered to the front of the room every evening in the form of a box. There's a selection of fresh produce (bread, jams, orange juice, granola, yoghurts, etc.) and it's quite pleasant to be able to have breakfast in your room, just like at home. And that's what Maison Ailleurs is all about: making you feel at home while you're on vacation – and you've got it!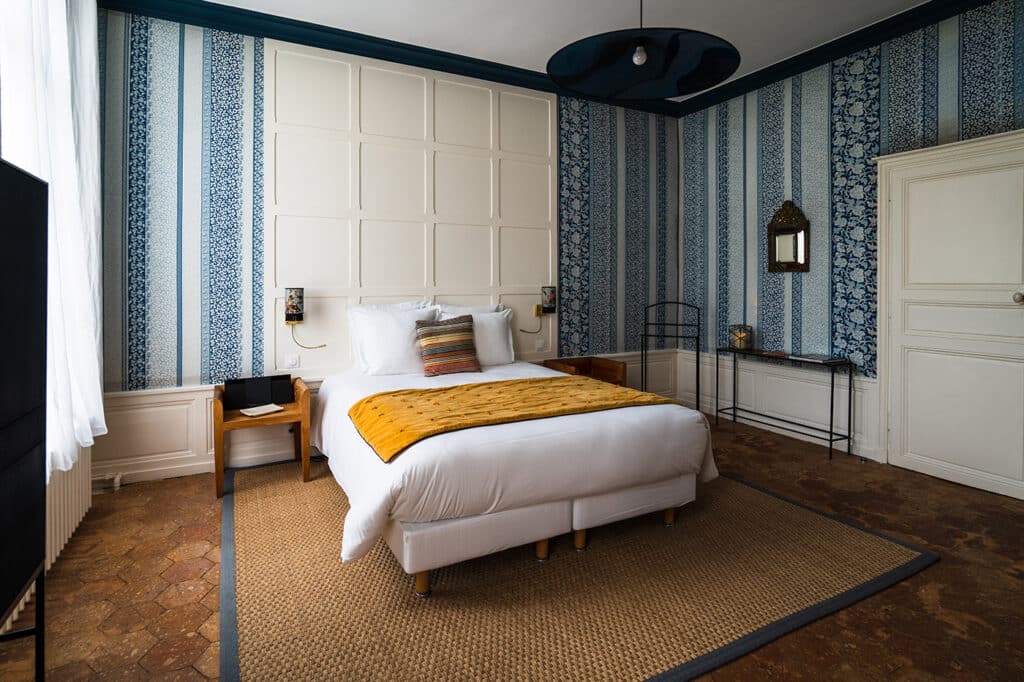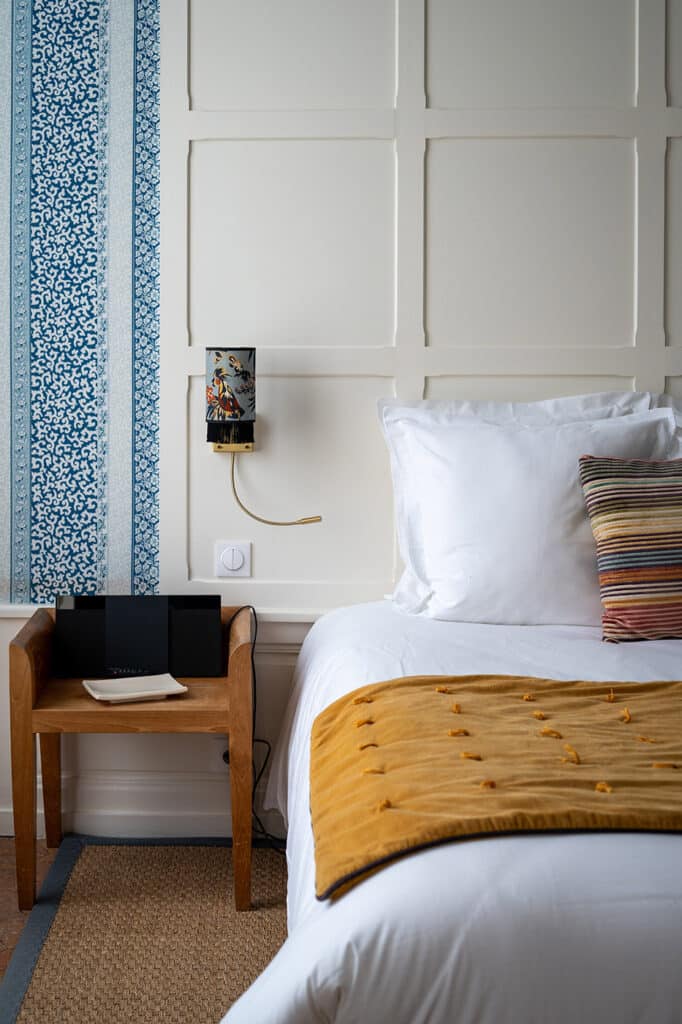 17 rue Muret
https://maisonailleurs.com/
Of course, there are many other establishments, and you can find a list of them and their rates in this map by entering the dates of your stay:
Where to eat?
There's no shortage of good places to eat! I've selected for you 4 restaurants located in the city center, where you can go with your eyes closed: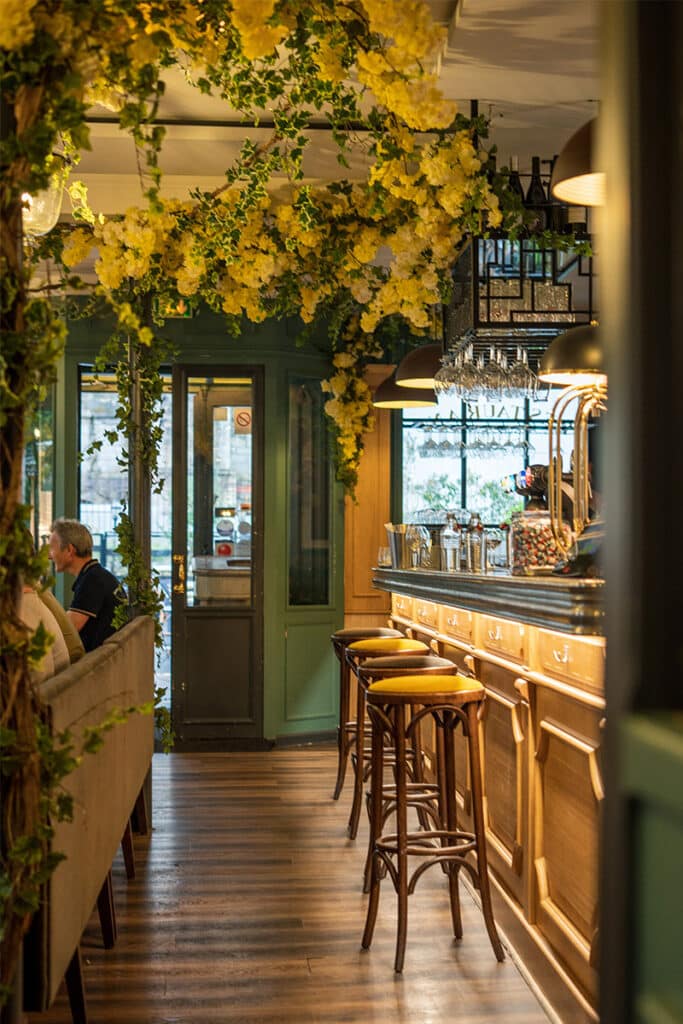 ---
Map of Chartres
Find all the addresses mentioned in this article on this map! Use the menu on the right to select specific points of interest.
---
Extend your stay!
If you have time, take advantage of your stay in Chartres to explore the rest of the Eure-et-Loir region:
The Loir Valley
In the Vallée du Loir, the southern part of the département, you can visit the Loire's first castle from Paris, follow in Proust's footsteps at Illiers-Combray or take a boat trip to Bonneval.
The Eure Valley
Further north in the département, the Eure Valley stretches from Chartres to Dreux. Here you can visit Château de Maintenon, Château d'Anet and the impressive necropolis of the Orléans family.
Enjoy your trip!
---
Article produced in partnership with Eure-et-Loir Tourisme