Dynamic, young and cultural, Manchester is an inexpensive and exotic destination for a few days getaway.
You will find in this city guide all the information you need to prepare your trip to Manchester, a selection of must-see visits as well as some good addresses to discover the local gastronomy. Enjoy your stay!
Welcome to Manchester!
The first city in the world to be industrialised, Manchester developed enormously during the Victorian period. In more recent times, the city has found a new lease of life in many other areas. Did you know, for example, that it was in Manchester that the atom was split for the first time? That the world's first passenger railway was opened? That many music bands such as the Smiths, Oasis, Joy Division or the Stone Roses found inspiration for their music there?
Today Manchester is a dynamic, young and cultural city with many museums, bars and restaurants. So you won't be bored if you have the right idea to discover it!
---
Plan your trip to Manchester
How much does a stay in Manchester cost?
Manchester is a very affordable destination! There's no need to empty your wallet to spend a few days there, especially if you're planning your trip.
Airline tickets can be found for less than £80. On the spot, you will find restaurants for all budgets (see the good addresses in the rest of this article) and many activities (museums, monuments) are free. If you choose your hotel carefully, you can get away for less than £180 for a weekend.
Of course, if you want to complete your stay with some shopping, guided tours and gourmet restaurants, you'll need to add a few extra pounds!
Moving around Manchester
It is easy to walk around the city, it is crossed from one side to the other in about 45 minutes. By choosing a hotel in the city centre you will therefore have easy access to most of the important sites without difficulty.
If walking is not your hobby, there is a free bus called "Free bus" which criss-crosses the city centre from Monday to Saturday every 10 minutes.
---
7 things you must do in Manchester
Stroll through the city of bees
Like every city, Manchester is best discovered on foot through the centre. With its red bricks, tall buildings and outdoor fire escapes, Manchester's architecture is so exotic and Brooklyn-like that many movies are shot here!
Soon you'll find many representations of bees in the streets: it's been the symbol of the city since 1800! Humble and hard-working, the bee reminds us of the city's industrial past.
Manchester is also a city with a strong emphasis on street art: many major works of art decorate the walls. If you would like to find out more about the history of street art in the streets of Manchester, I strongly encourage you to contact Hayley Flynn, an exciting guide: http://www.theskyliner.org/.
Visit the John Rylands Library
This is a library like no other! Built at the end of the 19th century by the widow of textile magnate and Manchester's first multimillionaire John Rylands, this library is housed in an amazing neo-gothic building reminiscent of a church.
When visiting it, one has the impression of plunging into the world of Harry Potter! It is a marvel to be seen absolutely, all the more so as the visit is free. Another positive point for photography enthusiasts: shooting is allowed and even encouraged and photo sessions are organized every month upon registration allowing to take advantage of the empty place for even more beautiful pictures.
Monday and Sunday from 12h to 17h
Tuesday to Saturday from 10am to 5pm

Free admission
https://www.library.manchester.ac.uk/rylands/
Visit the Manchester Art Gallery
The city's fine arts museum presents rich and varied collections. Among the artists represented are Turner, Lowry, Lawrence but also some French artists such as Renoir, Pissarro, Rodin or Valette who made several representations of Manchester in the 1910s.
Monday 11am to 5pm
Tuesday to Sunday from 10am to 5pm
Nocturnal on the first Wednesday of the month until 9pm

Free admission
https://manchesterartgallery.org/
Pushing the cathedral door
Built between the 15th and 19th centuries, Manchester Cathedral has retained its Gothic style despite extensive restoration in the 20th century when it was bombed.
With its wooden ceiling, its style, which is quite different from French cathedrals, is worth a look! It was here that in 1787 the activist Thomas Clarkson gave a speech that initiated the anti-slavery movement that would lead to its abolition throughout the British Empire.
Monday to Thursday from 8:30 am to 6:30 pm.
Friday and Saturday from 8:30 am to 5:30 pm
Sunday from 8:30 am to 6:30 pm

Free admission
https://www.manchestercathedral.org/
Go to Home
Home is the symbol of the city's cultural renewal. In this dynamic place there is an exhibition space, a theatre, a cinema and a restaurant, making it an extremely lively space.
Visit the Science and Industry Museum
The Science and Industry Museum is great, especially for families! Spread out over four buildings, there's plenty of time to spend there, especially thanks to the many interactive devices that allow you to understand certain scientific principles while having fun at the same time.
You'll also find the oldest passenger station still preserved and an impressive collection of vintage aircraft.
Every day, from 10am to 5pm.

Free admission (except for temporary exhibitions)
https://www.scienceandindustrymuseum.org.uk/
Shopping
Manchester is also a good shopping destination! Of course, Primark lovers will be delighted because there is a shop in the city centre. At Afflecks you will find a multitude of shops: clothing, music, jewellery, toys, art, books…
But there is also something to satisfy music lovers at Piccadilly Records where you can find many vinyl records.
Finally, I highly recommend you to go to Oklahoma, a very fun shop where you will find many typical objects of the so british humour that we like so much.
What about football?
As I'm not a big fan of football, I haven't been to any games but if you like football, a trip to the stadium can be a good option in this city that vibrates for sport! There's also a football museum not far from the cathedral but I haven't had the chance to visit it – beware: unlike the other museums in Manchester, this one is not free…
---
Good addresses in Manchester
Where to sleep?
I highly recommend the Hotel Native located in the centre of the town, 5 minutes walk from Piccadilly station.
The decoration is superb, in an industrial style and as it is an apart-hotel the rooms are very large, real apartments equipped with a small kitchen with everything you need (washing machine, dishwasher, fridge, microwave…). Ideal therefore if you want to save a little money by preparing some meals.
The first prices start at £80 which is very affordable for a cosy and comfortable room in the heart of the city. The little extra: the establishment is located in the same building as a restaurant and a gym.
Where to eat?
There is no shortage of good restaurants in Manchester: you will be able to treat yourself by trying out multiple restaurants. There's something for every taste and budget, below are a few suggestions.
Mackie Mayor: for all tastes – ££
In the Northern Quarter, this old market has become a temple of food! Like the Time Out Market in Lisbon, here you will find several restaurants offering different types of dishes: grilled meats, tacos, vegetarian dishes or the traditional fish and chips.
Once you've ordered your dish, all you have to do is take a seat at one of the tables, it's the ideal solution for bringing together friends with different tastes! I highly recommend the fish and chips, a typical English dish, which is very hearty and excellent here, offered for £14 – http://www.mackiemayor.co.uk/
Dishoom: an excellent Indian restaurant – ££££
Here is a very very very good Indian restaurant! In a magnificent setting, you can choose individual dishes or small dishes to share to try different flavours – https://www.dishoom.com/manchester/
Erst: sharing small dishes – ££
This wine bar/restaurant serves small dishes to share. Ideal to discover several flavours while spending a convivial moment around a good meal, washed down with a wine from the rich menu of the establishment – https://www.erst-mcr.co.uk/
The Refuge: a whirlwind of flavours – ££££
In this beautiful building, The Refuge offers you and Erst small dishes to share. It's excellent and it's a real whirlwind of flavours that comes to your table! Only downside: the music is a bit loud – https://www.refugemcr.co.uk/
Oké Poké: Hawaiian cuisine at a low price – £
Discover here the poké, a traditional dish of Hawaiian cuisine! You can choose from already composed Poké Bowl or make your own creation by asking for the ingredients of your choice. It's fresh, very good and the dishes are offered for only £8 – http://okepoke.co.uk/
The Rivals – ££££
This restaurant takes place in the Royal Exchange Theatre, a former market place converted, as its name suggests, into a theatre! The place is magnificent and deserves to spend a head there.
If you want to make an extended stop for a meal, The Rivals is a bar-restaurant offering modern and refined English cuisine – https://www.royalexchange.co.uk/the-rivals-bar-restaurant
Tariff & Dale – ££
In a pub-industrial atmosphere, you will be able to taste beers and cocktails here but also very good dishes. Pizzas and burgers are à la carte but you will also find some more refined dishes – http://tariffanddale.com/
Ginger's Comfort Emporium: ice cream to fall down – £
Hidden on the first floor of the Afflecks store, you will find excellent homemade ice cream in this ice cream bar. It's the perfect place for a little gourmet break between two visits! – https://www.gingerscomfortemporium.com/afflecks-ice-cream-bar
20 stories: for the view – ££££
A bit like London's Sky Garden, 20 stories is a rooftop that allows you to enjoy a high view of Manchester. The place is nice and trendy but very (too) crowded and you will have to pay at least £12 for a cocktail. Booking is recommended – https://20stories.co.uk/
Discover Manchester through its cuisine: the Scranchester foodtour
If you wish to discover Manchester through its gastronomy, follow Rob de Scranchester who proposes you a visit of the city punctuated by a few gourmet stops. You will discover several restaurants and try some of the local specialities – £50 per adult / £35 for under 16s – https://scranchestertours.com/
---
Useful: the map to find everything
Find all the addresses mentioned in this article on this map :
---
Do you have any questions about Manchester? Feel free to post them as a comment, I will be happy to answer you! And if you liked this article, pin it on Pinterest!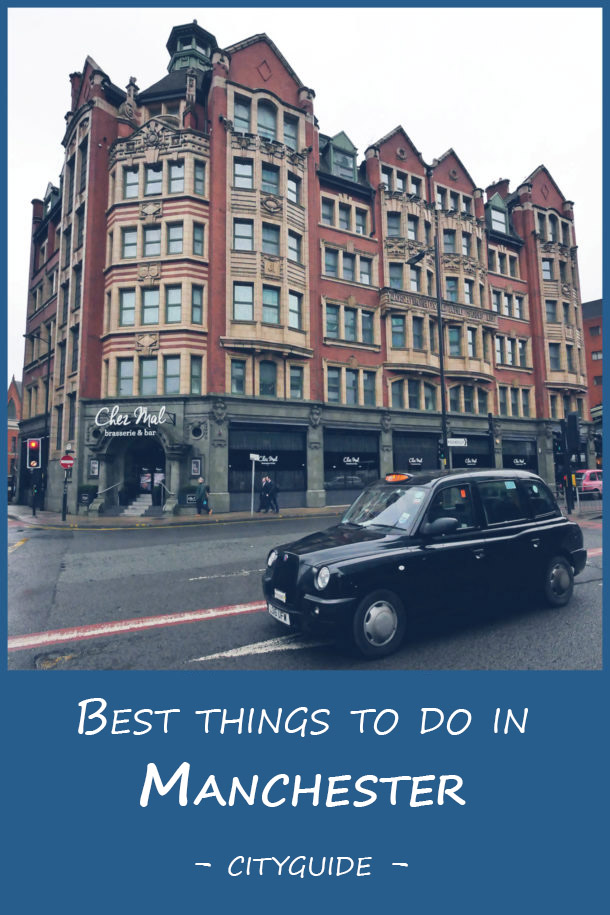 Header photography : stock photo de What Marketing / Shutterstock