When you are a gourmet you discover a country as much by visiting it as by tasting it! It is therefore impossible to visit Athens without sitting down at some of its restaurants to taste the marvellous Greek cuisine.
I was very pleasantly surprised by a succulent gastronomy: if you go to Greece you must absolutely try the tzatziki, the moussaka, the tarama or the famous Greek salad which have nothing to do with the industrial products we are used to find in other countries!
Here is a selection of three restaurants in Athens that will give you a good idea of these culinary treasures…
To dine in a bistro spirit: Cherchez la femme
In the heart of the city, a few steps away from the cathedral, Cherchez la femme is a restaurant in the image of the city: a little noisy but warm and lively.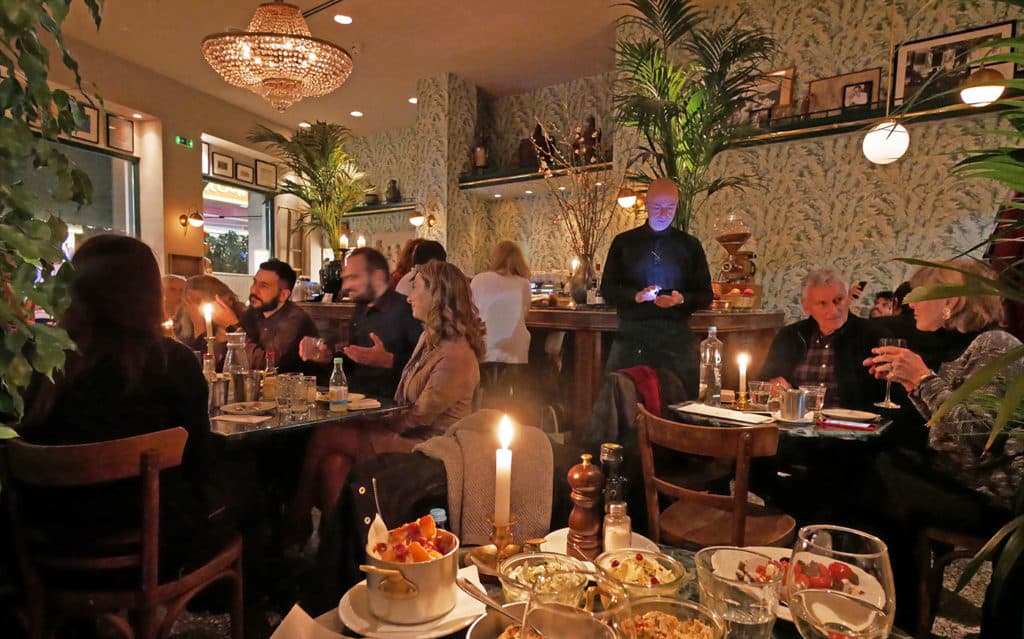 The atmosphere is friendly. You are served a multitude of small dishes in which you will be pampered throughout the evening a bit like an improved aperitif dinner.
Try the tamara, tzatziki, Greek salad or moussaka… they are delicious. For the sweet part I fell for an ekmek kadayifi, a traditional Greek dessert, excellent!
Cherchez la femme
Mitropoleos 46, Athina 105 63
https://www.cherchezlafemme.gr/
Generous plates to share: Cookoovaya
In a slightly more chic style, Cookoovaya is a restaurant created on the initiative of five Greek chefs. You dine in a friendly atmosphere facing an open kitchen where the dishes are prepared in front of you. Here too, the dishes are shared, ideal for trying several.
Fish is in the spotlight and I can only invite you to select these iodized dishes to test a little more Greek cuisine. On the menu for me: shrimp salad, cuttlefish risotto and grilled octopus.
For dessert, we fall for a ekmek kadayifi and an original and delicious pear tatin tart.
Cookoovaya
Xatzigianni Mexi 2A, Athina 115 28
http://cookoovaya.gr/en/
A gastronomic restaurant to get a good overview of Greek food and wines: Vassilenas
To dine at Vassilenas is to live a real culinary experience at a very affordable price. For only €43 the seven-course signature menu allows you to try the chef's specialities and get a good taste of Greek cuisine: tarama, fish soup, grilled squid, sea bass, giouvetsaki (a typical Greek dish) and piece of beef and a dessert.
It's as good as it is beautiful, it's a feast for the eyes and the taste buds! I recommend you to live the experience to the end by taking for €20 more the food/wine pairing. A glass is served with each dish which is perfect to discover a nice panel of Greek wines.
Vassilenas
Vrasida 13, Athina 115 28
https://www.vassilenas.gr/en/
Enjoy your meal!
---
Did you like this article? Pin it on Pinterest!